Abstract
Objectives
Involuntary apnea episodes in obstructive sleep apnea patients result in selective potentiation of peripheral chemoreceptor regulation of sympathetic vasomotor tone. Breath-hold diving is associated with repeated "voluntary" apnea episodes and massive arterial oxygen desaturation, which could also perturb chemoreflex function.
Methods
We measured ventilation, heart rate, blood pressure, cardiac stroke volume, and muscle sympathetic nerve activity (MSNA) during isocapnic hypoxia in 11 breath-hold divers and eleven matched control subjects. The study was carried out at least 1 month after intense apnea training.
Results
Baseline MSNA frequency was 30 ± 4 bursts/min in control subjects and 31 ± 7 bursts/min in divers (ns). During hypoxia MSNA frequency and total activity increased similarly in both groups (30 and 66% in controls and 27 and 60% in divers, respectively). MSNA remained increased after termination of hypoxia and approached baseline measurements after 20 min. Hypoxia-induced stimulation of minute ventilation was similar in both groups, although in divers it was maintained by higher tidal volumes and lower breathing frequency compared with control subjects. In both groups, hypoxia-induced tachycardia drove an increase in cardiac output whereas total peripheral resistance decreased. Blood pressure remained unchanged.
Interpretation
We conclude that after the end of intensive training/competition periods, apnea divers show normal peripheral chemoreflex regulation of ventilation and sympathetic vasomotor tone. Although voluntary apnea may not lead to sustained changes in sympathetic nervous system regulation, we cannot exclude the possibility that repeated sympathetic activation elicited by voluntary apnea imposes a burden on the cardiovascular system.
Access options
Buy single article
Instant access to the full article PDF.
USD 39.95
Price excludes VAT (USA)
Tax calculation will be finalised during checkout.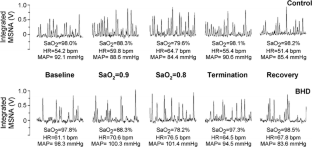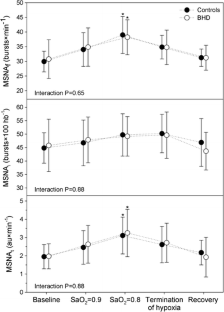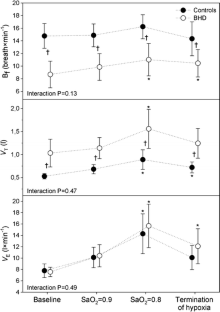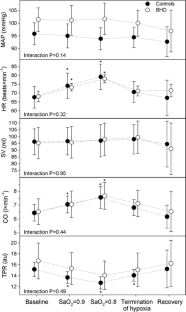 References
Bjurstrom RL, Schoene RB (1987) Control of ventilation in elite synchronized swimmers. J Appl Physiol 63:1019–1024

Cutler MJ, Swift NM, Keller DM, Wasmund WL, Smith ML (2004) Hypoxia-mediated prolonged elevation of sympathetic nerve activity after periods of intermittent hypoxic apnea. J Appl Physiol 96:754–761

Dujic Z, Ivancev V, Heusser K, Dzamonja G, Palada I, Valic Z, Tank J, Obad A, Bakovic D, Diedrich A, Joyner MJ, Jordan J (2008) Central chemoreflex sensitivity and sympathetic neural outflow in elite breath-hold divers. J Appl Physiol 104:205–211

Elam M, Sverrisdottir YB, Rundqvist B, McKenzie D, Wallin BG, Macefield VG (2003) Pathological sympathoexcitation: how is it achieved? Acta Physiol Scand 177:405–411

Ferretti G (2001) Extreme human breath-hold diving. Eur J Appl Physiol 84:254–271

Gelfand R, Lambertsen CJ (1973) Dynamic respiratory response to abrupt change of inspired CO2 at normal and high PO2. J Appl Physiol 35:903–913

Heistad DD, Wheeler RC (1970) Effect of acute hypoxia on vascular responsiveness in man. I. Responsiveness to lower body negative pressure and ice on the forehead. II. Responses to norepinephrine and angiotensin. 3. Effect of hypoxia and hypocapnia. J Clin Invest 49:1252–1265

Henderson AH, Brutsaert DL (1973) An analysis of the mechanical capabilities of heart muscle during hypoxia. Cardiovasc Res 7:763–776

Heusser K, Dzamonja G, Tank J, Palada I, Valic Z, Bakovic D, Obad A, Ivancev V, Breskovic T, Diedrich A, Joyner MJ, Luft FC, Jordan J, Dujic Z (2009) Cardiovascular regulation during apnea in elite divers. Hypertension 53:719–724

Imadojemu VA, Mawji Z, Kunselman A, Gray KS, Hogeman CS, Leuenberger UA (2007) Sympathetic chemoreflex responses in obstructive sleep apnea and effects of continuous positive airway pressure therapy. Chest 131:1406–1413

Ivancev V, Palada I, Valic Z, Obad A, Bakovic D, Dietz NM, Joyner MJ, Dujic Z (2007) Cerebrovascular reactivity to hypercapnia is unimpaired in breath-hold divers. J Physiol 582:723–730

Jellema WT, Imholz BP, Oosting H, Wesseling KH, van Lieshout JJ (1999) Estimation of beat-to-beat changes in stroke volume from arterial pressure: a comparison of two pressure wave analysis techniques during head-up tilt testing in young, healthy men. Clin Auton Res 9:185–192

Joulia F, Steinberg JG, Wolff F, Gavarry O, Jammes Y (2002) Reduced oxidative stress and blood lactic acidosis in trained breath-hold human divers. Respir Physiol Neurobiol 133:121–130

Joyner MJ, Charkoudian N, Wallin BG (2008) A sympathetic view of the sympathetic nervous system and human blood pressure regulation. Exp Physiol 93:715–724

Leuenberger UA, Brubaker D, Quraishi S, Hogeman CS, Imadojemu VA, Gray KS (2005) Effects of intermittent hypoxia on sympathetic activity and blood pressure in humans. Auton Neurosci 121:87–93

Masuda Y, Yoshida A, Hayashi F, Sasaki K, Honda Y (1981) The ventilatory responses to hypoxia and hypercapnia in the Ama. Jpn J Physiol 31:187–197

Monahan KD, Leuenberger UA, Ray CA (2006) Effect of repetitive hypoxic apnoeas on baroreflex function in humans. J Physiol 574:605–613

Morgan BJ, Crabtree DC, Palta M, Skatrud JB (1995) Combined hypoxia and hypercapnia evokes long-lasting sympathetic activation in humans. J Appl Physiol 79:205–213

Muth CM, Radermacher P, Pittner A, Steinacker J, Schabana R, Hamich S, Paulat K, Calzia E (2003) Arterial blood gases during diving in elite apnea divers. Int J Sports Med 24:104–107

Narkiewicz K, van de Borne PJ, Pesek CA, Dyken ME, Montano N, Somers VK (1999) Selective potentiation of peripheral chemoreflex sensitivity in obstructive sleep apnea. Circulation 99:1183–1189

O'Donnell CP, Schwartz AR, Smith PL, Robotham JL, Fitzgerald RS, Shirahata M (1996) Reflex stimulation of renal sympathetic nerve activity and blood pressure in response to apnea. Am J Respir Crit Care Med 154:1763–1770

Sapru HN (1996) Carotid chemoreflex. Neural pathways and transmitters. Adv Exp Med Biol 410:357–364

Smith ML, Muenter NK (2000) Effects of hypoxia on sympathetic neural control in humans. Respir Physiol 121:163–171

Somers VK, Abboud FM (1993) Chemoreflexes—responses, interactions and implications for sleep apnea. Sleep 16:S30–S33

Somers VK, Dyken ME, Clary MP, Abboud FM (1995) Sympathetic neural mechanisms in obstructive sleep apnea. J Clin Invest 96:1897–1904

Somers VK, Mark AL, Zavala DC, Abboud FM (1989) Contrasting effects of hypoxia and hypercapnia on ventilation and sympathetic activity in humans. J Appl Physiol 67:2101–2106

Stewart IB, McKenzie DC (2002) The human spleen during physiological stress. Sports Med 32:361–369

Tamisier R, Norman D, Anand A, Choi Y, Weiss JW (2004) Evidence of sustained forearm vasodilatation after brief isocapnic hypoxia. J Appl Physiol 96:1782–1787

Tank J, Diedrich A, Schroeder C, Stoffels M, Franke G, Sharma AM, Luft FC, Jordan J (2001) Limited effect of systemic beta-blockade on sympathetic outflow. Hypertension 38:1377–1381

Wade JG, Larson CP Jr, Hickey RF, Ehrenfeld WK, Severinghaus JW (1970) Effect of carotid endarterectomy on carotid chemoreceptor and baroreceptor function in man. N Engl J Med 282:823–829

Xie A, Skatrud JB, Puleo DS, Morgan BJ (2001) Exposure to hypoxia produces long-lasting sympathetic activation in humans. J Appl Physiol 91:1555–1562
Acknowledgments
This study was supported by the Croatian Ministry of Science, Education and Sports, Grants Nos. 216-2160133-0330 and 216-2160133-0130. K.H., J.T. and J.J. were supported by Deutsche Forschungsgemeinschaft grants. We would like to thank the support staff of the University of Split School of Medicine for facilitating this study and the subjects for their enthusiastic participation.
About this article
Cite this article
Breskovic, T., Valic, Z., Lipp, A. et al. Peripheral chemoreflex regulation of sympathetic vasomotor tone in apnea divers. Clin Auton Res 20, 57–63 (2010). https://doi.org/10.1007/s10286-009-0034-1
Received:

Accepted:

Published:

Issue Date:

DOI: https://doi.org/10.1007/s10286-009-0034-1
Keywords
Isocapnic hypoxia

MSNA

Apnea

Breath-holding

Detraining