Abstract
Traditional radiology reports are narrative texts that include a description of imaging findings. Recent implementation of advanced reporting software allows for incorporation of annotated key images and hyperlinks directly into text reports, but these tools usually do not substitute in-person consultations with radiologists, especially in challenging cases. Use of on-demand audio/visual reports with screen capture software is an emerging technology, providing a more engaged imaging service. Our study evaluates a video reporting tool that utilizes PACS integrated screen capture software for musculoskeletal imaging studies in the emergency department. Our hypothesis is that referring orthopedic surgeons would find that recorded audio/video reports add value to conventional reports, may increase engagement with radiology staff, and also facilitate understanding of imaging findings from urgent musculoskeletal cases. Seven radiologists prepared a total of 47 audiovisual reports for 9 attending orthopedic surgeons from the emergency department. We applied two surveys to evaluate the experience of the referring physicians using audio/visual reports as a complementary material from the conventional text report. Positive responses were statistically significant in most questions including: if the clinical suspicion was answered in the video; willingness to use such technology in other cases; if the audiovisual report made the imaging findings more understandable than the traditional report; and if the audiovisual report is faster to understand than the traditional text report. Use of audiovisual reports in emergency musculoskeletal cases is a new approach to evaluate potentially challenging cases. These results support the potential of this technology to re-establish the radiologist's role as an essential member of patient care and also provide more engaging, precise, and personalized reports. Further studies could streamline these methods in order to minimize work redundancy with traditional text reporting or even evaluate acceptance of using only audiovisual radiology reports. Additionally, widespread adoption would require integration with the entire radiology workflow including non-urgent cases and other medical specialties.
This is a preview of subscription content, log in to check access.
Access options
Buy single article
Instant access to the full article PDF.
US$ 39.95
Tax calculation will be finalised during checkout.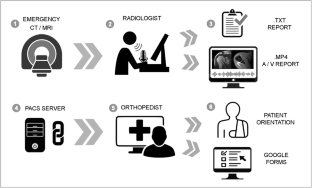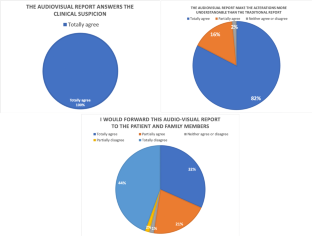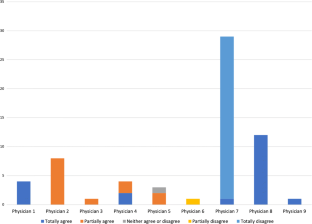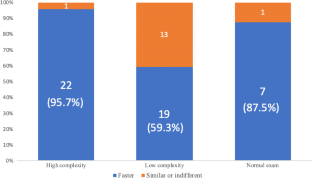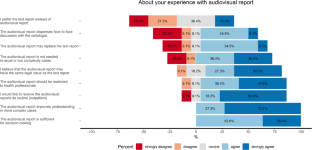 References
1.

Berwick DM, Nolan TW, Whittington J: The triple aim: Care, health, and cost. Health Affairs 27(3):759–769, 2008

2.

Barnes KA, Kroening-Roche JC, Comfort BW: The developing vision of primary care. New England Journal of Medicine 367(10):891–893, 2012

3.

Wallis A, Mccoubrie P: The radiology report—are we getting the message across? Clinical Radiology 66(11):1015–1022, 2011

4.

Larson DB: Strategies for implementing a standardized structured radiology reporting program. Radiographics 38(6):1705–1716, 2011

5.

Hoff WS, Sicoutris CP, Lee SY, Rotondo MF, Holstein JJ, Gracias VH, Pryor JP, Reilly PM, Doroski KK, Schwab CW: Formalized radiology rounds: the final component of the tertiary survey. Journal of Trauma and Acute Care Surgery 56(2):291–295, 2004

6.

Mamlouk MD, Anavim A, Goodwin SC: Radiology residents rounding with the clinical teams: a pilot study to improve the radiologist's visibility as a consultant. Journal of the American College of Radiology 11(3):326–328, 2014

7.

Weiss DL, Kim W, Branstetter, IV BF, Prevedello LM: Radiology reporting: a closed-loop cycle from order entry to results communication. Journal of the American College of Radiology 11(12):1226–1237, 2014

8.

Mangano MD, Rahman A, Choy G, Sahani DV, Boland GW, Gunn AJ: Radiologists' role in the communication of imaging examination results to patients: perceptions and preferences of patients. American Journal of Roentgenology 203(5):1034–1039, 2014

9.

Rose G: Audio/video interface as a supplement to radiology reports. U.S. Patent No. 8,434,005; 2013

10.

Radiology Cares campaign. Radiological Society of North America. http://www.rsna.org/Radiology_Cares/. Accessed 17 July 2019

11.

Neiman HL: Face of radiology campaign. Academic Radiology 16(5):517–520, 2009

12.

Balkman JD, Siegel AH: An audio/video reporting workflow to supplement standardized radiology reports. Journal of Digital Imaging 29(2):153–159, 2016

13.

Menashe S, Otjen J, Thapa MM: Techniques for creating video content for radiology education. Radiographics 34(7):1819–1823, 2014

14.

Yi PH, Golden SK, Harringa JB, Kliewer MA: Readability of lumbar spine MRI reports: will patients understand? American Journal of Roentgenology 212(3):602–606, 2019

15.

Drozd B, Couvillon E, Suarez A: Medical YouTube videos and methods of evaluation: Literature review. JMIR medical education 4(1):e3, 2018
Acknowledgements
The authors would like to thank the orthopedic surgeons and radiologists involved in this work.
Availability of Data and Materials
The datasets used and/or analyzed during the current study are available from the corresponding author upon reasonable request.
Ethics declarations
Ethics Approval and Consent to Participate
This study was approved by the Institutional Review Board and was compliant with HIPAA guidelines.
Consent for Publication
A written informed consent was obtained from the subjects for publication.
Competing Interests
The authors declare that they have no competing interests.
Additional information
Publisher's Note
Springer Nature remains neutral with regard to jurisdictional claims in published maps and institutional affiliations.
Electronic supplementary material
Example of an audiovisual report. CT images of a 73-year-old female patient with right hip pain after trauma showing a cominutive and dislocated acetabular fracture. (MP4 5641 kb)
About this article
Cite this article
Neto, L.P., Godoy, I.R.B., Yamada, A.F. et al. Evaluation of Audiovisual Reports to Enhance Traditional Emergency Musculoskeletal Radiology Reports. J Digit Imaging 32, 1081–1088 (2019). https://doi.org/10.1007/s10278-019-00261-9
Keywords
Video recording

Web technology

Radiology workflow

Radiology report

Software design

Audio/video report

Software

Audiovisual

Musculoskeletal