Abstract
In order to successfully share patient data across multiple systems, a reliable method of linking patient records across disparate organizations is required. In Canada, within the province of Ontario, there are four centralized diagnostic imaging repositories (DIRs) that allow multiple hospitals and independent health facilities (IHF) to send diagnostic images and reports for the purpose of sharing patient data across the region (Nagels et al. J Digit Imaging 28: 188, 2015). In 2017, the opportunity to consolidate the two regional DIRs that share the south-central and southeast area of the province was reviewed. The two DIRs use two different methods for patient matching. One uses a deterministic match based on one specific value, while the other uses a probabilistic scorecard that weighs a variety of patient demographics to assess if the patients are a match. An analysis was conducted to measure how a patient identity domain that uses a deterministic approach would compare to the accepted "standard." The intention is to review the analysis as a means of identifying interesting insights in both approaches. For the purpose of this paper, the two DIRs will be referred to as DIR1 and DIR2.
Access options
Buy single article
Instant access to the full article PDF.
US$ 39.95
Tax calculation will be finalised during checkout.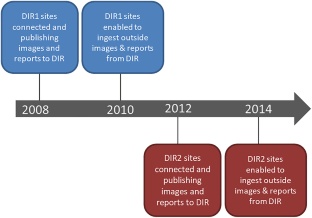 References
1.

Nagels J, MacDonald D, Parker D: Foreign exam management in practice: seamless access to foreign images and results in a regional environment. J Digit Imaging 28:188–193, 2015. https://doi.org/10.1007/s10278-014-9735-7

2.

Nagels J, Macdonald D, Coz C: Measuring the benefits of a regional imaging environment. J Digit Imaging 30:609–614, 2017. https://doi.org/10.1007/s10278-017-9963-8

3.

Hallet J, Coburn NG, Alberga A, Fu L, Tharmalingam S, Beyfuss K, Milot L, Law CHL: Reducing repeat imaging in hepato-pancreatico-biliary surgical cancer care through shared diagnostic imaging repositories. HPB (Oxford) 21(1):96–106, 2019. https://doi.org/10.1016/j.hpb.2018.06.1807

4.

Torkzadeh R: Advancing a nationwide patient matching strategy. Journal of AHIMA 89(7):30–35, 2018

5.

Zech J, Husk G, Moore T, Shapiro JS: Measuring the degree of unmatched patient Records in a health information exchange using exact matching. Applied clinical informatics 7(2):330–340, 2016. https://doi.org/10.4338/ACI-2015-11-RA-0158

6.

Sayers A , Ben-Shlomo Y, Blom AW, Steele F. Probabilistic record linkage. Int J Epidemiol 45:954–64, 2015

7.

Kesinger MR, Kumar RG, Ritter AC, Sperry JL, Wagner AK: Probabilistic matching approach to link deidentified data from a trauma registry and a traumatic brain injury model system center. Am J Phys Med Rehabil 96(1):17–24, 2017. https://doi.org/10.1097/PHM.0000000000000513
Additional information
Publisher's Note
Springer Nature remains neutral with regard to jurisdictional claims in published maps and institutional affiliations.
About this article
Cite this article
Nagels, J., Wu, S. & Gorokhova, V. Deterministic vs. Probabilistic: Best Practices for Patient Matching Based on a Comparison of Two Implementations. J Digit Imaging 32, 919–924 (2019). https://doi.org/10.1007/s10278-019-00253-9
Keywords
PACS

Health information exchange (HIE)

Digital Imaging and Communications in Medicine (DICOM)

Enterprise PACS

Foreign exam management (FEM)

EMPI

Patient matching