Abstract
Cancer Care Ontario (CCO) is the clinical advisor to the Ontario Ministry of Health and Long-Term Care for the funding and delivery of cancer services. Data contained in radiology reports are inaccessible for analysis without significant manual cost and effort. Synoptic reporting includes highly structured reporting and discrete data capture, which could unlock these data for clinical and evaluative purposes. To assess the feasibility of implementing synoptic radiology reporting, a trial implementation was conducted at one hospital within CCO's Lung Cancer Screening Pilot for People at High Risk. This project determined that it is feasible to capture synoptic data with some barriers. Radiologists require increased awareness when reporting cases with a large number of nodules due to lack of automation within the system. These challenges may be mitigated by implementation of some report automation. Domains such as pathology and public health reporting have addressed some of these challenges with standardized reports based on interoperable standards, and radiology could borrow techniques from these domains to assist in implementing synoptic reporting. Data extraction from the reports could also be significantly automated to improve the process and reduce the workload in collecting the data. RadLex codes aided the difficult data extraction process, by helping label potential ambiguity with common terms and machine-readable identifiers.
Access options
Buy single article
Instant access to the full article PDF.
US$ 39.95
Tax calculation will be finalised during checkout.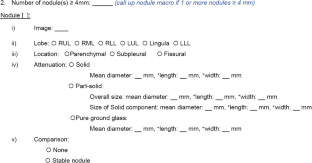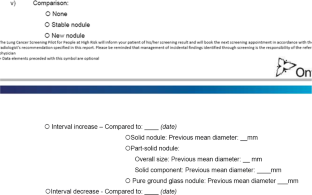 References
1.

American College of Radiologists: Lung Rads. 2018. Retrieved May 16, 2018, from https://www.acr.org/Clinical-Resources/Reporting-and-Data-Systems/Lung-Rads

2.

Barchard KA, Pace LA: Preventing human error: The impact of data entry methods on data accuracy and statistical results. Comput Hum Behav 27(5):1834–1839, 2011. https://doi.org/10.1016/j.chb.2011.04.004

3.

College of American Pathologists: CAP eCC [text/html]. 2019. Retrieved December 3, 2018, from https://www.cap.org/laboratory-improvement/proficiency-testing/cap-ecc

4.

Digital Bridge: Digital Bridge eCR functional requirements statements. Digital Bridge, 2017. Retrieved from http://www.digitalbridge.us/db/wp-content/uploads/2017/02/Digital-Bridge-eCR-Functional-Requirements.pdf

5.

Dobranowski J: Structured reporting in Cancer imaging: Reaching the quality dimension in communication. Health Manag 15(4), 2015. Retrieved from https://healthmanagement.org/c/healthmanagement/issuearticle/structured-reporting-in-cancer-imaging-reaching-the-quality-dimension-in-communication

6.

Harvey H: Synoptic reporting makes better radiologists, and algorithms. 2018. Retrieved July 16, 2018, from https://towardsdatascience.com/synoptic-reporting-makes-better-radiologists-and-algorithms-9755f3da511a

7.

Integrating the Healthcare Enterprise (IHE): Structured Data Capture (SDC) Rev. 2.1 – Trial Implementation. 2016. Retrieved December 17, 2018, from https://ihe.net/uploadedFiles/Documents/QRPH/IHE_QRPH_Suppl_SDC.pdf

8.

Johnson AJ, Chen MYM, Swan JS, Applegate KE, Littenberg B: Cohort study of structured reporting compared with conventional dictation. Radiology 253(1):74–80, 2009

9.

National Center for Biomedical Ontology: Radiology lexicon - summary | NCBO BioPortal. 2018. Retrieved July 9, 2018, from http://bioportal.bioontology.org/ontologies/RADLEX

10.

Segall N, Saville JG, L'Engle P, Carlson B, Wright MC, Schulman K, Tcheng JE: Usability Evaluation of a Personal Health Record. AMIA Ann Symp Proc 2011:1233–1242, 2011

11.

Srigley JR, McGowan T, MacLean A, Raby M, Ross J, Kramer S, Sawka C: Standardized synoptic cancer pathology reporting: A population-based approach. J Surg Oncol 99(8):517–524, 2009. https://doi.org/10.1002/jso.21282
Acknowledgments
We would like to acknowledge, the Emerging Programs Team at CCO, the Lakeridge Health Team, and the Cancer Imaging Program at CCO.
Additional information
Publisher's Note
Springer Nature remains neutral with regard to jurisdictional claims in published maps and institutional affiliations.
Appendix. LDCT lung cancer screening form version 1.3
Appendix. LDCT lung cancer screening form version 1.3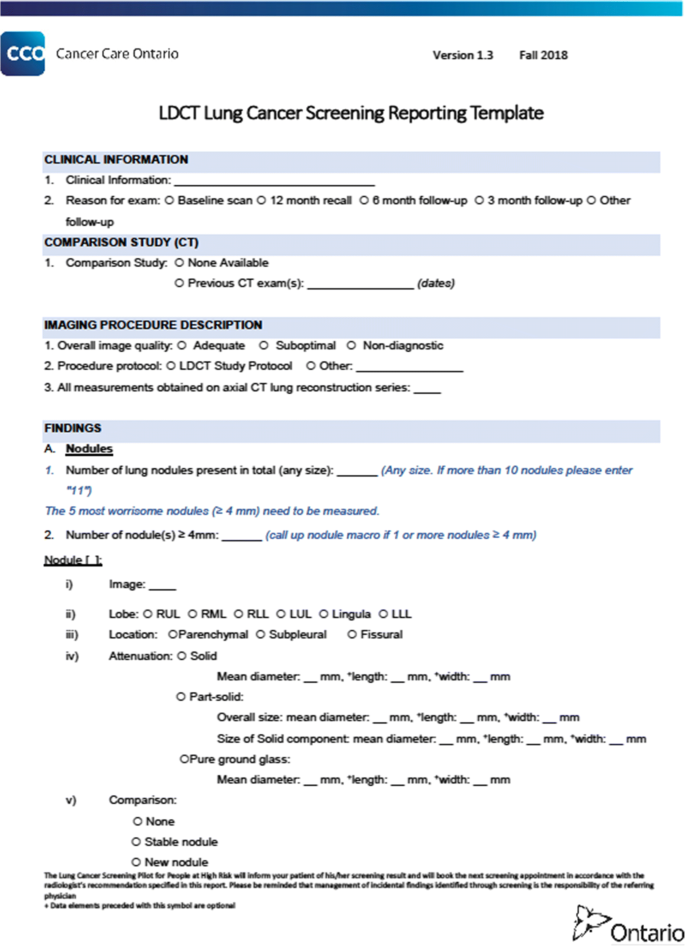 About this article
Cite this article
Goel, A.K., DiLella, D., Dotsikas, G. et al. Unlocking Radiology Reporting Data: an Implementation of Synoptic Radiology Reporting in Low-Dose CT Cancer Screening. J Digit Imaging 32, 1044–1051 (2019). https://doi.org/10.1007/s10278-019-00214-2
Keywords
Synoptic Reporting

Structured Reporting

Structured Data capture

RadLex