Abstract
Value-based imaging requires appropriate utilization and the delivery of consistently high-quality imaging at an acceptable cost. Challenges include developing standardized imaging protocols, ensuring consistent application by technologists, and monitoring quality. These challenges increase as enterprises grow in geographical extent and complexity through mergers or partnerships. Our imaging enterprise includes a university hospital and clinic system, a large county hospital and healthcare system, and a pediatric hospital and health system. Studies across the three systems are interpreted by one large academic radiology group with expertise in various subspecialties. Our goals were as follows: (1) Standardize imaging protocols; (2) adapt the imaging protocols to specific modalities and available equipment; and (3) disseminate this knowledge across all of the sites of care. Our approach involved three components: (1) facilitation of imaging protocol definition across subspecialty radiologist teams; (2) creation of a database which links the clinical imaging protocols to the scanner/machine specific acquisition protocols; and (3) delivery of a protocol library and updates to all users regardless of location. We successfully instituted a process for the development, implementation, and delivery of standardized imaging protocols in a complex, multi-institutional healthcare system. Key elements for success include (1) a Project Champion who is able to articulate the importance of protocol standardization in improving the quality of patient care, (2) strong, effective modality-specific operational committees, (3) a Project Lead to manage the process efficiently, and (4) an electronic publishing of the protocol database to facilitate ease of access and use.
This is a preview of subscription content, log in to check access.
Access options
Buy single article
Instant access to the full article PDF.
US$ 39.95
Price includes VAT for USA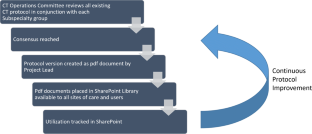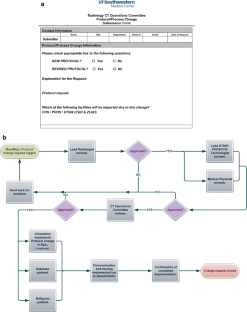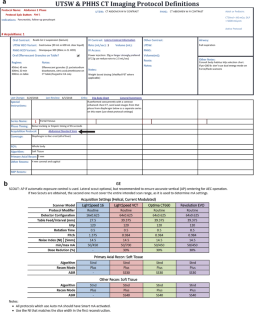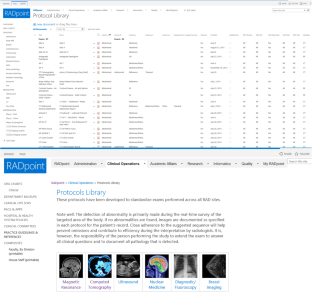 References
1.

Sarwar A, Boland G, Monks A, Kruskal JB: Metrics for Radiologists in the Era of Value-based Health Care Delivery. RadioGraphics 35:866–878, 2015

2.

Glazer DI, KiPiro PJ, Shinagare AB, Huang RY, Wang A, Boland GW, Khorosani R: CT and MRI Protocol Variation and Optimization at an Academic Medical Center. J Am Coll Radiol 15:1254–1258, 2018; (epub, article in press)

3.

Sachs PB, Hunt K, Fi M, Borgstede J: CT and MR Protocol Standardization Across a Large Health System: Providing a Consistent Radiologist, Patient, and Referring Provider Experience. J Digit Imaging 30:11–16, 2017

4.

Kalambo M, Parikh JR: Implementing Standardized Protocols During Geographic Radiology Expansion. J Am Coll Radiol 14(1):85–86, 2017

5.

Kalambo M, Parikh JR: Collaborative Branding of Partnered Health Systems in Radiology. J AM Col of Radiol 15(1):107–111, 2018
Acknowledgements
The authors acknowledge the extensive time and effort devoted to this project by the administrative and technical teams at the institutions and a very special thanks to Jon Garinn, Radiology Department Webmaster, for his special efforts related to this project.
Additional information
Publisher's Note
Springer Nature remains neutral with regard to jurisdictional claims in published maps and institutional affiliations.
About this article
Cite this article
Venkataraman, V., Browning, T., Pedrosa, I. et al. Implementing Shared, Standardized Imaging Protocols to Improve Cross-Enterprise Workflow and Quality. J Digit Imaging 32, 880–887 (2019). https://doi.org/10.1007/s10278-019-00185-4
Keywords
Standardization

Imaging protocols

Process reengineering