Abstract
Providing surrogate endpoints in clinical trials, medical imaging has become increasingly important in human-centered research. Nowadays, electronic data capture systems (EDCS) are used but binary image data is integrated insufficiently. There exists no structured way, neither to manage digital imaging and communications in medicine (DICOM) data in EDCS nor to interconnect EDCS with picture archiving and communication systems (PACS). Manual detours in the trial workflow yield errors, delays, and costs. In this paper, requirements for a DICOM-based system interconnection of EDCS and research PACS are analysed. Several workflow architectures are compared. Optimized for multi-center trials, we propose an entirely web-based solution integrating EDCS, PACS, and DICOM viewer, which has been implemented using the open source projects OpenClinica, DCM4CHEE, and Weasis, respectively. The EDCS forms the primary access point. EDCS to PACS interchange is integrated seamlessly on the data and the context levels. DICOM data is viewed directly from the electronic case report form (eCRF), while PACS-based management is hidden from the user. Data privacy is ensured by automatic de-identification and re-labelling with study identifiers. Our concept is evaluated on a variety of 13 DICOM modalities and transfer syntaxes. We have implemented the system in an ongoing investigator-initiated trial (IIT), where five centers have recruited 24 patients so far, performing decentralized computed tomography (CT) screening. Using our system, the chief radiologist is reading DICOM data directly from the eCRF. Errors and workflow processing time are reduced. Furthermore, an imaging database is built that may support future research.
Access options
Buy single article
Instant access to the full article PDF.
USD 39.95
Price excludes VAT (USA)
Tax calculation will be finalised during checkout.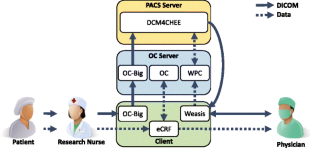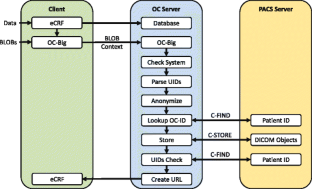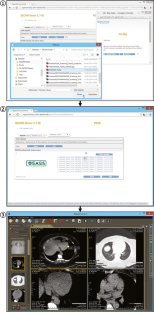 References
Mandrekar SJ, Sargent DJ: Drug designs fulfilling the requirements of clinical trials aiming at personalizing medicine. Chin Clin Oncol 3(2):14, 2014

Miller CG, Krasnow J, Schwartz LH: Medical Imaging in Clinical Trials. Springer London, London, 2014

Mildenberger P, Eichelberg M, Martin E: Introduction to the DICOM standard. Eur Radiol 12(4):920–927, 2002

Lepanto L, Paré G, Aubry D, Robillard P, Lesage J: Impact of PACS on dictation turnaround time and productivity. J Digit Imaging 19(1):92–97, 2006

Fenstermacher D, Street C, McSherry T, Nayak V, Overby C, Feldman M: The cancer biomedical informatics Grid (caBIGTM). In: IEEE Engineering in Medicine and Biology 27th Annual Conference; 2005, p 743–746

Gentili A, Chung CB, Hughes T: Use of the MIRC DICOM service for clinical trials to automatically create teaching file cases from PACS. Radiographics 27(1):269–275, 2007

Gao Y, Burns SS, Lauzon CB, Fong AE, James TA, Lubar JF, et al: Integration of XNAT/PACS, DICOM, and research software for automated multi-modal image analysis. In: SPIE Medical Imaging; 2013, p 867405

Welker JA: Implementation of electronic data capture systems: barriers and solutions. Contemp Clin Trials 28(3):329–336, 2007

van Herk M: Integration of a clinical trial database with a PACS. JPCS 489:12099, 2014

Koutelakis GV, Lymperopoulos DK: PACS through web compatible with DICOM standard and WADO service: advantages and implementation. In: International Conference of the IEEE Engineering in Medicine and Biology Society, 2006, p 2601–2605

Skripcak T: Lessons learned from integrating OpenClinica with other IT systems [Internet]. Available from: https://community.openclinica.com/sites/fileuploads/akaza/cms-community/Tomas%20Skripcak%20-%20Lessons%20learned.pdf. Accessed 19 May 2015

Deserno TM, Deserno V, Haak D, Kabino K: Digital imaging and electronic data capture in multi-center clinical trials. Accepted on Medinfo 2015

Haak D, Page CE, Deserno TM: Workflow-based integration of EDCS and PACS supporting image-based surrogates in clinical trials. Accepted on MIE 2015

Haak D, Samsel C, Gehlen J, Jonas S, Deserno TM: Simplifying electronic data capture in clinical trials: workflow embedded image and biosignal file integration and analysis via web services. J Digit Imaging 27(5):571–580, 2014

Pavlović I, Kern T, Miklavcic D: Comparison of paper-based and electronic data collection process in clinical trials: costs simulation study. Contemp Clin Trials 30(4):300–316, 2009

Franklin JD, Guidry A, Brinkley JF: A partnership approach for electronic data capture in small-scale clinical trials. J Biomed Inform 44:103, 2011

Warnock MJ, Toland C, Evans D, Wallace B, Nagy P: Benefits of using the DCM4CHE DICOM archive. J Digit Imaging 20(S1):125–129, 2007

Haak D, Page CE, Kabino K, Deserno TM: Evaluation of DICOM viewer software for workflow integration in clinical trials. In: SPIE Medical Imaging, 2015, p 94180

Onken M, Riesmeier J, Engel M, Yabanci A, Zabel B, Després S: Reversible anonymization of DICOM images using automatically generated policies. Stud Health Technol Inform 150:861–865, 2009

Parkinson J: Getting real in clinical trials. Nat Rev Drug Discov 13(9):639–640, 2014

Lu Z, Su J: Clinical data management: current status, challenges, and future directions from industry perspectives. OAJCT 2:93–105, 2010
About this article
Cite this article
Haak, D., Page, CE., Reinartz, S. et al. DICOM for Clinical Research: PACS-Integrated Electronic Data Capture in Multi-Center Trials. J Digit Imaging 28, 558–566 (2015). https://doi.org/10.1007/s10278-015-9802-8
Published:

Issue Date:

DOI: https://doi.org/10.1007/s10278-015-9802-8
Keywords
Clinical trial

Systems integration

Workflow

Digital Imaging and Communications in Medicine (DICOM)

PACS

Open source