Abstract
A challenge for many clinical users is that a patient may receive a diagnostic imaging (DI) service at a number of hospitals or private imaging clinics. The DI services that patients receive at other locations could be clinically relevant to current treatments, but typically, there is no seamless method for a clinical user to access longitudinal DI results for their patient. Radiologists, and other specialists that are intensive users of image data, require seamless ingestion of foreign exams into the picture archiving and communication system (PACS) to achieve full clinical value. Most commonly, a clinical user will depend on the patient to bring in a CD that contains imaging from another location. However, a number of issues can arise when using this type of solution. Firstly, a CD will not provide the clinical user with the full longitudinal record of the patient. Secondly, a CD often will not contain the report associated with the images. Finally, a CD is not seamless, due to the need to manually import the contents of the CD into the local PACS. In order to overcome these limitations, and provide clinical users with a greater benefit related to a patient's longitudinal DI history, the implementation of foreign exam management (FEM) at the local site level is required. This paper presents the experiences of FEM in practice. By leveraging industry standards and edge devices to support FEM, multiple sites with disparate PACS and radiology information system (RIS) vendors are able to seamlessly ingest foreign exams within their local PACS as if they are local exams.
This is a preview of subscription content, log in to check access.
Access options
Buy single article
Instant access to the full article PDF.
US$ 39.95
Price includes VAT for USA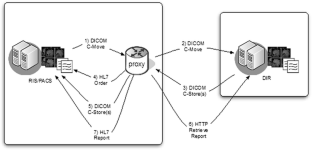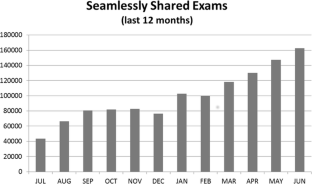 About this article
Cite this article
Nagels, J., MacDonald, D. & Parker, D. Foreign Exam Management in Practice: Seamless Access to Foreign Images and Results in a Regional Environment. J Digit Imaging 28, 188–193 (2015). https://doi.org/10.1007/s10278-014-9735-7
Keywords
PACS

Digital imaging and communications in medicine (DICOM)

Enterprise PACS

Health level 7 (HL7)

Integrating healthcare enterprise (IHE)