Abstract
Handheld devices such as smartphones and tablets are becoming useful in the medical field, as they allow physicians, radiologists, and researchers to analyze images with the benefit of mobile accessibility. However, for handheld devices to be effective, the display must be able to perform well in a wide range of ambient illumination conditions. We conducted visual experiments to quantify user performance for testing the image quality of two current-generation devices in different ambient illumination conditions while measuring ambient light levels with a real-time illuminance meter. We found and quantified that due to the high reflectivity of handheld devices, performance deteriorates as the user moves from dark areas into environments of greater ambient illumination. The quantitative analysis suggests that differences in display reflection coefficients do not affect the low illumination performance of the device but rather the performance at higher levels of illumination.
Access options
Buy single article
Instant access to the full article PDF.
US$ 39.95
Tax calculation will be finalised during checkout.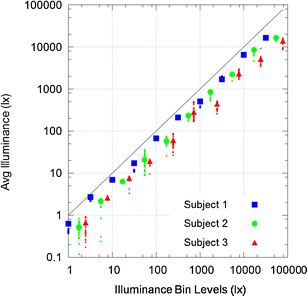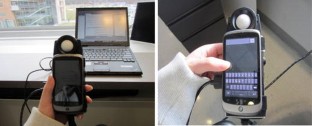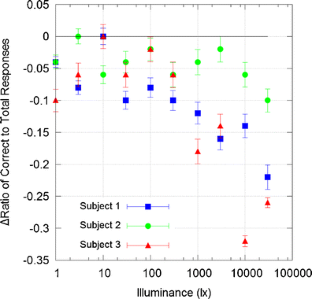 References
1.

Badano A, Sharma D, Guarnieri G, Ramponi G, Albani L: Effect of case variability on the measurement of reader performance when comparing medical display technologies: application to the study of high-luminance- range displays. Proc SID 2009

2.

Flynn M, Badano A: Image quality degradation by light scattering in display devices. J Digit Imaging 12:50–59, 1999

3.

Toomey R: Handheld devices for radiologists: as good as monitors. Imaging Med 2010

4.

Xu X, Kerofsky L: Improving content visibility for high-ambient-illumination viewable display and energy- saving display. JSID 19, 2011

5.

Zafar F, Choi M, Wang J, Liu P, Badano A: Visual methods for determining ambient illumination conditions when viewing medical images in mobile display devices. J SID 2011

6.

Lin P-H, Kuo W-H: Image quality of a mobile display under different illuminations. Percept Mot Skills 113:215–228, 2011

7.

Badano A: Predicting perceived image quality: a critique of Lin and Kuo. Percept Mot Skills 114:236–238, 2012

8.

Vogel R, Saha A, Chakrabarti K, Badano A: Evaluation of high-resolution and mobile display systems for digital radiology in dark and bright environments using human and computational observers. J SID 15(6):357–365, 2007

9.

Samei E, Chakraborty ABAD, Compton K, Cornelius C, Corrigan K, Flynn M, Hemminger B, Hangiandreou N, Johnson J, Moxley M, Pavlicek W, Roehrig H, Rutz L, Shepard J, Uzenoff R, Willis JWJC: Assessment of display performance for medical imaging systems, Report of the American Association of Physicists in Medicine (AAPM) Task Group 18. Medical Physics Publishing, Madison, WI, 2005. AAPM On-Line Report No. 03

10.

Badano A: Effect of slow display on detectability when browsing large image datasets. J SID 17/11
Acknowledgments
The authors acknowledge support from the Research Participation Program administered by ORISE through an interagency agreement between DOE and FDA. The mention of commercial products herein is not to be construed as either an actual or implied endorsement of such products by the Department of Health and Human Services. This is a contribution of the Food and Drug Administration and is not subject to copyright. We thank the volunteers who participated in the experiments.
About this article
Cite this article
Liu, P., Zafar, F. & Badano, A. The Effect of Ambient Illumination on Handheld Display Image Quality. J Digit Imaging 27, 12–18 (2014). https://doi.org/10.1007/s10278-013-9636-1
Keywords
Clinical image viewing

Data display

Diagnostic display monitors

Diagnostic image quality

Digital display

Display device

Human–computer interaction

Human visual system

Image display

Liquid crystal display (LCD)

Medical displays

Personal digital assistant (PDA)

Visual perception