Abstract
This paper introduces a software framework called Visual Interpretation with Three-Dimensional Annotations (VITA) that is able to automatically generate three-dimensional (3D) visual summaries based on radiological annotations made during routine exam reporting. VITA summaries are in the form of rotating 3D volumes where radiological annotations are highlighted to place important clinical observations into a 3D context. The rendered volume is produced as a Digital Imaging and Communications in Medicine (DICOM) object and is automatically added to the study for archival in Picture Archiving and Communication System (PACS). In addition, a video summary (e.g., MPEG4) can be generated for sharing with patients and for situations where DICOM viewers are not readily available to referring physicians. The current version of VITA is compatible with ClearCanvas; however, VITA can work with any PACS workstation that has a structured annotation implementation (e.g., Extendible Markup Language, Health Level 7, Annotation and Image Markup) and is able to seamlessly integrate into the existing reporting workflow. In a survey with referring physicians, the vast majority strongly agreed that 3D visual summaries improve the communication of the radiologists' reports and aid communication with patients.
Access options
Buy single article
Instant access to the full article PDF.
US$ 39.95
Tax calculation will be finalised during checkout.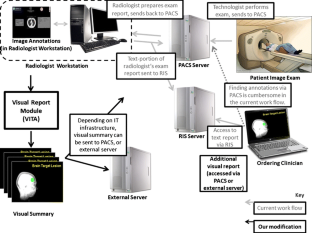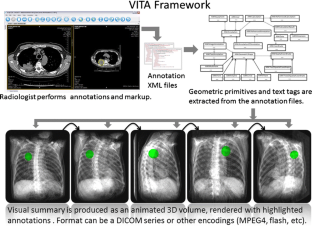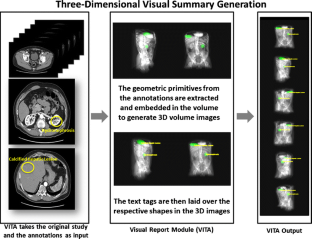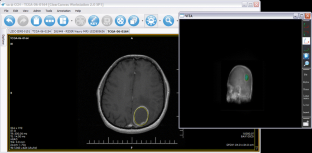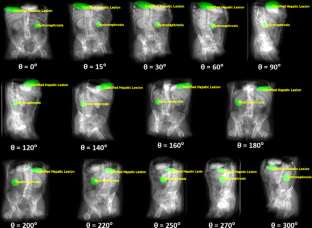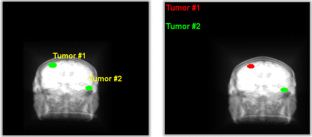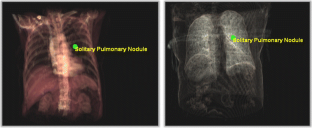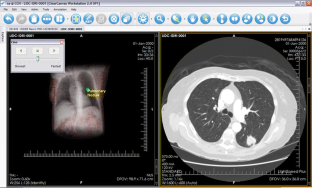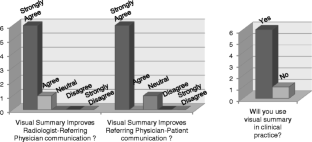 References
1.

Fan SF, Zhe X, He HQ, Ding JR, Teng GJ: The role of key image notes in CT imaging study interpretation. J Digit Imaging 24(2):366–372, 2011

2.

Armato SG: Computerized lung nodule detection: effect of image annotation schemes for conveying results to radiologists. Proc SPIE 5032:854–859, 2003

3.

Reiner B, Siegel E: Radiology reporting: returning to our image-centric roots. AJR Am J Roentgenol 187:1151–1155, 2006

4.

Rubin GD: Data explosion: the challenge of multi-detector-row CT. Eur J Radiol 36(2):74–80, 2000

5.

Lawrence HS, David MP, Alexandra RB, Yuelin L, Hedvig H: Improving communication of diagnostic radiology findings through structured reporting. Radiology 260:174–181, 2011

6.

Bosmans JML, Weyler JJ, Schepper AMD, Parizel PM: The radiology report as seen by radiologists and referring clinicians: results of the COVER and ROVER surveys. Radiology 259:184–195, 2011

7.

Armato III, SG, McLennan G, Bidaut L, et al: The lung image database consortium (LIDC) and image database resource initiative (IDRI): a completed reference database of lung nodules on CT scans. Med Phys 38:915–931, 2011

8.

Choplin RH, Johannes M, Boehme JM, Maynard CC: Picture archiving and communication systems: an overview. RadioGraphics 12:127–129, 1992

9.

Digital Imaging and Communications in Medicine (DICOM) Standard. Available at http://medical.nema.org/. Accessed 20 January 2011

10.

Annotation Imaging Markup (AIM) Standard. Available at https://cabig.nci.nih.gov/tools/AIM/. Accessed 15 February 2011

11.

Channin DS, Mongkolwat P, Kleper V, Rubin DL: The annotation and image mark-up project. Radiology 253(3):590–592, 2009

12.

Channin DS, Mongkolwat P, Kelper V, Sepukar K, Rubin DL: The caBIG annotation and image markup project. J Digit Imaging 23(2):217–225, 2010

13.

ClearCanvas RIS/PACS and DICOM viewing software solution. Available at http://www.clearcanvas.ca/. Accessed 23 December 2010

14.

Rosset A, Spadola L, Ratib O: Osirix: an open-source software for navigating in multidimensional DICOM images. J Digit Imaging 17(3):205–216, 2004

15.

Rubin DL: Rodriguez C, Shah P. Beaulieu C: iPad: semantic annotation and markup of radiological images. AMIA Annu Symp Proc(626–630), 2008

16.

Zimmerman SL, Kim W, Boonn WW: Informatics in radiology: automated structured reporting of imaging findings using the AIM standard and XML. RadioGraphics 31:881–887, 2011

17.

Nokia Qt Application and UI framework. Available at http:/qt.nokia.com/. Accessed 15 August 2010

18.

NVIDIA Cg Toolkit. Available at http://developer.nvidia.com/cg-toolkit/. Accessed 23 November 2010

19.

Insight Segmentation and Registration Toolkit (ITK). Available at http://www.itk.org/. Accessed 21 August 2010

20.

DICOM Offis Toolkit (DCMTK). Available at http://dicom.offiss.de/. Accessed 26 January 2011

21.

Hall FM: The radiology report of the future. Radiology 251:313–316, 2009

22.

Chiaramonte D: Who's afraid of the empowered patient? JAMA 300:1393–1394, 2004

23.

Berlin L: Communicating results of all outpatient radiologic examinations directly to patients: the time has come. AJR Am J Roentgenol 192:571–573, 2009
Acknowledgments
The authors acknowledge the National Cancer Institute and the Foundation for the National Institutes of Health and their critical role in the creation of the free publicly available LIDC/IDRI Database used in this study [7].
About this article
Cite this article
Roy, S., Brown, M.S. & Shih, G.L. Visual Interpretation with Three-Dimensional Annotations (VITA): Three-Dimensional Image Interpretation Tool for Radiological Reporting. J Digit Imaging 27, 49–57 (2014). https://doi.org/10.1007/s10278-013-9624-5
Keywords
Visual summary

Radiology reporting

Volume visualization

Clinical workflow

Information visualization

Volume rendering