Abstract
Most CT dose data aggregation methods do not currently adjust dose values for patient size. This work proposes a simple heuristic for reliably computing an effective diameter of a patient from an abdominal CT image. Evaluation of this method on 106 patients scanned on Philips Brilliance 64 and Brilliance Big Bore scanners demonstrates close correspondence between computed and manually measured patient effective diameters, with a mean absolute error of 1.0 cm (error range +2.2 to −0.4 cm). This level of correspondence was also demonstrated for 60 patients on Siemens, General Electric, and Toshiba scanners. A calculated effective diameter in the middle slice of an abdominal CT study was found to be a close approximation of the mean calculated effective diameter for the study, with a mean absolute error of approximately 1.0 cm (error range +3.5 to −2.2 cm). Furthermore, the mean absolute error for an adjusted mean volume computed tomography dose index (CTDIvol) using a mid-study calculated effective diameter, versus a mean per-slice adjusted CTDIvol based on the calculated effective diameter of each slice, was 0.59 mGy (error range 1.64 to −3.12 mGy). These results are used to calculate approximate normalized dose length product values in an abdominal CT dose database of 12,506 studies.
Access options
Buy single article
Instant access to the full article PDF.
US$ 39.95
Tax calculation will be finalised during checkout.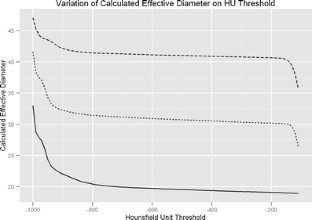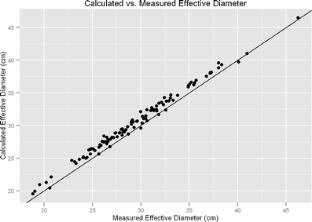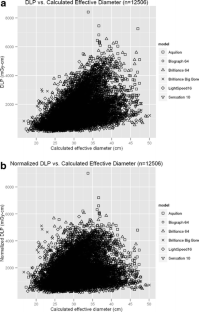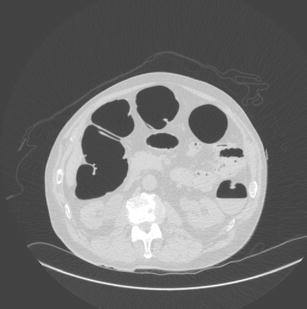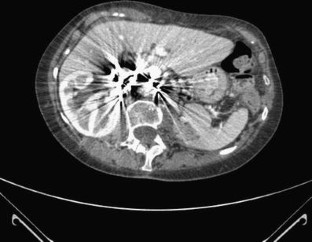 References
1.

Cook TS, Zimmerman S, Maidment AD, Kim W, Boonn WW: Automated extraction of radiation dose information for CT examinations. J Am Coll Radiol 7:871–877, 2010

2.

Li X, Zhang D, Liu B: Automated extraction of radiation dose information from CT dose report images. AJR Am J Roentgenol 196:W781–783, 2011

3.

Morin RL, Coombs LP, Chatfield MB: ACR Dose Index Registry. J Am Coll Radiol 8:288–291, 2011

4.

Cheng PM: Automated PACS retrieval and processing of dose data from legacy CT systems. American Roentgen Ray Society Annual Meeting, 2011

5.

McCollough CH, Leng S, Yu L, Cody DD, Boone JM, McNitt-Gray MF: CT dose index and patient dose: they are not the same thing. Radiology 259:311–316, 2011

6.

American Association of Physicists in Medicine: Size-Specific Dose Estimates (SSDE) in Pediatric and Adult Body CT Examinations: Report of AAPM Task Group 204, College Park, MD, 2011

7.

Kleinman PL, Strauss KJ, Zurakowski D, Buckley KS, Taylor GA: Patient size measured on CT images as a function of age at a tertiary care children's hospital. AJR Am J Roentgenol 194:1611–1619, 2010

8.

Menke J: Comparison of different body size parameters for individual dose adaptation in body CT of adults. Radiology 236:565–571, 2005

9.

Zarb F, Rainford L, McEntee MF: AP diameter shows the strongest correlation with CTDI and DLP in abdominal and chest CT. Radiat Prot Dosimetry 140:266–273, 2010
About this article
Cite this article
Cheng, P.M. Automated Estimation of Abdominal Effective Diameter for Body Size Normalization of CT Dose. J Digit Imaging 26, 406–411 (2013). https://doi.org/10.1007/s10278-012-9525-z
Keywords
Computed tomography

Radiation dose

Body imaging

Quality control

Image analysis