Abstract
In diagnostic radiology, medical-grade monochrome displays are usually recommended because of their higher luminance. Standard color displays can be used as a less expensive alternative, but have a lower luminance. The aim of the present study was to compare image quality for these two types of displays. Images of a CDRAD contrast-detail phantom were read by four radiologists using a 2-megapixel (MP) color display (143 cd/m2 maximum luminance) as well as 2-MP (295 cd/m2) and 3-MP monochrome displays. Thirty lumbar spine radiographs were also read by four radiologists using the color and the 2-MP monochrome display in a visual grading analysis (VGA). Very small differences were found between the displays when reading the CDRAD images. The VGA scores were −0.28 for the color and −0.25 for the monochrome display (p = 0.24; NS). It thus seems possible to use color displays in diagnostic radiology provided that grayscale adjustment is used.
Access options
Buy single article
Instant access to the full article PDF.
US$ 39.95
Tax calculation will be finalised during checkout.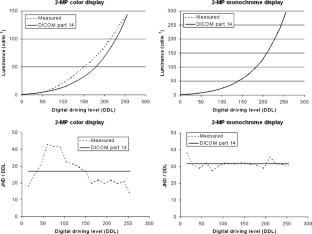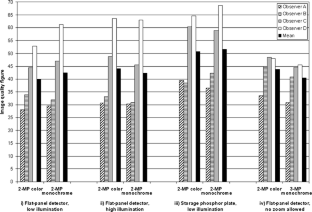 References
1.

Reiner B, Siegel E, Hooper F, Ghebrekidan H, Warner J, Briscoe B, Protopapas Z, Pomerantz S: Variation of monitor luminance on radiologist productivity in the interpretation of skeletal radiographs using a picture archiving and communication system. J Digit Imaging 10:176, 1997

2.

Krupinski EA, Johnson J, Roehrig H, Nafziger J, Fan J, Lubin J: Use of a human visual system model to predict observer performance with CRT vs LCD display of images. J Digit Imaging 17:258–263, 2004

3.

Langer S, Bartholmai B, Fetterly K, Harmsen S, Ryan W, Erickson B, Andriole K, Carrino J: SCAR R&D Symposium 2003: comparing the efficacy of 5-MP CRT versus 3-MP LCD in the evaluation of interstitial lung disease. J Digit Imaging 17:149–157, 2004

4.

Commission of the European Communities: European guidelines on quality criteria for diagnostic radiographic images, EUR 16260, Office for Official Publications of the European Communities, Luxembourg, 1996

5.

Pärtan G, Mayrhofer R, Urban M, Wassipaul M, Pichler L, Hruby W: Diagnostic performance of liquid crystal and cathode-ray-tube monitors in brain computed tomography. Eur Radiol 13:2397–2401, 2003

6.

Sim L, Manthey P, Esdaile P, Benson M: Comparison of computer display monitors for computed radiography diagnostic application in a radiology PACS. Australas Phys Eng Sci Med 27:148–150, 2004

7.

Doyle AJ, Le Fevre J, Anderson GD: Personal computer versus workstation display: observer performance in detection of wrist fractures on digital radiographs. Radiology 237:872–877, 2005

8.

Doyle AJ, Gunn ML, Gamble GD, Zhang M: Personal computer-based PACS display system: comparison with a dedicated PACS workstation for review of computed radiographic images in rheumatoid arthritis. Acad Radiol 9:646–653, 2002

9.

Langer S, Fetterly K, Mandrekar J, Harmsen S, Bartholmai B, Patton C, Bishop A, McCannel C: ROC study of four LCD displays under typical medical center lighting conditions. J Digit Imaging 19:30–40, 2006

10.

Goo JM, Choi JY, Im JG, Lee HJ, Chung MJ, Han D, Park SH, Kim JH, Nam SH: Effect of monitor luminance and ambient light on observer performance in soft-copy reading of digital chest radiographs. Radiology 232:762–766, 2004

11.

Samei E, Badano A, Chakraborty D, Compton K, Cornelius C, Corrigan K, Flynn MJ, Hemminger B, Hangiandreou N, Johnson J, Moxley M, Pavlicek W, Roehrig H, Rutz L, Shepard J, Uzenoff R, Wang J, Willis C: Assessment of Display Performance for Medical Imaging Systems, Report of the American Association of Physicists in Medicine (AAPM) Task Group 18. AAPM online report No. 03. April, Medical Physics Publishing, Madison, WI, 2005

12.

Krupinski E, Roehrig H, Furukawa T: Influence of film and monitor display luminance on observer performance and visual search. Acad Radiol 6:411–418, 1999

13.

Krupinski EA, Roehrig H: Pulmonary nodule detection and visual search: P45 and P104 monochrome versus color monitor displays. Acad Radiol 9:638–645, 2002

14.

Geijer H, Beckman K-W, Andersson T, Persliden J: Image quality vs radiation dose for a flat-panel amorphous silicon detector: a phantom study. Eur Radiol 11:1704–1709, 2001

15.

Chakrabarti K, Kaczmarek RV, Thomas JA, Romanyukha A: Effect of room illuminance on monitor black level luminance and monitor calibration. J Digit Imaging 16:350–355, 2003

16.

Ikeda M, Ishigaki T, Shimamoto K, Kodera Y, Koyama S, Usami H, Kato K: Influence of monitor luminance change on observer performance for detection of abnormalities depicted on chest radiographs. Invest Radiol 38:57–63, 2003

17.

Wang J, Compton K, Peng Q: Proposal of a quality-index or metric for soft copy display systems: contrast sensitivity study. J Digit Imaging 16:185–202, 2003

18.

Peer S, Giacomuzzi SM, Peer R, Gassner E, Steingruber I, Jaschke W: Resolution requirements for monitor viewing of digital flat-panel detector radiographs: a contrast detail analysis. Eur Radiol 13:413–417, 2003

19.

Hangiandreou NJ, Fetterly KA, Felmlee JP: Optimization of a contrast-detail-based method for electronic image display quality evaluation. J Digit Imaging 12:60–67, 1999

20.

Van Metter R, Zhao BS, Kohm K: The sensitivity of visual targets for display quality assessment. Proc SPIE 3658:254–268, 1999
About this article
Cite this article
Geijer, H., Geijer, M., Forsberg, L. et al. Comparison of Color LCD and Medical-grade Monochrome LCD Displays in Diagnostic Radiology. J Digit Imaging 20, 114–121 (2007). https://doi.org/10.1007/s10278-007-9028-5
Key words
PACS

displays

digital imaging

luminance

image quality

monitor

medical imaging

liquid crystal display