The purpose of this research is to enable users to semiautomatically segment the anatomical structures in magnetic resonance images (MRIs), computerized tomographs (CTs), and other medical images on a personal computer. The segmented images are used for making 3D images, which are helpful to medical education and research. To achieve this purpose, the following trials were performed. The entire body of a volunteer was scanned to make 557 MRIs. On Adobe Photoshop, contours of 19 anatomical structures in the MRIs were semiautomatically drawn using MAGNETIC LASSO TOOL and manually corrected using either LASSO TOOL or DIRECT SELECTION TOOL to make 557 segmented images. In a similar manner, 13 anatomical structures in 8,590 anatomical images were segmented. Proper segmentation was verified by making 3D images from the segmented images. Semiautomatic segmentation using Adobe Photoshop is expected to be widely used for segmentation of anatomical structures in various medical images.
Access options
Buy single article
Instant access to the full article PDF.
USD 39.95
Price excludes VAT (USA)
Tax calculation will be finalised during checkout.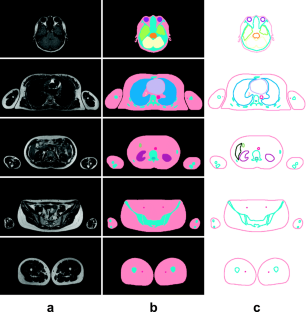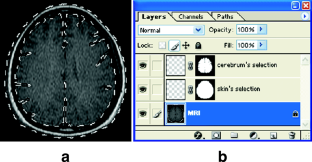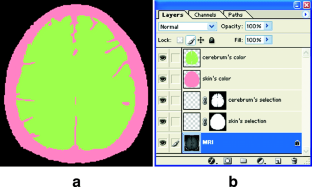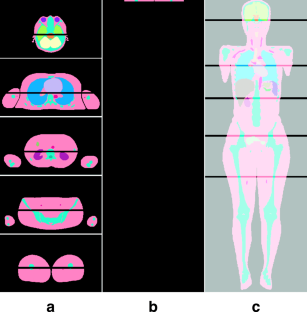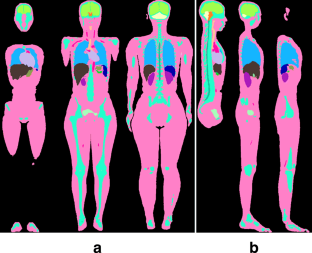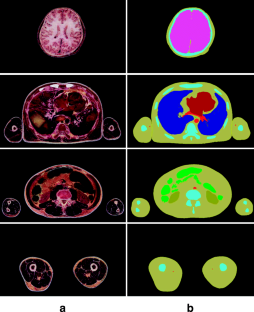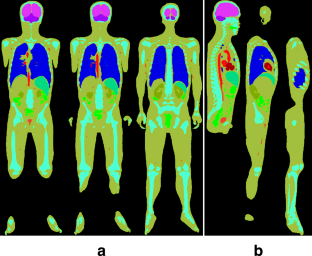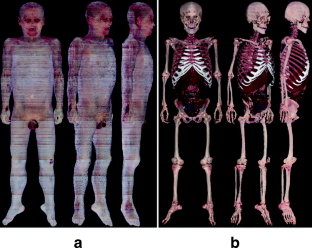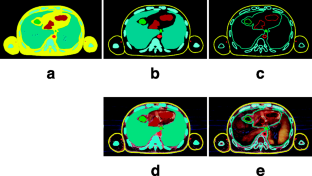 References
JP Kerr D Knapp B Frake M Sellberg (2000) ArticleTitleTrue color surface anatomy. Mapping the Visible Human to patient-specific CT data Comput Med Imaging Graph 24 153–164 Occurrence Handle10.1016/S0895-6111(00)00015-X Occurrence Handle10838009

FB Sachse CD Werner K Meyer-Waarden O Dössel (2000) ArticleTitleDevelopment of a human body model for numerical calculation of electrical fields Comput Med Imaging Graph 24 165–171 Occurrence Handle10.1016/S0895-6111(00)00016-1 Occurrence Handle10838010

M Hosono Y Nakano S Urayama J Konishi K Uokawa Y Tanaka (1995) ArticleTitleThree-dimensional display of cardiac structures using reconstructed magnetic resonance imaging J Digit Imaging 8 105–115 Occurrence Handle7488653

X Qin Z Ou Y Zhang J Hou (2002) ArticleTitleData structure representation of 3D reconstruction system of medical images and surface model construction Sheng Wu Yi Xue Gong Cheng Xue Za Zhi 19 239–243 Occurrence Handle12224290

K Uokawa Y Nakano S Urayama C Uyama K Kurokawa K Ikeda H Koito Y Tanaka (1997) ArticleTitleAn improved computer methods to prepare 3D magnetic resonance images of thoracic structures J Digit Imaging 10 85–95 Occurrence Handle9165423

JR Anderson MJ Wilcox SF Barrett (2002) ArticleTitleImage processing and 3D reconstruction of serial section micrographs from Musca domestica's biological cells responsible for visual processing Biomed Sci Instrum 38 363–368 Occurrence Handle12085633

Nip W, Logan C: Whole frog technical report Web site http://www-itg.lbl.gov/ITG.hm.pg.docs/Whole.Frog/Whole.Frog.html). Accessed August 11, 2004.

Quackenbush D, Ratiu P, Kerr J: Segmentation of the Visible Human datasets. The Visible Human Project Conference Proceeding, October 7 and 8, 1996

L Xu Y Chen H Yang (2000) ArticleTitleDigital photography and blurred image processing of retinal nerve fiber layer in glaucoma Zhonghua Yan Ke Za Zhi 36 410–412 Occurrence Handle11853637

VM Spitzer DG Whitlock (1998) Atlas of the Visible Human Male. Reverse Engineering of the Human Body Jones and Bartlett Publishers Massachusetts

D Dean TE Herbener (2000) Cross-Sectional Human Anatomy Lippincott Williams & Wilkins Baltimore, MD

VM Spitzer MJ Ackerman AL Scherizinger DG Whitlock (1996) ArticleTitleThe Visible Human male. Technical report J Am Med Inform Assoc 3 118–130 Occurrence Handle8653448

JS Park MS Chung SB Hwang YS Lee DH Har HS Park (2005) ArticleTitleVisible Korean Human. Improved serially sectioned images of the entire body IEEE Trans Med Imaging 24 352–360 Occurrence Handle10.1109/TMI.2004.842454 Occurrence Handle15754985

A Pommert KH Höhne B Pflesser E Richter M Riemer T Schiemann R Schubert U Schumacher U Tiede (2001) ArticleTitleCreating a high-resolution spatial/symbolic model of the inner organs based on the Visible Human Med Image Anal 5 221–228 Occurrence Handle10.1016/S1361-8415(01)00044-5 Occurrence Handle11524228

T Schiemann J Freudenberg B Pflesser A Pommert K Priesmeyer M Riemer R Schubert U Tiede KH Höhne (2000) ArticleTitleExploring the Visible Human using the VOXEL-MAN framework Comput Med Imaging Graph 24 127–132 Occurrence Handle10.1016/S0895-6111(00)00013-6 Occurrence Handle10838007
Acknowledgment
This work was supported by a grant from Department of Medical Sciences, The Graduate School, Ajou University.
Additional information
The authors obtained consent for this research from concerned parties (a female subject and relatives of the deceased subject) after a full explanation about the nature of this procedure. In addition, we followed the cadaver management laws of South Korea.
About this article
Cite this article
Park, J.S., Chung, M.S., Hwang, S.B. et al. Technical Report on Semiautomatic Segmentation Using the Adobe Photoshop. J Digit Imaging 18, 333–343 (2005). https://doi.org/10.1007/s10278-005-6704-1
Published:

Issue Date:

DOI: https://doi.org/10.1007/s10278-005-6704-1
Key words