Abstract
Quercus has been reported as the genus with the largest number of attacking powdery mildews. In Europe, oak powdery mildew was rarely reported before 1907, when severe outbreaks were observed. These epidemics were attributed to the newly described species Erysiphe alphitoides, presumed to be of exotic origin. After the burst of interest following the emergence of the disease, research on this topic remained very limited. Interest in research was recently reactivated in response to the availability of molecular tools. This review summarizes current knowledge on the diversity of oak powdery mildews in Europe and their possible evolutionary relationships with European oaks. The most striking results are the evidence of cryptic diversity (detection in France of a lineage closely related to Erysiphe quercicola, previously thought to only have an Asian distribution), large host range (similarity of E. alphitoides and E. quercicola with powdery mildews of tropical plants) but also local adaptation to Quercus robur. These recent findings highlight the complexity of the history of oak powdery mildew in Europe and point to the question of host specialization and host jumps in the evolution of powdery mildew fungi.
Access options
Buy single article
Instant access to the full article PDF.
USD 39.95
Price excludes VAT (USA)
Tax calculation will be finalised during checkout.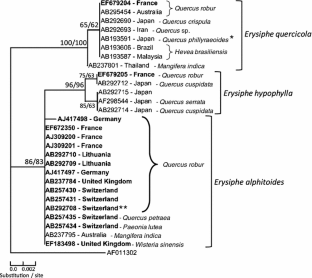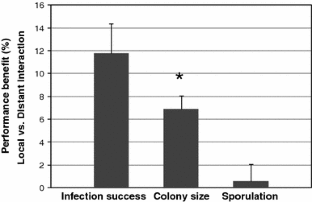 References
Adam L, Ellwood S, Wilson I, Saenz G, Xiao S, Oliver RP, Turner JG, Somerville S (1999) Comparison of Erysiphe cichoracearum and E. cruciferarum and a survey of 360 Arabidopsis thaliana accessions for resistance to these two powdery mildew pathogens. Mol Plant–Microbe Interact 12:1031–1043

Arnaud G, Foex E (1912) Sur la forme parfaite de l'Oïdium du chêne. C R Hebd Seances Acad Sci 154:124

Ayres PG (1976) Natural resistance to oak mildew. Arboric J 3:23–29

Boesewinkel HJ (1980) The identity of mango mildew, Oidium mangiferae. Phytopathol Z 99:126–130

Braun U (1995) The powdery mildews (Erysiphales) of Europe. Gustav Fisher, Jena

Braun U, Takamatsu S (2000) Phylogeny of Erysiphe, Microsphaera, Uncinula (Erysipheae) and Cystotheca, Podosphaera, Sphaerotheca (Cystotheceae) inferred from rDNA ITS sequences—some taxonomic consequences. Schlechtendalia 4:1–33

Braun U, Takamatsu S, Heluta V, Limkaisang S, Divarangkoon R, Cook RTA, Boyle H (2006) Phylogeny and taxonomy of powdery mildew fungi of Erysiphe sect. Uncinula on Carpinus species. Mycol Prog 5:139–153

Brewer MT, Milgroom MG (2010) Phylogeography and population structure of the grape powdery mildew fungus, Erysiphe necator, from diverse Vitis species. BMC Evol Biol 10:268

Bureau E (1908) Effets de l'Oidium quercinum sur différentes espèces de chênes. C R Hebd Seances Acad Sci 147:571–574

Clarke DD, Akhkha A (2002) Population genetics of powdery mildew—natural plant pathosystems. In: Bélanger RR, Bushnell WR, Dik AJ, Carver TLW (eds) The powdery mildews: a comprehensive treatise. The American Phytopathological Society, St. Paul, pp 200–218

Cobb NS, Whitham TG (1993) Herbivore deme formation on individual trees: a test case. Oecologia (Berl) 94:496–502

Combes C (2001) Ecology and evolution of intimate interactions. Chicago University Press, Chicago

Cook RTA, Inman AJ, Billings C (1997) Identification of anamorphs of powdery mildews using morphological and host range data. Mycol Res 101:975–1002

Cunnington JH, Takamatsu S, Lawrie AC, Pascoe IG (2003) Molecular identification of anamorphic powdery mildews (Erysiphales). Australas Plant Pathol 32:421–428

Délye C, Laigret F, Corio-Costet M-F (1997) RAPD analysis provides insight into the biology and epidemiology of Uncinula necator. Phytopathology 87:670–677

Desprez-Loustau M-L, Vitasse Y, Delzon S, Capdevielle X, Marçais B, Kremer A (2010a) Are plant pathogen populations adapted for encounter with their host? A case study of phenological synchrony between oak and an obligate fungal parasite along an altitudinal gradient. J Evol Biol 23:87–97

Desprez-Loustau ML, Courtecuisse R, Robin C, Husson C, Moreau Pa, Blancard D, Selosse MA, Lung-Escarmant B, Piou D, Sache I (2010b) Species diversity and drivers of spread of alien fungi (sensu lato) in Europe with a particular focus on France. Biol Invasions 12:157–172

Dutech C, Enjalbert E, Fournier E, Delmotte F, Barrès B, Carlier J, Tharreau D, Giraud T (2007) Challenges of microsatellite isolation in fungi. Fungal Genet Biol 44:933–949

Eichmann R, Hückelhoven R (2008) Accommodation of powdery mildew fungi in intact plant cells. J Plant Physiol 165:5–18

Farr DF, Rossman AY (2010) Fungal Databases, Systematic Mycology and Microbiology Laboratory, ARS, USDA. Retrieved 1 October 2010, from http://nt.ars-grin.gov/fungaldatabases/

Foex ME (1941) L'invasion des chênes d'Europe par le blanc ou Oïdium. Rev Eaux Forêts 79:338–349

Gachet H (1832) Note sur quelques espèces et une variété inédite de champignons. Actes Soc Linn Bordeaux 29 :15 sept 1832

Gadoury DM, Pearson RC (1988) Initiation, development, dispersal, and survival of cleistothecia of Uncinula necator in New York vineyards. Phytopathology 78:1413–1421

Gillot D (1909) Le blanc du chêne. Rev Sci Limousin 193:1–4

Giraud T, Enjalbert J, Fournier E, Dutech C, Delmotte F (2008) Population genetics of fungal diseases of plants. Parasite 15:449–454

Griffon E, Maublanc A (1908) Sur le blanc du Chêne. C R Hebd Seances Acad Sci 147:437–439

Griffon E, Maublanc A (1911) Le blanc du chêne en 1910. Bull Trimest Soc Mycol F 27:60–67

Griffon E, Maublanc A (1912) Les Microsphaera des Chênes. Bull Trimest Soc Mycol F 28:88–104

Hariot P (1907) Note sur un oïdium du chêne. Bull Trimest Soc Mycol F 23:157–159

Henricot B, Cook RTA (2007) New report of powdery mildew on wisteria in the UK. New Dis Rep 15. http://www.bspp.org.uk/ndr/

Hirata T, Takamatsu S (1996) Nucleotide sequence diversity of rDNA internal transcribed spacers extracted from conidia and cleistothecia of several powdery mildew fungi. Mycoscience 37:283–288

Hirose S, Tanda S, Kiss L, Grigaliunaite B, Havrylenko M, Takamatsu S (2005) Molecular phylogeny and evolution of the maple powdery mildew (Sawadaea, Erysiphaceae) inferred from nuclear rDNA sequences. Mycol Res 109:912–922

Hoeksema J, Forde S (2008) A meta-analysis of factors affecting local adaptation between interacting species. Am Nat 171:275–290

Jones DR, Baker RHA (2007) Introductions of non-native plant pathogens into Great Britain, 1970–2004. Plant Pathol 56:891–910

Kreisel H, Scholler M (1994) Chronology of phytoparasitic fungi introduced to Germany and adjacent countries. Bot Acta 107:387–392

Laine AL (2005) Spatial scale of local adaptation in a plant–pathogen metapopulation. J Evol Biol 18:930–938

Laine AL (2007) Detecting local adaptation in a natural plant–pathogen metapopulation: a laboratory vs. field transplant approach. J Evol Biol 20:1665–1673

Laine AL, Hanski I (2006) Large-scale spatial dynamics of a specialist plant pathogen in a fragmented landscape. J Ecol 94:217–226

Limkaisang S, Kom-Un S, Luiz Furtado E, Liew WK, Salleh B, Sato Y, Takamatsu S (2005) Molecular phylogenetic and morphological analyses of Oidium heveae, a powdery mildew of rubber tree. Mycoscience 46:220–226

Limkaisang S, Cunnington JH, Liew KW, Salleh B, Sato Y, Divarangkoon R, Fangfuk W, To-Anun C, Takamatsu S (2006) Molecular phylogenetic analyses reveal a close relationship between powdery mildew fungi on some tropical trees and Erysiphe alphitoides, an oak powdery mildew. Mycoscience 47:327–335

Macek J (1975a) Three species of oak powdery mildews in Slovenia. Gozdarski Vestnik 33:299–304

Macek J (1975b) Phyllactinia roboris (Gach.) Blum.–Relikt einer erloschenen Eichenmehltauepiphytotie in Jugoslawien (1). Biol Vestn 23(1):41–44

Marçais B, Kavkova M, Desprez-Loustau M-L (2009) Phenotypic variation in phenology of ascospore production between European populations of oak powdery mildew. Ann For Sci 66:814

McDonald BA, Linde CC (2002) Pathogen population genetics, evolutionary potential, and durable resistance. Annu Rev Phytopathol 40:349–379

Micali C, Göllner K, Humphry M, Consonni C, Panstruga R (2008) The powdery mildew disease of Arabidopsis: a paradigm for the interaction between plants and biotrophic fungi. In: The Arabidopsis book 2008. American Society of Plant Biologists, Rockville, pp 1–19

Milgroom MG, Peever TL (2003) Population biology of plant pathogens: the synthesis of plant disease epidemiology and population genetics. Plant Dis 87:608–617

Morgan AD, Gandon S, Buckling A (2005) The effect of migration on local adaptation in a coevolving host–parasite system. Nature (Lond) 437:253–256

Mori Y, Sato Y, Takamatsu S (2000) Evolutionary analysis of the powdery mildew fungi (Erysiphales) using nucleotide sequences of the nuclear ribosomal DNA. Mycologia 92:74–93

Mougou A (2009) Interaction chêne-oïdium (Erysiphe alphitoïdes): base génétique de la résistance et adaptation du parasite. Ph. D. Thesis, Université Bordeaux 1, Bordeaux

Mougou A, Dutech C, Desprez-Loustau ML (2008) New insights into the identity and origin of the causal agent of oak powdery mildew in Europe. For Pathol 38:275–287

Mougou-Hamdane A, Giresse X, Dutech C, Desprez-Loustau M-L (2010) Spatial distribution of lineages of oak powdery mildew fungi in France, using quick molecular detection methods. Ann For Sci 67:212

Nixon KC (2006) Global and neotropical distribution and diversity of oak (genus Quercus) and oak forests. In: Kappelle M (ed) Ecology and conservation of neotropical montane oak forests. Ecological studies, vol 185. Springer, Berlin

Palovcikova D, Dancakova H, Matouskova H, Junaskova J, Jankovsky (2009) Powdery mildew on woody plants in the Czech republic. SDU Fac For J Ser A 206–215 (Special Issue, ISSN: 1302-7085)

Parker IM, Gilbert GS (2004) The evolutionary ecology of novel plant–pathogen interactions. Annu Rev Ecol Evol Syst 35:675–700

Parks R, Carbone I, Murphy JP, Marshall D, Cowger C (2008) Virulence structure of the eastern US wheat powdery mildew population. Plant Dis 92:1074–1082

Parks R, Carbone I, Murphy JP, Cowger C (2009) Population genetic analysis of an eastern US wheat powdery mildew population reveals geographic subdivision and recent common ancestry with UK and Israeli populations. Phytopathology 99:840–849

Raymond J (1924) Périthèces de Microsphaera quercina (Schw.) Burr observés dans le sud-ouest de la France. Rev Pathol Veg Entomol Agric 11:254–258

Raymond J (1927) Le "blanc" du chêne. Ann Epiphyt 13:94–129

Ridout CJ (2009) Profiles in pathogenesis and mutualism: powdery mildews. In: Deising HB (ed) The Mycota, vol 5. Plant relationships, 2nd edn. Springer, Berlin, pp 51–68

Roll-Hansen F (1961) Microsphaera hypophylla Nevodovskij (M. silvatica Vlasov), an oak powdery mildew fungus. Medd Norsk Skogfor 59:41–61

Roslin T, Laine A-L, Gripenberg S (2007) Spatial population structure in an obligate plant pathogen colonizing oak Quercus robur. Funct Ecol 21:1168–1177

Roy BA (2001) Patterns of association between crucifers and their flower-mimic pathogens: host jumps are more frequent than coevolution or cospeciation. Evolution 55:41–53

Saenz GS, Taylor JW (1999) Phylogeny of the Erysiphales (powdery mildews) inferred from internal transcribed spacer ribosomal sequences. Can J Bot 77:150–168

Salmon ES (1900) A monograph of the Erysiphaceae. Mem Torrey Bot Club 9:1–292

Stukenbrock EH, McDonald BA (2008) The origins of plant pathogens in agro-ecosystems. Annu Rev Phytopathol 46:75–100

Takamatsu S (2004) Phylogeny and evolution of the powdery mildew fungi (Erysiphales, Ascomycota) inferred from nuclear ribosomal DNA sequences. Mycoscience 45:147–157

Takamatsu S, Hirata T, Sato Y (1998) Phylogenetic analysis and predicted secondary structures of the rDNA internal transcribed spacers of the powdery mildew fungi (Erysiphaceae). Mycoscience 39:441–453

Takamatsu S, Hirata T, Sato Y, Nomura Y (1999) Phylogenetic relationships of Microsphaera and Erysiphe section Erysiphe (powdery mildews) inferred from the rDNA ITS sequences. Mycoscience 40:259–268

Takamatsu S, Sato Y, Mimuro G, Kom-un S (2003) Erysiphe wadae: a new species of Erysiphe sect. Uncinula on Japanese beech. Mycoscience 44:165–171

Takamatsu S, Bolay A, Limkaisang S, Kom-Un S, To-Anun C (2006) Identity of a powdery mildew fungus occurring on Paeonia and its relationship with Erysiphe hypophylla on oak. Mycoscience 47:367–373

Takamatsu S, Braun U, Limkaisang S, Kom-Un S, Sato Y, Cunnington JH (2007) Phylogeny and taxonomy of the oak powdery mildew Erysiphe alphitoides sensu lato. Mycol Res 111:809–826

Takamatsu S, Inagaki M, Niinomi S, Khodaparast SA, Shin H-D, Grigaliunaite B, Havrylenko M (2008) Comprehensive molecular phylogenetic analysis and evolution of the genus Phyllactinia (Ascomycota: Erysiphales) and its allied genera. Mycol Res 112:299–315

Vági P, Kovács GM, Kiss L (2007) Host range expansion in a powdery mildew fungus (Golovinomyces sp.) infecting Arabidopsis thaliana: Torenia fournieri as a new host. Eur J Plant Pathol 117:89–93

Viennot-Bourgin G (1949) Les champignons parasites des plantes cultivées. Masson, Paris

Viennot-Bourgin G (1966) De quelques Erysiphacees nouvelles ou peu connues. Bull Trimest Soc Mycol Fr 82:190–206

Viennot-Bourgin G (1968) Note sur les Erysiphacées. Bull Trimest Soc Mycol F 84:117–118
Acknowledgments
Nicolas Feau has benefited from a fellowship from INRA, Department of Ecology of Forests, Grasslands and Freshwater Ecosystems, and Amira Mougou-Hamdane from the Tunisian government. Grants from the French Agence Nationale de la Recherche (ANR) for the DRYADE project (Vulnérabilité, Milieux et Climat programme) and from the Ministry of Agriculture (DGFAR) are gratefully acknowledged. We thank two anonymous reviewers for improving the manuscript.
About this article
Cite this article
Desprez-Loustau, ML., Feau, N., Mougou-Hamdane, A. et al. Interspecific and intraspecific diversity in oak powdery mildews in Europe: coevolution history and adaptation to their hosts. Mycoscience 52, 165–173 (2011). https://doi.org/10.1007/s10267-010-0100-5
Received:

Accepted:

Published:

Issue Date:

DOI: https://doi.org/10.1007/s10267-010-0100-5
Keywords
Erysiphe alphitoides
Erysiphe quercicola

Host range

Local adaptation

Phyllactinia roboris