Abstract
Conditions experienced in early life have long-lasting effects on offspring health. Despite this, little is known about how maternal exposure to drugs during pregnancy affects offspring teeth morphogenesis. In humans, omeprazole is a common drug used to mitigate Gastroesophageal Reflux Disease. Importantly, omeprazole is a non-specific proton-pump inhibitor, which may inhibit the proton pumps expressed in the developing tooth germ. To date, however, the effects of intrauterine life exposure to omeprazole on offspring tooth development remain unknown. In this study, we addressed this gap in a murine model. Pregnant female Swiss mice were exposed to daily doses of 40 mg/kg of omeprazole from the 5th to the 17th day of pregnancy and the effects of such exposure on offspring odontogenesis parameters such as morphological abnormalities, disruptions in the ameloblast and odontoblast layers and the presence of dentin matrix were measured. Omeprazole exposure significantly increased the prevalence (control: 21.6%; treatment: 60%; p = 0.001) and the risk (posterior mean and 95% credible interval; control: 0.230 [0.129; 0.347]; treatment: 0.593 [0.449; 0.730]) of offspring teeth morphological abnormalities, although there were no statistically significant effects of omeprazole exposure on other parameters of tooth development. These findings suggest that there are potential side-effects to offspring oral health of omeprazole use during pregnancy.
Access options
Buy single article
Instant access to the full article PDF.
USD 39.95
Price excludes VAT (USA)
Tax calculation will be finalised during checkout.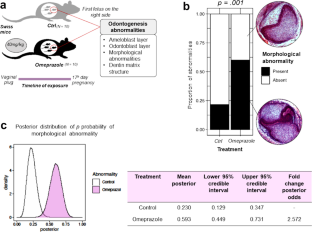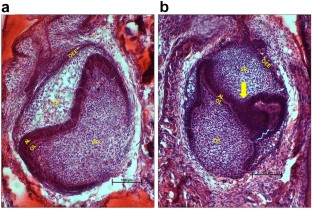 Data availability
Raw data are available as supplementary material (Tables S1 and S2).
References
Legoff L, D'Cruz SC, Tevosian S, Primig M, Smagulova F. Transgenerational inheritance of environmentally induced epigenetic alterations during mammalian development. Cells. 2019;8:1–26.

Morimoto J, Ponton F, Tychsen I, Cassar J, Wigby S. Interactions between the developmental and adult social environments mediate group dynamics and offspring traits in Drosophila melanogaster. Sci Rep. 2017;7:1–11.

Ravelli G-P, Stein ZA, Susser M. Obesity in young men after famine exposure in utero and early infancy. N Engl J Med. 1976;295:349–53.

Jacobsen PE, Henriksen TB, Haubek D, Østergaard JR. Developmental enamel defects in children prenatally exposed to anti-epileptic drugs. PLoS ONE. 2013;8:1–6.

Li CM, Zhernakova A, Engstrand L, Wijmenga C, Brusselaers N. Systematic review with meta-analysis: the risks of proton pump inhibitors during pregnancy. Aliment Pharmacol Ther. 2020;51:410–20.

Pascon T, Barbosa AMP, Cordeiro RCL, Bussaneli DG, Prudencio CB, Nunes SK, et al. Prenatal exposure to gestational diabetes mellitus increases developmental defects in the enamel of offspring. PLoS ONE. 2019;14:1–17.

Lima KS, Salles AES, de Araújo Costa G, Yokoyama MF, de Paula Ramos S, Paixão-Côrtes VR, et al. Methylphenidate effects on mice odontogenesis and connections with human odontogenesis. Odontology. 2020

Lopes-Fatturi A, Menezes JVNB, Fraiz FC, Assunção LR da S, de Souza JF. Systemic exposures associated with hypomineralized primary second molars. Pediatr Dent 2019; 41:364–70.

MacFarlane B. Management of gastroesophageal reflux disease in adults: a pharmacist's perspective. Integr Pharm Res Pract. 2018;7:41–52.

Zielinski R, Searing K, Deibel M. Gastrointestinal distress in pregnancy: prevalence, assessment, and treatment of 5 common minor discomforts. J Perinat Neonatal Nurs. 2015;29:23–31.

Fill Malfertheiner S, Malfertheiner MV, Kropf S, Costa SD, Malfertheiner P. A prospective longitudinal cohort study: evolution of GERD symptoms during the course of pregnancy. BMC Gastroenterol. 2012;12:1–7.

Body C, Christie JA. Gastrointestinal diseases in pregnancy: nausea, vomiting, hyperemesis gravidarum, gastroesophageal reflux disease, constipation, and diarrhea. Gastroenterol Clin NA. 2016;45:267–83.

Sigterman KE, van Pinxteren B, Bonis PA, Lau J, Numans ME. Short-term treatment with proton pump inhibitors, H2- receptor antagonists and prokinetics for gastro-oesophageal reflux disease-like symptoms and endoscopy negative reflux disease (Review). Cochrane Collab. 2013;1:1–84.

Thélin CS, Richter JE. Review article: the management of heartburn during pregnancy and lactation. Aliment Pharmacol Ther. 2020;2020:421–34.

Savarino V, Dulbecco P, de Bortoli N, Ottonello A, Savarino E. The appropriate use of proton pump inhibitors (PPIs): need for a reappraisal. Eur J Intern Med. 2017;37:19–24.

Moore J, Flynn RJ, Sampaio M, Wilson CM, Gillon KRW. Effect of single-dose omeprazole on intragastric acidity and volume during obstetric anaesthesia. Anaesthesia. 1989;44:559–62.

He J, Shi XY, Li ZM, Pan XH, Li ZL, Chen Y, et al. Proton pump inhibitors can reverse the YAP mediated paclitaxel resistance in epithelial ovarian cancer. BMC Mol Cell Biol. 2019;20:1–14.

Kanagaratham C, El Ansari YS, Sallis BF, Hollister BMA, Lewis OL, Minnicozzi SC, et al. Omeprazole inhibits IgE-mediated mast cell activation and allergic inflammation induced by ingested allergen in mice. J Allergy Clin Immunol. 2020;146:884–93.

Moriyama Y, Patel V, Ueda I, Futai M. Evidence for a common binding-site for omeprazole and n-ethylmaleimide in subunit a of chromaffin granule vacuolar-type H+-ATPase. Biochem Biophys Res Commun. 1993;1993:699–706.

Johnson L, Ganss B, Wang A, Zirngibl RA, Johnson DE, Owen C, et al. V-ATPases containing a3 subunit play a direct role in enamel development in mice. J Cell Biochem. 2017;118:3328–40.

Josephsen K, Takano Y, Frische S, Praetorius J, Nielsen S, Aoba T, et al. Ion transporters in secretory and cyclically modulating ameloblasts : a new hypothesis for cellular control of preeruptive enamel maturation. Am J Physiol Physiol. 2010;299:C1299–307.

Sarkar J, Wen X, Simanian EJ, Paine ML. V-type ATPase proton pump expression during enamel formation. Matrix Biol International Society of Matrix Biology. 2016;52–54:234–45.

Sasaki T, Tadokoro K, Yanagisawa T, Higashi S, Garant PR. H+-K+-ATPase activity in the rat incisor enamel organ during enamel formation. Anat Rec. 1988;221:823–33.

Nair AB, Jacob S. A simple practice guide for dose conversion between animals and human. J Basic Clin Pharm. 2016;7:27–31.

Calderon IMP, Rudge MVC, Brasil MAM, Henry MACA. Diabete e gravidez experimental em ratas: I. Induçäo do diabete, obtençäo e evoluçäo da prenhez. Acta Cirúrgica Bras. 1992;7:142–6.

Cerri PS, de Faria FP, Gazoni Villa R, Katchburian E. Light microscopy and computer three-dimensional reconstruction of the blood capillaries of the enamel organ of rat molar tooth germs. J Anat. 2004;204:191–5.

Yang J, Zhu L, Yuan G, Chen Y, Zhang L, Zhang L, et al. Autophagy appears during the development of the mouse lower first molar. Histochem Cell Biol. 2013;139:109–18.

R Core Team. R: A language and environment for statistical computing. Vienna: R Found Stat Comput; 2019.

Wickham H. ggplot2: elegant graphics for data analysis. Berlin: Springer; 2016.

Bates D, Sarkar D, Bates MD, Matrix L. The lme4 package. R Packag version. 2007;2:74.

Fox J, Weisberg S, Adler D, Bates D, Baud-Bovy G, Ellison S, et al. Package 'car.' Vienna R Found Stat Comput. 2012

Brook A, Jernvall J, Smith R, Hughes T, Townsend G. The dentition : the outcomes of morphogenesis leading to variations of tooth number, size and shape. Aust Dent J. 2014;59:1–12.

Nikfar S, Abdollahi M, Moretti ME, Magee LA, Koren G. Use of proton pump inhibitors during pregnancy and breastfeeding. Dig Dis Sci. 2002;47:1526–9.

Gill SK, O'Brien L, Einarson TR, Koren G. The safety of proton pump inhibitors (PPIs) in pregnancy: A meta-analysis. Am J Gastroenterol. 2009;104:1541–5.

Källén BAJ. Use of omeprazole during pregnancy - No hazard demonstrated in 955 infants exposed during pregnancy. Eur J Obstet Gynecol Reprod Biol. 2001;96:63–8.

Lalkin A, Loebstein R, Addis A, Ramezani-Namin F, Mastroiacovo P, Mazzone T, et al. The safety of omeprazole during pregnancy: a multicenter prospective controlled study. Am J Obstet Gynecol. 1998;179:727–30.

Pasternak B, Hviid A. Use of proton-pump inhibitors in early pregnancy and the risk of birth defects. Obstet Gynecol Surv. 2011;66:195–7.

Bronckers ALJJ, Lyaruu DM, Denbesten PK. Critical review in oral biology and medicine: the impact of fluoride on ameloblasts and the mechanisms of enamel fluorosis. J Dent Res. 2009;88:877–93.

Kalinderi K, Delkos D, Kalinderis M, Athanasiadis A, Kalogiannidis I. Urinary tract infection during pregnancy: current concepts on a common multifaceted problem. J Obstet Gynaecol (Lahore). 2018;38:448–53.

Mihalaş E, Matricala L, Chelmuş A, Gheţu N, Petcu A, Paşca S. The role of chronic exposure to amoxicillin/clavulanic acid on the developmental enamel defects in mice. Toxicol Pathol. 2016;44:61–70.
Acknowledgements
The authors are grateful to the Histology Technicians of the Department of General Biology of the State University of Londrina, Mr. Carlos Lourenço and Ms. Melyssa Costa.
Funding
This research received no specific grant from any funding agency in the public, commercial, or not-for-profit sectors and was funded by the researchers' own resources.
Ethics declarations
Conflict of interest
The authors have no relevant financial or non-financial interests to disclose.
Ethical statement
All procedures described in this study abide with ARRIVE guidelines and are in accordance with the Brazilian Directive for the Care and Use of Animals for Scientific Purposes and Teaching and with the European Communities Council Directive of 24 November 1986 (86/609/EEC). Ethical approval was obtained via the Ethics Committee for Animal Experimentation of the State University of Londrina (process number: 15688.2017.30, official letter 112/2017). All the authors mentioned in the manuscript have agreed for authorship, read, and approved the final version of the manuscript, and given consent for submission and subsequent publication of the manuscript.
Statement of animal welfare
The mice from the sample were kept under controlled conditions to guarantee their welfare: 12 h light/dark cycles, temperature set at 22 ± 2 °C and unlimited access to water and food. Besides, the animals were allocated in a proportion of two females for each male mice, in 30 cm × 20 cm × 13 cm polypropylene cages lined with wood shavings. Only two people conducted the treatments and euthanasia out of the research team, as quickly and as comfortably as possible.
Additional information
Publisher's Note
Springer Nature remains neutral with regard to jurisdictional claims in published maps and institutional affiliations.
Rights and permissions
Springer Nature or its licensor holds exclusive rights to this article under a publishing agreement with the author(s) or other rightsholder(s); author self-archiving of the accepted manuscript version of this article is solely governed by the terms of such publishing agreement and applicable law.
About this article
Cite this article
Frítola, M., Sestario, C.S., Martins, C.C.N. et al. Intrauterine exposure to omeprazole increases the risk of teeth morphological anomalies in the offspring of a murine model. Odontology 111, 401–408 (2023). https://doi.org/10.1007/s10266-022-00749-x
Received:

Accepted:

Published:

Issue Date:

DOI: https://doi.org/10.1007/s10266-022-00749-x
Keywords