Abstract
Halitosis (bad breath) can be a cause of anxiety, depression and psychosocial stress, with pathological changes in the oral microbiota playing an important role in its development. Despite its prevalence, studies on the microbiology of halitosis are rare in Nigeria. This study determines the presence of five putative periodontal pathogens viz: Actinobacillus actinomycetemcomitans, Fusobacterium nucleatum, Porphyromonas gingivalis, Prevotella intermedia and Treponema denticola on the tongue dorsa of halitosis and non-halitosis patients using a 16S rDNA-directed polymerase chain reaction assay. Furthermore, an association of these bacteria with oral malodour [as assessed by volatile sulphur compounds (VSC) measurements] with a portable sulphide monitor, the Halimeter (Interscan Corp, Chatsworth, California), was performed. The results showed that the prevalence of halitosis in this environment as defined by VSC level above 160 ppb is 14.9%. Halitosis is affected by gender with males having it more than the females. Males also tend to present more with self-reported complaints of halitosis than females. Age does not appear to contribute to the incidence of halitosis. Fusobacterium nucleatum, P. gingivalis, P. intermedia are responsible for increased production of VSCs in halitosis patients while A. actinomycetemcomitans and T. denticola appear to play no part in the production of VSCs. Evaluation of halitogenic bacteria and VSCs may potentially become a surrogate biomarker for monitoring halitosis. Targeted assessment of putative halitogenic bacteria may provide a rapid point-of-care diagnostic tool for halitosis.
Access options
Buy single article
Instant access to the full article PDF.
US$ 39.95
Tax calculation will be finalised during checkout.
Subscribe to journal
Immediate online access to all issues from 2019. Subscription will auto renew annually.
US$ 79
Tax calculation will be finalised during checkout.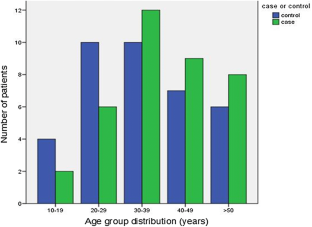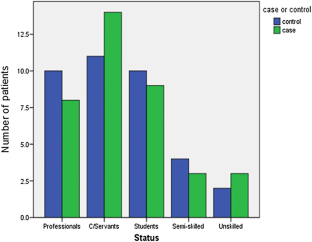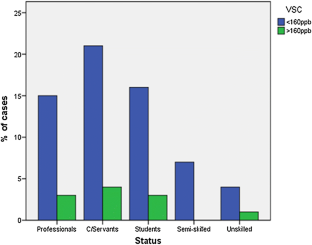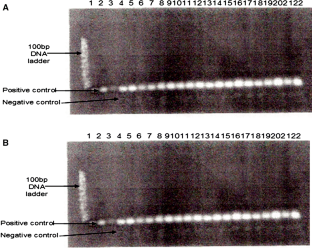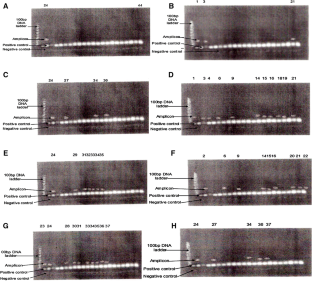 References
1.

Bornstein MM, Kislig K, Hoti BB, Seeman R, Lussi A. Prevalence of halitosis in the population of the city of Bern, Switzerland: a study comparing self-reported and clinical data. Eur J Oral Sci. 2009;117:261–7.

2.

Van den Broek AMWT, Feenstra L, De Baat C. A review of the current literature on aetiology and measurement methods of halitosis. J Dent. 2007;35:627–35.

3.

Kanehira T, Takahashi D, Honda O. Prevalence of oral malodour and the relationship with habitual mouth breathing in children. J Clin Paediatr Dent. 2004;28:285–8.

4.

Tangerman A. Halitosis in medicine: a review. Int Dent J. 2002;52(3):201–6.

5.

Tonzetich J. Direct gas Chromatographic analysis of sulphur compounds in mouth air in man. Archs Oral Biol. 1971;16:587–97.

6.

Suarez F, Springfield J, Furne J, Levitt M. Differentiation of mouth versus gut as site of origin of odoriferous breath gases after garlic ingestion. Am J Physiol. 1999;276:G425–30.

7.

Stedman RL. The chemical composition of tobacco and tobacco smoke. Chem Rev. 1968;68:153–207.

8.

Rosenberg M, Knaan T, Cohen D. Association among bad breath, body mass index, and alcohol intake. J Dent Res. 2007;86:997–1000.

9.

Kostelc JG, Preti G, Zelson PR, Stoller NH, Tonzetich J. Salivary volatiles as indicators of periodontitis. J Periodont Res. 1980;15:185–92.

10.

Goldberg S, Kozlovsky A, Gordon D, Gelernter I, Sintov A, Rosenberg M. Cadaverine as a putative component of oral malodour. J Dent Res. 1994;73:1168–72.

11.

Kleinberg I, Westbay G. Oral malodour. Crit Rev Oral Biol Med. 1990;1:247–59.

12.

Fukamachi H, Nakano Y, Okano S, Shibata Y, Abiko Y, Yamashita Y. High production of methyl mercaptan by methionine-α-deamino-γ-mercaptomethane lyase from Treponema denticola. Biochem Biophys Res Commun. 2005;331:127–31.

13.

Tonzetich J, McBride BC. Characterization of volatile sulphur production by pathogenic and non-pathogenic strains of oral Bacteroides. Arch Oral Biol. 1981;26:963–9.

14.

Rosenberg M, Kulkarni GV, Bosy A, McCulloch CA. Reproducibility and sensitivity of oral malodour measurement with a portable sulphide monitor. J Dent Res. 1991;70:1436–40.

15.

Tonzetich J. Production and origin of oral malodour; a review of mechanisms and methods of analysis. J Periodontol. 1977;48:172–81.

16.

Weinberg MA, Westphal C, Froum SJ. Comprehensive periodontics for the dental hygienist. 2nd ed. New Jersey: Prentice Hall; 2006. p. 337–46.

17.

Morita M, Wang HL. Relationship of sulcular sulphide level to severity of periodontal disease and BANA test. J Periodontol. 2001;72:74–8.

18.

Shimura M, Yasuno Y, Iwakura M, Sakai S, Suzuki K, Sakamoto S. A new monitor with a zinc-oxide thin film semiconductor sensor for the measurement of volatile sulphur compounds in mouth air. J Periodontol. 1996;67:396–402.

19.

Replogle WH, Beebe DK. Halitosis. Am Fam Physician. 1996;53(1215–1218):1223.

20.

Morita M, Wang HL. Association between oral malodour and adult periodontitis: a review. J Clin Periodontol. 2001;28:813.

21.

Aas JA, Paster BJ, Stokes LN, Olsen I, Dewhirst F. Defining the normal bacterial flora of the oral cavity. J Clin Microbiol. 2005;43:5721–32.

22.

Sharma NC, Galustians HJ, Qaqish J. The clinical effectiveness of a dentifrice containing triclosan and a copolymer for controlling breath odour measured organoleptically twelve hours after toothbrushing. J Clin Dent. 1999;10(4):131–4.

23.

Yoneda M, Naito T, Suzuki N. Oral malodour associated with internal resorption. J Oral Sci. 2006;48:89–92.

24.

Saito H, Kawaguchi Y. Halitosis prevention campaign. A report of oral health promotion activities in Japan. Int Dent J. 2002;52:197–200.

25.

Persson S, Claesson R, Carlsson J. The capacity of subgingival microbiotas to produce volatile sulphur compounds in human serum. Oral Microbiol Immunol. 1989;4:169–72.

26.

Rosenberg M. Bad breath: research perspectives. Tel Aviv: Ramot; 1977.

27.

Haraszthy VI, Zambon JJ, Sreenivasan PK, Zambon MM, Gerber D, Rego R. Identification of oral bacterial species associated with halitosis. J Am Dent Assoc. 2007;138(8):1113–20.

28.

Kazor CE, Mitchell PM, Lee AM, Stokes LN, Loesche WJ, Dewhirst FE. Diversity of bacterial populations on the tongue dorsa of patients with halitosis and healthy patients. J Clin Microbiol. 2003;41:558–63.

29.

Yaegaki K, Coil JM, Kamemizu T, Miyazaki H. Tongue brushing and mouth rinsing as basic treatment measures for halitosis. Int Dent J. 2002;52:192–6.

30.

Cicek Y, Orbak R, Tezel A, Orbak Z, Erciyas K. Effect of tongue brushing on oral malodour in adolescents. Pediatr Int. 2003;45:719–23.

31.

Yaegaki K. Composition of malodourous gases and periodontitis. J Dent Res. 1990;69:382.

32.

Almas K, Al-Sanawi E, Al-Shahrani B. The effect of tongue scraper on mutans streptococci and lactobacilli in patients with caries and periodontal disease. Odonto-stomatol Trop. 2005;28(109):5–10.

33.

Kostelc JG, Zelson PR, Preti G, Tonzetich J. Quantitative differences in volatiles from healthy mouths and mouths with periodontitis. Clin Chem. 1981;27:842–5.

34.

De Boever EH, Loesche WJ. Assessing the contribution of anaerobic microflora of the tongue to oral malodour. J Am Dent Assoc. 1995;126:1384–93.

35.

Hartley MG, El-Maaytah MA, McKenzie C, Greenman J. The tongue microbiota of low odour and malodourous individuals. Microb Ecol Health Dis. 1996;9:215–23.

36.

McNamara TF, Alexander JF, Lee M, Plains M. The role of microorganisms in the production of oral malodour. Oral Surg. 1972;34:41–8.

37.

Quirynen M, van Eldere J, Pauwels M, Bollen CML, van Steenberghe D. In vitro volatile sulphur compound production of oral bacteria in different culture media. Quintessence Int. 1999;30:351–6.

38.

Bernardi S, Continenza MA, Al-Ahmad A, Karygianni L, Follo M, Filippi A, Macchiarelli G. Streptococcus spp. and Fusobacterium nucleatum in tongue dorsum biofilm from halitosis patients: a fluorescence in situ hybridization (FISH) and confocal laser scanning microscopy (CLSM) study. New Microbiol. 2019;42(2):108–13.

39.

Hess J, Greenman J, Duffield J. Modelling oral malodour from a tongue biofilm. J Breath Res. 2008;2(1):017003.

40.

Migliario M, Rimondini L. Oral and non oral diseases and conditions associated with bad breath. Minerva Stomatol. 2011;60(3):105–15.

41.

Waler SM. The effect of zinc-containing chewing gum on volatile sulphur-containing compounds in the oral cavity. Acta Odontol Scand. 1997;55:198–200.

42.

Hartley G, McKenzie C, Greenman J, El-Maaytah MA, Scully C, Porter S. Tongue microbiota and malodour. Microb Ecol Health Dis. 1999;11:226–33.

43.

Relman DA. New technologies, human microbe interactions, and the search for previously unrecognized pathogens. J Infect Dis. 2002;186(2):S254–8.

44.

Donaldson AC, Riggio MP, Rolph HJ, Bagg J, Hodge PJ. Clinical examination of subjects with halitosis. Oral Dis. 2006;13:63–70.

45.

Arowojolu MO, Dosumu EB. Halitosis (Fetor oris) in Patients seen at the Periodontology clinic of the University College Hospital, Ibadan. The Niger Postgrad Med J. 2004;11(3):221–4.

46.

Iwakura M, Yasuno Y, Shimura M, Sakamoto S. Clinical characteristics of halitosis: differences in two patient groups with primary and secondary complaints of halitosis. J Dent Res. 1994;73:1568–74.

47.

Rosenberg M, Leib E. Experiences of an Israeli malodour clinic. In: Rosenberg M, editor. Bad breath: research perspectives. Tel Aviv: Ramot Publishing-Tel Aviv University; 1995. p. 137–48.

48.

Nadanovsky P, Carvalho LBM, de Leon AP. Oral malodour and its association with age and sex in a general population in Brazil. Oral Dis. 2007;13:105–7.

49.

Iwu CO, Akpata O. Delusional halitosis. Review of literature and analysis of 32 cases. Br Dent J. 1989;167:294–6.

50.

Miyazaki H, Sakao S, Katoh Y, Takehara T. Correlation between volatile sulphur compounds and certain oral health measurements in the general population. J Periodontol. 1995;66:679–84.

51.

Söder B, Johansson B, Söder PO. The relation between fetor ex ore, oral hygiene and periodontal disease. Swed Dent J. 2000;24:73–82.

52.

Rosenberg M. Bad breath and periodontal disease, how related are they? J Clin Periodontol. 2006;33:29–30.

53.

Liu XN, Shinada K, Chen XC, Zhang BX, Yaegaki K, Kawaguchi Y. Oral malodour related parameters in the Chinese general population. J Clin Periodontol. 2006;33:31–6.

54.

Pryse-Phillips W. An olfactory reference syndrome. Aeta Psychiat Seand. 1971;47:484–510.

55.

Scully C, El-Maaytah M, Porter SR, Greenman J. Breath odor: etiopathogenesis, assessment and management. Eur J Oral Sci. 1997;105:287–93.

56.

Rosenberg M, Kozlovsky A, Gelernter I, Cherniak O, Cgabby J, Baht R, et al. Self estimation of oral malodour. J Dent Res. 1995;74(9):1577–82.

57.

Van den Velde S, van Steenberghe D, Van hee P, Quirynen M. Detection of odourous compounds in breath. J Dent Res. 2009;88:285–9.

58.

Greenman J, El Maaytah M, Duffield J, Spencer P, Rosenberg L, Corry D. Assessing the relationship between concentrations of malodor compounds and odour scores from judges. J Am Dent Assoc. 2005;136:749–57.

59.

Nakano Y, Yoshimura M, Koga T. Correlation between oral malodour and periodontal bacteria. Microbes Infect. 2002;4:679–83.

60.

Bolstad AI, Jensen HB, Bakken V. Taxonomy, biology, and periodontal aspects of Fusobacterium nucleatum. Clin Microbiol Rev. 1996;9(1):55–71.

61.

Awano S, Gohara K, Kurihara E. The relationship between the presence of periodontopathogenic bacteria in saliva and halitosis. Int Dent J. 2002;52:212–6.

62.

Yoshida A, Suzuki N, Nakano Y. Development of a 5′ fluorogenic nuclease- based real-time PCR assay for quantitative detection of Actinobacillus actinomycetemcomitans and Porphyromonas gingivalis. J Clin Microbiol. 2003;41:863–6.

63.

Kuboniwa M, Amano A, Kimura RK. Quantitative detection of periodontal pathogens using real-time polymerase chain reaction with TaqMan probes. Oral Microbiol Immunol. 2004;19:196–200.

64.

Suzuki N, Yoshida A, Saito T. Quantitative microbiological study of subgingival plaque by real-time PCR shows correlation between levels of Tannerella forsythensis and Fusobacterium spp. J Clin Microbiol. 2004;42:2255–7.
Acknowledgements
HAA thanks the South African Medical Research Council (SAMRC) for a mid-career scientist and Self-initiated research grant; and the South African National Research Foundation (NRF) for incentive and research development grants for rated researchers.
Ethics declarations
Conflict of interest
The authors declare that they have no conflict of interest.
Funding
No Funding.
Ethical approval
All procedures performed in studies involving human participants were in accordance with the ethical standards of the institutional research committee and with the 1964 Helsinki declaration and its later amendments or comparable ethical standards.
Informed consent
Informed consent was obtained from all individual participants included in the study.
Additional information
Publisher's Note
Springer Nature remains neutral with regard to jurisdictional claims in published maps and institutional affiliations.
About this article
Cite this article
Adedapo, A.H., Kolude, B., Dada-Adegbola, H.O. et al. Targeted polymerase chain reaction-based expression of putative halitogenic bacteria and volatile sulphur compound analysis among halitosis patients at a tertiary hospital in Nigeria. Odontology 108, 450–461 (2020). https://doi.org/10.1007/s10266-019-00467-x
Received:

Accepted:

Published:

Issue Date:
Keywords
Halitosis

Halitogenic bacteria

Volative sulphur compounds

Halimeter

Polymerase chain reaction