Abstract
The aim of this study was to evaluate self-reported periodontitis (PD) prevalence in migraineurs as well as to investigate the association between both diseases. A cross-sectional survey was carried out including patients diagnosed with migraine attending 12 Spanish Headache Units. We determined diagnosis of PD administering a validated self-reported questionnaire. Socio-demographic, clinical and medical information, comorbidities, daily habits, migraine characteristics and medication were collected using a questionnaire. Of the 651 consecutive migraineurs included in the study, 393 suffered from chronic migraine (CM). Self-reported PD was detected in 327 patients with migraine (50.2%). Migraineurs with self-reported PD were significantly older and had a previous history of fibromyalgia, stress, anxiety, depression, and allodynia (all P < 0.001). Additionally, this group of patients consumed more topiramate (P = 0.008) and simple analgesics (P < 0.001) than patients with migraine and without self-reported PD. Also, they were less active physically and belonged to a low education level (both P < 0.001). Prevalence of self-reported PD was significantly higher in chronic migraineurs compared to those diagnosed with episodic migraine (EM) (53.9% vs. 44.6%, P = 0.019). Logistic regression analyses showed that self-reported PD was associated with CM (OR 1.456; 95% CI 1.062–1.997, P = 0.020). However, after adjusting for significant confounders, the association was attenuated (OR 1.100; 95% CI 0.784–1.543, P = 0.581). We concluded that self-reported PD was significantly more frequent in CM compared to EM. Self-reported PD was associated with the presence of CM, although some comorbidities shared by both diseases could have an effect on this association.
This is a preview of subscription content, log in to check access.
Access options
Buy single article
Instant access to the full article PDF.
US$ 39.95
Price includes VAT for USA
Subscribe to journal
Immediate online access to all issues from 2019. Subscription will auto renew annually.
US$ 99
This is the net price. Taxes to be calculated in checkout.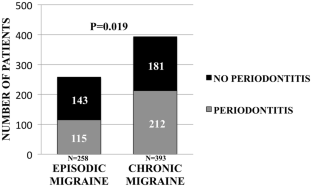 References
1.

Carasol M, Llodra JC, Fernández-Meseguer A, Bravo M, García-Margallo MT, Calvo-Bonacho E, Sanz M, Herrera D. Periodontal conditions among employed adults in Spain. J Clin Periodontol. 2016;43:548–56.

2.

Loos BG. Systemic markers of inflammation in periodontitis. J Periodontol. 2005;76:2106–15.

3.

GBD 2016 Disease and Injury Incidence and Prevalence Collaborators. Global, regional, and national incidence, prevalence, and years lived with disability for 328 diseases and injuries for 195 countries, 1990–2016: a systematic analysis for the Global Burden of Disease Study 2016. Lancet. 2017;390:1211–59.

4.

Steiner TJ, Stovner LJ, Vos T. GBD 2015: migraine is the third cause of disability in under 50 s. J Headache Pain. 2016;17:104.

5.

Castillo J, Muñoz P, Guitera V, Pascual J. Epidemiology of chronic daily headache in the general population. Headache. 1999;39:190–6.

6.

Moskowitz MA. Neurogenic inflammation in the pathophysiology and treatment of migraine. Neurology. 1993;43:16–20.

7.

Edvinsson L, Ekman R, Jansen I, McCulloch J, Uddman R. Calcitonin gene-related peptide and cerebral blood vessels: distribution and vasomotor effects. J Cereb Blood Flow Metab. 1987;7:720–8.

8.

Bolay H, Reuter U, Dunn AK, Huang Z, Boas DA, Moskowitz MA. Intrinsic brain activity triggers trigeminal meningeal afferents in a migraine model. Nat Med. 2002;8:136–42.

9.

Pietrobon D, Moskowitz MA. Pathophysiology of migraine. Annu Rev Physiol. 2013;75:365–91.

10.

Ameijeira P, Leira Y, Domínguez C, Leira R, Blanco J. Association between periodontitis and chronic migraine: a case-control study. Odontology. 2019;107:90–5. https://doi.org/10.1007/s10266-018-0360-7.

11.

Leira Y, Ameijeira P, Domínguez C, Leira R, Blanco J. The role of leptin as a biomarker in the relationship between periodontitis and chronic migraine. J Clin Periodontol. 2017;44:1208–14.

12.

Leira Y, Ameijeira P, Domínguez C, Leira R, Blanco J. High serum procalcitonin levels in patients with periodontitis and chronic migraine. J Periodontol. 2018;89:1069–74.

13.

Riesco N, Cernuda-Morollón E, Pascual J. Neuropeptides as a marker for chronic headache. Curr Pain Headache Rep. 2017;21:18.

14.

Linden GJ, McKinnell J, Shaw C, Lundy FT. Substance P and neurokinin A in gingival crevicular fluid in periodontal health and disease. J Clin Periodontol. 1997;24:799–803.

15.

Pradeep AR, Raj S, Aruna G, Chowdhry S. Gingival crevicular fluid and plasma levels of neuropeptide Substance-P in periodontal health, disease and after nonsurgical therapy. J Periodontal Res. 2009;44:232–7.

16.

Headache Classification Committee of the International Headache Society (IHS). The international classification of headache disorders, 3rd edition (beta version). Cephalalgia. 2013;33:629–808.

17.

Eke PI, Dye BA, Wei L, Slade GD, Thornton-Evans GO, Beck JD, et al. Self-reported measures for surveillance of periodontitis. J Dent Res. 2013;92:1041–7.

18.

Sperr M, Kundi M, Tursic V, Bristela M, Moritz A, Andrukhov O, Rausch-Fan X, Sperr WR. Prevalence of comorbidities in periodontitis patients compared to the general Austrian population. J Periodontol. 2017. https://doi.org/10.1902/jop.2017.170333.

19.

Ameijeira P, Leira Y, Blanco J, Leira R. Periodontal disease as a potential factor of migraine chronification. Med Hypotheses. 2017;102:94–8.

20.

Lundy FT, Shaw C, McKinnell J, Lamey PJ, Linden GJ. Calcitonin gene-related peptide in gingival crevicular fluid in periodontal health and disease. J Clin Periodontol. 1999;26:212–6.

21.

Genco RJ, Borgnakke WS. Risk factors for periodontal disease. Periodontology. 2000;2013(62):59–94.

22.

Joshipura JK, Douglass CW, Garcia RI, Valachovic R, Willet WC. Validity of a self-reported periodontal disease measure. J Public Health Dent. 1996;56:205–12.
Acknowledgements
Yago Leira holds a Senior Clinical Research Fellowship supported by the UCL Biomedical Research Centre.
Funding
This study was partially supported by grants from the Spanish Ministry of Economy and Competitiveness—Institute of Health Carlos III (PI15/01578). The funders had no role in the study design, data collection and analysis, decision to publish, or preparation of the manuscript.
Ethics declarations
Conflict of interest
The authors declare that they have no conflict of interest.
Ethical approval
All procedures performed in studies involving human participants were in accordance with the ethical standards of the institutional and national research committee and with the 1964 Helsinki Declaration and its later amendments or comparable ethical standards.
Informed consent
Informed consent was obtained from all the individual participants included in the study.
Additional information
Publisher's Note
Springer Nature remains neutral with regard to jurisdictional claims in published maps and institutional affiliations.
About this article
Cite this article
Leira, Y., Pozo-Rosich, P., Torres-Ferrús, M. et al. Self-reported periodontitis and migraine: results from a multicenter, cross-sectional survey in Spain. Odontology 107, 530–535 (2019). https://doi.org/10.1007/s10266-019-00430-w
Received:

Accepted:

Published:

Issue Date:
Keywords
Periodontitis

Headache

Prevalence

Chronic migraine

Epidemiology