Abstract
Green tea catechins had an in vitro antibacterial effect against periodontopathic bacteria and were able to inhibit destruction of the periodontal tissue. In this study, we aimed to evaluate the effect of locally delivered gel containing green tea extract as an adjunct to non-surgical periodontal treatment. Forty-eight subjects who had teeth with probing pocket depth of 5–10 mm were randomly allocated into the test or control group. Probing pocket depth, clinical attachment level, gingival index (GI), bleeding on probing (BOP) and full mouth plaque score were measured at baseline. Subjects received oral hygiene instruction, single episode of scaling and root planing and subgingival application of the green tea gel (test group) or the placebo gel (control group). The gel was repeatedly applied at 1 and 2 weeks later. The parameters were recorded again at the 1st, 3rd and 6th month after the last gel application. The results showed that all parameters were improved in both groups compared to baseline. The test group exhibited significantly higher reduction in BOP at the 3rd month (p = 0.003) and significantly lower GI at the 1st month (p < 0.001) and 3rd month (p < 0.001) when compared with the control group. Thus, green tea gel could provide a superior benefit in reducing bleeding on probing and gingival inflammation when used as an adjunct to non-surgical periodontal treatment. (Trial Registration: MU-IRB 2008/153.0511, ClinicalTrials.gov NCT00918060).
Access options
Buy single article
Instant access to the full article PDF.
USD 39.95
Price excludes VAT (USA)
Tax calculation will be finalised during checkout.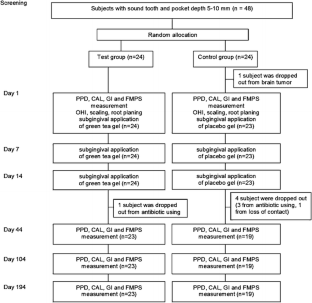 References
Smalley JW. Pathogenic mechanisms in periodontal disease. Adv Dent Res. 1994;8:320–8.

Badersten A, Nilvéus R, Egelberg J. Effect of nonsurgical periodontal therapy. I. Moderately advanced periodontitis. J Clin Periodontol. 1981;8:57–72.

Brayer WK, Mellonig JT, Dunlap RM, Marinak KW, Carson RE. Scaling and root planing effectiveness: the effect of root surface access and operator experience. J Periodontol. 1989;60:67–72.

Fleischer HC, Mellonig JT, Brayer WK, Gray JL, Barnett JD. Scaling and root planing efficacy in multirooted teeth. J Periodontol. 1989;60:402–9.

Haffajee AD, Socransky SS, Gunsolley JC. Systemic anti-infective periodontal therapy: a systematic review. Ann Periodontol. 2003;8:115–81.

Winkel EG, Van Winkelhoff AJ, Timmerman MF, Van der Velden U, Van der Weijden GA. Amoxicillin plus metronidazole in the treatment of adult periodontitis patients. A double-blind placebo-controlled study. J Clin Periodontol. 2001;28:296–305.

Kumar AJ, Ramesh Reddy BV, Chava VK. Effect of chlorhexidine chip in the treatment of chronic periodontitis. J Nat Sci Biol Med. 2014;5:268–72.

Patil V, Mali R, Mali A. Systemic anti-microbial agents used in periodontal therapy. J Indian Soc Periodontol. 2013;17:162–8.

Rams TE, Slots J. Local delivery of antimicrobial agents in the periodontal pocket. Periodontol. 2000;1996(10):139–59.

Koyama Y, Kuriyama S, Aida J, et al. Association between green tea consumption and tooth loss: cross-sectional results from the Ohsaki Cohort 2006 Study. Prev Med. 2010;50:173–9.

Graham HN. Green tea composition, consumption, and polyphenol chemistry. Prev Med. 1992;21:334–50.

Gaur S, Agnihotri R. Green tea: a novel functional food for the oral health of older adults. Geriatr Gerontol Int. 2014;14:238–50.

Taniguchi S, Fujiki H, Kobayashi H, et al. Effect of (−)-epigallocatechin gallate, the main constituent of green tea, on lung metastasis with mouse B16 melanoma cell lines. Cancer Lett. 1992;65:51–4.

Hirasawa M, Takada K, Makimura M, Otake S. Improvement of periodontal status by green tea catechin using a local delivery system: a clinical pilot study. J Periodontal Res. 2002;37:433–8.

Sakanaka S, Aizawa M, Kim M, Yamamoto T. Inhibitory effects of green tea polyphenols on growth and cellular adherence of an oral bacterium, Porphyromonas gingivalis. Biosci Biotechnol Biochem. 1996;60:745–9.

Sakanaka S, Okada Y. Inhibitory effects of green tea polyphenols on the production of a virulence factor of the periodontal-disease-causing anaerobic bacterium Porphyromonas gingivalis. J Agric Food Chem. 2004;52:1688–92.

Okamoto M, Sugimoto A, Leung KP, Nakayama K, Kamaguchi A, Maeda N. Inhibitory effect of green tea catechins on cysteine proteinases in Porphyromonas gingivalis. Oral Microbiol Immunol. 2004;19:118–20.

Makimura M, Hirasawa M, Kobayashi K, et al. Inhibitory effect of tea catechins on collagenase activity. J Periodontol. 1993;64:630–6.

Yun JH, Pang EK, Kim CS, et al. Inhibitory effects of green tea polyphenol (−)-epigallocatechin gallate on the expression of matrix metalloproteinase-9 and on the formation of osteoclasts. J Periodontal Res. 2004;39:300–7.

Yun JH, Kim CS, Cho KS, Chai JK, Kim CK, Choi SH. (-)-Epigallocatechin gallate induces apoptosis, via caspase activation, in osteoclasts differentiated from RAW 264.7 cells. J Periodontal Res. 2007;42:212–8.

Zhao L, La VD, Grenier D. Antibacterial, antiadherence, antiprotease, and anti-inflammatory activities of various tea extracts: potential benefits for periodontal diseases. J Med Food. 2013;16:428–36.

Hosokawa Y, Hosokawa I, Shindo S, Ozaki K, Matsuo T. (-)-Epigallocatechin-3-gallate inhibits CC chemokine ligand 11 production in human gingival fibroblasts. Cell Physiol Biochem. 2013;31:960–7.

Kudva P, Tabasum ST, Shekhawat NK. Effect of green tea catechin, a local drug delivery system as an adjunct to scaling and root planing in chronic periodontitis patients: a clinicomicrobiological study. J Indian Soc Periodontol. 2011;15:39–45.

Hattarki SA, Pushpa SP, Bhat K. Evaluation of the efficacy of green tea catechins as an adjunct to scaling and root planing in the management of chronic periodontitis using PCR analysis: a clinical and microbiological study. J Indian Soc Periodontol. 2013;17:204–9.

Chava VK, Vedula BD. Thermo-reversible green tea catechin gel for local application in chronic periodontitis: a 4-week clinical trial. J Periodontol. 2013;84:1290–6.

Armitage GC. Development of a classification system for periodontal diseases and conditions. Ann Periodontol. 1999;4:1–6.

Aimetti M, Romano F, Torta I, Cirillo D, Caposio P, Romagnoli R. Debridement and local application of tetracycline-loaded fibres in the management of persistent periodontitis: results after 12 months. J Clin Periodontol. 2004;31:166–72.

Loe H, Silness J. Periodontal disease in pregnancy. I. Prevalence and severity. Acta Odontol Scand. 1963;21:533–51.

Ainamo J, Bay I. Problems and proposals for recording gingivitis and plaque. Int Dent J. 1975;25:229–35.

O'Leary TJ, Drake RB, Naylor JE. The plaque control record. J Periodontol. 1972;43:38.

Pandit N, Dahiya R, Gupta R, Bali D, Kathuria A. Comparative evaluation of locally delivered minocycline and metronidazole in the treatment of periodontitis. Contemp Clin Dent. 2013;4:48–53.

Chaturvedi TP, Srivastava R, Srivastava AK, Gupta V, Verma PK. Evaluation of metronidazole nanofibers in patients with chronic periodontitis: a clinical study. Int J Pharm Investig. 2012;2:213–7.

Medaiah S, Srinivas M, Melath A, Girish S, Polepalle T, Dasari AB. Chlorhexidine chip in the treatment of chronic periodontitis—a clinical study. J Clin Diagn Res. 2014;8(6):ZC22–5.

Larsen T, Fiehn NE. Development of resistance to metronidazole and minocycline in vitro. J Clin Periodontol. 1997;24:254–9.

Greenstein G, Berman C, Jaffin R. Chlorhexidine: an adjunct to periodontal therapy. J Periodontol. 1986;57:370–7.

Mariotti AJ, Rumpf DA. Chlorhexidine-induced changes to human gingival fibroblast collagen and non-collagen protein production. J Periodontol. 1999;70:1443–8.

Cobb CM. Non-surgical pocket therapy: mechanical. Ann Periodontol. 1996;1:443–90.

Jeffcoat MK, Reddy MS, Haigh S, et al. A comparison of topical ketorolac, systemic flurbiprofen, and placebo for the inhibition of bone loss in adult periodontitis. J Periodontol. 1995;66:329–38.

Drisko CL, Cobb CM, Killoy WJ, et al. Evaluation of periodontal treatments using controlled-release tetracycline fibers: clinical response. J Periodontol. 1995;66:692–9.

Klinge B, Attström R, Karring T, Kisch J, Lewin B, Stoltze K. 3 regimens of topical metronidazole compared with subgingival scaling on periodontal pathology in adults. J Clin Periodontol. 1992;19:708–14.

Stelzel M, Florès-de-Jacoby L. Topical metronidazole application as an adjunct to scaling and root planing. J Clin Periodontol. 2000;27:447–52.

Lang NP, Joss A, Orsanic T, Gusberti FA, Siegrist BE. Bleeding on probing. A predictor for the progression of periodontal disease? J Clin Periodontol. 1986;13:590–6.

Suzuki K, Ohno S, Suzuki Y, et al. Effect of green tea extract on reactive oxygen species produced by neutrophils from cancer patients. Anticancer Res. 2012;32:2369–75.

Waddington RJ, Moseley R, Embery G. Reactive oxygen species: a potential role in the pathogenesis of periodontal diseases. Oral Dis. 2000;6:138–51.

Chapple IL. Reactive oxygen species and antioxidants in inflammatory diseases. J Clin Periodontol. 1997;24:287–96.

Robertson PB, Lantz M, Marucha PT, Kornman KS, Trummel CL, Holt SC. Collagenolytic activity associated with Bacteroides species and Actinobacillus actinomycetemcomitans. J Periodontal Res. 1982;17:275–83.

Chen LL, Yan J. Porphyromonas gingivalis lipopolysaccharide activated bone resorption of osteoclasts by inducing IL-1, TNF, and PGE. Acta Pharmacol Sin. 2001;22:614–8.

Chang YC, Yang SF, Lai CC, Liu JY, Hsieh YS. Regulation of matrix metalloproteinase production by cytokines, pharmacological agents and periodontal pathogens in human periodontal ligament fibroblast cultures. J Periodontal Res. 2002;37:196–203.
Acknowledgments
This research project is supported by Mahidol University.
Conflict of Interest
No external funding, apart from the support of the authors' institution, was available for this study. The authors declare that they have no conflict of interest in this study.
About this article
Cite this article
Rattanasuwan, K., Rassameemasmaung, S., Sangalungkarn, V. et al. Clinical effect of locally delivered gel containing green tea extract as an adjunct to non-surgical periodontal treatment. Odontology 104, 89–97 (2016). https://doi.org/10.1007/s10266-014-0190-1
Received:

Accepted:

Published:

Issue Date:

DOI: https://doi.org/10.1007/s10266-014-0190-1
Keywords
Catechins

Green tea

Local drug delivery

Non-surgical periodontal treatment

Periodontal disease