Abstract
The purpose of this study was to evaluate the effect of four whitening modalities on surface enamel as assessed with microhardness tester, profilometer, and scanning electron microscopy (SEM). Whitening was performed according to manufacturer's directions for over-the-counter (OTC), dentist dispensed for home use (HW) and in-office (OW) whitening. Do-it-yourself (DIY) whitening consisted of a strawberry and baking soda mix. Additionally, negative and positive controls were used. A total of 120 enamel specimens were used for microhardness testing at baseline and post-whitening. Following microhardness testing specimens were prepared for SEM observations. A total of 120 enamel specimens were used for surface roughness testing at baseline and post-whitening (n = 20 per group). Rank-based Analysis of Covariance was performed to compare microhardness and surface roughness changes. Tests of hypotheses were two-sided with α = 0.05. There was a significant difference in Knoop hardness changes (ΔKHN) among the groups (Kruskal–Wallis test, p < 0.0001). Significant hardness reduction was observed in the positive control and DIY group (p < 0.0001). Mean surface roughness changes (ΔRa) were significantly different among the groups (Kruskal–Wallis test, p < 0.0001). Surface roughness increased in the OTC group (p = 0.03) and in the positive control (p < 0.0001). The four whitening modalities—DIY, OTC, HW and OW induced minimal surface morphology changes when observed with SEM. It can be concluded that none of the four whitening modalities adversely affected enamel surface morphology. However, caution should be advised when using a DIY regimen as it may affect enamel microhardness and an OTC product as it has the potential to increase surface roughness.
This is a preview of subscription content,
to check access.
Access this article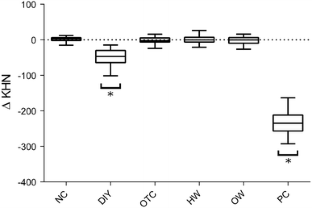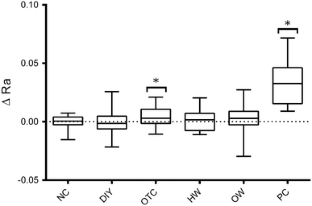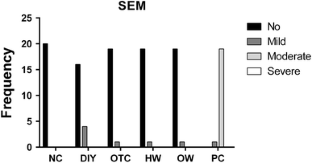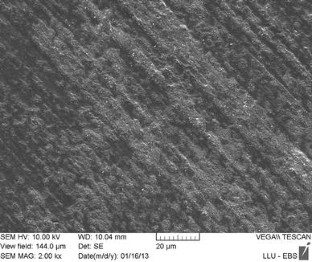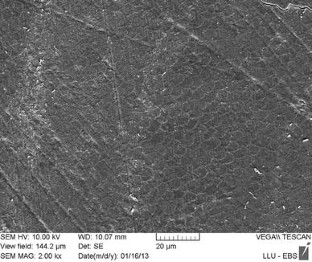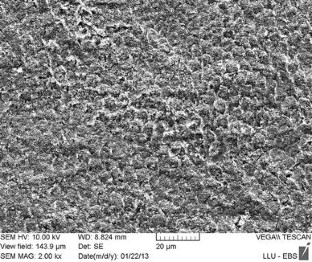 References
Kwon SR, Meharry M, Oyoyo U, Li Y. Efficacy of various tooth whitening modalities as measured with different shade assessment tools: an in vitro study. J Dent Res. 2013;92 (Spec Iss A) #29.

Da Costa JB, McPharlin R, Paravina RD, Ferracane JL. Comparison of at-home and in-office tooth whitening using a novel shade guide. Oper Dent. 2010;35:381–8.

Auschill TM, Hellwig E, Schmidale S, Sculean A, Arweiler NB. Efficacy, side-effects and patients' acceptance of different bleaching techniques (OTC, in-office, at-home). Oper Dent. 2005;30:156–63.

Bizhang M, Chun Y-HP, Damerau K, Singh P, Raab WH-M, Zimmer S. Comparative clinical study of the effectiveness of three different bleaching methods. Oper Dent. 2009;34:635–41.

Kwon SR, Wang J, Oyoyo U, Li Y. Evaluation of bleaching efficacy and erosion potential of four different over-the-counter bleaching products. Am J Dent. 2013;26:356–60.

American Dental Association Council on Scientific Affairs. Tooth whitening/bleaching: treatment considerations for dentists and their patients. Chicago: ADA; 2009.

Cubbon T, Ore D. Hard tissue and home tooth whiteners. CDS Rev. 1991;84:32–5.

Hammel S. Do-it-yourself tooth whitening is risky. US News and World: Report; 1998. p. 66.

Li Y. Safety controversies in tooth whitening. Dent Clin N Am. 2011;55:229–39.

Ben-Amar A, Liberman R, Gorfil C, Bernstein Y. Effect of mouthguard whitening on enamel surface. Am J Dent. 1995;24:817–24.

Yeh ST, Su Y, Lu YC, Lee SY. Surface changes and acid dissolution of enamel after carbamide peroxide bleach treatment. Oper Dent. 2005;30:507–15.

Potočnik I, Kosec L, Gašperšič D. Effect of 10% carbamide peroxide whitening gel on enamel microhardness, microstructure, and mineral content. J Endod. 2000;26:203–6.

Basting RT, Rodrigues AL, Serra MC. The effect of 10% carbamide peroxide, carbopol and/or glycerin on enamel and dentin microhardness. Oper Dent. 2005;30:608–16.

Scherer W, Penugonda B, Styner D, Georgescu M. At-home vital bleaching: effects on stained enamel and dentin. Pract Periodontics Aesthet Dent. 1992;4:11–5.

Götz H, Duschner H, White DJ, Klukowska MA. Effects of elevated hydrogen peroxide 'strip' whitening on surface and subsurface enamel including subsurface histomorphology, micro-chemical composition and fluorescence changes. J Dent. 2007;35:457–66.

Joiner A. Review of the effects of peroxide on enamel and dentine properties. J Dent. 2007;35:889–96.

Sun L, Liang S, Wang YSZ, Jiang T, Wang Y. Surface alteration of human tooth enamel subjected to acidic and neutral 30% hydrogen peroxide. J Dent. 2011;39:686–92.

Attin T, Schmidlin PR, Wegehaupt F, Wiegand A. Influence of study design on the impact of whitening agents on dental enamel microhardness: a review. Dent Mater. 2009;25:143–57.

International Organization for Standardization. ISO 28399 Dentistry––products for external tooth bleaching. Geneva: International Organization for Standardization; 2011.

American Dental Association. ANSI/ADA Specification No. 41 for recommended standard practices for biological evaluation of dental materials. Chicago: ADA, 2005.

Home teeth whitening: baking soda and strawberries for a whiter smile (Accessed April 18, 2013) Available at: www.fitwatch.com/health/home-teeth-whitening-strawberries-baking-soda-137.html.

Peters MC. Strategies for noninvasive demineralized tissue repair. Dent Clin N Am. 2010;54:507–25.

Mielczarek A, Klukowska A, Ganowicz M, Kwiatkowska A, Kwasny M. The effect of strip, tray and office bleaching systems on enamel surfaces in vitro. Dent Mater. 2008;24:1495–500.

Pinto CF, de Oliveira R, Cavalli V, Giannini M. Peroxide bleaching agent effects on enamel surface microhardness, roughness and morphology. Braz Oral Res. 2004;18:306–11.

Moraes RR, Marimon JLM, Schneider LFJ, Correr Sobrinho L, Camacho GB, Bueno M. Carbamide peroxide bleaching agents: effects on surface roughness of enamel, composite and porcelain. Clin Oral Investig. 2006;10:23–8.

Azrak B, Callaway A, Kurth P, Willerhausen B. Influence of bleaching agents on surface roughness on surface roughness of sound or eroded dental enamel specimens. J Esthet Restor Dent. 2010;22:391–401.

Faraoni-Romano JJ, Turssi CP, Serra MC. Concentration-dependent effect of bleaching agents on microhardness and roughness of enamel and dentin. Am J Dent. 2007;20:31–4.

Mondelli RFL, De Azevedo JFDG, Francisconi PAS, Ishikiriama SK, Mondelli J. Wear and surface roughness of bovine enamel submitted to bleaching. Eur J Esthet Dent. 2009;4:396–403.

Aykut-Yetkiner A, Wiegand A, Bollhader A, Becker K, Attin T. Effect of acidic solution viscosity on enamel erosion. J Dent Res. 2013;92:289–94.

West NX, Hughes JA, Addy M. The effect of pH on erosion of dentin and enamel by dietary acids in vitro. J Oral Rehabil. 2001;28:860–4.
Acknowledgments
The authors would like to thank Ultradent Products Inc and Philips Oral Healthcare for kindly providing the bleaching materials used in this study.
Conflict of interest
The authors declare that they have no conflict of interest.
About this article
Cite this article
Kwon, S.R., Kurti, S.R., Oyoyo, U. et al. Effect of various tooth whitening modalities on microhardness, surface roughness and surface morphology of the enamel. Odontology 103, 274–279 (2015). https://doi.org/10.1007/s10266-014-0163-4
Received:

Accepted:

Published:

Issue Date:

DOI: https://doi.org/10.1007/s10266-014-0163-4
Keywords