Abstract
The purpose of this study was to investigate the effect of alpha-mangostin on matrix metalloproteinase (MMP)-2 and MMP-9 expression in head and neck squamous cell carcinoma (HNSCC). The human HNSCC cell lines were treated with alpha-mangostin and the cytotoxicity of alpha-mangostin in HNSCC was determined using the MTS assay. To determine the effect of alpha-mangostin on the expression of MMP-2 and MMP-9 in HNSCC, gelatin zymography and RT-PCR were performed. The results showed that alpha-mangostin increased in growth inhibition of HNSCC cell lines in a concentration-dependent manner. Treatment with alpha-mangostin decreased MMP-2 and MMP-9 expression in a concentration-dependent manner in all cell lines. These findings suggested that alpha-mangostin might be a potential therapeutic agent for HNSCC.
Access options
Buy single article
Instant access to the full article PDF.
US$ 39.95
Tax calculation will be finalised during checkout.
Subscribe to journal
Immediate online access to all issues from 2019. Subscription will auto renew annually.
US$ 79
Tax calculation will be finalised during checkout.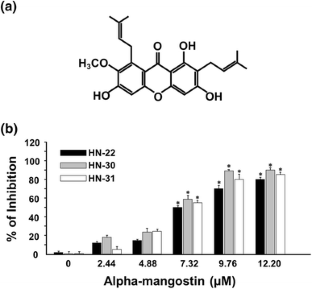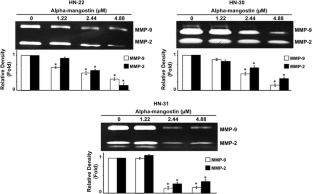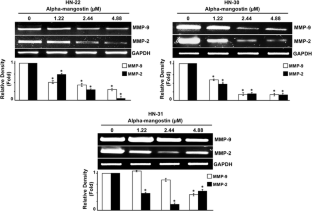 References
1.

Parkin DM, Pisani P, Ferlay J. Global cancer statistics. CA Cancer J Clin. 1999;49(1):33–64.

2.

Bhave SL, Teknos TN, Pan Q. Molecular parameters of head and neck cancer metastasis. Crit Rev Eukaryot Gene Expr. 2011;21(2):143–53.

3.

Roy R, Yang J, Moses MA. Matrix metalloproteinases as novel biomarkers and potential therapeutic targets in human cancer. J Clin Oncol. 2009;27(31):5287–97.

4.

Ondruschka C, Buhtz P, Motsch C, Freigang B, Schneider-Stock R, Roessner A, Boltze C. Prognostic value of MMP-2, -9 and TIMP-1,-2 immunoreactive protein at the invasive front in advanced head and neck squamous cell carcinomas. Pathol Res Pract. 2002;198(8):509–15.

5.

Kessenbrock K, Plaks V, Werb Z. Matrix metalloproteinases: regulators of the tumor microenvironment. Cell. 2010;141(1):52–67.

6.

Burgos-Tiburcio A, Santos ES, Arango BA, Raez LE. Development of targeted therapy for squamous cell carcinomas of the head and neck. Expert Rev Anticancer Ther. 2011;11(3):373–86.

7.

Pedraza-Chaverri J, Cárdenas-Rodríguez N, Orozco-Ibarra M, Pérez-Rojas JM. Medicinal properties of mangosteen (Garcinia mangostana). Food Chem Toxicol. 2008;46(10):3227–39.

8.

Moongkarndi P, Kosem N, Kaslungka S, Luanratana O, Pongpan N, Neungton N. Antiproliferation, antioxidation and induction of apoptosis by Garcinia mangostana (mangosteen) on SKBR3 human breast cancer cell line. J Ethnopharmacol. 2004;90(1):161–6.

9.

Nakagawa Y, Iinuma M, Naoe T, Nozawa Y, Akao Y. Characterized mechanism of α-mangostin-induced cell death: caspase-independent apoptosis with release of endonuclease-G from mitochondria and increased miR-143 expression in human colorectal cancer DLD-1 cells. Bioorg Med Chem. 2007;15(16):5620–8.

10.

Kaomongkolgit R, Chaisomboon N, Pavasant P. Apoptotic effect of alpha-mangostin on head and neck squamous carcinoma cells. Arch Oral Biol. 2011;56(5):483–90.

11.

Shibata MA, Iinuma M, Morimoto J, Kurose H, Akamatsu K, Okuno Y, Akao Y, Otsuki Y. α-Mangostin extracted from the pericarp of the mangosteen (Garcinia mangostana Linn) reduces tumor growth and lymph node metastasis in an immunocompetent xenograft model of metastatic mammary cancer carrying a p53 mutation. BMC Med. 2011;9:69.

12.

Johnson JJ, Petiwala SM, Syed DN, Rasmussen JT, Adhami VM, Siddiqui IA, Kohl AM, Mukhtar H. α-Mangostin, a xanthone from mangosteen fruit, promotes cell cycle arrest in prostate cancer and decreases xenograft tumor growth. Carcinogenesis. 2012;33(2):413–9.

13.

Akao Y, Nakagawa Y, Iinuma M, Nozawa Y. Anti-cancer effects of xanthones from pericarps of mangosteen. Int J Mol Sci. 2008;9(3):355–70.

14.

Hung SH, Shen KH, Wu CH, Liu CL, Shih YW. Alpha-mangostin suppresses PC-3 human prostate carcinoma cell metastasis by inhibiting matrix metalloproteinase-2/9 and urokinase-plasminogen expression through the JNK signaling pathway. J Agric Food Chem. 2009;57(4):1291–8.

15.

Lee YB, Ko KC, Shi MD, Liao YC, Chiang TA, Wu PF, Shih YX, Shih YW. Alpha-Mangostin, a novel dietary xanthone, suppresses TPA-mediated MMP-2 and MMP-9 expressions through the ERK signaling pathway in MCF-7 human breast adenocarcinoma cells. J Food Sci. 2010;75(1):H13–23.

16.

Shih YW, Chien ST, Chen PS, Lee JH, Wu SH, Yin LT. Alpha-mangostin suppresses phorbol 12-myristate 13-acetate-induced MMP-2/MMP-9 expressions via alphavbeta3 integrin/FAK/ERK and NF-kappaB signaling pathway in human lung adenocarcinoma A549 cells. Cell Biochem Biophys. 2010;58(1):31–44.

17.

Jeon GA, Lee JS, Patel V, Gutkind JS, Thorgeirsson SS, Kim EC, Chu IS, Amornphimoltham P, Park MH. Global gene expression profiles of human head and neck squamous carcinoma cell lines. Int J Cancer. 2004;112:249–58.

18.

Mook OR, Frederiks WM, Van Noorden CJ. The role of gelatinases in colorectal cancer progression and metastasis. Biochim Biophys Acta. 2004;1705(2):69–89.
Acknowledgments
This work was supported by the Thailand Research Fund, the grant number: MRG5280172.
Conflict of interest
The authors declare that they have no conflict of interest.
About this article
Cite this article
Kaomongkolgit, R. Alpha-mangostin suppresses MMP-2 and MMP-9 expression in head and neck squamous carcinoma cells. Odontology 101, 227–232 (2013). https://doi.org/10.1007/s10266-012-0081-2
Received:

Accepted:

Published:

Issue Date:
Keywords
Alpha-mangostin

HNSCC

MMP-2/9