Abstract
In plants, F1 hybrids showing hybrid weakness exhibit weaker growth than their parents. The phenotypes of hybrid weakness are often suppressed at certain temperatures. However, it is unclear whether hybrid weakness in Capsicum annuum × C. chinense is temperature-dependent or not. Our study showed that Capsicum hybrid weakness was suppressed at 30 and 35 °C and was induced at 15, 20, and 25 °C. Moreover, we investigated the time course of hybrid weakness in cell death, metabolite content, and gene expression in leaves of plants transferred to 20 °C after growing at 30 °C for 21 days. The expression of pathogen defense-related genes was upregulated at 1 day after transfer to 20 °C (DAT). Cell death was detected at 7 DAT, plant growth had almost stopped since 14 DAT, and sugars were accumulated at 42 DAT in hybrid plants. The study revealed that some sugar transporter genes, which had been upregulated since 7 DAT, were involved in sugar accumulation in Capsicum hybrid weakness. Thus, our results demonstrated that gene expression changes occur first, followed by physiological and morphological changes after induction of hybrid weakness. These responses observed in this study in Capsicum hybrid weakness are likely to be owed to plant defense responses-like reactions.
Access options
Buy single article
Instant access to the full article PDF.
USD 39.95
Price excludes VAT (USA)
Tax calculation will be finalised during checkout.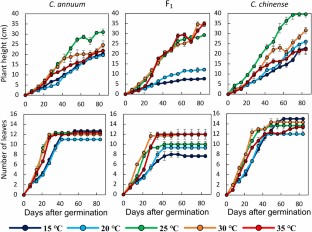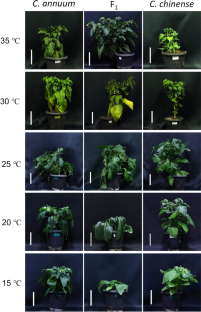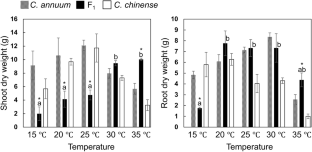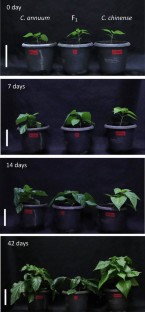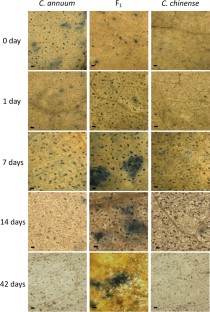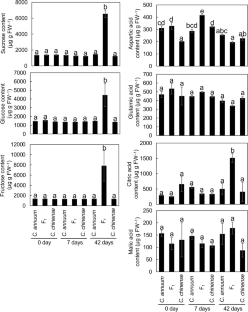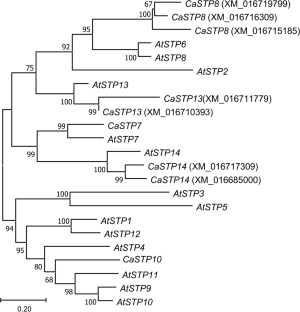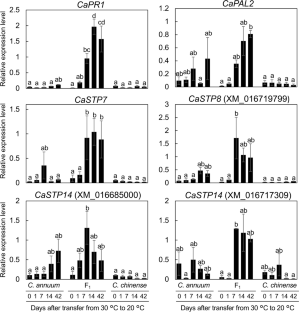 References
Alcázar R, García AV, Kronholm I, de Meaux J, Koornneef M, Parker JE, Reymond M (2010) Natural variation at Strubbelig Receptor Kinase 3 drives immune-triggered incompatibilities between Arabidopsis thaliana accessions. Nat Genet 42:1135–1139

Alhajturki D, Muralidharan S, Nurmi M et al (2018) Dose-dependent interactions between two loci trigger altered shoot growth in BG-5 × Krotzenburg-0 (Kro-0) hybrids of Arabidopsis thaliana. New Phytol 217:392–406

Bomblies K, Lempe J, Epple P, Warthmann N, Lanz C, Dangl JL, Weigel D (2007) Autoimmune response as a mechanism for a Dobzhansky–Muller-type incompatibility syndrome in plants. PLoS Biol 5:e236

Büttner M (2010) The Arabidopsis sugar transporter (AtSTP) family: an update. Plant Biol 12:35–41

Chae E, Bomblies K, Kim ST et al (2014) Species-wide genetic incompatibility analysis identifies mmune genes as hot spots of deleterious epistasis. Cell 159:1341–1351

Chen LQ, Hou BH, Lalonde S et al (2010) Sugar transporters for intercellular exchange and nutrition of pathogens. Nature 468:527–532

Chen C, Chen H, Lin YS et al (2014) A two-locus interaction causes interspecific hybrid weakness in rice. Nat Commun 5:3357

Chu Y, Oka H (1972) The Distribution and effects of genes causing F1 weakness in Oryza breviligulata and O. glaberrima. Genetics 70:163–173

Chung BN, Lee JH, Kang BC, Koh SW, Joa JH, Choi KS, Ahn JJ (2018) HR-mediated defense response is overcome at high temperatures in Capsicum species. Plant Pathol J 34:71–77

Dong CJ, Wang XL, Shang QM (2011) Salicylic acid regulates sugar metabolism that confers tolerance to salinity stress in cucumber seedlings. Sci Hortic 129:629–636

Gangappa SN, Berriri S, Kumar SV (2017) PIF4 coordinates thermosensory growth and immunity in Arabidopsis. Curr Biol 27:243–249

Gao H, Zhou Q, Yang L, Zhang K, Ma Y, Xu Z-Q (2020) Metabolomics analysis identifies metabolites associated with systemic acquired resistance in Arabidopsis. PeerJ 8:e10047

Huang J, Gu M, Lai Z et al (2010) Functional analysis of the arabidopsis PAL gene family in plant growth, development, and response to environmental stress. Plant Physiol 153:1526

Hwang CF, Bhakta AV, Truesdell GM, Pudlo WM, Williamson VM (2000) Evidence for a role of the N terminus and leucine-rich repeat region of the Mi gene product in regulation of localized cell death. Plant Cell 12:1319

Ichitani K, Namigoshi K, Sato M et al (2007) Fine mapping and allelic dosage effect of Hwc1, a complementary hybrid weakness gene in rice. Theor Appl Genet 114:1407–1415

Ichitani K, Taura S, Tezuka T, Okiyama Y, Kuboyama T (2011) Chromosomal location of HWA1 and HWA2, complementary hybrid weakness genes in rice. Rice (NY) 4:29–38

Inai S, Ishikawa K, Nunomura O, Ikehashi H (1993) Genetic analysis of stunted growth by nuclear-cytoplasmic interaction in interspecific hybrids of Capsicum by using RAPD markers. Theor Appl Genet 87:416–422

Kumar S, Stecher G, Li M, Knyaz C, Tamura K (2018) MEGA X: molecular evolutionary genetics analysis across computing platforms. Mol Biol Evol 35:1547–1549

Larkin MA, Blackshields G, Brown NP et al (2007) Clustal W and Clustal X version 2.0. Bioinformatics 23:2947–2948

Lemonnier P, Gaillard C, Veillet F, Verbeke J, Lemoine R, Coutos-Thévenot P, La Camera S (2014) Expression of Arabidopsis sugar transport protein STP13 differentially affects glucose transport activity and basal resistance to Botrytis cinerea. Plant Mol Biol 85:473–484

Li Z, Zhu A, Song Q, Chen HY, Harmon FG, Chen ZJ (2020) Temporal regulation of the metabolome and proteome in photosynthetic and photorespiratory pathways contributes to maize heterosis. Plant Cell 32:3706–3722

Ma J, Hancock WG, Nifong JM, Kernodle SP, Lewis RS (2020) Identification and editing of a hybrid lethality gene expands the range of interspecific hybridization potential in Nicotiana. Theor Appl Genet 133:2915–2925

Masuda Y, Yamada T, Kuboyama T, Marubashi W (2007) Identification and characterization of genes involved in hybrid lethality in hybrid tobacco cells (Nicotiana suaveolens × N. tabacum) using suppression subtractive hybridization. Plant Cell Rep 26:1595–1604

Mizuno N, Hosogi N, Park P, Takumi S (2010) Hypersensitive response-like reaction is associated with hybrid necrosis in interspecific crosses between tetraploid wheat and Aegilops tauschii coss. PLOS One 5:e11326

Muralidharan S, Box MS, Sedivy EL, Wigge PA, Weigel D, Rowan BA (2014) Different mechanisms for Arabidopsis thaliana hybrid necrosis cases inferred from temperature responses. Plant Biol 16:1033–1041

Okada M, Yoshida K, Takumi S (2017) Hybrid incompatibilities in interspecific crosses between tetraploid wheat and its wild diploid relative Aegilops umbellulata. Plant Mol Biol 95:625–645

Pieterse CMJ, Van der Does D, Zamioudis C, Leon-Reyes A, Van Wees SCM (2012) Hormonal modulation of plant immunity. Annu Rev Cell Dev Biol 28:489–521

Qin C, Yu C, Shen Y et al (2014) Whole-genome sequencing of cultivated and wild peppers provides insights into Capsicum domestication and specialization. PNAS 111:5135–5140

Saito T, Ichitani K, Suzuki T, Marubashi W, Kuboyama T (2007) Developmental observation and high temperature rescue from hybrid weakness in a cross between Japanese rice cultivars and Peruvian rice cultivar 'Jamaica'. Breed Sci 57:281–288

Samayoa LF, Malvar RA, Butrón A (2017) QTL for maize midparent heterosis in the heterotic pattern American dent × European flint under corn borer pressure. Front Plant Sci 8:573

Sato S, Kamiyama M, Iwata T, Makita N, Furukawa H, Ikeda H (2006) Moderate increase of mean daily temperature adversely affects fruit set of Lycopersicon esculentum by disrupting specific physiological processes in male reproductive development. Ann Bot 97:731–738

Shiragaki K, Nakamura R, Nomura S et al (2020a) Phenylalanine ammonia-lyase and phenolic compounds are related to hybrid lethality in the cross Nicotiana suaveolens×N. tabacum. Plant Biotechnol 37:327–333

Shiragaki K, Yokoi S, Tezuka T (2020b) A hypersensitive response-like reaction is involved in hybrid weakness in F1 plants of the cross Capsicum annuum × Capsicum chinense. Breed Sci 70:430–437

Sun S, Wu Y, Lin X et al (2017) Hybrid weakness in a rice interspecific hybrid is nitrogen-dependent, and accompanied by changes in gene expression at both total transcript level and parental allele partitioning. PLoS One 12:e0172919

Świadek M, Proost S, Sieh D et al (2017) Novel allelic variants in ACD6 cause hybrid necrosis in local collection of Arabidopsis thaliana. New Phytol 213:900–915

Tezuka T, Marubashi W (2004) Apoptotic cell death observed during the expression of hybrid lethality in interspecific hybrids between Nicotiana tabacum and N. suaveolens. Breed Sci 54:59–66

Tezuka T, Marubashi W (2006) Genomic factors lead to programmed cell death during hybrid lethality in interspecific hybrids between Nicotiana tabacum and N. debneyiem. SABRAO J Breed Genet 38:69–81

Tezuka T, Kuboyama T, Matsuda T, Marubashi W (2007) Possible involvement of genes on the Q chromosome of Nicotiana tabacum in expression of hybrid lethality and programmed cell death during interspecific hybridization to Nicotiana debneyi. Planta 226:753–764

Toyota M, Spencer D, Sawai-Toyota S et al (2018) Glutamate triggers long-distance, calcium-based plant defense signaling. Science 361:1112

Tsunewaki K (1992) Aneuploid analysis of hybrid necrosis and hybrid chlorosis in tetraploid wheats using the D genome chromosome substitution lines of durum wheat. Genome 35:594–601

Ueno N, Nihei S, Miyakawa N et al (2016) Time course of programmed cell death, which included autophagic features, in hybrid tobacco cells expressing hybrid lethality. Plant Cell Rep 35:2475–2488

Voegele RT, Mendgen KW (2011) Nutrient uptake in rust fungi: how sweet is parasitic life? Euphytica 179:41–55

Wang K, Senthil-Kumar M, Ryu C-M, Kang L, Mysore KS (2012) Phytosterols play a key role in plant innate immunity against bacterial pathogens by regulating nutrient efflux into the apoplast. Plant Physiol 158:1789

Whitham S, Dinesh-Kumar SP, Choi D, Hehl R, Corr C, Baker B (1994) The product of the tobacco mosaic virus resistance gene N: similarity to toll and the interleukin-1 receptor. Cell 78:1101–1115

Yamada K, Saijo Y, Nakagami H, Takano Y (2016) Regulation of sugar transporter activity for antibacterial defense in Arabidopsis. Science 354:1427

Yamamoto T, Shomura S, Mino M (2017) Cell physiology of mortality and immortality in a Nicotiana interspecific F1 hybrid complies with the quantitative balance between reactive oxygen and nitric oxide. J Plant Physiol 210:72–83

Yazawa S, Sato T, Namiki T (1989) Interspecific hybrid dwarfism and geographical distribution of the dwarfness gene in Capsicum. J Japan Soc Hortic Sci 58:609–618

Yazawa S, Sato T, Namiki T (1990) Dwarfism and a virus-like syndrome in interspecific hybrids of genus Capsicum. J Japan Soc Hortic Sci 58:935–943

Ye J, Coulouris G, Zaretskaya I, Cutcutache I, Rozen S, Madden TL (2012) Primer-BLAST: a tool to design target-specific primers for polymerase chain reaction. BMC Bioinform 13:134

Zhang HK, Zhang X, Mao BZ, Li Q, He ZH (2004) Alpha-picolinic acid, a fungal toxin and mammal apoptosis-inducing agent, elicits hypersensitive-like response and enhances disease resistance in rice. Cell Res 14:27–33

Zhang C, Wang X, Zhang F et al (2017) Phenylalanine ammonia-lyase2.1 contributes to the soybean response towards Phytophthora sojae infection. Sci Rep 7:7242
Acknowledgements
This work was partly supported by JSPS KAKENHI Grant Numbers JP17K15224 and JP20K05988 from the Japan Society for the Promotion of Science.
Additional information
Publisher's Note
Springer Nature remains neutral with regard to jurisdictional claims in published maps and institutional affiliations.
Electronic Supplementary Material
Below is the link to the electronic supplementary material.
About this article
Cite this article
Shiragaki, K., Furukawa, H., Yokoi, S. et al. Temperature-dependent sugar accumulation in interspecific Capsicum F1 plants showing hybrid weakness. J Plant Res 134, 1199–1211 (2021). https://doi.org/10.1007/s10265-021-01340-1
Received:

Accepted:

Published:

Issue Date:

DOI: https://doi.org/10.1007/s10265-021-01340-1
Keywords
Cell death

Pepper

Reproductive isolation

Sugar

Sugar transporter genes