Abstract
The Swartzia species are commonly known as bloodwood due to the red exudate released from the stem after injury. This exudate has aroused great interest, and an integrative study is essential to describe it in detail. Thus, this work aimed to identify the red exudate's secreting-site in S. flaemingii and S. langsdorffii, and determine if it is a latex or a resin. Samples of the stem bark and the secondary xylem were prepared for histological analysis. Fresh exudates were dissolved in deuterated methanol and analyzed by 1H-NMR; other samples were resuspended in MeOH:H2O (9:1), partitioned with organic solvents and analyzed by direct infusion mass spectrometry. Total phenolic and total flavonoid contents were determined spectrophotometrically, and antioxidant capacity was determined using ferric reducing antioxidant power assay. The results showed that the exudate is a red latex produced by articulated laticifers located among the phloem cells. The latex is composed of sucrose, catechin glucosides, chlorophyll derivatives, and hederagenin-type saponins. Both samples of S. flaemingii and S. langsdorffii presented high amounts of phenolics and flavonoids, as well as a strong antioxidant capacity. The anatomical study showed that the secreting-site of the Swartzia red exudates were laticifers. This finding allows us to exclude other substances such as resin or oleoresin, generally produced by secretory cavities or ducts. Furthermore, since laticifers are rare in Fabaceae, this finding is significant, and represents an essential taxonomic feature. The showy red color is due to the large amounts of flavonoids. This latex probably has a protective role against microorganisms and photodamage. The bioactive potential of this exudate inspires further studies, which may boost the economic importance of Swartzia.
Access options
Buy single article
Instant access to the full article PDF.
USD 39.95
Price excludes VAT (USA)
Tax calculation will be finalised during checkout.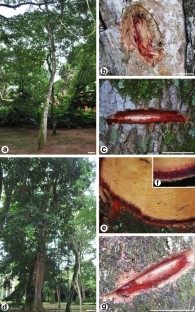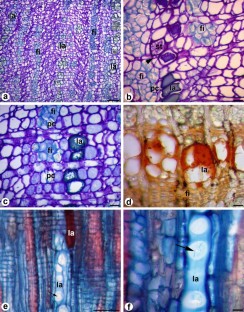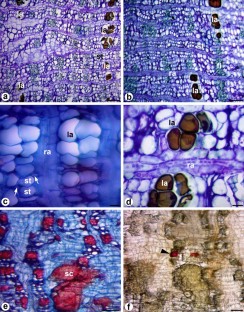 References
Abdel-Kader MS, Bahler BD, Malone S, Werkhoven MC, Wisse JH, Neddermann KM, Bursuker I, Kingston DGI (2000) Bioactive Saponins from Swartzia schomburgkii from the Suriname Rainforest. J Nat Products 63:1461–1464

Alencar AC, Tölke ED, Mayer JLS (2020) New perspectives on secretory structures in Clusia (Clusiaceae–Clusiod clade): production of latex or resins? Botany 98:161–172

Angyalossy V, Pace MR, Evert RF, Marcati CR, Oskolski AA, Terrazas T, Kotina E et al (2016) IAWA list of microscopic bark features. IAWA J 37:517–615

APG [Angiosperm Phylogeny Group] IV (2016) An update of the Angiosperm Phylogeny Group classification for the orders and families of flowering plants. Bot J Lin Soc 181:1–20

Araujo MFD, Vieira IJC, Braz-Filho R, Vieira-da-Motta O, Mathias L (2009) Chemical constituents from Swartzia apetala Raddi var. glabra and evaluation of their antifungal activity against Candida spp. Rev Brasil Farmacog 19:366–369

Badkhane Y, Yadav AS, Sharma AK, Raghuwanshi DK, Uikey SK, Mir FA, Lone SA, Murab T (2010) Pterocarpus marsupium Roxb-Biological activities and medicinal properties. Int J Adv Pharm Sci 1:350–357

Barbosa AC, Pace MR, Witovisk L, Angyalossy V (2010) A new method to obtain good anatomical slides of heterogeneous plant parts. IAWA J 31:373–383

Benzie IF, Strain JJ (1996) The ferric reducing ability of plasma (FRAP) as a measure of "antioxidant power": the FRAP assay. Anal Biochem 239:70–76

Borel C, Gupta MP, Hostettmann K (1987) Molluscicidal saponins from Swartzia simplex. Phytochemistry 26:2685–2689

Bukatsch F (1972) Bemerkungen zur doppelfärbung astrablau-safranin. Mikrokosmos 61:33–36

Calvano CD, Cataldi TRI, Kögel JF, Monopoli A, Palmisano F, Sundermeyer J (2017) Structural characterization of neutral saccharides by negative ion MALDI mass spectrometry using a superbasic proton sponge as deprotonating matrix. J Am Soc Mass Spectrometry 28:1666–1675

Chen K, Ríos JJ, Roca M, Pérez-Gálvez A (2015) Development of an accurate and high-throughput methodology for structural comprehension of chlorophylls derivatives. (II) Dephytylated derivatives. J Chromatogr A 1412:90–99

Costa GV, Costa HR, Santos RC, Melo-Filho AA, Chagas EA, Montero IF, Chaga PC, Melo AGR (2018) Bioactive Extracts from Swartzia latifolia. Chem Eng Trans 64:211–216

Croaker A, King GJ, Pyne JH, Anoopkumar-Dukie S, Liu L (2016) Sanguinaria canadensis: traditional medicine, phytochemical composition, biological activities and current uses. Int J Mol Sci 17:1–32

Dattoli LFF, Loto DE, Flores JR, Luque C, Debes M, Albornoz PL, Arias M (2011) Caracterización anatómica foliar de Lonchocarpus lilloi (Fabaceae, Papilionoideae). Lilloa 48:145–152

Dubois JL, Sneden AT (1995) Dihydrolicoisoflavone, a new isoflavanone from Swartzia polyphylla. J Nat Products 58:629–632

Escobar JD, Prieto C, Pardo-Figuerez M, Lagaron JM (2018) Dragon's blood sap: storage stability and antioxidant activity. Molecules 23:2641

Evert RF (2013) Anatomia das plantas de Esau: meristemas, células e tecidos do corpo da planta: sua estrutura, função e desenvolvimento, 3rd edn. Blucher, São Paulo

Fahn A (1979) Secretory tissues in plants. Academic Press, London

Fahn A (1990) Plant anatomy, 4th Edn. Butterworth Heinemann

Ferreira ICFR, Aires E, Barreira JCM, Estevinho LM (2009) Antioxidant activity of Portuguese honey samples: different contributions of the entire honey and phenolic extract. Food Chem 114:1438–1443

Fischer UA, Carle R, Kammerer DR (2011) Identification and quantification of phenolic compounds from pomegranate (Punica granatum L.) peel, mesocarp, aril and differently produced juices by HPLC-DAD–ESI/MSn. Food Chem 127:807–821

Gerlach D (1984) Botanische Mikrotechnik: Eine Einführung. Thieme Verlag, Stuttgart

Güçlü-Üstündağ Ö, Mazza G (2007) Saponins: properties, applications and processing. Crit Rev Food Sci Nutr 47:231–258

Gupta D (2011) Phytochemical investigation and pharmacological evaluation of medicinal plants for anti-microbial, anti-oxidant, anti-inflammatory activities and nephrotoxicity. Dissertation, University School of Biotechnology

Hamdani AM, Wani IA, Bhat NA, Masoodi FA (2018) Chemical composition, total phenolic content, antioxidant and antinutritional characterization of exudate gums. Food Biosci 23:67–74

Hernandez-Hernandez AB, Alarcon-Aguilar FJ, Almanza-Perez JC, Nieto-Yañez O, Olivares-Sanchez JM, Duran-Diaz A, Rodriguez-Monroy MA, Canales-Martinez MM (2017) Antimicrobial and anti-inflammatory activities, wound-healing effectiveness and chemical characterization of the latex of Jatropha neopauciflora Pax. J Ethnopharmacol 204:1–7

Hussain M, Debnath B, Qasim M, Bamisile BS, Islam W, Hameed MS, Wang L, Qiu D (2019) Role of saponins in plant defense against specialist herbivores. Molecules 24:2067

Jin J, Lao J, Zhou R, He W, Qin Y, Zhong C, Xie J, Liu H, Wan D, Zhang S, Qin Y (2018) Simultaneous identification and dynamic analysis of saccharides during steam processing of rhizomes of Polygonatum cyrtonema by HPLC–QTOF–MS/MS. Molecules 23:2855

Johansen DA (1940) Plant microtechnique. McGraw-Hill, New York

Jura-Morawiec J, Tulik M (2015) Morpho-anatomical basis of dragon's blood secretion in Dracaena draco stem. Flora-Morph, Distr, Funct Ecol Plants 213:1–5

Jura-Morawiec J, Tulik M (2016) Dragon's blood secretion and its ecological significance. Chemoecology 26:101–105

Kamarulzaman FA, Shaari K, Ho ASH, Lajis NH, Teo SH, Lee HB (2011) Derivatives of Pheophorbide-a and Pheophorbide-b from Photocytotoxic Piper penangense extract. Chem Biodiv 8:494–502

Khan S, Nazir M, Raiz N, Saleem M, Zengin G, Fazal G, Saleem H, Mukhtar M, Tousif MI, Tareen RB, Abdallah HH, Mahomoodally FM (2019) Phytochemical profiling, in vitro biological properties and in silico studies on Caragana ambigua stocks (Fabaceae): a comprehensive approach. Ind Crops Products 131:117–124

Konno K (2011) Plant latex and other exudates as plant defense systems: roles of various defense chemicals and proteins contained therein. Phytochemistry 72:1510–1530

Langenheim JH (2003) Plant resins: chemistry, evolution, ecology, and ethnobotany. Timber Press, Oregon

Lewinsohn TM (1991) The geographical distribution of plant latex. Chemoecology 2:64–68

Lewis G, Schrire B, Mackinder B, Lock M (2005) Legumes of the World. Royal Botanic Gardens, Kew, Richmond

Li S, Lin Z, Jiang H, Tong L, Wang H, Chen S (2016) Rapid identification and assignation of the active ingredients in fufang banbianlian injection using HPLC-DAD-ESI-IT-TOF-MS. J Chrom Sci 54:1225–1237

Licá ICL, Soares AMS, Mesquita LSS, Malik S (2018) Biological properties and pharmacological potential of plant exudates. Food Res Int 105:1039–1053

Llorent-Martínez EJ, Ortega-Barrales P, Zengin G, Uysal S, Ceylan R, Guler GO, Mocane A, Aktumsek A (2016) Lathyrus aureus and Lathyrus pratensis: characterization of phytochemical profiles by liquid chromatography-mass spectrometry, and evaluation of their enzyme inhibitory and antioxidant activities. Royal Soc Chem Adv 6:88996–89006

LPWG [Legume Phylogeny Working Group] (2013) Legume phylogeny and classification in the 21st century: progress, prospects and lessons for other species-rich clades. Taxon 62:217–248

LPWG [Legume Phylogeny Working Group] (2017) A new subfamily classification of the Leguminosae based on a taxonomically comprehensive phylogeny. Taxon 66:44–77

Magalhães AF, Tozzi AMGA, Santos CC, Serrano DR, Zanotti-Magalhães EM, Magalhães EG, Magalhães LA (2003) Saponins from Swartzia langsdorffii: biological Activities. Memórias do Instituto Oswaldo Cruz 98:713–718

Mahlberg PG (1993) Laticifers: an historical perspective. Bot Rev 59:1–23

Marqui SR, Lemos RB, Santos LA, Castro-Gamboa I, Cavalheiro AJ, Bolzani VS, Silva DHS, Scorzoni L, Fusco-Almeida AM, Mendes-Giannini MJS, Young MCM, Torres LMB (2008) Antifungal saponins from Swartzia langsdorffii. Quim Nova 31:828–831

Meda A, Lamien CE, Romito M, Millogo J, Nacoulma OG (2005) Determination of the total phenolic, flavonoid and proline contents in Burkina Fasan honey, as well as their radical scavenging activity. Food Chem 91:571–577

Mena P, Calani L, Dall'Asta C, Galaverna G, García-Viguera C, Bruni R, Crozier A, Del Rio D (2012) Rapid and Comprehensive Evaluation of (Poly)phenolic Compounds in Pomegranate (Punica granatum L.) Juice by UHPLC-MSn. Molecules 17:14821–14840

Milenković SM, Zvezdanović JB, Anđelković TD, Marković DZ (2012) The identification of chlorophyll and its derivatives in the pigment mixtures: HPLC-chromatography, visible and mass spectroscopy studies. Adv Technol 1:16–24

Moses T, Papadopoulou KK, Osbourn A (2014) Metabolic and functional diversity of saponins, biosynthetic intermediates and semi-synthetic derivatives. Crit Rev Biochem Mol Biol 49:439–462

O'Brien TP, Feder N, McCully ME (1964) Polychromatic staining of plant cell walls by toluidine blue O. Protoplasma 59:368–373

Osawa K, Yasuda H, Maruyamma T, Morita H, Takeya K, Itokawa H (1992) Isoflavones from the heartwood of Swartzia polyphylla and their antibacterial activity against cariogenic bacteria. Chem Pharm Bull 40:2970–2974

Oszmianski J, Kolniak-Ostek J, Lachowicz S, Gorzelany J, Matłok N (2017) Phytochemical compounds and antioxidant activity in different cultivars of cranberry (Vaccinium macrocarpon L). J Food Sci 82:2569–2575

Pedersoli GD, Leme FM, Leite VG, Teixeira SP (2019) Anatomy solves the puzzle of explosive pollen release in wind-pollinated urticalean rosids. Am J Bot 106:489–506

Pickard WF (2008) Laticifers and secretory ducts: two other tube systems in plants. New Phytol 177:877–888

Pinto RB (2013) Estudos citogenéticos e taxonômicos em espécies brasileiras de Swartzia Schreb. (Leguminosae-Papilionoideae). Dissertation. Universidade Estadual de Campinas

Pollier J, Morreel K, Geelen D, Goossens A (2011) Metabolite profiling of triterpene saponins in Medicago truncatula hairy roots by liquid chromatography fourier transform ion cyclotron resonance mass spectrometry. J Nat Prod 74:1462–1476

Prado E, Demarco D (2018) Laticifers and secretory ducts: similarities and differences. In: Hufnagel L (ed) Ecosystem services and global ecology. IntechOpen, London, pp 103–123

Ramos MV, Freitas CDT, Morais FS, Prado E, Medina MC, Demarco D (2020) Plant latex and latex-borne defense. In: Nawrot R (ed) Advances in botanical research: Latex, laticifers and their molecular components: From Functions to Possible Applications, vol 93. Academic Press, London, pp 1–25

Rojas R, Bustamante B, Ventosilla P, Fernadez I, Caviedes L, Gilman RH, Lock O, Hammond GB (2006) Larvicidal, antimicobacterial and antifungal compounds from the bark of the Peruvian plant Swartzia polyphylla DC. Chem Pharm Bull 54:278–279

Sanchez CS, Rocha AFI, Pinheiro MLB, Andrade CHS, Monte FJQ (1999) Brachyrachisina: isoflavonainedita de Swartzia (Leguminosae). Acta Amazonica 29:419–422

Santos RC, Melo Filho AAD (2013) Fitoquímica e Atividade Biológica do Gênero Swartzia: Uma Revisão. Orbital-Electron J Chem 5:143–147

Silva MJ, Tozzi AMGA, Lewis GP (2010) Two new species of Lonchocarpus (Leguminosae, Papilionoideae, Millettieae) from Brazil. Kew Bull 65:29–35

Sousa MM, Melo MJ, Parola AJ, Melo SS, Catarino F, Pina F, Cook FEM, Simmonds MSJ, Lopes JA (2008) Flavylium chromophores as species markers for dragon's blood resins from Dracaena and Daemonorops trees. J Chromato A 1209:153–161

Stefano V, Pitonzo R, Schillaci D (2014) Phytochemical and anti-staphylococcal biofilm assessment of Dracaena draco L. spp. draco resin. Pharm Mag 10:434–440

Teixeira SP, Marinho CR, Leme FM (2020) Structural diversity and distribution of laticifers. In: Nawrot R (ed) Advances in botanical research: latex, laticifers and their molecular components: from functions to possible applications, vol 93. Academic Press, London, pp 27–49

Torke BM, Mansano VF (2009) A phylogenetically based sectional classification of Swartzia (Leguminosae-Papilionoideae). Taxon 58:913–924

Torke BM, Schaal BA (2008) Molecular phylogenetics of the species-rich neotropical genus Swartzia (Leguminosae, Papilionoideae) and related genera of the Swartzioid clade. Am J Bot 95:215–228

Treutter D (2006) Significance of flavonoids in plant resistance: a review. Environ Chem Lett 4:147–157

Triana-Gómez MA, Roso GG, Posso SDP (2008) Estudio de las propiedades mecánicas de la madera de palosangre (Brosimum rubescens Taub.), procedencia: Leticia. Amazonas. Colombia Forestal 11:149–164

Vasile FE, Romero AM, Judis MA, Mattalloni M, Virgolini MB, Mazzobre MF (2019) Phenolics composition, antioxidant properties and toxicological assessment of Prosopis alba exudate gum. Food Chem 285:369–379

Védékoi J, Selestin SD, Abdoulaye H, Justin K, Djamilah Z, Pierre K (2019) Investigation of antioxidant activity of the ethanol extract of the resin exudates of trunk bark of Boswellia dalzielii Hutch (Burseraceae). J Mater Environ Sci 10:1413–1419

Verardo G, Duse I, Callea A (2009) Analysis of underivatized oligosaccharides by liquid chromatography/electrospray ionization tandem mass spectrometry with post-column addition of formic acid. Rapid Commun Mass Spectr 23:1607–1618

Viera I, Roca M, Pérez-Gálvez A (2018) Mass spectrometry of non-allomerized chlorophylls a and b derivatives from plants. Curr Organic Chem 22:842–876

Warowicka A, Nawrot R, Goździcka-Józefiak A (2020) Pharmacologically active compounds from latex-bearing plants. In: Nawrot R (ed] Advances in botanical research: latex, laticifers and their molecular components: from functions to possible applications, vol. 93, Academic Press, London, pp 119–151

Weaver PL (1997) Pterocarpus officinalis Jacq. Bloodwood Leguminosae, Legume Family, lotoideae, Pea Subfamily. SO-ITF-SM-87

Wiedenhoeft AC, Riina R, Berry PE (2009) "Ray-Intrusive" laticifers in species of Croton section Cyclostigma (Euphorbiaceae). IAWA J 30:135–148

Zerbib M, Mazauric JP, Meudec E, Le Guernevé C, Lepak A, Nidetzky B, Cheynier V, Terrier N, Saucier C (2018) New flavanol O-glycosides in grape and wine. Food Chem 266:441–448

Zvezdanović JB, Petrović SM, Marković DZ, Andjelković TD, Andjelković DH (2014) Electrospray ionization mass spectrometry combined with ultra high performance liquid chromatography in the analysis of in vitro formation of chlorophyll complexes with copper and zinc. J Serbian Chem Soc 79:689–706
Acknowledgements
The authors thank João Paulo Basso-Alves for assistance in collecting the samples and David Graham Straker for revising the English. This research was supported by Conselho Nacional de Desenvolvimento Científico e Tecnológico—CNPq (process numbers: 421121/2016-5, 302806/2019-9, and the scholarship for the first author) and Fundação de Amparo à Pesquisa do Estado do Rio de Janeiro – FAPERJ (process numbers: E-23/203.026/2017, E-26/202.752/2018). We are also thankful to the Associate Editor, Shigemi Seo, and the two anonymous reviewers for valuable comments that improved our manuscript.
Additional information
Publisher's Note
Springer Nature remains neutral with regard to jurisdictional claims in published maps and institutional affiliations.
Electronic supplementary material
Below is the link to the electronic supplementary material.
About this article
Cite this article
de Oliveira, C.A., Mansano, V., Teixeira, S.P. et al. Bloodwood: the composition and secreting-site of the characteristic red exudate that gives the name to the Swartzia species (Fabaceae). J Plant Res 134, 127–139 (2021). https://doi.org/10.1007/s10265-020-01246-4
Received:

Accepted:

Published:

Issue Date:

DOI: https://doi.org/10.1007/s10265-020-01246-4
Keywords