Abstract
Histone modification is an important epigenetic mechanism in eukaryotes. Histone acetyltransferase and deacetylase regulate histone acetylation levels antagonistically, leading to dynamic control of chromatin structure. One of the histone deacetylases, HDA6, is involved in gene silencing in the heterochromatin regions, chromocenter formation, and metabolic adaptation under drought stress. Although HDA6 plays an important role in chromatin control and response to drought stress, its intracellular localization has not been observed in detail. In this paper, we generated transformants expressing HDA6-GFP in the model plant, Arabidopsis thaliana, and the crops, rice, and cassava. We observed the localization of the fusion protein and showed that HDA6-GFP was expressed in the whole root and localized at the nucleus in Arabidopsis, rice, and cassava. Remarkably, HDA6-GFP clearly formed speckles that were actively colocalized with chromocenters in Arabidopsis root meristem. In contrast, such speckles were unlikely to be formed in rice or cassava. Because AtHDA6 directly binds to the acetate synthesis genes, which function in drought tolerance, we performed live imaging analyses to examine the cellular dynamics of pH in roots and the subnuclear dynamics of AtHDA6 responding to acetic acid treatment. The number of HDA6 speckles increased during drought stress, suggesting a role in contributing to drought stress tolerance.
Access options
Buy single article
Instant access to the full article PDF.
US$ 39.95
Tax calculation will be finalised during checkout.
Subscribe to journal
Immediate online access to all issues from 2019. Subscription will auto renew annually.
US$ 79
Tax calculation will be finalised during checkout.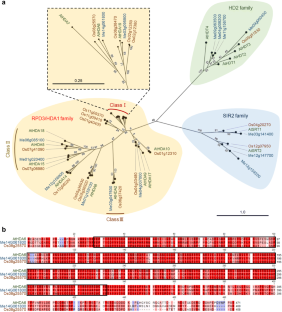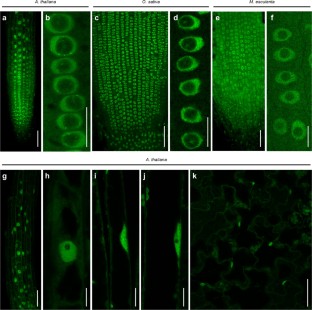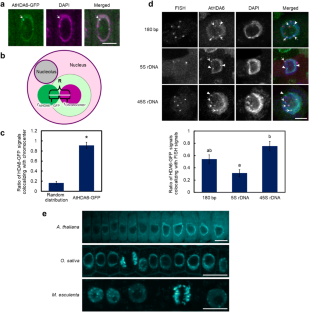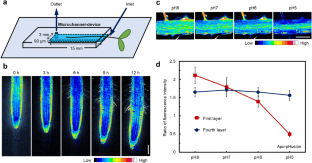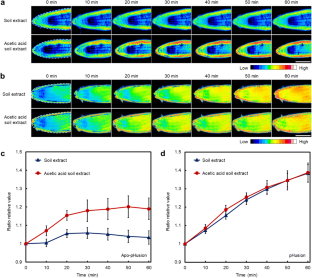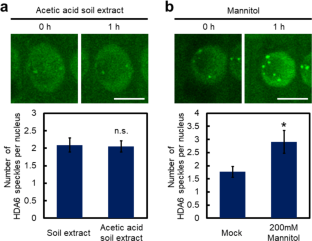 References
Allis CD, Jenuwein T (2016) The molecular hallmarks of epigenetic control. Nat Rev Genet 17:487–500

Bannister AJ, Kouzarides T (2011) Regulation of chromatin by histone modifications. Cell Res 21:381–395

Earley KW, Pontvianne F, Wierzbicki AT, Blevins T, Tucker S, Costa-Nunes P, Pontes O, Pikaard CS (2010) Mechanisms of HDA6-mediated rRNA gene silencing: suppression of intergenic Pol II transcription and differential effects on maintenance versus siRNA-directed cytosine methylation. Genes Dev 24:1119–1132

Felle HH (2001) pH: signal and messenger in plant cells. Plant Biol 3:577–591

Geilfus CM (2017) The pH of the apoplast: dynamic factor with functional impact under stress. Mol Plant 10:1371–1386

Gjetting SK, Ytting CK, Schulz A, Fuglsang AT (2012) Live imaging of intra- and extracellular pH in plants using pHusion, a novel genetically encoded biosensor. J Exp Bot 63:3207–3218

Grossmann G, Guo WJ, Ehrhardt DW, Frommer WB, Sit RV, Quake SR, Meier M (2011) The RootChip: an integrated microfluidic chip for plant science. Plant Cell 23:4234–4240

Hasegawa J, Sakamoto Y, Nakagami S, Aida M, Sawa S, Matsunaga S (2016) Three-dimensional imaging of plant organs using a simple and rapid transparency technique. Plant Cell Physiol 57:462–472

Hasegawa J, Sakamoto T, Fujimoto S, Yamashita T, Suzuki T, Matsunaga S (2018) Auxin decreases chromatin accessibility through the TIRl/AFBs auxin signaling pathway in proliferative cells. Sci Rep 8:12

Hida H, Nishiyama H, Sawa S, Higashiyama T, Arata H (2015) Chemotaxis assay of plant-parasitic nematodes on a gel-filled microchannel device. Sens Actuat B-Chem 221:1483–1491

Hirakawa T, Hasegawa J, White CI, Matsunaga S (2017) RAD54 forms DNA repair foci in response to DNA damage in living plant cells. Plant J 90:372–382

Hollender C, Liu ZC (2008) Histone deacetylase genes in Arabidopsis development. J Integrat Plant Biol 50:875–885

Kim JM, To TK, Seki M (2012) An epigenetic integrator: new insights into genome regulation, environmental stress responses and developmental controls by histone deacetylase 6. Plant Cell Physiol 53:794–800

Kim JM, To TK, Matsui A, Tanoi K, Kobayashi NI, Matsuda F, Habu Y, Ogawa D, Sakamoto T, Matsunaga S, Bashir K, Rasheed S, Ando M, Takeda H, Kawaura K, Kusano M, Fukushima A, Endo TA, Kuromori T, Ishida J, Morosawa T, Tanaka M, Torii C, Takebayashi Y, Sakakibara H, Ogihara Y, Saito K, Shinozaki K, Devoto A, Seki M (2017) Acetate-mediated novel survival strategy against drought in plants. Nat Plants 3:7

Layat E, Sáez-Vásquez J, Tourmente S (2012) Regulation of Pol I-transcribed 45S rDNA and Pol III-transcribed 5S rDNA in Arabidopsis. Plant Cell Physiol 53:267–276

Maluszynska J, Heslopharrison JS (1991) Localization of tandemly repeated DNA sequences in Arabidopsis thaliana. Plant J 1:159–166

Massalha H, Korenblum E, Malitsky S, Shapiro OH, Aharoni A (2017) Live imaging of root-bacteria interactions in a microfluidics setup. Proc Natl Acad Sci USA 14:4549–4554

Nakagawa T, Suzuki T, Murata S, Nakamura S, Hino T, Maeo K, Tabata R, Kawai T, Tanaka K, Niwa Y, Watanabe Y, Nakamura K, Kimura T, Ishiguro S (2007) Improved gateway binary vectors: high-performance vectors for creation of fusion constructs in Transgenic analysis of plants. Biosci Biotechnol Biochem 71:2095–2100

Pandey R, Muller A, Napoli CA, Selinger DA, Pikaard CS, Richards EJ, Bender J, Mount DW, Jorgensen RA (2002) Analysis of histone acetyltransferase and histone deacetylase families of Arabidopsis thaliana suggests functional diversification of chromatin modification among multicellular eukaryotes. Nucleic Acids Res 30:5036–5055

Park J, Kurihara D, Higashiyama T, Arata H (2014) Fabrication of microcage arrays to fix plant ovules for long-term live imaging and observation. Sens Actuat B-Chem 191:178–185

Pontes O, Lawrence RJ, Silva M, Preuss S, Costa-Nunes P, Earley K, Neves N, Viegas W, Pikaard CS (2007) Postembryonic establishment of megabase-scale gene silencing in nucleolar dominance. PLoS One 2:e1157

Probst AV, Fagard M, Proux F, Mourrain P, Boutet S, Earley K, Lawrence RJ, Pikaard CS, Murfett J, Furner I, Vaucheret H, Scheid OM (2004) Arabidopsis histone deacetylase HDA6 is required for maintenance of transcriptional gene silencing and determines nuclear organization of rDNA repeats. Plant Cell 16:1021–1034

Rosa S, Ntoukakis V, Ohmido N, Pendle A, Abranches R, Shaw P (2014) Cell differentiation and development in Arabidopsis are associated with changes in histone dynamics at the single-cell level. Plant Cell 26:4821–4833

Sakamoto T, Inui YT, Sotta N, Hirakawa T, Matsunaga TM, Fukao Y, Matsunaga S, Fujiwara T (2018) Proteasomal degradation of BRAHMA promotes Boron tolerance in Arabidopsis. Nat Commun 9:5258

To TK, Kim JM, Matsui A, Kurihara Y, Morosawa T, Ishida J, Tanaka M, Endo T, Kakutani T, Toyoda T, Kimura H, Yokoyama S, Shinozaki K, Seki M (2011) Arabidopsis HDA6 regulates locus-directed heterochromatin silencing in cooperation with MET1. PLoS Genet 7:14

Toki S, Hara N, Ono K, Onodera H, Tagiri A, Oka S, Tanaka H (2006) Early infection of scutellum tissue with Agrobacterium allows high-speed transformation of rice. Plant J 47:969–976

Utsumi Y, Utsumi C, Tanaka M, Ha VT, Matsui A, Takahashi S, Seki M (2017) Formation of friable embryogenic callus in cassava is enhanced under conditions of reduced nitrate, potassium and phosphate. PLoS One 12:e0180736

Vaillant I, Tutois S, Cuvillier C, Schubert I, Tourmente S (2007) Regulation of Arabidopsis thaliana 5S rRNA genes. Plant Cell Physiol 48:745–752

Wilkinson S, Davies WJ (1997) Xylem sap pH increase: a drought signal received at the apoplastic face of the guard cell that involves the suppression of saturable abscisic acid uptake by the epidermal symplast. Plant Physiol 113:559–573

Zentner GE, Henikoff S (2013) Regulation of nucleosome dynamics by histone modifications. Nat Struct Mol Biol 20:259–266
Acknowledgements
This research was supported by Japan Science and Technology Agency (JST) CREST Grant (JPMJCR13B4) and MXT/JSPS KAKENHI (15H05955, 15H05962 and 19H03259) to SM and by MXT/JSPS KAKENHI (18K14743) and the Sasakawa Scientific Research Grant from Japan Science Society to YS. We thank Huw Tyson, PhD, from Edanz Group (www.edanzediting.com/ac) for editing a draft of this manuscript.
Additional information
Publisher's Note
Springer Nature remains neutral with regard to jurisdictional claims in published maps and institutional affiliations.
Electronic supplementary material
Below is the link to the electronic supplementary material.
About this article
Cite this article
Kurita, K., Sakamoto, Y., Naruse, S. et al. Intracellular localization of histone deacetylase HDA6 in plants. J Plant Res 132, 629–640 (2019). https://doi.org/10.1007/s10265-019-01124-8
Received:

Accepted:

Published:

Issue Date:
Keywords
Cassava

Chromocenter

Drought stress

Imaging

Histone deacetylase

pH monitoring