Abstract
Urbanisation has contributed to significant biodiversity loss, yet, urban areas can facilitate biodiversity conservation. For instance, there is evidence of urban trees supporting natural establishments of orchids, the most species-rich plant family on Earth. However, the germination niches—which include both suitable biophysical conditions and orchid mycorrhizal fungus/fungi (OMF)—are not sufficiently known for most species, especially tropical epiphytic orchids. The fate of their dispersed seeds is poorly understood as well. We conducted fungal baiting and seed sowing experiments, next-generation sequencing, generalised linear models, and seed viability tests to detect and identify potential OMF, investigate biophysical factors that influenced OMF availability and orchid germination, and assess seed longevity. Ceratobasidiaceae- and Serendipitaceae-associated OMF were successfully detected in three of four orchid species. In general, orchid species and humus presence had significant effects on OMF availability. Orchid species and temperature were predictive of germination. Post-experiment viability tests revealed that one orchid species, Grammatophyllum speciosum Blume, may produce long-lived seeds. The results suggest that urban trees can support OMF and orchid germination, but both processes are limited by biophysical factors. This study also indicates the possibility of seed persistence among epiphytic species. As orchid germination niches are complex and tend to be unique to individual species, we do not encourage generalisations. In contrast, species-specific information can help formulate useful recommendations towards conservation.
This is a preview of subscription content, log in to check access.
Access options
Buy single article
Instant access to the full article PDF.
US$ 39.95
Price includes VAT for USA
Subscribe to journal
Immediate online access to all issues from 2019. Subscription will auto renew annually.
US$ 99
This is the net price. Taxes to be calculated in checkout.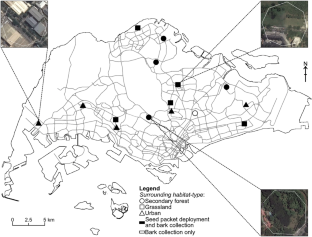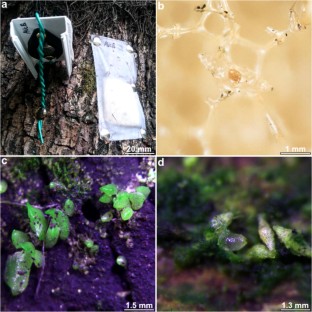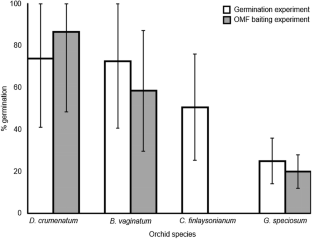 References
Akaike H (1974) A new look at the statistical model identification. IEEE T Autom Control 19:716–723. https://doi.org/10.1109/TAC.1974.1100705

Bakker JP, Bakker ES, Rosen E, Verweij GL, Bekker RM (1996) Soil seed bank composition along a gradient from dry alvar grassland to Juniper shrubland. J Veg Sci 7:165–176. https://doi.org/10.2307/3236316

Baskin CC, Baskin JM (1998) Seeds: ecology, biogeography, and evolution of dormancy and germination. Academic Press, New York. https://doi.org/10.1016/B978-0-12-080260-9.X5000-3

Batty AL, Dixon KW, Brundrett MC, Sivasithamparam K (2001) Long-term storage of mycorrhizal fungi and seed as a tool for the conservation of endangered Western Australian terrestrial orchids. Aust J Bot 49:619–628. https://doi.org/10.1071/BT01029

Batty AL, Dixon KW, Brundrett MC, Sivasithamparam K (2002) Orchid conservation and mycorrhizal associations. In: Dixon KW, Sivasithamparam K, Barrett RL (eds) Microorganisms in plant conservation and biodiversity. Kluwer Academic Publishers, Dordrecht, pp 195–226. https://doi.org/10.1007/0-306-48099-9_7

Bhatt A, Gairola S, Govender Y, Baijnath H, Ramdhani S (2015) Epiphyte diversity on host trees in an urban environment, eThekwini Municipal Area, South Africa. New Z J Bot 53:24–37. https://doi.org/10.1080/0028825X.2014.1000935

Böhnert T, Wenzel A, Altenhövel C, Beeretz L, Tjitrosoedirdjo SS, Meijide A, Rembold K, Kreft H (2016) Effects of land-use change on vascular epiphyte diversity in Sumatra (Indonesia). Biol Conserv 202:20–29. https://doi.org/10.1016/j.biocon.2016.08.008

Bonnardeaux Y, Brundrett M, Batty A, Dixon K, Koch J, Sivasithamparam K (2007) Diversity of mycorrhizal fungi of terrestrial orchids: compatibility webs, brief encounters, lasting relationships, and alien invasions. Mycol Res 111:51–61. https://doi.org/10.1016/j.mycres.2006.11.006

Brundrett MC (2007) Scientific approaches to Australian temperate terrestrial orchid conservation. Aust J Bot 55:293–307. https://doi.org/10.1071/BT06131

Brundrett MC, Scade A, Batty AL, Dixon KW, Sivasithamparam K (2003) Development of in situ and ex situ seed baiting techniques to detect mycorrhizal fungi from terrestrial orchid habitats. Mycol Res 107:1210–1220. https://doi.org/10.1017/S0953756203008463

Chapela IH, Boddy L (1988) Fungal colonization of attached beech branches. New Phytol 110:47–57. https://doi.org/10.1111/j.1469-8137.1988.tb00236.x

Corlett RT (1992) The ecological transformation of Singapore, 1819–1990. J Biogeogr 19:411–420. https://doi.org/10.2307/2845569

Cruz-Higareda JB, Luna-Rosales BS, Barba-Álvarez A (2015) A novel seed baiting technique for the epiphytic orchid Rhynchostele cervantesii, a means to acquire mycorrhizal fungi from protocorms. Lankesteriana 15:67–76. https://doi.org/10.15517/lank.v15i1.18525

Dearnaley JDW (2007) Further advances in orchid mycorrhizal research. Mycorrhiza 17:475–486. https://doi.org/10.1007/s00572-007-0138-1

Dearnaley JDW, Martos F, Selosse MA (2012) Orchid mycorrhizas: molecular ecology, physiology, evolution and conservation aspects. In: Hock B (ed) Fungal associations, 2nd edn. Springer, Berlin, pp 207–230. https://doi.org/10.1007/978-3-642-30826-0_12

Diez JM (2007) Hierarchical patterns of symbiotic orchid germination linked to adult proximity and environmental gradients. J Ecol 95:159–170. https://doi.org/10.1111/j.1365-2745.2006.01194.x

Dixon KW, Batty AL, Phillips RD (2007) The orchid conservation challenge. Lankesteriana 7:11–12. https://doi.org/10.15517/lank.v7i1-2.18384

Fischer LK, Rodorff V, Lippe Mvd, Kowarik I (2016) Drivers of biodiversity patterns in parks of a growing South American megacity. Urban Ecosyst 19:1231–1249. https://doi.org/10.1007/s11252-016-0537-1

Fox J, Weisberg S (2011) An R companion to applied regression, 2nd edn. Sage, California

Frazer G, Canham CD, Lertzman KP (1999) Gap Light Analyzer (GLA), version 20: imaging software to extract canopy structure and gap light transmission indices from true-colour fisheye photographs. Simon Fraser University, New York

Gardner TA, Barlow J, Chazdon RL, Ewers RM, Harvey CA, Peres CA, Sodhi NS (2009) Prospects for tropical forest biodiversity in a human-modified world. Ecol Lett 12:561–582. https://doi.org/10.1111/j.1461-0248.2009.01294.x

Goddard MA, Dougill AJ, Benton TG (2010) Scaling up from gardens: biodiversity conservation in urban environments. Trends Ecol Evol 25:90–98. https://doi.org/10.1016/j.tree.2009.07.016

Gravendeel B, Smithson A, Slik FJW, Schuiteman A (2004) Epiphytism and pollinator specialization: drivers for orchid diversity? Philos T R Soc B 359:1523–1535. https://doi.org/10.1098/rstb.2004.1529

Güneralp B, Seto KC (2013) Futures of global urban expansion: uncertainties and implications for biodiversity conservation. Environ Res Lett 8:014025. https://doi.org/10.1088/1748-9326/8/1/014025

Herrera P, Suárez JP, Kottke I (2010) Orchids keep the ascomycetes outside: a highly diverse group of ascomycetes colonizing the velamen of epiphytic orchids from a tropical mountain rainforest in Southern Ecuador. Mycology 1:262–268. https://doi.org/10.1080/21501203.2010.526645

Hicks AJ (1999) Asymbiotic technique of orchid seed germination. The Orchid Seedbank Project, Socorro

Islam T, Bhattacharjee B, Islam SMS, Uddain J, Subramaniam S (2015) Axenic seed culture and in vitro mass propagation of Malaysian wild orchid Cymbidium finlaysonianum Lindl. Pak J Bot 47:2361–2367

Izuddin M, Webb EL (2015) The influence of tree architecture, forest remnants, and dispersal syndrome on roadside epiphyte diversity in a highly urbanized tropical environment. Biodivers Conserv 24:2063–2077. https://doi.org/10.1007/s10531-015-0932-6

Izuddin M, Yam TW, Webb EL (2018) Specific niche requirements drive long-term survival and growth of translocated epiphytic orchids in an urbanised tropical landscape. Urban Ecosyst 21:531–540. https://doi.org/10.1007/s11252-018-0733-2

Jacquemyn H, Brys R, Lievens B, Wiegand T (2012) Spatial variation in below-ground seed germination and divergent mycorrhizal associations correlate with spatial segregation of three co-occurring orchid species. J Ecol 100:1328–1337. https://doi.org/10.1111/j.1365-2745.2012.01998.x

Jacquemyn H, Brys R, Merckx V, Waud M, Lievens B, Wiegand T (2014) Co-existing orchid species have distinct mycorrhizal communities and display strong spatial segregation. New Phytol 202:616–627. https://doi.org/10.1111/nph.12640

Jacquemyn H, Duffy KJ, Selosse MA (2017) Biogeography of orchid mycorrhizas. In: Tedersoo L (ed) Biogeography of mycorrhizal symsibios. Springer, Cham, pp 159–177. https://doi.org/10.1007/978-3-319-56363-3_8

Jacquemyn H, Waud M, Merckx V, Lievens B, Brys R (2015) Mycorrhizal diversity, seed germination and long-term changes in population size across nine populations of the terrestrial orchid Neottia ovata. Mol Ecol 24:3269–3280. https://doi.org/10.1111/mec.13236

Kartzinel TR, Trapnell DW, Shefferson RP (2013) Critical importance of large native trees for conservation of a rare Neotropical epiphyte. J Ecol 101:1429–1438. https://doi.org/10.1111/1365-2745.12145

Lauzer D, St-Arnaud M, Barabé D (1994) Tetrazolium staining and in vitro germination of mature seeds of Cypripedium acaule (Orchidaceae). Lindleyana 9:197–204

Leck MA, Parker TV, Simpson RL (1989) Ecology of soil seed banks. Academic Press, New York. https://doi.org/10.1016/B978-0-12-440405-2.X5001-5

Legendre P, Fortin MJ (1989) Spatial pattern and ecological analysis. Vegetatio 80:107–138. https://doi.org/10.1007/BF00048036

Malloch D, Blackwell M (1992) Dispersal of fungal diaspores. In: Carroll GC, Wicklow DT (eds) The fungal community: its organization and role in the ecosystem, 2nd edn. Marcel Decker, New York, pp 377–385

McCormick MK, Taylor DL, Juhaszova K, Burnett RKJ, Whigham DF, O'Neill JP (2012) Limitations on orchid recruitment: not a simple picture. Mol Ecol 21:1511–1523. https://doi.org/10.1111/j.1365-294X.2012.05468.x

McKinney ML (2002) Urbanization, biodiversity, and conservation: the impacts of urbanization on native species are poorly studied, but educating a highly urbanized human population about these impacts can greatly improve species conservation in all ecosystems. Bioscience 52:883–890. https://doi.org/10.1641/0006-3568(2002)052%5b0883:UBAC%5d2.0.CO;2

Meteorological Service Singapore (2017) Historical daily records. National Environment Agency, Singapore. http://www.weather.gov.sg/climate-historical-daily/. Accessed 17 Mar 2017

Ministry of National Development (2008) An endearing home, a distinctive global city. Ministry of National Development, Singapore

Mújica EB, Mably JJ, Skarha SM, Corey LL, Richardson LW, Danaher MW, González EH, Zettler LW (2018) A comparision of ghost orchid (Dendrophylax lindenii) habitats in Florida and Cuba, with particular reference to seedling recruitment and mycorrhizal fungi. Bot J Linn Soc 186:572–586. https://doi.org/10.1093/botlinnean/box106

Osono T, Ono Y, Takeda H (2003) Fungal ingrowth on forest floor and decomposing needle litter of Chamaecyparis obtusa in relation to resource availability and moisture condition. Soil Biol Biochem 35:1423–1431. https://doi.org/10.1016/S0038-0717(03)00236-0

Peay KG, Bruns TD (2014) Spore dispersal of basidiomycete fungi at the landscape scale is driven by stochastic and deterministic processes and generates variability in plant–fungal interactions. New Phytol 204:180–191. https://doi.org/10.1111/nph.12906

Peay KG, Schubert MG, Nguyen N, Bruns TD (2012) Measuring ectomycorrhizal fungal dispersal: macroecological patterns driven by microscopic propagules. Mol Ecol 21:4122–4136. https://doi.org/10.1111/j.1365-294X.2012.05666.x

R Development Core Team (2015) R version 3.4.2. R: a language and environment for statistical computing. R Foundation for Statistical Computing, Vienna

Ramsey MM, Dixon KW (2003) Propagation science, recovery and translocation of terrestrial orchids. In: Dixon KW, Kell SP, Barrett RL, Cribb PJ (eds) Orchid conservation. Natural History Publications, Kota Kinabalu, pp 259–288

Ranta P (2008) The importance of traffic corridors as urban habitats for plants in Finland. Urban Ecosyst 11:149–159. https://doi.org/10.1007/s11252-008-0058-7

Rasmussen HN (1995) Terrestrial orchids: from seed to mycotrophic plant. Cambridge University Press, Cambridge. https://doi.org/10.1113/expphysiol.1998.sp004319

Rasmussen HN, Rasmussen FN (2009) Orchid mycorrhiza: implications of a mycophagous life style. Oikos 118:334–345. https://doi.org/10.1111/j.1600-0706.2008.17116.x

Rasmussen HN, Whigham DF (1993) Seed ecology of dust seeds in situ: a new study technique and its application in terrestrial orchids. Am J Bot 80:1372–1378. https://doi.org/10.1002/j.1537-2197.1993.tb15381.x

Rasmussen HN, Dixon KW, Jersáková J, Těšitelová T (2015) Germination and seedling establishment in orchids: a complex of requirements. Ann Bot 116:391–402. https://doi.org/10.1093/aob/mcv087

Ricketts TH (2001) The matrix matters: effective isolation in fragmented landscapes. Am Nat 158:87–99. https://doi.org/10.1086/320863

Samala S, Te-chato S, Yenchon S, Thammasiri K (2014) Protocorm-like body proliferation of Grammatophyllum speciosum through asymbiotic seed germination. ScienceAsia 40:379–383. https://doi.org/10.2306/scienceasia1513-1874.2014.40.379

Scade A, Brundrett MC, Batty AL, Dixon KW, Sivasithamparam K (2006) Survival of transplanted terrestrial orchid seedlings in urban bushland habitats with high or low weed cover. Aust J Bot 54:383–389. https://doi.org/10.1071/BT04025

Scott HS, Carey PD (2002) The effects of water application on seed germination and infection in Gymnadenia conopsea under field conditions. In: Kindlmann P, Whigham DF, Willems JH (eds) Trends and fluctuations, and underlying mechanisms in terrestrial orchid populations. Backhuys Publishers, Leiden, pp 155–165. https://doi.org/10.1111/j.1095-8339.2008.00872.x

Seaton PT, Hosomi ST, Custódio CC, Marks TR, Machado-Neto NB, Pritchard HW (2018) Orchid seed and pollen: a toolkit for long-term storage, viability assessment and conservation. In: Lee YI, Yeung ET (eds) Orchid propagation: from laboratories to greenhouses—methods and protocols. Humana Press, New York, pp 71–98

Seto KC, Fragkias M, Güneralp B, Reilly MK (2011) A meta-analysis of global urban land expansion. PLoS One 6:e23777. https://doi.org/10.1371/journal.pone.0023777

Smith SE, Read DJ (2008) Mycorrhizal symbiosis, 3rd edn. Academic Press, Cambridge. https://doi.org/10.1016/B978-0-12-370526-6.X5001-6

Sodhi NS, Koh LP, Brook BW, Ng PKL (2004) Southeast Asian biodiversity: an impending disaster. Trends Ecol Evol 19:654–660. https://doi.org/10.1016/j.tree.2004.09.006

Sodhi NS, Koh LP, Peh KSH, Tan HTW, Chazdon RL, Corlett RT, Lee TM, Colwell RK, Brook BW, Sekercioglu CH, Bradshaw CJA (2008) Correlates of extinction proneness in tropical angiosperms. Divers Distrib 14:1–10. https://doi.org/10.1111/j.1472-4642.2007.00398.x

Tan PY, Wang J, Sia A (2013) Perspectives on five decades of the urban greening of Singapore. Cities 32:24–32. https://doi.org/10.1016/j.cities.2013.02.001

Tan PY, Yeo B, Yip WX, Lua HS (2009) Carbon storage and sequestration by urban trees in Singapore. Centre for Urban Greenery and Ecology, Singapore

Tawaro S, Suraninpong P, Chanprame S (2008) Germination and regeneration of Cymbidium findlaysonianum Lindl. on a medium supplemented with some organic sources. Walailak J Sci Technol 5:125–135

Těšitelová T, Těšitel J, Jersáková J, Říhová G, Selosse MA (2012) Symbiotic germination capability of four Epipactis species (Orchidaceae) is broader than expected from adult ecology. Am J Bot 99:1020–1032. https://doi.org/10.3732/ajb.1100503

Turner IM, Tan HTW, Wee YC, Ali BI, Chew PT, Corlett RT (1994) A study of plant species extinction in Singapore: lessons for the conservation of tropical biodiversity. Conserv Biol 8:704–712. https://doi.org/10.1046/j.1523-1739.1994.08030705.x

van der Heijden MGA, Wiemken A, Sanders IR (2003) Different arbuscular mycorrhizal fungi alter coexistence and resource distribution between co-occurring plants. New Phytol 157:569–578. https://doi.org/10.1046/j.1469-8137.2003.00688.x

Van Waes JM, Debergh PC (1986) Adaptation of the tetrazolium method for testing the seed viability, and scanning electron microscopy study of some Western European orchids. Physiol Plant 66:435–442. https://doi.org/10.1111/j.1399-3054.1986.tb05947.x

Venables WN, Ripley BD (2002) Modern applied statistics with S, 4th edn. Springer, New York. https://doi.org/10.1007/978-0-387-21706-2

Wang H, Fang H, Wang Y, Duan L, Gu S (2011) In situ seed baiting techniques in Dendrobium officinale Kimuraet Migo and Dendrobium nobile Lindl.: the endangered Chinese endemic Dendrobium (Orchidaceae). World J Microbiol Biotechnol 27:2051–2059. https://doi.org/10.1007/s11274-011-0667-9

Wang JW, Poh CH, Tan CYT, Lee VN, Jain A, Webb EL (2017) Building biodiversity: drivers of bird and butterfly diversity on tropical urban roof gardens. Ecosphere 8:1–22. https://doi.org/10.1002/ecs2.1905

Wee YC (1978) Vascular epiphytes of Singapore's wayside trees. Gard Bull Singap 31:114–126

Whigham DF, O'Neill JP, Rasmussen HN, Caldwell BA, McCormick MK (2006) Seed longevity in terrestrial orchids—potential for persistent in situ seed banks. Biol Conserv 129:24–30. https://doi.org/10.1016/j.biocon.2005.10.029

Yam TW, Tay F, Ang P, Soh W (2011) Conservation and reintroduction of native orchids of Singapore—the next phase. Eur J Environ Sci 1:38–47. https://doi.org/10.14712/23361964.2015.45

Yee ATK, Corlett RT, Liew SC, Tan HTW (2011) The vegetation of Singapore—an updated map. Gard Bull Singap 63:205–212

Yoder JA, Zettler LW, Stewart SL (2000) Water requirements of terrestrial and epiphytic orchid seeds and seedlings, and evidence for water uptake by means of mycotrophy. Plant Sci 156:145–150. https://doi.org/10.1016/S0168-9452(00)00246-6

Yuen B (1996) Creating the garden city: the Singapore experience. Urban Stud 33:955–970. https://doi.org/10.1080/00420989650011681

Zettler LW, Corey LL, Richardson LW, Ross AY, Moller-Jacobs L (2011) Protocorms of an epiphytic orchid (Epidendrum amphistomum A. Richard) recovered in situ, and subsequent identification of associated mycorrhizal fungi using molecular markers. Eur J Environ Sci 1:108–114. https://doi.org/10.14712/23361964.2015.53

Zettler LW, Stewart SL, Bowles ML, Jacobs KA (2001) Mycorrhizal fungi and cold-assisted symbiotic germination of the federally threatened eastern prairie fringed orchid, Plathanthera leucophaea (Nuttall) Lindley. Am Midl Nat 145:168–175. https://doi.org/10.1674/0003-0031(2001)145%5b0168:MFACAS%5d2.0.CO;2

Zi XM, Sheng CL, Goodale UM, Shao SC, Gao JY (2014) In situ seed baiting to isolate germination-enhancing fungi for an epiphytic orchid, Dendrobium aphyllum (Orchidaceae). Mycorrhiza 24:487–499. https://doi.org/10.1007/s00572-014-0565-8

Zotz G (2016) Epiphytes and humans. Plants on plants—the biology of vascular epiphytes. Springer, Cham, pp 245–265. https://doi.org/10.1007/978-3-319-39237-0_10

Zotz G, Asshoff R (2010) Growth in epiphytic bromeliads: response to the relative supply of phosphorus and nitrogen. Plant Biol 12:108–113. https://doi.org/10.1111/j.1438-8677.2009.00216.x

Zotz G, Schmidt G, Mikona C (2011) What is the proximate cause for size-dependent ecophysiological differences in vascular epiphytes? Plant Biol 13:902–908. https://doi.org/10.1111/j.1438-8677.2011.00460.x
Acknowledgements
The authors thank Peter Ang, Maria Lee, Amrita Srivathsan, Muhammad Noh Al, and Maryam Nadheera for their valuable assistance. The molecular work and computational resources were supported by SEABIG (Grants R-154-000-648-646 and R-154-000-648-733).
Additional information
Publisher's Note
Springer Nature remains neutral with regard to jurisdictional claims in published maps and institutional affiliations.
Electronic supplementary material
Below is the link to the electronic supplementary material.
About this article
Cite this article
Izuddin, M., Yam, T.W. & Webb, E.L. Germination niches and seed persistence of tropical epiphytic orchids in an urban landscape. J Plant Res 132, 383–394 (2019). https://doi.org/10.1007/s10265-019-01110-0
Received:

Accepted:

Published:

Issue Date:
Keywords
Niche requirements

Orchid mycorrhizal fungus

Seed viability

Ex situ conservation

Singapore

Urban ecology