Abstract
Understanding of the interaction of livestock grazing and rainfall variability may aid in predicting the patterns of herbaceous species diversity and biomass production. We manipulated the amount of ambient rainfall received in grazed and ungrazed savanna in Lambwe Valley-Kenya. The combined influence of livestock grazing and rainfall on soil moisture, herbaceous species diversity, and aboveground biomass patterns was assessed. We used the number of species (S), Margalef's richness index (Dmg), Shannon index of diversity (H), and Pileou's index of evenness (J) to analyze the herbaceous community structure. S, Dmg, H and J were higher under grazing whereas volumetric soil water contents (VWC) and aboveground biomass (AGB) decreased with grazing. Decreasing (50%) or increasing (150%) the ambient rainfall by 50% lowered species richness and diversity. Seasonality in rainfall influenced the variation in VWC, S, Dmg, H, and AGB but not J (p = 0.43). Overall, Dmg declined with increasing VWC. However, the AGB and Dmg mediated the response of H and J to the changes in VWC. The highest H occurred at AGB range of 400–800 g m−2. We attribute the lower diversity in the ungrazed plots to the dominance (relative abundance > 70%) of Hyparrhenia fillipendulla (Hochst) Stapf. and Brachiaria decumbens Stapf. Grazing exclusion, which controls AGB, hindered the coexistence among species due to the competitive advantage in resource utilization by the more dominant species. Our findings highlight the implication of livestock grazing and rainfall variability in maintaining higher diversity and aboveground biomass production in the herbaceous layer community for sustainable ecosystem management.
This is a preview of subscription content, log in to check access.
Access options
Buy single article
Instant access to the full article PDF.
US$ 39.95
Price includes VAT for USA
Subscribe to journal
Immediate online access to all issues from 2019. Subscription will auto renew annually.
US$ 99
This is the net price. Taxes to be calculated in checkout.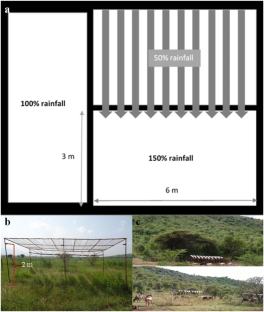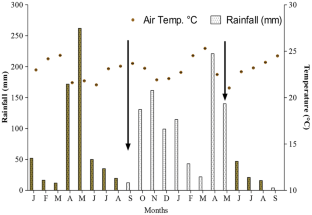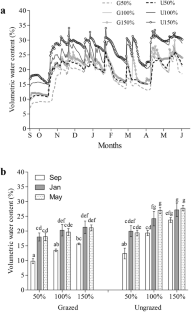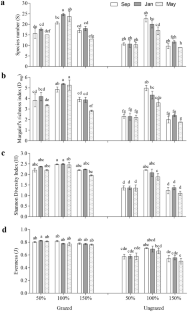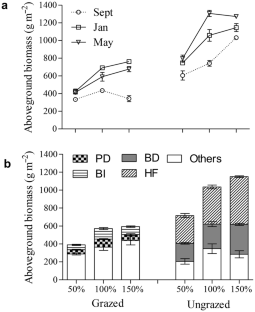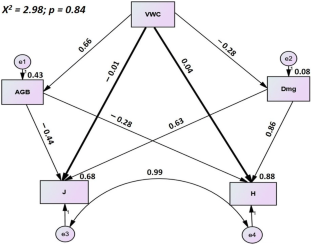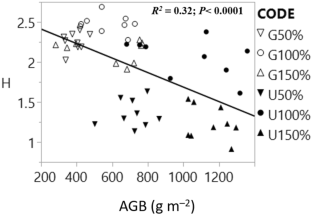 References
Adler PB, Levine JM (2007) Contrasting relationships between precipitation and species richness in space and time. Oikos 116:221–232

Adler PB, Raff D, Lauenroth W (2001) The effect of grazing on the spatial heterogeneity of vegetation. Oecologia 128:465–479

Adler PB, Seabloom EW, Borer ET et al (2011) Productivity is a poor predictor of plant species richness. Science 333:1750

Alley R, Marotzke T, Nordhaus W et al (2003) Abrupt climate change. Science 299:2005–2010

Allsopp R, Baldry DAT (1972) A general description of the Lambwe Valley area of South Nyanza District, Kenya. B World Health Organ 47:691–697

Anderson TM, Ritchie ME, McNaughton SJ (2007) Rainfall and soils modify plant community response to grazing in Serengeti National Park. Ecology 88:1191–1201

Arbuckle JL (2017) Amos 25.0: computer program. IBM SPSS, Chicago

Augustine DJ (2003) Spatial heterogeneity in herbaceous layer of a semi-arid savanna ecosystem. Plant Ecol 167:319–332

Augustine DJ, Frank DA (2001) Effects of migratory grazers on spatial heterogeneity of soil nitrogen properties in a grassland ecosystem. Ecology 82:3149–3162

Augustine DJ, McNaughton SJ (2006) Interactive effects of ungulate herbivores, soil fertility and variable rainfall on ecosystem processes in a semi-arid savanna. Ecosystems 9:1242–1256

Bakker C, Blair JM, Knapp AK (2003) Does resource availability, resource heterogeneity or species turnover mediate changes in plant species richness in grazed grasslands? Oecologia 137:385–391

Barbosa da Silva FH, Arieira J, Parolin P, Nunes da Cunha C, Junk WJ (2016) Shrub encroachment influences herbaceous communities in flooded grasslands of a neotropical savanna wetland. Appl Veg Sci 19:391–400

Bardgett RD, Wardle DA (2003) Herbivore-mediated linkages between above ground and below ground communities. Ecology 84:2258–2268

Bat-Oyun T, Shinoda M, Cheng Y, Purevdorj Y (2016) Effects of grazing and precipitation variability on vegetation dynamics in a Mongolian dry steppe. J Plant Ecol 9:508–519

Beier C, Beierkuhnlein C, Wohlgemuth T et al (2012) Precipitation manipulation experiments—challenges and recommendations for the future. Ecol Let 15:899–911

Bonham CD (1989) Measurements for terrestrial vegetation. Wiley, New York

Borer ET, Seabloom EW, Gruner DS et al (2014) Herbivores and nutrients control grassland plant diversity via light limitation. Nature 508:517–520

Case M (2006) Climate change impacts on East Africa: a review of scientific literature. Worldwide Fund for Nature, Switzerland

Cingolani AM, Noy-Meir I, Diaz S (2005) Grazing effects on rangeland diversity: a synthesis of contemporary models. Ecol Appl 15:757–773

Cleland EE, Collins SL, Dickson TL et al (2013) Sensitivity of grassland plant community composition to spatial vs. temporal variation in precipitation. Ecology 94:1687–1696

Conway G, (2009) The science of climate change in Africa: impacts and adaptation. Discussion paper No. 1. Imperial College London, Grantham Institute for Climate Change, London

Cornwell WK, Grubb PJ (2003) Regional and local patterns in plant species richness with respect to resource availability. Oikos 100:417–428

Coughenour MB, Mc Naughton SJ, Wallace CC (1985) Response of an African tall grass (Hyparrhenia filipendula Stapf.) to defoliation and limitation of water and nitrogen. Oecologia 68:80–86

Cumming DHM (1982) The influence of large herbivores on savanna structure in Africa. In: Huntley BJ, Walker BH (eds) Ecology of tropical savannas. Ecol stud, vol 42. Springer-Verlag, Berlin, pp 217–245

Dangal SRS, Tian H, Lu C, Pan S, Pederson N, Hessl A (2016) Synergistic effects of climate change and grazing on net primary production of Mongolian grasslands. Ecosphere 7:e01274. https://doi.org/10.1002/ecs2.1274

Davidson O, Halsnaes K, Huq S et al (2003) The development and climate nexus: the case of sub-Saharan Africa. Clim Policy 3:97–113

Dingaan MNV, Walker S, Tsubo M, Newby T (2016) Influence of grazing on plant diversity productivity relationship in semi-arid grassland of S. Africa. Appl Ecol Env Res 14:1–13

Frank DA (2005) The interactive effects of grazing ungulates and aboveground production of grassland diversity. Oecologia 143:629–634

Frank DA (2007) Drought effects on above and below ground production of a grazed temperate grass-land ecosystem. Oecologia 152:131–139

Fraser LH, Henry HA, Carlyle CN et al (2013) Coordinated distributed experiments: an emerging tool for testing global hypotheses in ecology and environmental science. Front Ecol Environ 11:147–155

Gao YZ, Giese M, Han XG et al (2009) Land use and drought interactively affect interspecific competition and species diversity at the local scale in a semiarid steppe ecosystem. Ecol Res 24:627–635

Grace JB, Anderson TM, Olff H, Scheiner SM (2010) On the specification of structural equation models for ecological systems. Ecol Monogr 80:67–87

Graham JH, Duda JJ (2011) The humpbacked species richness-curve: a contingent rule for community ecology. Int J Ecol 11:1–16

Gu L, Meyers T, Pallardy SG et al (2006) Direct and indirect effects of atmospheric conditions and soil moisture on surface energy partitioning revealed by a prolonged drought at a temperate forest site. J Geophys Res 15:6. https://doi.org/10.1029/s2006jd007161

Hanke W, Böhner J, Dreber N et al (2014) The impact of livestock grazing on plant diversity: an analysis across dryland ecosystems and scales in southern Africa. Ecol Appl 245:1188–1203

Harrison KA, Bardgett RD (2004) Browsing by red deer negatively impacts on soil nitrogen availability in regenerating woodland. Soil Biol Biochem 36:115–126

Holdo RM, Mack MC (2014) Functional attributes of savanna soils: contrasting effects of tree canopies and herbivores on bulk density, nutrients, and moisture dynamics. J Ecol 102:1171–1182

Hulme M, Doherty R, Ngara T, New M, Lister D (2001) African climate change: 1900-2100. Clim Res 17:145–168

Jones SK, Collins SL, Blair JM, Smith MD, Knapp AK (2016) Altered rainfall patterns increase forb abundance and richness in native tallgrass prairie. Sci Rep. https://doi.org/10.1038/srep20120

K'Otuto GO, Otieno DO, Seo B, Ogindo HO, Onyango JC (2012) Carbon dioxide exchange and biomass productivity of herbaceous layer of a managed tropical humid savanna ecosystem in Western Kenya. J Plant Ecol 6:286–297

K'Otuto GO, Otieno DO, Onyango JC, Ogindo HO (2014) Seasonal dynamics in carbon dioxide fluxes of the herbaceous layer of a moist Kenyan savannah. Appl Ecol Environ Res 12:63–82

Kioko J, Kiringe JW, Ole Seno S (2012) Impacts of livestock on grazing on a savanna grassland in Kenya. J Arid Land 4:29–35

Knapp AK, Fay PA, Blair JM et al (2002) Rainfall variability, carbon cycling and plant species diversity in a mesic grassland. Science 298:2202–2205

Knapp A, Beier C, Briske D et al (2008) Consequences of altered precipitation regimes for terrestrial ecosystems. Bioscience 58:1–11

Koerner SE, Collins SL (2014) Interactive effect of grazing, drought, and fire on grassland plant communities in Northern America and South Africa. Ecology 95:98–109

Loreau M, Naeem S, Inchausti P et al (2001) Biodiversity and ecosystem functioning: current knowledge and future challenges. Science 294:804–808

Maestre FT, Callaway RM, Valladares F, Lortie CJ (2009) Refining the stress-gradient hypothesis for competition and facilitation in plant communities. J Ecol 97:199–205

Magurran AE (2004) Measuring biological diversity, 2nd edn. Blackwell Science Ltd, Oxford

Marshall F, Reid REB, Goldstein S et al (2018) Ancient herders enriched and restructured African grasslands. Nature 561:387–390

McCulley RL, Boutton TW, Archer SR (2007) Soil respiration in a Subtropical Savanna Parkland: response to water additions. Soil Sci Soc Am J 71:820–828

Merbold L, Ardö J, Arneth A et al (2009) Precipitation as driver of carbon fluxes in 11 African ecosystems. Biogeosciences 6:1027–1041

Metzger KL, Coughenour MB, Reich RM, Boone RB (2005) Effects of seasonal grazing on plant species diversity and vegetation structure in a semi-arid ecosystem. J Arid Environ 61:147–160

Milchunas DG, Sala OE, Lauenroth WK (1988) A generalized model of the effects of grazing by large herbivores on grassland community structure. Am Nat 132:87–106

Mouillot D, Graham NAJ, Villéger S et al (2013) A functional approach reveals community responses to disturbances. Trends Ecol Evol 28:167–177

Nippert JB, Knapp AK, Briggs JM (2006) Intra-annual rainfall variability and grassland productivity: can the past predict the future? Plant Ecol 184:65–74

Oba G, Vetaas OR, Stenseth NC (2001) Relationships between biomass and plant species richness in arid zone grazing lands. J Appl Ecol 38:345–836

Olff H, Ritchie ME (1998) Effects of herbivores on grassland plant diversity. Trends Ecol Evol 13:261–265

Osborne CP, Charles-Dominique T, Stevens N et al (2018) Human impacts in African savannas are mediated by plant functional traits. New Phytol 220:10–24

Osem Y, Perevolotsky A, Kigel J (2002) Grazing effect on diversity of annual plant communities in a semi-arid rangeland: interactions with small-scale spatial and temporal variation in primary productivity. J Ecol 90:936–946

Otieno DO, K'Otuto GO, Maina JN, Kuzyakov Y, Onyango JC (2010) Responses of ecosystem carbon dioxide fluxes to soil moisture fluctuations in a moist Kenyan savanna. J Trop Ecol 26:605–618

Otieno DO, K'Otuto GO, Jakli B, Maina JN, Jung E, Onyango JC (2011) Spatial heterogeneity in ecosystem structure and productivity in a moist Kenyan Savanna. J Ecol 212:769–783

Polley HW, Frank AB, Sanabria J, Phillips RL (2008) Interannual variability in carbon dioxide fluxes and flux-climate relationships on grazed and ungrazed northern mixed-grass prairie. Glob Change Biol 14:1620–1632

Porensky LS, Wittman C, Riginos C, Young T (2013) Herbivory and drought interact to enhance spatial patterning and diversity in a savanna understory. Oecologia 173:591–602

Preacher KJ, Hayes AF (2008) Asymptotic and resampling strategies for assessing and comparing indirect effects in multiple mediator models. Behav Res Methods 40:879–891

Quattrocchi U (2006) CRC World Dictionary of grasses: common names, scientific names, eponyms and etymology, vol 3. CRC Press, London

Sankaran M, Ratmann J, Hanan NP (2004) Tree grass co-existence in savannas revisited. Insights from an examination of assumptions and mechanisms involved in existing models. Ecol Lett 7:480–490

Sarmiento G, Pinillos M, Pereira da Silva M, Acevedo D (2004) Effects of soil water regime and grazing on vegetation diversity and production in a hyperseasonal savanna in the Apure Llanos, Venezuela. J Trop Ecol 20:209–220

Savadogo P, Tiveau D, Sawadogo L, Tigabu M (2008) Herbaceous species responses to long-term effects of prescribed fire, grazing and selective tree cutting in the savanna-woodlands of West Africa. Perspect Plant Ecol Evol Syst 10:179–195

Schläpfer F, Schmid B (1999) Ecosystem effects of biodiversity: a classification of hypotheses and exploration of empirical results. Ecol Appl 9:893–912

Schneider CA, Rasband WS, Eliceiri KW (2012) NIH image to image J: 25 years of image analysis. Nat Methods 9:671–675

Scholes RJ, Archer SR (1997) Tree-grass interaction in savanna. Annu Rev Ecol Syst 28:517–544

Skinner RH, Hanson JD, Hutchinson GL, Shuman GE (2002) Response of C3 and C4 grasses to supplemental summer precipitation. J Range Manag 55:517–522

Swemmer AM, Knapp AK, Snyman HA (2007) Intra-seasonal precipitation patterns and aboveground productivity in three perennial grasslands. J Ecol 95:780–788

Tackenberg O (2007) A new method for non-destructive measurement of biomass, growth rates, vertical biomass distribution and dry matter content based on digital image and analysis. Ann Bot 99:777–783

Tilman D, Reich PB, Isbel F (2012) Biodiversity impacts ecosystem productivity as much as resources disturbance or herbivory. PNAS 109:10394–10397

van Coller H, Siebert F, Siebert SJ (2013) Herbaceous species diversity patterns across various treatments of herbivory and fire along the sodic zone of the Nkuhlu exclosures, Kruger National Park. Koedoe. https://doi.org/10.4102/koedoe.v55i1.1112

van der Waal C, Kool A, Meijer SS (2011) Large herbivores may alter vegetation structure of semi-arid savannas through soil nutrient mediation. Oecologia 165:1095–1107

William CA, Albertson TD (2004) Soil moisture control on canopy scale water and carbon fluxes in an African Savanna. Water Resour Res 40:1–14

Zeppel MJB, Wilks J, Lewis J (2014) Impacts of extreme precipitation and seasonal changes in precipitation on plants. Biogeosciences 11:3083–3093
Acknowledgements
This research was funded by the British Ecological Society (BES), International Foundation for Science (IFS) and National Council for Science Technology and Innovation (NACOSTI)-Kenya. We are grateful for their support in logistics and procurement of equipment.
Ethics declarations
Conflict of interest
The authors declare that they have no conflict of interest.
Additional information
Publisher's Note
Springer Nature remains neutral with regard to jurisdictional claims in published maps and institutional affiliations.
About this article
Cite this article
Okach, D.O., Ondier, J.O., Rambold, G. et al. Interaction of livestock grazing and rainfall manipulation enhances herbaceous species diversity and aboveground biomass in a humid savanna. J Plant Res 132, 345–358 (2019). https://doi.org/10.1007/s10265-019-01105-x
Received:

Accepted:

Published:

Issue Date:
Keywords
Herbaceous layer community

Plant biomass

Rainfall variability

Savanna ecosystem

Species evenness