Abstract
Grazing removes a plant's aboveground vegetative and reproductive tissues and can modify the soil seed bank, potentially impacting the restoration of preferred species. Knowledge about aboveground vegetation and species composition of soil seed bank and the processes that contribute to vegetation recovery on and surrounding watering points subjected to grazing is lacking. Successful restoration strategies hinge on addressing these knowledge gaps. We assessed the effects of livestock grazing on aboveground vegetation and soil seed bank characteristics along a river bank and surrounding areas subject to different grazing intensities and draw implications for restoration. Plots (50 × 50 m) were established along five transects representing differing levels of grazing intensity. Soil samples were taken from three layers within each plot to determine soil properties and species composition of soil seed bank using the seedling emergence method. Heavy grazing resulted in the disappearance of perennial grasses, a reduction in species diversity and a decrease in soil nutrients with increased soil depth. Overall, the similarity between the extant aboveground vegetation and flora within the soil seed bank was low. The soil seed bank was dominated by herbaceous species and two woody species, suggesting that many woody species are not accumulating in the soil. With increasing soil depth, the seed density and richness declined. Canonical correspondence analyses (CCAs) showed that emerged seedlings from the soil seed bank were significantly influenced by soil carbon, organic matter, total nitrogen, total potassium and soil cation exchange capacity. This finding suggests that current grazing practices have a negative impact on the vegetation surrounding watering points; hence there is a need for improved grazing management strategies and vegetation restoration in these areas. The soil seed bank alone cannot restore degraded river banks; active transfer of propagules from adjacent undisturbed forest areas is essential.
Access options
Buy single article
Instant access to the full article PDF.
US$ 39.95
Tax calculation will be finalised during checkout.
Subscribe to journal
Immediate online access to all issues from 2019. Subscription will auto renew annually.
US$ 79
Tax calculation will be finalised during checkout.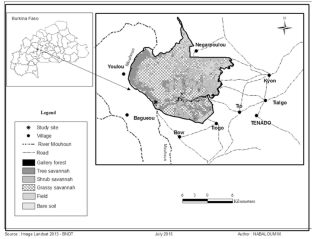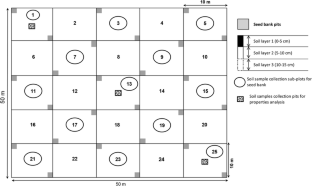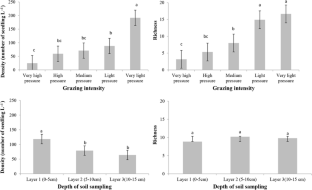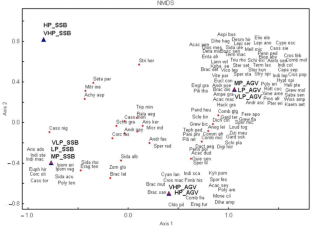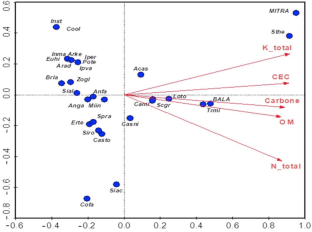 References
Allsopp N, Gaika L, Knight R, Monakisi C, Hoffman MT (2007) The impact of heavy grazing on an ephemeral river system in the succulent karoo, South Africa. J Arid Environ 71:82–96

Ameha K, Snyman HA, Smith GN (2008) Soil seed bank evaluation along a degradation gradient in Somali Region, Eastern Ethiopia. Agri Ecosyst Environ 129:428–435

Andrew MH (1988) Grazing impact in relation to livestock watering points. Trends Ecol Evol 3:336–339

Bakker C, de Graaf HF, Ernst WHO, van Bodegom PM (2005) Does the seed bank contribute to the restoration of species-rich vegetation in wet dune slacks? Appl Veg Sci 8:39–48

Bertiller MB (1996) Grazing effects on sustainable semiarid rangeland in Patagonia: the state and dynamics of the soil seed bank. Environ Manage 20:123–132

Brits J, van Rooyen MW, van Rooyen N (2002) Ecological impact of large herbivores on the woody vegetation at selected watering point on the eastern basaltic soils in the Kruger National Park East. Afr J Ecol 40:53–60

Crawley MJ (2005) Statistics: an introduction using R. Wiley, Chister

De Andrade LAZ, Miranda HS (2014) The dynamics of the soil seed bank after a fire event in a woody savanna in central Brazil. Plant Ecol 215:1199–1209

Diane EM, Pàez SA (2000) Seed banks on Argentine seminatural mountain grasslands after cessation of grazing. Mt Res Dev 20(3):254–261

Diawara S (2012) Perturbations écologiques et fonctionnement des écosystèmes savanicoles: banques de semences du sol et propriétés physico-chimiques du sol. Mémoire IDR/UPB 105p

Dreber N, Esler KJ (2011) Spatio-temporal variation in soil seed banks under contrasting grazing regimes following low and high seasonal rainfall in arid Namibia. J Arid Environ 75:174–184

Elberse W, Breman H (1989) Germination and establishment of Sahelian rangeland species/1. Seed properties. Acta Oecol 80:477–484

Eldridge DJ, Whitford WG (2009) Soil disturbance by native animals along grazing gradients in an arid grassland. J Arid Environ 73:1144–1148

Erfanzadeh R, Hosseini Kahnuj SH (2015) Soil seed bank characteristics in relation to distance from watering-points in arid ecosystems (case study: Kahnuj, Kerman province). Ecopersia 3:975–986

Erfanzadeh R, Kamali P, Ghelichnia H, Pétillon J (2016) Effect of grazing removal on aboveground vegetation and soil seed bank composition in sub-alpine grasslands of norther Iran. Plant Ecol Divers 9:309–320. https://doi.org/10.1080/17550874.20016.1221479

Espeland EK, Perkins LB, Leger EA (2010) Comparison of seed bank estimation techniques using six weed species in two soil types. Rangel Manag 63:243–247

Fenner M, Thompson K (2005) The ecology of seeds. Cambridge University Press, Melbourne

Fisher JL, Loneragan WA, Dixon K, Veneklaas EJ (2009) Soil seed bank compositional change constrains biodiversity in an invaded species-rich woodland. Biol Conserv 142:256–269

Fuhlendorf SD, Briske DD, Smeins FE (2001) Herbaceous vegetation change in variable rangeland environments: the relative contribution of grazing and climatic variability. Appl Veg Sci 4:177–188

He A, Ne'eman G (2012) Composition and diversity of herbaceous patches in woody vegetation: the effects of grazing, soil seed bank, patch spatial properties and scale. Flora 207:310–317

Hegazy AK, Hammouda O, Lovett-Doust J, Gomaa NH (2009) Variations of the germinable soil seed bank along the altitudinal gradient in the northwestern Red Sea region. Acta Ecol Sinica 29:20–29

Higgins SI, Bond WJ, Trollope WSW (2000) Fire, resprouting and variability: a recipe for grass-tree coexistence in savanna. J Ecol 88:213–229

Hoffmann C et al (2016) Effects of grazing and climate variability on grassland ecosystem functions in Inner Mongolia: Synthesis of a 6-year grazing experiment: Review. J Arid Environ 135:50–63

Holmes PM, Esler KJ, Richardson DM, Witkowski ETF (2008) Guidelines for improved management of riparian zones invaded by alien plants in South Africa. S Afr J Bot 74:538–552

Honu YAK, Dang QL (2002) Spatial distribution and species composition of tree seeds and seedlings under the canopy of the shrub, Chromolaena odorata Linn., in Ghana. For Ecol Manag 164:185–196

Hoshino A, Yoshihara Y, Sasaki T, Okayasu T, Jamsran U, Okuro T, Takeuchi K (2009) Comparison of vegetation changes along grazing gradients with different numbers of livestock. J Arid Environ 73:687–690

Hutchinson J, Dalziel JM, Hepper FN (1954) Flora of west tropical Africa: All territories in West Africa south of latitude 18°N and to the west of Lake Chad, and Fernando Po. Crown agents for oversea governments and Administrations, London

James CD, Landsberg J, Morton SR (1999) Provision of watering points in the Australian arid zone: a review of effects on biota. J Arid Environ 41:87–121

Jansen A, Askey-Doran M, Pettit N, Price P (2007) Impacts of land management practices on riparian land. In: Lovett S, Price P (eds) Principles for riparian lands management. Land & Water Australia, Canberra, pp 159–174

Jauffret S (2001) Validation et composition de divers indicateurs des changements à long terme dans les écosystèmes Méditerranéens arides: application au suivi de la désertification dans le sud tunisien. Dissertation, l'Université de droit d'économie et des sciences d'Aix-Marseille

Jawuoro SO, Koech OK, Karuku GN, Mbau JS (2017) Plant species composition and diversity depending on piospheres and seasonality in the southern rangelands of Kenya. Ecol Process 6:1–9

Karlik P, Poschlod P (2014) Soil seed-bank composition reveals the land-use history of calcareous grasslands. Acta Oecol 58:22–34

Kennarda DK, Gouldb K, Putza FE, Fredericksenc TS, Morales F (2002) Effect of disturbance intensity on regeneration mechanisms in a tropical dry forest. For Ecol Manage 162:197–208

Kinloch JE, Friedel MH (2005a) Soil seed reserves in arid grazing lands of central Australia. Part 1: seed bank and vegetation dynamics. J Arid Environ 60:133–161

Kinloch JE, Friedel MH (2005b) Soil seed reserves in arid grazing lands of central Australia. Part 2: availability of 'safe sites. J Arid Environ 60:163–185

Kinucan RJ, Smeins FE (1992) Soil seed bank of a semi-arid texas grassland under three longterm (36 yrs) grazing regimes. Amer Midland Nat 128:11–21

Klintenberg P, Verlinden A (2008) Water points and their influence on grazing resources in central northern Namibia. Land Degrad Dev 19:1–20

Krebs JC (1999) Ecological methodology. Addison-Wesley Educational Publishers Inc., New York

Leps J, Smilauer P (2003) Multivariate analysis of ecological data using CANOCO. Cambridge University Press, Cambridge

Lian Z-m, Xu T, Xu W-x,, Blank D, Wu K, Yang W-K (2015) Piosphere effect on soil seed bank in desert steppe. Shengtaixue Zazhi 34:2778–2784

Looney PB, Gibson DJ (1995) The relationship between the soil seed bank and above-ground vegetation of a coastal barrier island. J Veg Sci 6:825–836

Ma H, Yang H, Liang Z, Ooi MKJ (2015) Effects of 10-year management regimes on the soil seed bank in saline-alkaline grassland. PLOS ONE 10:e0122319. https://doi.org/10.1371/journal.pone.0122319

Manthey M, Peper J (2010) Estimation of grazing intensity along grazing gradients—the bias of nonlinearity. J Arid Environ 74:1351–1354

Meissner RA, Facelli JM (1999) Effects of sheep exclusion on the soil seed bank and annual vegetation in chenopod shrublands of South Australia. J Arid Environ 42:117–128

Metson AJ (1956) Methods of chemical analysis for soil survey samples. N Z Soil Bull 12:207

Metzger KL, Coughenour MB, Reich RM, Boone RB (2005) Effects of seasonal grazing on plant species diversity and vegetation structure in a semi-arid ecosystem. J Arid Environ 61:147–160

Navie SC, Cowley RA, Rogers RW (1996) The relationship between distance from water and the soil seed bank in a grazed semi-arid subtropical rangeland. Aust J Bot 44:421–431

Olsen SR, Dean LA (1965) Phosphorus. In: Black CA (ed) Methods of soil analysis. American Society of Agronomy, Madison

Paruelo JM, Pütz S, Weber G, Bertiller MB, Golluscio RA, Aguiar MR, Wiegand T (2008) Long-term dynamics of a semiarid grass steppe under stochatic climate and different grazing regimes: a simulation analysis. J Arid Environ 72:2211–2231

Peco B, Ortega M, Levassor C (1998) Similarity between seed bank and vegetation in Mediterranean grassland: a predictive model. J Veg Sci 9:815–828

Qian J, Liu Z, Hatier J-HB, Liu B (2016) The vertical distribution of soil seed bank and its restoration implication in an active sand dune of northeastern inner Mongolia, China. Land Degrad Dev 27:305–315

R Development Core Team (2012) A language and environment for statistical computing. R Foundation for Statistical Computing, Vienna, Austria

Razanamandranto S, Tigabu M, Neya S, Odén PC (2004) Effects of gut treatment on recovery and germinability of bovine and ovine ingested seeds of four woody species from the Sudanian savanna in West Africa. Flora 119:389–397

Risch AC, Jurgensen MF, Frank DA (2007) Effects of grazing and soil micro-climate on decomposition rates in a spatio-temporally heterogeneous grassland. Plant Soil 298:191–201

Rouw A, Casagrande M, Phaynaxay K, Soulileuth B (2014) Soil seedbanks in slash-and-burn rice fields of northern Laos. Weed Res 54:26–37

Savadogo P (2007) Dynamics of Sudanian savanna-woodland ecosystem in response to disturbances. Dissertation, Swedish University of Agricultural Sciences (ISBN: 978-91-576-7363-3)

Savadogo P, Sawadogo L, Tiveau D (2007a) Effects of grazing intensity and prescribed fire on soil physical and hydrological properties and pasture yield in the savanna woodlands of Burkina Faso. Agric Ecosyst Environ 118:80–92

Savadogo P, Tigabu M, Sawadogo L, Oden PC (2007b) Woody species composition, structure and diversity of a Sudanian Savanna in Burkina Faso, West Africa. Bois For Tropiq 294:5–17

Savadogo P, Tiveau D, Sawadogo L, Tigabu M (2008) Herbaceous species responses to long term effects of prescribe fire, grazing and selective cutting tree in the savanna-woodland of West Africa. Perspect Plant Ecol Evol Syst 10:179–195

Savadogo P, Sanou L, Dayamba SD, Bognounou F, Thiombiano A (2017) Relationships between soil seed banks and above-ground vegetation along a disturbance gradient in the W National Park trans-boundary biosphere reserve. West Afr J Plant Ecol 10:349–363

Sawadogo L (2009) Influence de facteurs anthropiques sur la dynamique de la végétation des forêts classées de Laba et de Tiogo en zone soudanienne du Burkina Faso. Dissertation, Université de Ouagadougou

Scheiter S, Savadogo P (2016) Ecosystem management can mitigate vegetation shifts induced by climate change in West Africa. Ecol Model 332:19–27

Solomon TB, Snyman HA, Smit GN (2006) Soil seed bank characteristics in relation to land use systems and distance from water in a semi-arid rangeland of southern Ethiopia. South Afr J Bot 72:263–271

Sternberg M, Gutman M, Perevolotsky A, Ki Gel J (2003) Effects of grazing on soil seed bank dynamics: an approach with functional groups. J Veg Sci 14:375–386

Strauch AM, Kapust AR, Jost CC (2009) Impact of livestock management on water quality and streambank structure in a semi-arid, African ecosystem. J Arid Environ 73:795–803

Tarhouni M, Salem FB, Belgacem AO, Neffati M (2010) Acceptability of plant species along grazing gradients around watering point in Tunisia arid zone. Flora 205:454–461

Teketay D (1996) Seed Ecology and Regeneration in dry Afromontane Forest of Ethiopia. Dissertation, Swedish University of Agricultural Sciences (ISBN: 91-576-5246-5)

Ter Braak CJF, Smilauer P (2002) CANOCO reference manual and CanoDraw for Windows user's guide: software for canonical community ordination (version 4.5). Microcomputer power, Itaca. http://www.canoco.com

Tessema ZK, De Boer WF, Prins HHT (2016) Changes in grass plant populations and temporal soil seed bank dynamics in a semi-arid African savanna: Implications for restoration. J Environ Manage 182:166–175

Thrash I (1997) Infiltration rate of soil around drinking troughs in the Kruger National Park, South Africa. J Arid Environ 35:617–625

Thrash I (2000) Determinants of the extent of indigenous large herbivore impact on herbaceous vegetation at watering points in the north-eastern lowveld, South Africa. J Arid Environ 44:61–71

Todd SW (2006) Gradients in vegetation cover, structure and species richness in Nama-Karoo shrublands in relation to distance from livestock watering points. J Appl Ecol 43:293–304

Unger LA, Woodell SRJ (1996) Similarity of seed bank above ground vegetation in grazed and ungrazed salt marsh communities on the Gower Peninsula, South Wales. Int J Plant Sci 157:746–749

Walkley A, Black IA (1934) An examination of the Degtjareff method for determining soil organic mater and a proposed modification of the chromic acid titration method. Soil Sci 37:29–38

Woldu Z, Saleem MAM (2000) Grazing induced biodiversity in the highland ecozone of East Africa. Agr Ecosyst Env 79:43–52

Zuur AF, Ieno EN, Elphick C (2010) A protocol for data exploration to avoid common statistical problems. Methods Ecol Evol 1:3–14
Acknowledgements
Funding for this study was provided by the International Foundation for Science (IFS), Grant Agreement No. D/5613-1. The third author thanks the CGIAR Research Program on Forests, Trees and Agroforestry (FTA) for support during writing of the manuscript. We also thank Dr. John A. Meadows for proofreading and editing this paper.
Electronic supplementary material
Below is the link to the electronic supplementary material.
About this article
Cite this article
Sanou, L., Zida, D., Savadogo, P. et al. Comparison of aboveground vegetation and soil seed bank composition at sites of different grazing intensity around a savanna-woodland watering point in West Africa. J Plant Res 131, 773–788 (2018). https://doi.org/10.1007/s10265-018-1048-3
Received:

Accepted:

Published:

Issue Date:
Keywords
Ecosystem disturbance

Grazing intensity

Restoration

Seed density

Semi-arid ecosystem

Vegetation and soil degradation