Abstract
Stem mechanical strength is an important agricultural quantitative trait that is closely related to lodging resistance in rice, which is known to be reduced by fertilizer with higher levels of nitrogen. To understand the mechanism that regulates stem mechanical strength in response to nitrogen, we analysed stem morphology, anatomy, mechanical properties, cell wall components, and expression of cell wall-related genes, in two varieties of japonica rice, namely, Wuyunjing23 (lodging-resistant variety) and W3668 (lodging-susceptible variety). The results showed that higher nitrogen fertilizer increased the lodging index in both varieties due to a reduction in breaking strength and bending stress, and these changes were larger in W3668. Cellulose content decreased slightly under higher nitrogen fertilizer, whereas lignin content reduced remarkably. Histochemical staining revealed that high nitrogen application decreased lignin deposition in the secondary cell wall of the sclerenchyma cells and vascular bundle cells compared with the low nitrogen treatments, while it did not alter the pattern of cellulose deposition in these cells in both Wuyunjing23 and W3668. In addition, the expression of the genes involved in lignin biosynthesis, OsPAL, OsCoMT, Os4CL3, OsCCR, OsCAD2, OsCAD7, OsCesA4, and OsCesA7, were also down-regulated under higher nitrogen conditions at the early stage of culm growth. These results suggest that the genes involved in lignin biosynthesis are down-regulated by higher nitrogen fertilizer, which causes lignin deficiency in the secondary cell walls and the weakening of mechanical tissue structure. Subsequently, this results in these internodes with reduced mechanical strength and poor lodging resistance.
This is a preview of subscription content,
to check access.
Access this article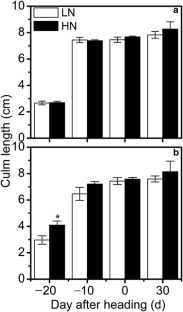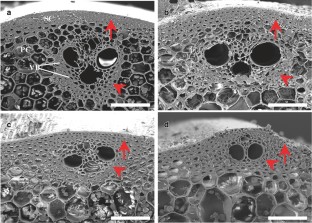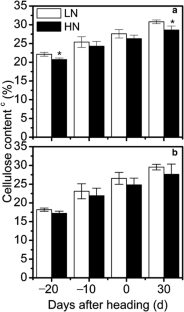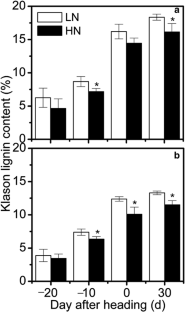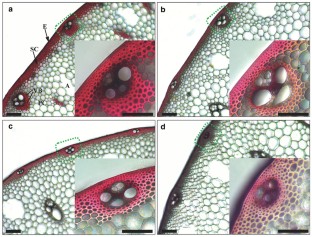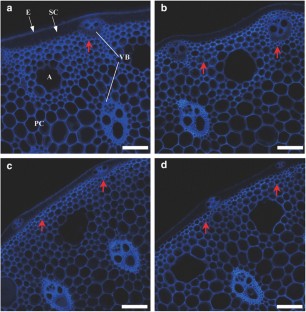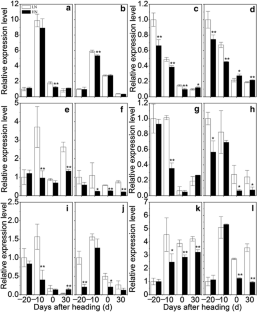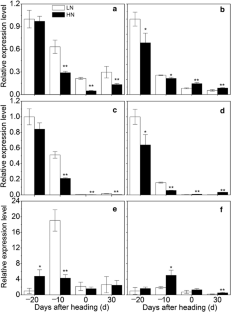 References
Ambavaram MM, Krishnan A, Trijatmiko KR, Pereira A (2011) Coordinated activation of cellulose and repression of lignin biosynthesis pathways in rice. Plant Physiol 155:916–931

Aohara T, Kotake T, Kaneko Y, Takatsuji H, Tsumuraya Y, Kawasaki S (2009) Rice BRITTLE CULM 5 (BRITTLE NODE) is involved in secondary cell wall formation in the sclerenchyma tissue of nodes. Plant Cell Physiol 50:1886–1897

Carpita N, McCann M (2000) The cell wall. In: Buchanan BB, Gruissem W, Jones RL (eds) Biochemistry and molecular biology of plants. American Society of Plant Physiologists, Rockville, pp 52–108

Ching A, Dhugga KS, Appenzeller L, Meeley R, Bourett TM, Howard RJ, Rafalski A (2006) Brittle stalk 2 encodes a putative glycosylphosphatidylinositol-anchored protein that affects mechanical strength of maize tissues by altering the composition and structure of secondary cell walls. Planta 224:1174–1184

Fritz C, atalia Palacios-Rojas N, Feil R, Stitt M (2006) Regulation of secondary metabolism by the carbon–nitrogen status in tobacco: nitrate inhibits large sectors of phenylpropanoid metabolism. Plant J 46:533–548

Gui J, Shen J, Li L (2011) Functional characterization of evolutionarily divergent 4–coumarate: Coenzyme A ligases in rice. Plant Physiol 157:574–586

Hatfield RD, Jung HJG, Ralph J, Buxton DR, Weimer PJ (1994) A comparison of the insoluble residues produced by the Klason lignin and acid detergent lignin procedures. J Sci Food Agric 65:51–58

Hirano K, Aya K, Kondo M, Okuno A, MorinakaY, Matsuoka M (2012) OsCAD2 is the major CAD gene responsible for monolignol biosynthesis in rice culm. Plant Cell Rep 31:91–101

Islam MS, Peng S, Visperas RM, Ereful N, Bhuiya M, Julfiquar A (2007) Lodging-related morphological traits of hybrid rice in a tropical irrigated ecosystem. Field Crops Res 101:240–248

Jouanin L, Lapierre C (ed.) (2012) Lignins: biosynthesis, biodegradation and bioengineering. Advances in botanical research 61 https://books.google.co.jp/books?isbn=0124160239

Kashiwagi T, Madoka Y, Hirotsu N, Ishimaru K (2006) Locus prl5 improves lodging resistance of rice by delaying senescence and increasing carbohydrate reaccumulation. Plant Physiol Biochem 44:152–157

Knapp J, Harms C, Volenec J (1987) Growth regulator effects on wheat culm nonstructural and structural carbohydrates and lignin. Crop Sci 27:1201–1205

Kokubo A, Kuraishi S, Sakurai N (1989) Culm strength of barley correlation among maximum bending stress, cell wall dimensions, and cellulose content. Plant Physiol 91:876–882

Kokubo A, Sakurai N, Kuraishi S, Takeda K (1991) Culm brittleness of barley (Hordeum vulgare L.) mutants is caused by smaller number of cellulose molecules in cell wall. Plant Physiol 97:509–514

Li Y, Qian Q, Zhou Y, Yan M, Sun L, Zhang M, Fu Z, Wang Y, Han B, Pang X (2003) BRITTLE CULM1, which encodes a COBRA-like protein, affects the mechanical properties of rice plants. Plant Cell 15:2020–2031

Li X, Yang Y, Yao J, Chen G, Li X, Zhang Q, Wu C (2009) FLEXIBLE CULM 1 encoding a cinnamyl-alcohol dehydrogenase controls culm mechanical strength in rice. Plant Mol Biol 69:685–697

Ling H, Zhang HC, Su ZF, Ling L (1994) New theories of rice cultivation—leaf-age model of rice. Science Press, Beijing, pp 191–195 (Chinese)

Ma QH (2009) The expression of caffeic acid 3-O-methyltransferase in two wheat genotypes differing in lodging resistance. J Exp Bot 60:2763–2771

Novaes E, Osorio L, Drost DR, Miles BL, Boaventura-Novaes CRD, Benedict C, Dervinis C, Yu QB, Sykes R, Davis M, Martin TA, Peter GF, Kirst M (2009) Quantitative genetic analysis of biomass and wood chemistry of Populus under different nitrogen levels. New Phytol 182:878–890

Okuno A, Hirano K, Asano K, Takase W, Masuda R, Morinaka Y, Ueguchi-Tanaka M, Kitano H, Matsuoka M (2014) New approach to increasing rice lodging resistance and biomass yield through the use of high gibberellin producing varieties. Plos One 9:1–12

Ookawa T, Ishihara K (1992) Varietal difference of physical characteristics of the culm related to lodging resistance in paddy rice. Jpn J Crop Sci 61:419–425

Ookawa T, Inoue K, Matsuoka M, Ebitani T, Takarada T, Yamamoto T, Ueda T, Yokoyama T, Sugiyama C, Nakaba S, Funada R, Kato H, Kanekatsu M, Toyota K, Motobayashi T, Vazirzanjani M, Tojo S, Hirasawa T (2014) Increased lodging resistance in long-culm, low-lignin gh2 rice for improved feed and bioenergy production. Sci Rep 4:1–9

Peng D, Chen X, Yin Y, Lu K, Yang W, Tang Y, Wang Z (2014) Lodging resistance of winter wheat (Triticum aestivum L.): lignin accumulation and its related enzymes activities due to the application of paclobutrazol or gibberellin acid. Field Crops Res 157:1–7

Scheible WR, Morcuende R, Czechowski T, Fritz C, Osuna D, Palacios-Rojas N, Schindelasch D, Thimm O, Udvardi MK, Stitt M (2004) Genome-wide reprogramming of primary and secondary metabolism, protein synthesis, cellular growth processes, and the regulatory infrastructure of arabidopsis in response to nitrogen. Plant Physiol 136:2483–2499

Setter T, Laureles E, Mazaredo A (1997) Lodging reduces yield of rice by self-shading and reductions in canopy photosynthesis. Field Crops Res 49:95–106

Tanaka K, Murata K, Yamazaki M, Onosato K, Miyao A, Hirochika H (2003) Three distinct rice cellulose synthase catalytic subunit genes required for cellulose synthesis in the secondary wall. Plant Physiol 133:73–83

Updegraff DM (1969) Semimicro determination of cellulose inbiological materials. Anal Biochem 32:420–424

Wang DF, Yuan SJ, Yin L, Zhao JF, Guo BT, Lan JH, Li XY (2012a) A missense mutation in the transmembrane domain of CESA9 affects cell wall biosynthesis and plant growth in rice. Plant Sci 196:117–124

Wang J, Zhu J, Huang R, Yang Y (2012b) Investigation of cell wall composition related to stem lodging resistance in wheat (Triticum aestivum L.) by FTIR spectroscopy. Plant Signal Behav 7:856–863

Wang C, Ruan R, Yuan X, Hu D, Yang H, Li Y, Yi Z (2014) Relationship between lignin metabolism and lodging resistance of culm in buckwheat. J Agric Sci 6:29–36

Wang TJ, Zhang L, Han Q, Zheng FX, Wang TQ, Feng NN, Wang TX (2015) Effects of stalk cell wall and tissue on the compressive strength of maize. Plant Sci J 33:109–115 (Chinese with English abstract)

Wei FZ, Li JC, Wang CY, Qu HJ, Shen XS (2008) Effect of nitrogenous fertilizer application model on culm lodging resistance in winter wheat. Acta Agron Sin 34:1080–1085 (Chinese with English abstract)

Yang SM, Xie L, Zheng SL, Li J, Yuan JC (2009) Effects of nitrogen rate and transplanting density on physical and chemical characteristics and lodging resistance of culms in hybrid rice. Acta Agron Sin 35:93–103 (Chinese with English abstract)

Zhang K, Qian Q, Huang Z, Wang Y, Li M, Hong L, Zeng D, Gu M, Chu C, Cheng Z (2006) GOLD HULL AND INTERNODE2 encodes a primarily multifunctional cinnamyl-alcohol dehydrogenase in rice. Plant Physiol 140:972–983

Zhang J, Li GH, Song YP, Liu ZH, Yang CD, Tang S, Zheng C, Wang SH, Ding YF Y (2014a) Lodging resistance characteristics of high-yielding rice populations. Field Crops Res 161:64–74

Zhang WJ, Li GH, Yang YM, Li Q, Zhang J, Liu JY, Wang SH, Tang S, Ding YF (2014b) Effects of nitrogen application rate and ratio on lodging resistance of super rice with different genotypes. J Integr Agric 13:63–72

Zhang WJ, Wu LM, Ding YF, Weng F, Wu XR, Li GH, Liu ZH, Tang S, Ding CQ, Wang SH (2016a) Top-dressing nitrogen fertilizer rate contributes to reduce culm physical strength through decreasing in structural carbohydrates contents in japonica rice. J Integr Agric 15:992–1004

Zhang WJ, Wu LM, Wu XR, Ding YF, Li GH, Li JY, Weng F, Liu ZH, Tang S, Ding CQ, Wang SH (2016b) Lodging resistance of japonica rice (Oryza Sativa L.): morphological and anatomical traits due to top-dressing nitrogen application rates. Rice 9:1–11

Zhong R, Pena MJ, Zhou GK, Nairn CJ, Wood-Jones A, Richardson EA, Morrison WH, Darvill AG, York WS, Ye ZH (2005) Arabidopsis Fragile Fiber8, which encodes a putative glucuronyl transferase, is essential for normal secondary wall synthesis. Plant Cell 17:3390–3408
Acknowledgements
We thank the staff of the Key Laboratory of Crop Physiology and Ecology in Southern China of Nanjing Agricultural University. Funding was provided by the Specical Fund for Agro-scientific Research in the public (201303102), National Basic Program of the National Sci-Tech Support Plan (2011BAD16B14, 2012BAD20B05, 2012BAD04B08), and the Priority Academic Program Development of Jiangsu Higher Education Institutions.
Additional information
Wujun Zhang and Longmei Wu contributed equally to this work.
About this article
Cite this article
Zhang, W., Wu, L., Ding, Y. et al. Nitrogen fertilizer application affects lodging resistance by altering secondary cell wall synthesis in japonica rice (Oryza sativa). J Plant Res 130, 859–871 (2017). https://doi.org/10.1007/s10265-017-0943-3
Received:

Accepted:

Published:

Issue Date:

DOI: https://doi.org/10.1007/s10265-017-0943-3
Keywords