Abstract
A new species Camellia nanningensis was described on the basis of well-preserved mummified wood from the upper Oligocene Yongning Formation of Nanning Basin in Guangxi Province, South China. This represents the most ancient fossil wood assigned to Camellia, and the earliest fossil record of the family Theaceae in China. This fossil material shows that Camellia occurred in China as early as the late Oligocene, suggesting more ancient radiation of this genus than estimated by molecular dating.
Access options
Buy single article
Instant access to the full article PDF.
US$ 39.95
Tax calculation will be finalised during checkout.
Subscribe to journal
Immediate online access to all issues from 2019. Subscription will auto renew annually.
US$ 79
Tax calculation will be finalised during checkout.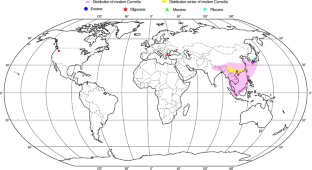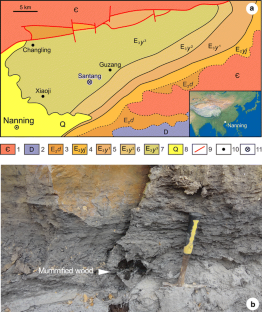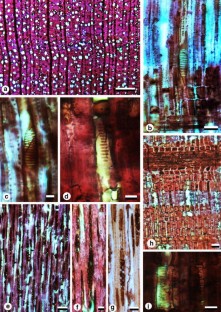 References
Angiosperm Phylogeny Group (2009) An update of the Angiosperm Phylogeny Group classification for the orders and families of flowering plants: APG III. Bot J Linn Soc 161:105–121

Chaney RW (1972) Miocene forests of the Pacific Basin: their ancestors and their descendants. In: Tanai E (ed) Tertiary floras of Japan, vol 2. Association of Paleobotanical Research in Japan, Tokyo, pp 209–239 (Reprinted from 1967, Jubilee Publ. Commem. Prof. Sasa, 60th Birthday)

Choi SK, Kim K, Jeong EK, Terada K, Suzuki M, Uematsu H (2010) Fossil woods from the Miocene in the Yamagata Prefecture, Japan. IAWA J 31:95–117

Committee IAWA (1989) IAWA list of microscopic features for hardwood identification. IAWA Bull 10:219–332

Crawley M (2001) Angiosperm woods from British lower cretaceous and palaeogene deposits. Special Papers in Palaeontology 66. The Palaeontological Association

Cronquist A (1981) An integrated system of classification of flowering plants [M]. Columbia University Press, New York

Deng L, Baas P (1990) Wood anatomy of trees and shrubs from China II. Theaceae. IAWA Bull 11:337–378

Deng L, Baas P (1991) The wood anatomy of the Theaceae. IAWA Bull 12:333–353

Dickison WC (1977) Wood anatomy of Weinmannia (Cunoniaceae). Bull Torrey Bot Club 104:12–23

Dickison WC (1980) Comparative wood anatomy and evolution of the Cunoniaceae. Allertonia 2:281–321

Giraud B, Bussert R, Schrankb E (1992) A new Theacean wood from the cretaceous of northern Sudan. Rev Palaeobot Palynol 75:288–289

Gottwald H (1992) Hölzer aus Marinen Sanden des Oberen Eozän von Helmstedt (Niedersachsen). Palaeontogr B 225:27–103

Grambast-Fessard N (1969) Contribution al'étude des flores Tertiaires des régions provençales et alpines: V. Deux bois de dicotyledones a caracteres primitifs du Miocene superieur de Castellane. Naturalia Monspel Sér Bot 20:105–118

Grote PJ, Dilcher DL (1989) Investigations of angiosperms from the eocene of North America: a new genus of theaceae based on fruit and seed remains. Bot Gaz 150:190–206

Heslewood MM, Wilson PG (2013) A new combination in Ackama (Cunoniaceae). J Plant Syst 15:5–7

Huang G (1986) Comparative anatomical studies on the woods of Hamamelidaceae in China. Acta Sci Nat Univ Sunyatseni 1:22–28

Huzioka K, Takahasi E (1972) The Eocene flora of the Ube coal-field, southwest Honshu, Japan. In: Tanai T (ed) Tertiary floras of Japan, vol 2. Association of Paleobotanical Research in Japan, Tokyo, pp 1–88 (Reprinted from 1970, J. Min. Coll. Akita Univ., Ser. A, 4:1–88, 21 pl.)

Ina H (1988) Plants from the Miocene Tomikusa Group in the Southern part of Nagano Prefecture, Japan. Bull Mizunami Fossil Mus 14:31–72

Ingle HD, Dadswell HE (1956) The anatomy of the timbers of the south-west Pacific area IV. Cunoniaceae, Davidsoniaceae and Eucryphiaceae. Aust J Bot 4:125–151

Inside Wood (2004-onwards) NC State University, Raleigh. http://insidewood.lib.ncsu.edu/search. (Accessed 1 Mar 2016)

Ishida S (1970) The Noroshi flora of Note Peninsula, Central Japan. Memoirs of the Faculty of Science, Kyoto University. Ser Geol Mineral 37:1–112

Jarmolenko AV (1941) The fossil woods of the Maikop series from the southwestern Transcaucasia. Trudy Bot Inst Akad Nauk SSSR Ser 1:7–34

Jeong EK, Kim K, Kim JH, Suzuki M (2004) Fossil woods from Janggi Group (Early Miocene) in Pohang Basin, Korea. J Plant Res 117:183–189

Jeong EK, Kim K, Suzuki M, Jong WK (2009) Fossil woods from the lower coal-bearing formation of the Janggi Group (Early Miocene) in the Pohang Basin, Korea. Rev Palaeobot Palynol 153:124–138

Kolakovskyi AA (1964) The Pliocene flora of Kodor. Academy of Sciences of the Georgian SSR, Sukhumi (in Russian)

Kramer K (1974) Die Tertiären Hölzer Südost-Asiens (Unter Ausschluss Der Dipterocarpaceae). 1. Teil. Palaeontogr Abt B 144:45–181

Kräusel R (1939) Ergebnisse der Forschungsreisen Prof. E. Stromers in den Wüsten Ägyptens. IV. Die fossilen Floren Ägyptens. Abh Bayer Akad Wiss Math Naturwiss Abt 47:1–140

Li C-Y, Wang C-M, Hsiao J-Y, Yang C-H (2003) Two fossil dicotyledonous woods from the Kungkuan Tuff (Early Miocene), Northern Taiwan. Coll Res 16:71–78

Li Y, Awasthi N, Yang J, Li C-S (2013) Fruits of Schima (Theaceae) and seeds of Toddalia (Rutaceae) from the Miocene of Yunnan Province, China. Rev Palaeobot Palynol 193:119–127

Licht A, Boura A, Franceschi DD, Ducrocq S, Soe AN, Jaeger J-J (2014) Fossil woods from the late middle Eocene Pondaung Formation, Myanmar. Rev Palaeobot Palynol 202:29–46

Macovei G, Givulescu R (2006) The present stage in the knowledge of the fossil flora at Chiuzbaia, Maramures, Romania. Carpth. J Earth Environ Sci 1:41–52

Metcalfe CR, Chalk L (1950) Anatomy of the dicotyledons, vol 1, 2. Clarendon, Oxford

Ming T-L, Zhang W-J (1996) The evolution and distribution of genus Camellia. Acta Bot Yunannica 18:1–13 (in Chinese)

Palamarev E, Kitanov G, Staneva K, Bozukov V (2000) Fossil flora from Paleogene sediments in the northern area of the Mesta Graben in the Western Rhodopes. II. Analysis and stratigraphic importance of the flora. Phytol Balc 6(SOFIA):3–11

Patel RN (1990) Wood anatomy of the dicotyledons indigenous to New Zealand 20. Cunoniaceae. N Z J Bot 28:347–355

Poole I, Cantrill DJ (2001) Fossil woods from Williams Point Beds, Livingston Island, Antarctica: a Late Cretaceous southern high latitude flora. Palaeontology 44:1081–1112

Poole I, Cantrill DJ, Hayes P, Francis JE (2000) The fossil record of Cunoniaceae: new evidence from Late Cretaceous wood of Antarctica. Rev Palaeobot Palynol 111:127–144

Poole I, Mennega AMW, Cantrill DJ (2003) Valdivian ecosystems in the Late Cretaceous and Early Tertiary of Antarctica: further evidence from myrtaceoous and eucryphiaceous fossil wood. Rev Palaeobot Palynol 124:9–27

Quan C, Fu Q-Y, Shi G-L, Liu Y-S, Li L, Liu X-Y, Jin J-H (2016) First Oligocene mummified plant Lagerstätte in the low latitudes of East Asia. Sci China Earth Sci 59:445–448

Raigemborn M, Brea M, Zucol A, Matheos S (2009) Early Paleogene climate at mid latitude in South America: mineralogical and paleobotanical proxies from continental sequences in Golfo San Jorge basin (Patagonia, Argentina). Geological Acta 7:125–145

Salard-Cheboldaeff M, Dupéron-Laudoueneix M, Dupéron J (2012) Bois minéralisés cénozoïques de Nouvelle-Calédonie. Palaeontogr Abt B Palaeobot Palaeophytol 288:65–97

Skvortsova NT (1975) Comparative morphological studies on representatives of the family Hamamelidaceae and their phylogenetic relationships. In: Budantsev LJ (ed) Problems of comparative morphology of the seed plants. Nauka, Leningrad, pp 7–24 (in Russian)

Srivastava R, Suzuki M (2001) More fossil woods from the palaeogene of northern Kyushu, Japan. IAWA J 22:85–105

Suzuki M, Hiraya C (1989) Fossil wood flora from the pumice tuff of Yanagida formation (Lower Miocene) at Mawaki, Noto Peninsula. Ann Sci Coll Lib Arts Kanazawa Univ 26:47–75

Suzuki M, Terada K (1996) Fossil wood from the lower Miocene Yanagida Formation, Noto Peninsula, central Japan. IAWA J 17:365–392

Takhtajan A (1997) Diversity and classification of flowering plants. Columbia University Press, New York 663 pp

Terada K, Asakawa TO, Nishida H (2006) Fossil woods from Arroyo Cardenio, Chile Chico Province, Aisen (XI) Region, Chile. In: Nishida H (ed). Post-Cretaceous floristic changes in southern Patagonia, Chile. Chuo University, Tokyo, pp 57–65

Van Der Burgh J (1973) Hölzer der niederrheinischen braunkohlenformation, 2. Hölzer der braunkohlengruben "Maria Theresia" zu herzogenrath, "Zukunft West" zu eschweiler und "Victor" (Zülpich mitte) zu Zülpich. Nebst einer systematisch-anatomischen bearbeitung der gattung Pinus L. Rev Palaeobot Palynol 15:73–275

Wheeler EA., Dillhoff TA (2009) The Middle Miocene fossil wood flora from Vantage. Nationaal Herbarium Nederland: Washington, Leiden

Wheeler EA, Manchester SR (2002) Woods of the middle Eocene Nut Beds flora, Clarno Formation, Oregon, USA. Int Assoc Wood Anat J (Suppl 3):1–188

Wheeler EA, Lee SJ, Baas P (2010) Wood anatomy of the Altingiaceae and Hamamelidaceae. IAWA J 31:399–423

Wolfe JA (1968) Paleogene biostratigraphy of nonmarine rocks in King County. Washington. US Geol. Surv Prof Pap 571:1–33 (7 pl)

Ye C-X, Shi X-G (2004) Land change science society of China and the construction of ecological Symposium (in Chinese)

Zhang HD (1981) A taxonomy of the genus Camellia. The Editorial Staff of the Journal of Sun Yatsen University. 180 pp (in Chinese)

Zhang WJ, Ming TL (1999) A cytogeological study of genus Camellia. Acta Bot Yunnanica 21:184–196

Zhang HD, Ren SX (1998) The flora of China [M]. Beijing Sci Press 49(3):195 (in Chinese)

Zhang W, Kan S-L, Zhao H, Li Z-Y, Wang X-Q (2014) Molecular phylogeny of tribe Theeae (Theaceae s.s.) and its implications for generic delimitation. PLoS ONE 9:e98133

Zhao Z (1993) New Anthracothere materials from the Paleogene of Guangxi. Vertebrata PalAsiat 31:13–190 (in Chinese with English abstract)
Acknowledgments
This study was supported by the National Natural Science Foundation of China (Grant Nos. 41210001, 41528201, 41572011, 41372002), the joint Project of the National Natural Science Foundation of China and the Russian Foundation for Basic Research (Grant Nos. 41611130044, 16-55-53007), the Scientific Research Fund, Hongda Zhang, Sun Yat-sen University, and the National Basic Research Program of China (No. 2012CB822003). We thank the University of Johannesburg and the Komarov Botanical Institute (institutional research Project No. 01201456545) for financial support for A.A.O. We thank graduate students majoring in plant science at Sun Yat-sen University for participating in the field collection of the fossils. We are grateful to Prof. Robert A. Spicer (The Open University, UK) for English improvements.
About this article
Cite this article
Huang, LL., Jin, JH., Quan, C. et al. Camellia nanningensis sp. nov.: the earliest fossil wood record of the genus Camellia (Theaceae) from East Asia. J Plant Res 129, 823–831 (2016). https://doi.org/10.1007/s10265-016-0846-8
Received:

Accepted:

Published:

Issue Date:
Keywords
Camellia

Theaceae

Mummified wood

Late Oligocene

Nanning Basin

South China