Abstract
Interpretation of the biogeography of the genus Mahonia (Berberidaceae) is limited by the lack of fossil records in East Asia. Compressed fossil foliage, described here as Mahonia mioasiatica sp. nov., were collected from the Upper Miocene Xiaolongtan Formation in Wenshan, Yunnan, southwest China. These specimens represent the oldest reliable fossil record of Mahonia in East Asia. This new fossil species shows a general similarity to Group Orientales and is most similar to the extant eastern Asian Mahonia conferta. Considering other fossil evidence of Mahonia, we propose a migration route of this genus to Asia over the North Atlantic Land Bridge rather than the Bering Land Bridge. Our results also suggest that North America, Europe and East Asia have been successive centers of diversity for the genus, as a consequence of diversification in Group Orientales potentially related to historical climate change.
This is a preview of subscription content, log in to check access.
Access options
Buy single article
Instant access to the full article PDF.
US$ 39.95
Price includes VAT for USA
Subscribe to journal
Immediate online access to all issues from 2019. Subscription will auto renew annually.
US$ 99
This is the net price. Taxes to be calculated in checkout.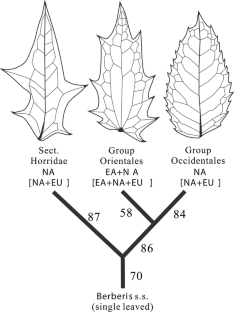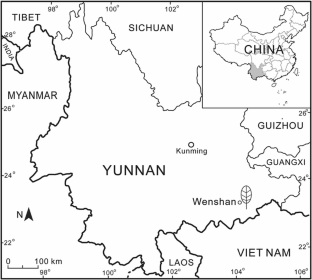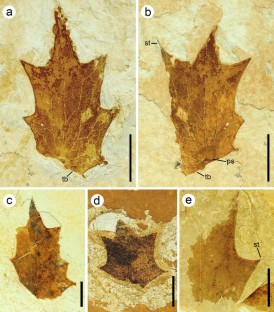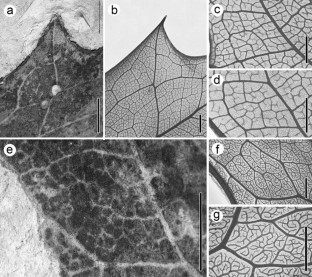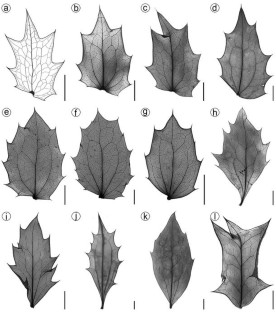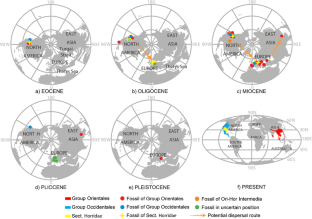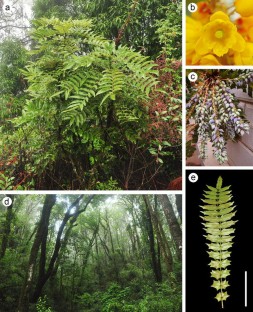 References
Ahrendt LWA (1961) Berberis and Mahonia. J Linn Soc Lond Bot 57:1–410

Arnold CA (1936) Some fossil species of Mahonia from the Tertiary of eastern and southeastern Oregon. Contributions from The Museum of Paleontology, University Of Michigan vol. 5, pp 57–66

Auge H, Brandl R (1997) Seedling recruitment in the invasive clonal shrub, Mahonia aquifolium Pursh (Nutt.). Oecologia 110:205–211

Axelrod DI (1964) The Miocene Trapper Creek flora of southern Idaho. University of California Press, Davis

Axelrod DI (1985) Miocene floras from the Middlegate Basin, west-central Nevada. University of California Press, Davis

Axelrod DI (1987) The late Oligocene Creede flora, Colorado. University of California Press, Davis

Axelrod DI (1998) The Oligocene Haynes creek flora of eastern Idaho. University of California Press, Davis

Becker HF (1959) A new species of Mahonia from the Oligocene Ruby flora of southwestern Montana. Contributions from the Museum of Paleontology, University Of Michigan, vol. 15, pp 33–38

Becker HF (1962) Two new species of Mahonia from the Grant-Horse Prairie Basin in southwestern Montana. Bull Torrey Bot Club 114–117

Becker HF (1969) Fossil plants of the Tertiary Beaverhead Basins in southwestern Montana. Palaeontogr Abt B 1–142

Becker HF (1972) The Metzel Ranch flora of the upper Ruby River basin, southwestern Montana. Palaeontogr Abt B 1–61

Billings WD (1970) Plants, man, and the ecosystem. Wadsworth Publishing Company Inc, Belmont

Blakey R (2010) Colorado plateau stratigraphy and geology and global and regional paleogeography. NAU Geol. Available: http://jan.ucc.nau.edu/~rcb7/index.html

Boufford DE, Spongberg S (1983) Eastern Asian-eastern North American phytogeographical relationships—a history from the time of Linnaeus to the twentieth century. Ann Mo Bot Gard 423–439

Bureau of Geology and Mineral Resources Yunnan Province (1990) Regional Geology of Yunnan Province. Geology Press, Beijing (in Chinese)

Dong W, Deng T (2001) Stratigraphy and paleoenvironment of upper Miocene Xiaolongtan basin, Kaiyuan, Yunnan. 8th Annual Conference of Chinese Vertebrate Paleontology. Ocean Press, pp 91–100 (in Chinese)

Donoghue MJ, Bell CD, Li J (2001) Phylogenetic patterns in Northern Hemisphere plant geography. Int J Plant Sci 162:S41–S52

Ellis B, Daly DC, Hickey LJ, Johnson KR, Mitchell JD, Wilf P, Wing SL (2009) Manual of leaf architecture. Cornell University Press, New York

Fang J, Wang Z, Tang Z (2011) Atlas of woody plants in China: distribution and climate. Higher Education Press, Beijing

Geissert F, Gregor HJ, Mai DH, Boenigk W, Guenther T (1990) Die "Saugbaggerflora", eine Frucht und Samenflora aus dem Grenzbereich Miozaen—Pliozaen von Sessenheim im Elsass (Frankreich). Documenta Naturae 57:1–207 (in German)

Givulescu R (1979) Un rest de Mahonia bazaltica n. sp. din Pleistocenul inferior de la Sanovita-Lucaret (Banat). Dari de Seama ale Sedintelor Comitetului Geologic 67:127–130 (in Polish)

Güner TH, Denk T (2012) The genus Mahonia in the Miocene of Turkey: Taxonomy and biogeographic implications. Rev Palaeobot Palyno 175:32–46

Guo S-X, Zhou Z-K (1992) The Mega fossil Legumes from China. In: Dilcher DL, Herendeen PS (eds) Advances in Legume Systematics Part 4. The Fossil Record. Royal Botanic Gardens, Richmond

Hably L, Kvaček Z, Manchester SR (2000) Shared taxa of land plants in the Oligocene of Europe and North America in context of Holarctic phytogeography. Acta Univ Carol Geol 59–74

Hollick A (1929) New species of fossil plants from the Tertiary shales near De Beque, Colorado. Bull Torrey Bot Club 56:93–96

Kim Y-D, Kim S-H, Landrum LR (2004) Taxonomic and phytogeographic implications from ITS phylogeny in Berberis (Berberidaceae). J Plant Res 117:175–182

Köhler J (1998) Die Fossillagerstätte Enspel: Vegetation, Vegetationsdynamik und Klimat im Oberoligozän. Dissertation, University of Tübingen (in German)

Kolakovsky A (1964) Pliotsenovaya flora Kodora. Sukhum Bot Sada Monogr 1:1–209 (in Russian)

Köppen W (1936) Das geographische System der Klimate–Handbuch der Klimatologie, vol 1, Part C, Gebr. Borntrager Verl., Berlin (in German)

Kovar-Eder J (2003) Vegetation dynamics in Europe during the Neogene In: Reumer JWF, Wessels W (eds) Distribution and migration of tertiary mammals in eurasia: a volume in honour of Hans de Bruijn, Deinsea, pp 373–392

Kovar-Eder J, Kvaček Z, Martinetto E, Roiron P (2006) Late Miocene to Early Pliocene vegetation of southern Europe (7–4 Ma) as reflected in the megafossil plant record. Palaeogeogr Palaeocl 238:321–339

Kräusel R (1938) Die tertiäre Flora der Hydrobienkalke von Mainz-Kastel. Palaeontol Z 20:9–103 (in German)

Kvaček Z, Bůžek Č (1994) A new Miocene Mahonia Nutt. (Berberidaceae) of Europe. Věst Ústř Úst Geol 69:59–62 (in Czech)

Kvaček Z, Teodoridis V, Roiron P (2011) A forgotten Miocene mastixioid flora of Arjuzanx (Landes, SW France). Palaeontogr Abt B 3–111

Lakhanpal RN (1963) The Rujada flora of west central Oregon. University of California Press, Davis

Li HM (1987) Leaf structural analysis. In: Mu XN (ed) New technologies and methods in palaeontology. Science Press, Beijing (in Chinese)

LoConte H (1993) Berberidaceae. In: Kubitzki K, Rohwer JG, Bittrich V (eds) The families and genera of vascular plants, vol 2. Springer, Berlin, pp 147–152

MacGinitie HD (1953) Fossil plants of the Florissant beds, Colorado. Publications of Carnegie Institution of Washington, Washington D.C

Macovei G, Givulescu R (2006) The present stage in the knowledge of the fossil flora at Chiuzbaia Maramureş, Romania. Carpath J Earth Env 1:41–52

Mai D (1995) Tertiäre Vegetationsgeschichte Mitteleuropas. Springer, Heidelberg (in German)

Mai D, Walther H (1988) Die pliozänen Floren von Thüringen, Deutsche Demokratische Republik. Quartärpaläontologie 7:55–297 (in German)

Manchester SR (1999) Biogeographical relationships of North American tertiary floras. Ann Mo Bot Gard 472–522

Manchester SR (2000) Late Eocene fossil plants of the John Day Formation, Wheeler County, Oregon. Oregon Geol 62:51–63

Manchester SR (2001) Update on the megafossil flora of Florissant, Colorado. Proc Denv Mus Nat Sci 4:137

Manchester SR, Chen ZD, Lu AM, Uemura K (2009) Eastern Asian endemic seed plant genera and their paleogeographic history throughout the Northern Hemisphere. J Syst Evol 47:1–42

Martinetto E (2001) The role of central Italy as a centre of refuge for thermophilous plants in the late Cenozoic. Acta Palaeobotanica 41:299–319

Martinetto E, Vassio E (2010) Reconstructing "Plant Community Scenarios" by means of palaeocarpological data from the CENOFITA database, with an example from the Ca'Viettone site (Pliocene, Northern Italy). Quat Int 225:25–36

Martinetto E, Pavia G, Bertoldi R (1997) Fruit and seed floras rich in exotic and subtropical elements from two Lower Pliocene successions of Italy. Mededelingen Nederlands Instituut voor Toegepaste Geowetenschappen TNO 58:237–244

McCain JW, Hennen JF (1982) Is the taxonomy of Berberis and Mahonia (Berberidaceae) supported by their rust pathogens Cumminsiella santa sp. nov. and other Cumminsiella species (Uredinales)? Syst Bot 48–59

McGlone MS (2005) Goodbye Gondwana. J Biogeogr 32:739–740

McKnight TL, Hess D (2000) Climate zones and types: the Köppen system. Physical geography: a landscape appreciation. Prentice Hall, Upper Saddle River

Meng H-H, Jacques FM, Su T, Huang Y-J, Zhang S-T, Ma H-J, Zhou Z-K (2014) New Biogeographic insight into Bauhinia sl (Leguminosae): integration from fossil records and molecular analyses. BMC Evol Biol 14:181

Meyer HW, Manchester SR (1997) Oligocene Bridge Creek flora of the John Day Formation, Oregon. University of California Press, Davis

Mihajlovic D (1996) Two fossil floras from Fruska Gora Mt. and their significance from stratigraphy of terrigenous-lacustrine deposits. Ann Geol Pays Hellen 37:75–81

Milne RI (2006) Northern hemisphere plant disjunctions: a window on tertiary land bridges and climate change? Ann Bot 98:465–472

Milne RI, Abbott RJ (2002) The origin and evolution of Tertiary relict floras. Adv Bot Res 38:281–314

Ming Q-Z (2007) A study on the neotectonic division and environment evolution of Qing-Zang plateau and three parallel rivers area. Yunnan Geol 26:387–396 (in Chinese)

Morean R (1982) Berberis claireae, a new species from Baja California; and why not Mahonia. Phytologia 52:221–226

Myers JA, Kester PR, Retallack GJ (2002) Paleobotanical record of Eocene-Oligocene climate and vegetational change near Eugene, Oregon. Oregon Dep Geol Min Ind Spec Paper 36:145–154

Qian H, Ricklefs RE (2004) Geographical distribution and ecological conservatism of disjunct genera of vascular plants in eastern Asia and eastern North America. J Ecol 92:253–265

Ramı́rez JL, Cevallos-Ferriz SR (2000) Leaves of Berberidaceae (Berberis and Mahonia) from Oligocene sediments, near Tepexi de Rodrı́guez, Puebla. Rev Palaeobot Palyno 110:247–257

Renney KM (1972) The Miocene Temblor flora of west central California. Dissertation, University of California, Davis

Saporta G (1866) Etudes sur la végétation du Sud-Est de la France à l'époque tertiaire. V. Masson et Fils, Paris (in French)

Shi G-L, Zhou Z-Y, Xie Z-M (2012) A new Oligocene Calocedrus from south China and its implications for transpacific floristic exchanges. Am J Bot 99:108–120

Stephyrtza AG (1971) Novie vidi Morus, Berberis i Mahonia iz Miocena Moldavii. Paleontol Zh 2:90–98 (in Russian)

Su T, Jacques F, Ma H-J, Zhou Z-K (2013) Fossil fruits of Ailanthus confucii from the Upper Miocene of Wenshan, Yunnan Province, southwestern China. Palaeoworld 22:153–158

Takhtajan A (1974) Magnoliophyta Fossilia URSS, vol 1. Nauka, Leningrad (in Russian)

Tanai T, Suzuki N (1963) Miocene floras of southwestern Hokkaido, Japan. In: Chaney RW, Tanai T (eds), Tertiary Floras of Japan. Miocene floras. In: The collaborating association to commemorate the 80th anniversary of the geological survey of Japan, Tokyo, pp 7–149

Tao J-R, Zhou Z-K, Liu Y-S (2000) Evolution of the late Cretaceous-Cenozoic floras in China. Science Press, Beijing (in Chinese)

The Angiosperm Phylogeny Group (2009) An update of the Angiosperm Phylogeny Group classification for the orders and families of flowering plants: APG III. Bot J Linn Soc 161:105–121

Wang W-M (1996) Palynological survey of Neogene strata in Xiaolongtan basin, Yunnan Province of south China. Act Bot Sin 38:743–748 (in Chinese)

Wen J (1999) Evolution of eastern Asian and eastern North American disjunct distributions in flowering plants. Annu Rev Ecol Syst 421–455

Wen J, Ickert-Bond S, Nie Z-L, Li R (2010) Timing and modes of evolution of eastern Asian–North American biogeographic disjunctions in seed plants. In: Darwin's Heritage Today: Proceedings of the Darwin 2010 Beijing International Conference, pp 252–269

Weyland H (1941) Beiträge zur Kenntnis der Rheinischen Tertiärflora: v. Dritte Ergänzungen und Berichtigungen zur Flora der Blätterkohle und des Polierschiefers von Rott im Siebengebirge. Palaeontogr Abt B 86:79–112 (in German)

Whetstone R, Atkinson T, Spaulding D (1997) Berberidaceae. In: Flora of North America editorial committee (ed) Flora of North America, vol. 3. Oxford University Press, New York, pp 272–286

Wu Z-Y (1983) On the significance of Pacific intercontinental discontinuity. Ann Mo Bot Gard:577–590

Wu J-Y (2009) The Pliocene Tuantian flora of Tengehong, Yunnan Province and its Paleoenviromnental analysis. Dissertation, Lanzhou University

Wu J-Y, Qin H-N, Xue D-Y, Zhou K-X (2010) Study on seed morphology of Mahonia (Berberidaceae). Guihaia 30:155–160 (in Chinese)

Xia K, Su T, Liu Y-SC, Xing Y-W, Jacques F, Zhou Z-K (2009) Quantitative climate reconstructions of the late Miocene Xiaolongtan megaflora from Yunnan, southwest China. Palaeogeogr Palaeocl 276:80–86

Xiang Q-Y, Soltis DE, Soltis PS (1998) The eastern Asian and eastern and western North American floristic disjunction: congruent phylogenetic patterns in seven diverse genera. Mol Phylogenet Evol 10:178–190

Ying J-S, Boufford DE, Brach AR (2001) Berberidaceae. In: Flora of China Editorial Committee (ed) Flora of China, vol. 19. Science Press, Beijing, pp 714–800
Acknowledgments
We thank members from the Paleoecology Research Group, Xishuangbanna Tropical Botanical Garden, Chinese Academy of Sciences (XTBG, CAS) for fossil collection; thank Professor Steven Manchester from Florida Museum of Natural History for the suggestions of fossil identification. The authors also thank Mr. B. Pan from XTBG for extant plants sample collecting, thanks to Central Lab of XTBG for microscope photographing of fossils. This work was supported by the National Natural Science Foundation of China (No. 41372035, No. U1502231) and the National Key Basic Research Project ("973" Project, No. 2012CB821900).
Electronic supplementary material
Below is the link to the electronic supplementary material.
About this article
Cite this article
Huang, J., Su, T., Lebereton-Anberrée, J. et al. The oldest Mahonia (Berberidaceae) fossil from East Asia and its biogeographic implications. J Plant Res 129, 209–223 (2016). https://doi.org/10.1007/s10265-015-0775-y
Received:

Accepted:

Published:

Issue Date:
Keywords
Berberidaceae

Biogeography

East Asia

Miocene

Mahonia

Southwestern China