Abstract
Apogamous fern species are often difficult to distinguish from related species because of their continuous morphological variations. To clarify the genetic relationships among the members of the Dryopteris varia complex, we analyzed the nucleotide sequences of the plastid gene rbcL and the nuclear gene PgiC. We also analyzed the diploid sexual species D. caudipinna and D. chinensis, which have not been included in the complex, but were recently shown to be closely related to the complex in a molecular phylogenetic study. The PgiC sequences of the diploid sexual species, D. varia, D. saxifraga, D. sp. 'protobissetiana' (undescribed diploid sexual species), D. caudipinna, and D. chinensis, were well differentiated and hence designated A, B, C, D, and E, respectively. Thus, the PgiC constitution of apogamous species in the complex was as follows: D. bissetiana, B + C; D. kobayashii, B + C + E); D. pacifica, A + C, A + B + C, or A + C + D; D. sacrosancta, A + C + E; and D. saxifragivaria, B + C. These results suggest that these apogamous species are formed by hybridizations of species including not only the three diploid sexual species of the D. varia complex (A, B, and C) but also the two diploid sexual species D. caudipinna (D) and D. chinensis (E), which do not belong to the complex.
This is a preview of subscription content, log in to check access.
Access options
Buy single article
Instant access to the full article PDF.
US$ 39.95
Tax calculation will be finalised during checkout.
Subscribe to journal
Immediate online access to all issues from 2019. Subscription will auto renew annually.
US$ 99
Tax calculation will be finalised during checkout.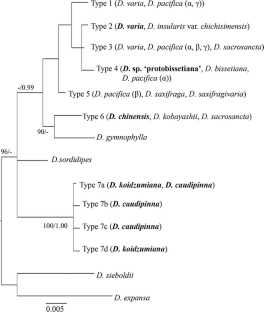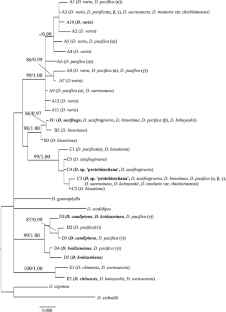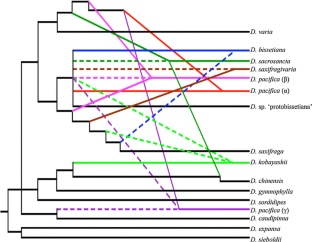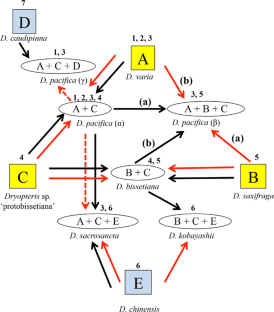 References
Adjie B, Masuyama S, Ishikawa H, Watano Y (2007) Independent origins of tetraploid cryptic species in the fern Ceratopteris thalictroides. J Plant Res 120:129–138

Braithwaite AF (1964) A new type of apogamy in ferns. New Phytol 63:293–305

Darnaedi D, Kato M, Iwatsuki K (1990) Electrophoretic evidence for the origin of Dryopteris yakusilvicola (Dryopteridaceae). Bot Mag Tokyo 103:1–10

Döpp W (1939) Cytologische und genetische Untersuchungen innerhalb der Gattung Dryopteris. Planta 29(4):481–533

Doyle JA, Doyle JL (1990) Isolation of plant DNA from fresh tissue. Focus 12:13–15

Dyer RJ, Savolaainen V, Schneider H (2012) Apomixis and reticulate evolution in the Asplenium monanthes fern complex. Ann Bot 110:1515–1529

Dyer RJ, Pellicer J, Savolainen V, Leitch IJ, Schneider H (2013) Genome size expansion and the relationship between nuclear DNA content and spore size in the Asplenium monanthes fern complex (Aspleniaceae). BMC Plant Biol 2013:219

Ebihara A (2011) RbcL phylogeny of Japanese pteridophyte flora and implications on intrafamilial systematics. Bull Natl Mus Nat Sci B 37:63–74

Ebihara A, Ishikawa H, Matsumoto S, Lin S-J, Iwatsuki K, Takamiya M, Watano Y, Ito M (2005) Nuclear DNA, chloroplast DNA, and ploidy analysis clarified biological complexity of the Vandenboschia radicans complex (Hymenophyllaceae) in Japan and adjacent areas. Am J Bot 92:1535–1547

Ebihara A, Matsumoto S, Kato M (2012) Origin of Dryopteris shibipedis (Dryopteridaceae), a fern species extinct in the wild. J Plant Res 125:499–505

Ebihara A, Nakato N, Matsumoto S, Chao YS, Kuo LY (2014) Cytotaxonomic studies on thirteen ferns of Taiwan. Bull Natl Mus Nat Sci B (in press)

Fraser-Jenkins CR (1986) A classification of the genus Dryopteris (Pteridophyta: Dryopteridaceae). Bull Br Mus Nat Hist (Bot) 14:183–218

Gastony GJ, Yatskievych G (1992) Maternal inheritance of the chloroplast and mitochondrial genomes in cheilanthoid ferns. Am J Bot 79:716–722

Grusz AL, Windham MD, Pryer KM (2009) Deciphering the origins of apomictic polyploids in the Cheilanthes yavapensis complex (Pteridaceae). Am J Bot 96:1636–1645

Hasebe M, Omori T, Nakazawa M, Sano T, Kato M, Iwatsuki K (1994) RbcL gene sequences provide evidence for the evolutionary cytotypes of leptosporangiate ferns. Proc Natl Acad Sci USA 91:5730–5734

Hirabayashi H (1966) Chromosome numbers in Japanese species of Dryopteris (1). J Jpn Bot 41:11–13

Hirabayashi H (1967) Chromosome numbers in Japanese species of Dryopteris (2). J Jpn Bot 42:44–48

Hirabayashi H (1969) Chromosome numbers in Japanese species of Dryopteris (3). J Jpn Bot 44:85–95

Hirabayashi H (1970) Chromosome numbers in Japanese species of Dryopteris (4). J Jpn Bot 45:11–19

Hirabayashi H (1974) Cytogeographic studies on Dryopteris of Japan. Hara Shobo, Tokyo

Huber KT, Oxelman B, Lott M, Moulton V (2006) Reconstructing the evolutionary history of polyploids from multilabeled trees. Mol Biol Evol 23:1784–1791

Ishikawa H, Watano Y, Kano K, Ito M, Kurita S (2002) Development of primer sets for PCR amplification of the PgiC gene in ferns. J Plant Res 115:65–70

Iwatsuki K, Yamazaki T, Boufford DE, Ohba H (1995) Flora of Japan, vol I. Kodansha, Tokyo

Jaruwattanaphan T, Matsumoto S, Watano Y (2013) Reconstructing hybrid speciation events in the Pteris cretica group (Pteridaceae) in Japan and adjacent regions. Syst Bot 38:15–27

Kurata S (1966) Notes on Japanese ferns (39). J Geobot 14:82–86

Kurita S (1961) Chromosome numbers of some Japanese ferns (2). Bot Mag Tokyo 74:395–401

Lee S-J, Park C-W (2013) Relationships and origins of the Dryopteris varia (L.) Kuntze species complex (Dryopteridaceae) in Korea inferred from nuclear and chloroplast DNA sequences. Biochem Syst Ecol 50:371–382

Lee S-J, Kim Y-D, Suh Y, Lee S-K, Park C-W (2006) Morphological and chromosomal variation of the Dryopteris varia (L.) Kuntze complex (Dryopteridaceae) in Korea. Plant Syst Evol 262:37–52

Lin S-J, Kato M, Iwatsuki K (1992) Diploid and triploid offspring of triploid agamosporous fern Dryopteris pacifica. J Plant Res 105:443–452

Lin S-J, Kato M, Iwatsuki K (1995) Electrophoretic variation of the apogamous Dryopteris varia group (Dryopteridaceae). J Plant Res 108:451–456

Lin S–J, Kato M, Iwatsuki K (2003) Morphological and cytological variations of Japanese Dryopteris Varia group (Dryopteridaceae). In: Pteridology in the new millennium, pp 217–231

Liu HM, Dyer RJ, Guo ZY, Meng Z, Li JH, Schneider H (2012) The evolutionary dynamics of apomixis in ferns: a case study from polystichoid ferns. J Bot ID 510478

Lott M, Spillner A, Huber KT, Petri A, Oxelman B, Moulton V (2009a) Inferring polyploid phylogenies from multiply-labeled gene trees. BMC Evol Biol 9:216

Lott M, Spillner A, Huber KT, Moulton V (2009b) PADRE: a package for analyzing and displaying reticulate evolution. Bioinformatics 25:1199–1200

Lovis JD (1978) Evolutionary patterns and processes in ferns. Adv Bot Res 4:229–415

Manton I (1950) Problems of cytology and evolution in the Pteridophyta. Cambridge University Press, Cambridge

Mitui K (1965) Chromosome studies on Japanese ferns (1). J Jpn Bot 40:117–124

Mitui K (1966) Chromosome studies on Japanese ferns (2). J Jpn Bot 41:60–64

Mitui K (1968) Chromosomes and speciation in fern. Sci Rep Tokyo Kyoiku Daigaku Sect B 13:285–333

Mitui K (1975) Chromosome numbers of Japanese pteridophytes. Bull Nippon Dent Coll Gen Educ 4:221–271

Nakai T (1942) Notulae ad plantas Asiae orientalis (XX). J Jpn Bot 18:281–292

Nakato N, Kato M, Liu BD (1995) A cytotaxonomic study of some ferns from Jiangsu and Zhejiang provinces, China. J Jpn Bot 70:194–204

Narayan RK (1987) Nuclear DNA changes, genome differentiation and evolution in Nicotiana (Solanaceae). Plant Syst Evol 157:161–180

Nei M, Kumar S (2000) Molecular evolution and phylogenetics. Oxford University Press, New York

Posada D (2008) jModelTest: phylogenetic model averaging. Mol Biol Evol 25:1253–1256

Rambaut A, Drummond AJ (2009) Tracer v1.5. Computer program. http://tree.bio.ed.ac.uk/software/tracer/. Accessed 13 Aug 2001

Ronquist F, Teslenko M, Mark P, Ayres DL, Darling A, Höhna S, Larget B, Liu L, Suchard MA, Huelsenbeck JP (2012) MrBayes 3.2: efficient Bayesian phylogenetic inference and model choice across a large model space. Syst Biol 61:539–542

Serizawa S (2009) Dryopteris kobayashii Kitagawa and D. sacrosancta Koidz. Shidekobushi 1:97–99 (in Japanese)

Sessa EB, Zimmer EA, Givnish TJ (2012) Reticulate evolution on a global scale: a nuclear phylogeny for New World Dryopteris (Dryopteridaceae). Mol Phylogenet Evol 64:563–581

Suzuki T, Iwatsuki K (1990) Genetic variation in agamosporous fern Pteris cretica L. in Japan. Heredity 65:221–227

Tagawa M (1959) Coloured Illustrations of the Japanese Pteridophyta. Hoikusha, Osaka (in Japanese)

Takamiya M (1996) Index to chromosomes of Japanese Pteridophyta (1910–1996). Japan Pteridological Society, Tokyo

Takamiya M, Ohta N, Yatabe Y, Murakami N (2001) Cytological, morphological, genetic, and molecular phylogenetic studies on intraspecific differentiations within Diplazium doederleinii (Woodsiaceae: pteridophyta). Int J Plant Sci 162:625–636

Tamura K, Peterson D, Peterson N, Stecher G, Nei M, Kumar S (2011) MEGA5: molecular evolutionary genetics analysis using maximum likelihood, evolutionary distance, and maximum parsimony methods. Mol Biol Evol 28:2731–2739

Tanaka K (1999) Variation of Dryopteris pacifica in the western part of Kanagawa Prefecture. J Nippon Fern Club 3:1–7 (in Japanese)

Tsai JL, Shie WC (1975) Chromosome numbers of the family Aspidiaceae (Sensu Copland) in Taiwan (1). J Sci Eng 12:321–334

Tsai JL, Shieh WC (1985) A cytotaxonomic survey of the fern family Aspidiaceae (Sensu Copeland) in Taiwan. J Sci Eng 22:121–144

Wagner WH Jr (1954) Reticulate evolution in the Appalachian Asplenium. Evolution 7:103–118

Walker TG (1958) Hybridization in some species of Pteris L. Evolution 12:82–92

Watano Y, Iwatsuki K (1988) Genetic variation in the 'Japanese apogamous form' of the fern Asplenium unilaterale Lam. Bot Mag Tokyo 101:213–222
Acknowledgments
We are grateful to the following persons for their assistance in collecting plant material: Chun-Ming Chen of the Koo Botanic Conservation Center (Taiwan); Li-Yaung Kuo of the Taiwan Forestry Research Institute; W. Shinohara of Kagawa University; J. Yamashita of Okayama University; S. J. Lin of Shimane University; S. Tagane of Kyushu University; S. Saito and S. Kariyama of the Kurashiki Museum of Natural History; and S. Fujimoto, Y. Inoue, T. Kuramata, S. Mitani, K. Mizote, K. Mizunashi, K. Ohora, T. Oka, H. Takae, T. Tamaru, K. Tanaka, and I. Yamazumi of the Nippon Fernist Club. We are also grateful to S. Nakamura, T. Sugawara, H. Kato, and Y. Kakugawa of the Makino Herbarium, Tokyo Metropolitan University; S. Serizawa and S. Tsuneki of the Aichi University of Education; and K. Yamamoto of the National Museum of Nature and Science, Japan for their valuable suggestions and advice during the course of this study. This study is partly supported by Grants-in-Aid for Scientific Research No. 25291089 and by the Environment Research and Technology Development Fund (S-9) of the Ministry of the Environment, Japan for N. Murakami. We would like to thank Enago (http://www.enago.jp) for the English language review.
About this article
Cite this article
Hori, K., Tono, A., Fujimoto, K. et al. Reticulate evolution in the apogamous Dryopteris varia complex (Dryopteridaceae, subg. Erythrovariae, sect. Variae) and its related sexual species in Japan. J Plant Res 127, 661–684 (2014). https://doi.org/10.1007/s10265-014-0652-0
Received:

Accepted:

Published:

Issue Date:
Keywords
Apogamy

Fern

PgiC
rbcL

Reticulate evolution

Single-strand conformation polymorphism (SSCP)