Abstract
Two types of abnormal sporophytes were observed in a population of diploid Thelypteris decursive-pinnata. Most sporophytes in this population exhibited regular chromosome pairing, resulting in the formation of 30 bivalents in meiosis I; however, they produced abortive spores to various degrees. Some formed large globose spores at low frequencies, most likely to be unreduced diplospores. The other type of abnormal sporophyte underwent synaptic failure to form 60 univalents at meiosis I, but produced fertile spores, mostly large globose ones at low frequencies. The globose spores were considered unreduced diplospores because the gametophytes arising from them produced tetraploid sporophytes by gametophytic selfing. One tetraploid formed only univalents at meiosis I. Allozyme variation was not detected in this population, although neighboring ordinary diploid populations exhibited it to a certain degree. The sympatric occurrence and allozyme uniformity of the two groups suggest that both are offspring of a founder sporophyte, which may have possessed two types of mutated recessive genes responsible for the spore sterility and the synaptic failure in meiosis. Unreduced spores formed by these two types may play an important role in the polyploid speciation of this species.
This is a preview of subscription content, log in to check access.
Access options
Buy single article
Instant access to the full article PDF.
US$ 39.95
Tax calculation will be finalised during checkout.
Subscribe to journal
Immediate online access to all issues from 2019. Subscription will auto renew annually.
US$ 99
Tax calculation will be finalised during checkout.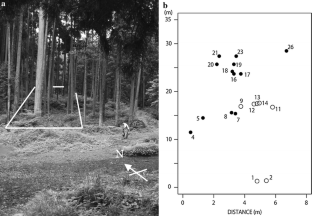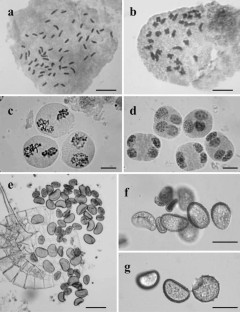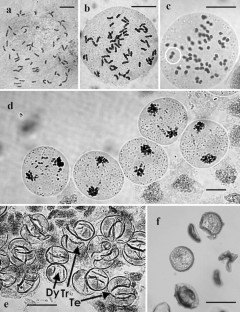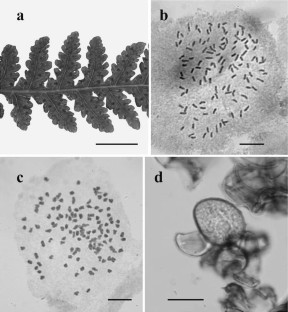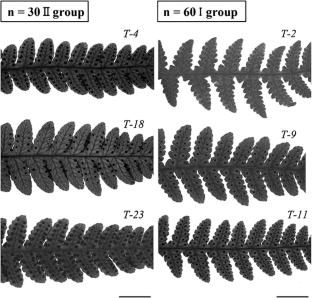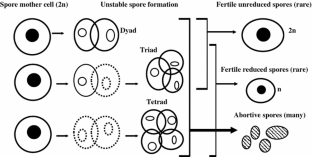 References
Alt KS, Grant V (1960) Cytotaxonomic observations on the goldback fern. Brittonia 12:153–170

Bhavanandan KV (1971) Supernumerary cell division during meiosis in Rhmohra aristata (Forst.) Ching. Cytologia 36:575–578

Braithwaite AF (1964) A new type of apogamy in ferns. New Phytol 63:293–305

Bretagnolle F, Thompson JD (1995) Tansley review no. 78. Gametes with the somatic chromosome number: mechanisms of their formation and role in the evolution of autopolyploid plants. New Phytol 129:1–22

Gastony GJ (1986) Electrophoretic evidence for the origin of fern species by unreduced spores. Am J Bot 73:1563–1569

Gottschalk W, Kaul MLH (1974) The genetic control of microsporogenesis in higher plants. Nucleus 17:133–166

Harlan JR, deWet JMJ (1975) On Ö. Winge and a prayer: the origins of polyploidy. Bot Rev 41:361–390

Haufler CH, Windham MD, Britton DM, Robinson SJ (1985) Triploidy and its evolutionary significance in Cystopteris protrusa. Can J Bot 63:1855–1863

Hickok LG (1977) The cytology and derivation of a temperate-sensitive meiotic mutant in the fern Ceratopteris. Am J Bot 64:552–563

Iwatsuki K (1965) Taxonomy of the thelypteroid ferns, with special reference to the species of Japan and adjacent regions IV. Enumeration of the species of Japan and adjacent regions. Mem Coll Sci Univ Kyoto Ser B 31:125–197

Kaul MLH, Murthy TGK (1985) Mutant genes affecting higher plant meiosis. Theor Appl Genet 70:449–466

Koduru PRK, Rao MK (1981) Cytogenetics of synaptic mutants in higher plants. Theor Appl Genet 59:197–214

Lovis JD (1973) A biosystematic approach to phylogenetic problems and its application to the Aspleniaceae. In: Jermy AC, Crabbe JA, Thomas BA (eds) The phylogeny and classification of the ferns. Bot J Linn Soc 67 (Suppl 1):211–228

Lovis JD (1977) Evolutionary patterns and processes in ferns. Adv Bot Res 4:229–415

Masuyama S (1979) Reproductive biology of the fern Phegopteris decursive-pinnata I. The dissimilar mating systems of diploids and tetraploids. Bot Mag Tokyo 92:275–289

Mitui K (1968) Chromosomes and speciation in ferns. Sci Rep Tokyo Kyoiku Daigaku Sec B 203:285–333

Morzenti VM (1962) A first report on pseudomeiotic sporogenesis, a type of spore reproduction by which "sterile" ferns produce gametophytes. Am Fern J 52:69–78

Morzenti VM (1967) Asplenium plenum: a fern which suggests an unusual method of species formation. Am J Bot 54:1061–1068

Nakato N (1998) Aneuploidy in Thelypteris laxa (Franch. & Sav.) Ching (Thelypteridaceae). J Jpn Bot 73:119–124

Nitsch JP (1951) Growth and development in vitro of excised ovaries. Am J Bot 8:566–577

Rabe EW, Haufler CH (1992) Incipient polyploid speciation in the maidenhair fern (Adiantum pedatum; Adiantaceae)? Am J Bot 79:701–707

Ramsey J, Schemske DW (1998) Pathways, mechanisms, and rates of polyploid formation in flowering plants. Annu Rev Ecol Syst 29:467–501

Sheffield E, Wolf PG, Rumsey FJ, Robson DJ, Ranker TA, Challinor SM (1993) Spatial distribution and reproductive behavior of a triploid bracken (Pteridium aquilinum) clone in Britain. Ann Bot 72:231–237

Shiraishi S (1988) Inheritance of isozyme variations in Japanese black pine, Pinus thunbergii Parl. Silvae Genet 37:93–100

Singh RJ (1993) Plant cytogenetics. CRC Press, Boco Raton

Suzuki K (1984) A list of the higher plants in Okutama, Tokyo Prefecture. Sci Rep Takao Mus Nat Hist 12:1–48

Takamiya M (1996) Index to chromosomes of Japanese pteridophyta (1910–1996). Japan Pteridological Society, Tokyo

Wagner WH Jr (1954) Reticulate evolution in the Appalachian Aspleniums. Evolution 8:103–118

Walker TG (1984) Chromosomes and evolution in pteridophytes. In: Sharma AK, Sharma A (eds) Chromosome evolution of eukaryotic groups 2. CRC Press, Boca Raton, pp 103–141

Walker TG (1985) Some aspects of agamospory in ferns—the Braithwaite system. P Roy Soc Edinb B 86:59–66
Acknowledgments
The authors thank two anonymous reviewers for useful comments on the manuscript.
About this article
Cite this article
Nakato, N., Ootsuki, R., Murakami, N. et al. Two types of partial fertility in a diploid population of the fern Thelypteris decursive-pinnata (Thelypteridaceae). J Plant Res 125, 465–474 (2012). https://doi.org/10.1007/s10265-011-0461-7
Received:

Accepted:

Published:

Issue Date:
Keywords
Partial fertility

Polyploid speciation

Synaptic failure

Thelypteris decursive-pinnata

Unreduced spore