Abstract
Reproductive interference (RI), defined as the fitness cost of interspecific sexual interactions, such as interspecific pollen transfer (IPT) in plants, is ecologically important. Theoretically, RI could result in competitive exclusion, as it operates in a frequency-dependent manner. Additionally, IPT may have a greater range than resource competition, although information about the range of IPT is lacking. In the present study, we measured the range of IPT exerted by Taraxacum officinale (an alien species) on a native dandelion, T. japonicum. We used two approaches. In one, we analyzed the RI effect on a native seed set at three spatial scales. In the second, we tracked IPT from alien to native flower heads using fluorescent pigments as markers. We estimated that pollination distances were in the order of several meters. These distances exceeded the mean distance from each native plant to the nearest alien. As hypothesized, the effect of RI reached farther than neighboring individuals. These data indicate the spatial range from which alien dandelions should be removed to allow the conservation of natives.
Access options
Buy single article
Instant access to the full article PDF.
USD 39.95
Price includes VAT (USA)
Tax calculation will be finalised during checkout.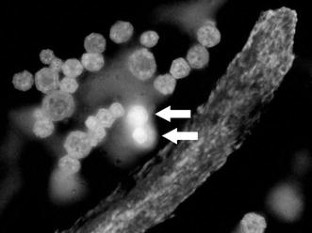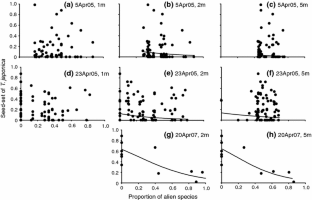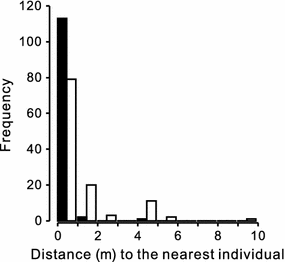 References
Adler LS, Irwin RE (2006) Comparison of pollen transfer dynamics by multiple floral visitors: experiments with pollen and fluorescent dye. Ann Bot 97:141–150

Bjerknes A-L, Totlanda Ø, Heglanda SJ, Nielsena A (2007) Do alien plant invasions really affect pollination success in native plant species? Biol Conserv 138:1–12

Bolker B, Brooks M, Clark C, Geange S, Poulsen J, Stevens M, White J (2009) Generalized linear mixed models: a practical guide for ecology and evolution. Trends Ecol Evol 24:127–135

Brown BJ, Mitchell RJ (2001) Competition for pollination: effects of pollen of an invasive plant on seed set of a native congener. Oecologia 129:43–49

Brown BJ, Mitchell RJ, Graham SA (2002) Competition for pollination between an invasive species (purple loosestrife) and a native congener. Ecology 83:2328–2336

Busi R, Yu Q, Barrett-Lennard R, Powles S (2008) Long distance pollen-mediated flow of herbicide resistance genes in Lolium rigidum. Theor Appl Genet 117:1281–1290

Campbell DR, Waser NM (1989) Variation in pollen flow within and among populations of Ipomopsis aggregata. Evolution 43:1444–1455

Campbell DR, Waser NM, Price MV, Lynch EA, Mitchell RJ (1991) Components of phenotypic selection: pollen export and flower corolla width in Ipomopsis aggregata. Evolution 45:1458–1467

Dick CW, Etchelecu G, Austerlitz F (2003) Pollen dispersal of tropical trees (Dinizia excelsa: Fabaceae) by native insects and African honeybees in pristine and fragmented Amazonian rainforest. Mol Ecol 12:753–764

Dow BD, Ashley MV (1998) High levels of gene flow in bur oak revealed by paternity analysis using microsatellites. J Hered 89:62–70

Galen C, Gregory T (1989) Interspecific pollen transfer as a mechanism of competition: consequences of foreign pollen contamination for seed set in the alpine wildflower, Polemonium viscosum. Oecologia 88:120–123

García C, Jordano P, Godoy JA (2007) Contemporary pollen and seed dispersal in a Prunus mahaleb population: patterns in distance and direction. Mol Ecol 16:1947–1955

Godt MJW, Hamrick JL (1993) Patterns and levels of pollen-mediated gene flow in Lathyrus latifolius. Evolution 47:98–110

Gonzales E, Hamrick JL, Smouse PE, Dyer RJ (2006) Pollen-mediated gene dispersal within continuous and fragmented populations of a forest understory species, Trillium cuneatum. Mol Biol 15:2047–2058

Gröning J (2008) Reproductive interference between animal species. Q Rev Biol 83:257–282

Jones KN (2004) Do dandelion flowers influence seed set of a native plant (Delphinium nuttallianum) in subalpine meadows? Am Midl Nat 151:201–205

Kandori I, Hirao T, Matsunaga S, Kurosaki T (2009) An invasive dandelion unilaterally reduces the reproduction of a native congener through competition for pollination. Oecologia 159:559–569

Kearns CA, Inouye DW (1993) Techniques for pollination biologists. University Press of Colorado, Niwot

Kuno E (1992) Competitive exclusion through reproductive interference. Res Popul Ecol 34:275–284

Larson DL, Royerb RA, Royer MR (2006) Insect visitation and pollen deposition in an invaded prairie plant community. Biol Conserv 130:148–159

Marr DL, Leebens-Mack J, Elms L, Pellmyr O (2000) Pollen dispersal in Yucca filamentosa (Agavaceae): the paradox of self-pollination behavior by Tegeticula yuccasella (Prodoxidae). Am J Bot 87:670–677

Matsumoto T, Takakura K-I, Nishida T (2010) Alien pollen grains interfere with the reproductive success of native congener. Biol Invasions 12:1617–1626

Mitchell RJ, Flanagan RJ, Brown BJ, Waser NM, Karron JD (2009) New frontiers in competition for pollination. Ann Bot 103:1403–1413

Moragues E, Traveset A (2005) Effect of Carpobrotus spp. on the pollination success of native plant species of the Balearic Islands. Biol Conserv 122:611–619

Morales CL, Traveset A (2008) Interspecific pollen transfer: magnitude, prevalence and consequence for plant fitness. Crit Rev Plant Sci 27:221–238

Muñoz AA, Cavieres LA (2008) The presence of a showy invasive plant disrupts pollinator service and reproductive output in native alpine species only at high densities. J Ecology 96:459–467

Price MV, Waser NM (1982) Experimental studies of pollen carryover: hummingbirds and Ipomopsis aggregata. Oecologia 54:353–358

R Development Core Team (2007) R: a language and environment for statistical computing. R Foundation for Statistical Computing, Vienna

Robledo-Arnuncio JJ, Gil L (2005) Patterns of pollen dispersal in a small population of Pinus sylvestris L. revealed by total-exclusion paternity analysis. Heredity 94:13–22

Stockhouse RE (1976) A new method for studying pollen dispersal using micronized fluorescent dusts. Am Midl Nat 151:201–205

Streiff R, Ducousso A, Lexer C, Steinkellner H, Gloessl J, Kremer A (1999) Pollen dispersal inferred from paternity analysis in a mixed oak stand of Quercus robur L. and Q. petraea (Matt.) Liebl. Mol Ecol 8:831–841

Svensson L (1985) An estimate of pollen carryover by ants in a natural population of Scleranthus perennis L. (Caryophyllaceae). Oecologia 66:373–377

Takakura K-I, Fujii S (2010) Reproductive interference and salinity tolerance differentiate habitat use between two alien cockleburs: Xanthium occidentale and X. italicum (Compositae). Plant Ecol 206:309–319

Takakura K-I, Nishida T, Matsumoto T, Nishida S (2009) Alien dandelion reduces the seed set of a native congener through frequency-dependent and one-sided effects. Biol Invasions 11:973–981

Thomson JD, Price MV, Waser NM, Stratton DA (1986) Comparative studies of pollen and fluorescent dye transport by bumble bees visiting Erythronium grandiflorum. Oecologia 69:561–566

Traveset A, Richardson DM (2006) Biological invasions as disruptors of plant reproductive mutualisms. Trends Ecol Evol 21:208–216

Vitousek PM, D'Antonio CM, Loope LL, Westbrooks R (1996) Biological invasions as global environmental change. Am Sci 84:468–477

Waser NM (1988) Comparative pollen and dye transfer by pollinators of Delphinium nelsonii. Func Ecol 2:41–48

Waser NM, Price MV (1982) A comparison of pollen and fluorescent dye carry-over by natural pollinators of Ipomopsis aggregata (Polemoniaceae). Ecology 63:1168–1172

Waser NM, Price MV (2001) Reproductive costs of self-pollination in Ipomopsis aggregata (Polemoniaceae): Are ovules usurped? Am J Bot 78:1036–1043

Yoshimura J, Clark CW (1994) Population dynamics of sexual and resource competition. Theor Popul Ecol 45:121–131
Acknowledgments
This work was partly supported by a Grant-in-Aid for Young Scientists (B, No. 19770023 to K.-I.T.) from the Ministry of Education, Culture, Sports, Science and Technology, Japan.
About this article
Cite this article
Takakura, KI., Matsumoto, T., Nishida, T. et al. Effective range of reproductive interference exerted by an alien dandelion, Taraxacum officinale, on a native congener. J Plant Res 124, 269–276 (2011). https://doi.org/10.1007/s10265-010-0368-8
Received:

Accepted:

Published:

Issue Date:
Keywords
Competition

Fluorescent pigment

Interspecific pollen transfer

Invasive species

Seed set