Abstract
Characterizing the spatial variation in the CO2 flux at both large and small scales is essential for precise estimation of an ecosystem's CO2 sink strength. However, little is known about small-scale CO2 flux variations in an ecosystem. We explored these variations in a Kobresia meadow ecosystem on the Qinghai-Tibetan plateau in relation to spatial variability in species composition and biomass. We established 14 points and measured net ecosystem production (NEP), gross primary production (GPP), and ecosystem respiration (Re) in relation to vegetation biomass, species richness, and environmental variables at each point, using an automated chamber system during the 2005 growing season. Mean light-saturated NEP and GPP were 30.3 and 40.5 μmol CO2 m−2 s−1 [coefficient of variation (CV), 42.7 and 29.4], respectively. Mean Re at 20°C soil temperature, Re20, was −10.9 μmol CO2 m−2 s−1 (CV, 27.3). Re20 was positively correlated with vegetation biomass. GPPmax was positively correlated with species richness, but 2 of the 14 points were outliers. Vegetation biomass was the main determinant of spatial variation of Re, whereas species richness mainly affected that of GPP, probably reflecting the complexity of canopy structure and light partitioning in this small grassland patch.
This is a preview of subscription content, log in to check access.
Access options
Buy single article
Instant access to the full article PDF.
US$ 39.95
Price includes VAT for USA
Subscribe to journal
Immediate online access to all issues from 2019. Subscription will auto renew annually.
US$ 99
This is the net price. Taxes to be calculated in checkout.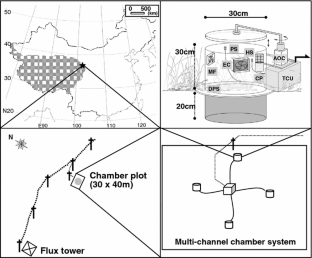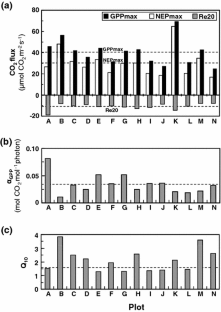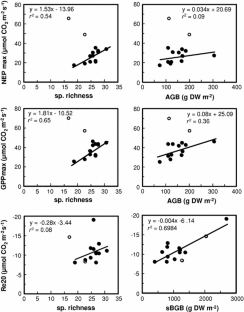 References
Anten NPR, Hirose T (1999) Interspecific differences in aboveground growth patterns result in spatial and temporal partitioning of light among species in a tall-grass meadow. J Ecol 87:583–597

Anten NPS, Hirose T (2003) Shoot structure, leaf physiology, and daily carbon gain of plant species in a tallgrass meadow. Ecology 84:955–968

Arndal MF, Illeris L, Michelsen A, Albert K, Tamstorf M, Hansen BU (2009) Seasonal variation in gross ecosystem production, plant biomass, and carbon and nitrogen pools in five high arctic vegetation types. Arct Antarct Alp Res 41:164–173

Bubier JL, Moore TR, Crosby G (2006) Fine-scale vegetation distribution in a cool temperate peatland. Can J Bot 84:910–923

Canadell JG, Mooney HA, Baldocchi DD, Berry JA, Ehleringer JR, Field CB, Gower ST, Hollinger DY, Hunt JE, Jackson RB, Running SW, Shaver GR, Steffen W, Trumbore SE, Valentini R, Bond BY (2000) Carbon metabolism of the terrestrial biosphere: a multitechnique approach for improved understanding. Ecosystems 3:115–130

Chapin FS III (2003) Effects of plants traits on ecosystem and regional processes: a conceptual framework for predicting the consequences of global change. Ann Bot 91:455–465

Chen J, Yamamura Y, Hori Y, Shiyomi M, Yasuda T, Zhou H, Li Y, Tang Y (2007) Small-scale species richness and its spatial variation in an alpine meadow on the Qinghai-Tibet Plateau. Ecol Res 23:657–663

Davidson EA, Savage K, Verchot LV, Navarro R (2002) Minimizing artifacts and biases in chamber-based measurements of soil respiration. Agric For Meteorol 113:21–37

Diaz HF, Eischeid JK, Duncan C, Bradley RS (2003) Variability of freezing levels, melting season indicators, and snow cover for selected high-elevation and continental regions in the last 50 years. Clim Change 59:33–52

Farrar J, Hawes M, Jones D, Lindow S (2003) How roots control the flux of carbon to the rhizosphere. Ecology 84:827–837

Fierer N, Colman B, Schimel JP, Jackson PB (2006) Predicting the temperature dependence of microbial respiration in soil: a continental-scale analysis. Glob Biogeochem Cycles 20:GB3026. doi:10.1029/2005GB002644

Flanagan LB, Wever LA, Carlson PJ (2002) Seasonal and interannual variation in carbon dioxide exchange and carbon balance in a northern temperate grassland. Glob Change Biol 8:599–615

Gilmanov TG, Soussana JF, Allards AL, Ammann C, Balzarolo M, Barza Z, Bernhofer C, Campbell CL, Cescatti A, Clifton-Brown J, Dirks BOM, Dore S, Eugster W, Fuhrer J, Gimenco C, Gruenwald C, Haszpra L, Hensen A, Ibrom A, Jacobs AFG, Jones MB, Laurila G, Lohila A, Manca G, Marcolla B, Nagy Z, Pilegaard K, Pinter K, Pio C, Raschi A, Rogiers N, Sanz MJ, Stefani P, Sutton M, Tuba Z, Valentini R, Williams ML, Wohlfahrt G (2007) Partitioning European grassland net ecosystem CO2 exchange into gross primary productivity and ecosystem respiration using light response function analysis. Agric Ecosyst Environ 121:93–120

Grime JP (2001) Plant strategies, vegetation processes, and ecosystem properties, 2nd edn. Wiley, London

Gu S, Tang Y, Cui X, Kato T, Du M, Li Y, Zhao X (2005) Energy exchange between the atmosphere and a meadow ecosystem on the Qinghai-Tibetan Plateau. Agric For Meteorol 129:175–185

Hirota M, Tang Y, Hu Q, Hirata S, Kato T, Mo W, Cao G, Mariko S (2006) Carbon dynamics in a deep-water wetland on the Qinghai-Tibetan Plateau. Ecosystems 9:673–688

Hirota M, Zhang P, Gu S, Du M, Shimono A, Shen H, Li Y, Tang Y (2009) Altitudinal variation of ecosystem CO2 fluxes in an alpine grassland from 3600 to 4200 m. J Plant Ecol 2:197–205

Høye TT, Post E, Meltofte H, Schmidt NM, Forchhammer MC (2007) Rapid advancement of spring in the High Arctic. Curr Biol 17:R449–R451

IPCC (2007) Climate change 2007: the physical science basis. Cambridge University Press, Cambridge

Ito A (2008) The regional carbon budget of East Asia simulated with a terrestrial ecosystem model and validated using AsiaFlux data. Agric For Meteorol 148:738–747

Kato T, Tang Y (2008) Spatial variability and major controlling factors of CO2 sink strength in Asian terrestrial ecosystems: evidence from eddy covariance data. Glob Change Biol 14:2333–2348

Kato T, Tang Y, Gu S, Cui X, Hirota M, Du M, Li Y, Zhao X, Oikawa T (2004) Carbon dioxide exchange between the atmosphere and an alpine meadow ecosystem on the Qinghai-Tibetan Plateau, China. Agric For Meteorol 124:121–134

Kicklighter DW, Bondeau A, Schloss AL, Kaduk J, McGuire AD, the Participants of the Potsdam NPP Model Intercomparison (1999) Comparing global models of terrestrial net primary productivity (NPP): global pattern and differentiation by major biomes. Glob Change Biol 5:16–24

Kim J, Verma SB, Clement RJ (1992) Carbon dioxide budget in temperate grassland ecosystem. J Geophys Res 97:6057–6063

Klein JA, Harte J, Zhao XQ (2004) Experimental warming causes large and rapid species loss, dampened by simulated grazing, on the Tibetan Plateau. Ecol Lett 7:1170–1179

Knorr W, Prentice IC, House JI, Holland EA (2005) Long-term sensitivity of soil carbon turnover to warming. Nature 433:298–301

Li W, Zhou X (eds) (1998) Ecosystems of Qinghai-Xizang (Tibetan) Plateau and approach for their sustainable management. Series of studies on Qinghai-Xizang (Tibetan) Plateau. Guangdong Science & Technology Press, Guangdong

Loreau M, Hector A (2001) Partitioning selection and complementarity in biodiversity experiments. Nature 412:72–76

Loreau M, Naeem S, Inchausti P (eds) (2002) Biodiversity and ecosystem functioning synthesis and perspectives. Oxford University Press, Oxford

Lund CP, Riley WJ, Pierce LL, Field CB (1999) The effects of chamber pressurization on soil-surface CO2 flux and the implications for NEE measurements under elevated CO2. Glob Change Biol 5:269–281

Meharg AA, Killham K (1995) Loss of exudates from the roots of perennial ryegrass inoculated with a range of microorganisms. Plant Soil 170:345–349

Nakano T, Nemoto M, Shinoda M (2008) Environmental controls on photosynthetic production and ecosystem respiration in semi-arid grasslands of Mongolia. Agric For Meteorol 148:1456–1466

Raich JW, Schlesinger WH (1992) The global carbon dioxide flux in soil respiration and its relationship to vegetation and climate. Tellus 44B:81–90

Risch AC, Frank DA (2006) Carbon dioxide fluxes in a spatially and temporally heterogeneous temperate grassland. Oecologia 147:291–302

Scurlock JMO, Hall DO (1998) The global carbon sink: a grassland perspective. Glob Change Biol 4:229–233

Scurlock JMO, Johnson K, Olson RJ (2002) Estimating net primary productivity from grassland biomass dynamics measurements. Glob Change Biol 8:736–753

Shaver GR, Street LE, Rastetter EB, Van Wijk MT, Williams M (2007) Functional convergence in regulation of net CO2 flux in heterogeneous tundra landscapes in Alaska and Sweden. J Ecol 95:802–817

Sims PL, Risser PG (2000) Grasslands. p. 323–356. Grasslands. In: Barbour MG, Billings WG (eds) North American terrestrial vegetation, 2nd edn. Cambridge University Press, New York

Sjögersten SR, van der Wal R, Woodin SJ (2006) Small-scale hydrological variation determines landscape CO2 fluxes in the high arctic. Biogeochemistry 80:235–246

Street LE, Shaver GR, Williams M, Van Wijk MT (2007) What is the relationship between changes in canopy leaf area and changes in photosynthetic CO2 flux in arctic ecosystems? J Ecol 95:139–150

Thornley MN, Johnson IR (1990) Plant and crop modeling; a mathematical approach to plant and crop physiology. Clarendon, Oxford

Tilman D, Reich PB, Knops J, Wedin D, Mielke T, Lehman C (2001) Diversity and productivity in a long-term grassland experiment. Science 294:843–845

Turner DP, Urbanski S, Bremer D, Wofsy SC, Meyers T, Gower ST, Gregory M (2003) A cross-biome comparison of daily light use efficiency for gross primary production. Glob Change Biol 9:383–395

Uchida M, Kishimoto M, Muraoka H, Nakatsubo T, Kanda H, Koizumi H (2009) Seasonal shift in factors controlling net ecosystem production in a high Arctic terrestrial ecosystem J Plant Res. doi:10.1007/s10265-009-0260-6

Van der Wal R (2006) Do herbivores cause habitat degradation or vegetation state transition? Evidence from the tundra. Oikos 114:177–186

Vojtech E, Loreau M, Yachi S, Spehn EM, Hector A (2008) Light partitioning in experimental grass communities. Oikos 117:1351–1361

Wang W, Ohse K, Liu J, Mo W, Oikawa T (2005) Contribution of root respiration to soil respiration in a C3/C4 mixed grassland. J Biosci 30:507–514

Wilsey BJ, Parent G, Roulet NT, Moore TR, Potvin C (2002) Tropical pasture carbon cycling: relationships between C source/sink strength, above-ground biomass and grazing. Ecol Lett 5:367–376

Xu LK, Baldocchi DD (2004) Seasonal variation in carbon dioxide exchange over a Mediterranean annual grassland in California. Agric For Meteorol 123:79–96

Zhang P, Tang Y, Hirota M, Yamamoto A, Mariko S (2009) Use of a regression method to partition sources of ecosystem respiration in an alpine meadow. Soil Biol Biochem 41:663–670

Zhao L, Li Y, Xu S, Zhou H, Gu S, Yu G, Zhao X (2006) Diurnal, seasonal and annual variation in net ecosystem CO2 exchange of an alpine shrubland on Qinghai-Tibetan plateau. Glob Change Biol 12:1940–1953
Acknowledgments
We thank Professor Jingyun Fang and Associate Professor Wei Wang at the Peking University for providing fieldwork support and technical assistance. This study was part of a joint research project between the National Institute for Environmental Studies, Japan, and the Northwest Institute of Plateau Biology, China, as part of the "Integrated Study for Terrestrial Carbon Management of Asia in the 21st Century Based on Scientific Advancements" and "Early Detection and Prediction of Climate Warming Based on the Long-Term Monitoring of Alpine Ecosystems on the Tibetan Plateau" projects. This study was supported by the One Hundred Talent Project (0429091211), by Grants-in-Aid for Scientific Research from the Japan Society for the Promotion of Science (JSPS; No. 18710017), and by the JSPS-KOSEF-NSFC A3 Foresight Program (Quantifying and Predicting Terrestrial Carbon Sinks in East Asia: Toward a Network of Climate Change Research).
About this article
Cite this article
Hirota, M., Zhang, P., Gu, S. et al. Small-scale variation in ecosystem CO2 fluxes in an alpine meadow depends on plant biomass and species richness. J Plant Res 123, 531–541 (2010). https://doi.org/10.1007/s10265-010-0315-8
Received:

Accepted:

Published:

Issue Date:
Keywords
Ecosystem CO2 flux

Ecosystem structure and functioning

Spatial heterogeneity

Species richness

Qinghai-Tibetan plateau