Abstract
We address the question to which degree ridge habitats in tropical montane forests contribute to overall plant diversity by analysing patterns of pteridophyte (i.e. lycophytes and ferns) assemblages on ridges and slopes in three montane forest sites near Podocarpus National Park, Ecuador. The analyses, which involved 158 pteridophyte species (110 terrestrial, 96 epiphytic, 48 both) from 28 plots of 20 m × 20 m (or an equivalent of 400 m2), showed that more species were typical of one of the three study sites than of one of the two habitats (ridge/slope). As found in previous studies, alpha diversity on ridges was lower than on slopes, accounted for by the absence of numerous species that are found on slopes. Pteridophyte assemblages on ridges were more similar across study sites than those on slopes. Thus, unlike the structurally comparable (i.e. stunted, open) Amazonian forests, the studied montane ridge forests harbour fairly homogenous pteridophytes assemblages with very few specialised species. Our study implies that slope forests are of higher conservation priority for pteridophytes in the study region than ridge habitats. However, comparative studies are needed because other geographical regions and other groups of organisms may not share this pattern.
This is a preview of subscription content, log in to check access.
Access options
Buy single article
Instant access to the full article PDF.
US$ 39.95
Tax calculation will be finalised during checkout.
Subscribe to journal
Immediate online access to all issues from 2019. Subscription will auto renew annually.
US$ 99
Tax calculation will be finalised during checkout.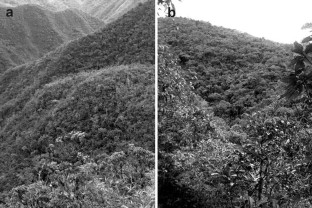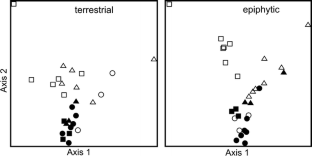 References
Beck E, Müller-Hohenstein K (2001) Analysis of undisturbed and disturbed tropical mountain forest ecosystems in Southern Ecuador. Die Erde 132:1–8

Beck E, Bendix J, Kottke I, Makeschin F, Mosandl R (eds) (2008) Gradients in a tropical mountain ecosystem of ecuador. Ecological Studies, vol 198. Springer, Berlin

Bussmann RW (2001) The montane forests of Reserva Biológica San Francisco (Zamora–Chinchipe, Ecuador). Vegetation zonation and natural regeneration. Die Erde 132:9–25

Bussmann RW (2002) Epiphyte diversity in a tropical Andean Forest—Reserva Biológica San Francisco, Zamora–Chinchipe, Ecuador. Ecotropica 7:43–59

Cody ML (1986) Diversity, rarity, and conservation in meditarranean-climate regions. In: Soulé M (ed) Conservation biology: the science of scarcity, diversity. Sinauer, Sunderland, pp 123–152

Dufrene M, Legendre P (1997) Indicator values calculated with method of species assemblages and indicator species: the need for a flexible asymmetrical approach. Ecol Monogr 67:345–366

Garwood NC, Janos DP, Brokaw N (1979) Earthquake-caused landslides: a major disturbance to tropical forests. Science 205:997–999

Gradstein SR, Kessler M, Lehnert M, Abiy M, Homeier J, Mandl N, Makeschin F, Richter M (2008) Vegetation, climate and soil of the unique Purdiaea forest of southern Ecuador. Ecotropica 14:15–26

Grubb PJ (1977) Control of forest growth and distribution on wet tropical mountains: with special reference to mineral nutrition. Annu Rev Ecol Syst 8:83–107

Hetsch W, Hoheisel H (1976) Standorts- und Vegetationsgliederung in einem tropischen Nebelwald. Forst Jagdzg 147:200–209

Holmgren PK, Holmgren NH, Barnett LC (1990) Index herbariorum. Part 1: The herbaria of the world. New York Botanical Garden, Bronx

Homeier J (2004) Baumdiversität, Waldstruktur und Wachstumsdynamik zweier tropischer Bergregenwälder in Ecuador und Costa Rica. Dissertationes Botanicae 391:1–207

Homeier J (2005) Purdiaea nutans Planch. In: Schütt P, Schuck HJ, Lang U, Roloff A (eds) Enzyklopädie der Holzgewächse 42 (1–4). Ecomed, Landsberg/Lech

Jones MM, Tuomisto H, Clark DB, Olivas P (2006) Effects of mesoscale environmental heterogeneity and dispersal limitation on floristic variation in rain forest ferns. J Ecol 94:181–195

Kessler M (1999) Plant species richness and endemism during natural landslide succession in a perhumid montane forest in the Bolivian Andes. Ecotropica 5:123–136

Kessler M (2001) Patterns of diversity and range size of selected plant groups along an elevational transect in the Bolivian Andes. Biodiv Conserv 10:1897–1920

Kessler M (2002) Range size and its ecological correlates among the pteridophytes of Carrasco National Park, Bolivia. Glob Ecol Biogeogr 11:89–102

Kluge J, Kessler M, Dunn R (2006) What drives elevational patterns of diversity? A test of geometric constraints, climate, and species pool effects for pteridophytes on an elevational gradient in Costa Rica. Glob Ecol Biogeogr 15:358–371

Lehnert M, Kessler M, Salazar LI, Navarrete H, Werner FA, Gradstein SR (2007). Pteridophyta. In: Liede-Schumann S, Breckle, SW (eds) Provisional checklists of fauna and flora of the San Francisco valley and its surroundings (Reserva San Francisco/Province Zamora–Chinchipe, southern Ecuador). Ecotrop Monogr, vol 4. pp 59–68

Leyer I, Wesche K (2007) Multivariate Statistik in der Ökologie. Springer, Berlin

Litherland M, Aspen JA, Jemielita RA (1994) The metamorphic belts of Ecuador. Overseas Mem Br Geol Surv 11:1–147

Magurran AE (2003) Measuring biological diversity. Blackwell, London

Mandl N, Lehnert M, Gradstein SR, Kessler M, Makeschin F, Richter M (2008) The unique Purdiaea nutans forest of Southern Ecuador: abiotic characteristics and cryptogamic diversity. Ecol Stud 198:275–280

Myers N (2003) Biodiversity hotspots revisited. Bioscience 53:916–917

Myers N, Mittermeier RA, Mittermeier CG, da Fonseca GAB, Kent J (2000) Biodiversity hotspots for conservation priorities. Nature 403:853–858

Paulsch A (2002) Development and application of a classification system for undisturbed and disturbed tropical montane forests based on vegetation structure. Dissertation, University of Bayreuth

Proctor J, Bruijnzeel LA, Baker AJM (1999) What causes the vegetation types on Mount Bloomfield, a coastal tropical mountain of the western Philippines? Glob Ecol Biogeogr 8:347–354

Schrumpf M, Guggenberger G, Valarezo C, Zech W (2001) Development and nutrient status along an altitudinal gradient in the Southern Ecuadorian Andes. Tropical montane rain forest soils. Die Erde 132:43–59

Simpson N (2004) Saving threatened plants and birds in the Andes of Ecuador. Plant Talk 37:17–21

Smith AR, Pryer KM, Schuettpelz E, Korall P, Schneider H, Wolf PG (2006) A classification for extant ferns. Taxon 55:705–731

Tanner EVJ (1977) Four montane rain forests of Jamaica: a quantitative characterization of the floristics, the soils and the folira mineral levels, and a discussion of the interrelations. J Ecol 65:883–918

Tanner EVJ, Vitousek PM, Cuevas E (1998) Experimental investigation of nutrient limitation of forest growth on wet tropical mountains. Ecology 79:10–22

Tryon RM, Stolze RG (1989a) Pteridophyta of Peru. Part I. 1. Ophioglossaceae-12. Cyatheaceae. Fieldiana Bot NS 20:111–138

Tryon RM, Stolze RG (1989b) Pteridophyta of Peru. Part II: 13. Pteridaceae-15. Dennstaedtiaceae. Fieldiana Bot NS 22:1–128

Tryon RM, Stolze RG (1991) Pteridophyta of Peru. Part IV. 17. Dryopteridaceae. Fieldiana Bot NS 27:1–176

Tryon RM, Stolze RG (1992) Pteridophyta of Peru. Part III. 16. Thelypteridaceae. Fieldiana Bot NS 29:1–80

Tryon RM, Stolze RG (1993) Pteridophyta of Peru. Part V. 18. Aspleniaceae-21. Polypodiaceae. Fieldiana Bot NS 32:1–190

Tryon RM, Stolze RG (1994) Pteridophyta of Peru. Part VI. 2. Marsileaceae-28. Isoetaceae. Fieldiana Bot NS 34:1–123

Tuomisto H, Ruokolainen K, Kalliola R, Linna A, Danjoy W, Rodriguez Z (1995) Dissecting Amazonian biodiversity. Science 269:63–66

Valencia R, Foster RB, Villa G, Condit R, Sbenning J-C, Hernández C, Romoleroux K, Losos E, Magård E, Balslev H (2004) Tree species distributions and local habitat variation in the Amazon: large forest plot in eastern Ecuador. J Ecol 92:214–229

Wilcke W, Yasin S, Valarezo C, Zech W (2001) Nutrient budget of three microcatchments under tropical montane forest in Ecuador. Die Erde 132:61–74
Acknowledgements
We thank Nicole Mandl and S. Robbert Gradstein for field assistance and scientific input, the Deutsche Forschungsgemeinschaft (DFG, grant GR 1588/7) for financial support, and the Fundacíon Científica San Francisco for providing research facilities.
Electronic supplementary material
Below is the link to the electronic supplementary material.
About this article
Cite this article
Kessler, M., Lehnert, M. Do ridge habitats contribute to pteridophyte diversity in tropical montane forests? A case study from southeastern Ecuador. J Plant Res 122, 421–428 (2009). https://doi.org/10.1007/s10265-009-0231-y
Received:

Accepted:

Published:

Issue Date:
Keywords
Andes

Cloud forests

Ferns

Habitat specialization

Slopes