Abstract
Structures and levels of anthocyanin-related compounds were analyzed during the development of marginal picotee petals in white-center and white-marginal cultivars of Petunia hybrida. In the white site of a white-center cultivar, higher concentrations of quercetin derivatives possessing 7-O-glucoside and/or 3′-O-glucoside occurred than in the colored site, suggesting that these two quercetin glycosylation steps are site-specifically regulated. The boundary areas of petal coloration were composed of cells showing various color densities, whose uniformity among adjacent cells varied between these cultivars. These results indicate diversity in spatiotemporal regulation of anthocyanin biosynthesis and flavonol glycosylations between Petunia cultivars during marginal picotee formation.
Access options
Buy single article
Instant access to the full article PDF.
USD 39.95
Price excludes VAT (USA)
Tax calculation will be finalised during checkout.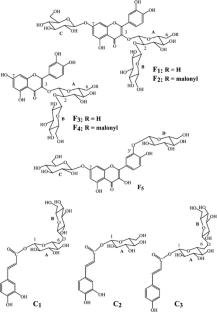 References
Fukui Y, Kusumi T, Yoshida K, Kondo T, Matsuda C, Nomoto K (1998) Structures of two diacylated anthocyanins from Petunia hybrida cv. Surfinia Violet Mini. Phytochem 47:1409–1416

Griesbach RJ, Asen S (1990) Characterization of the flavonol glycosides in petunia. Plant Sci 70:49–56

Griesbach RJ, Asen S, Leonhardt BA (1991) Petunia hybrida anthocyanins acylated with caffeic acid. Phytochem 30:1729–1731

Hoshino A, Johzuka-Hisatomi Y, Iida S (2001) Gene duplication and mobile genetic elements in the morning glories. Gene 7:1–10

Inagaki Y, Hisatomi Y, Suzuki T, Kasahara K, Iida S (1994) Isolation of a Suppressor-mutator/Enhancer-like transposable element, Tpn1, from Japanese morning glory bearing variegated flowers. Plant Cell 6:375–383

Itoh Y, Higeta D, Suzuki A, Yoshida H, Ozeki Y (2002) Excision of transposable elements from the chalcone isomerase and dihydroflavonol 4-reductase genes may contribute to the variegation of the yellow-flowered carnation (Dianthus caryophyllus). Plant Cell Physiol 43:578–585

Koseki M, Goto K, Masuta C, Kanazawa A (2005) The star-type color pattern in Petunia hybrida "Red Star" flowers is induced by the sequence-specific degradation of the chalcone synthase RNA. Plant Cell Physiol 46:1879–1883

Nielsen JK, Olsen CE, Petersen MK (1993) Acylated flavonol glycosides from cabbage leaves. Phytochem 34:539–544

Saito R, Fukuta N, Ohmiya A, Itoh Y, Ozeki Y, Kuchitsu K, Nakayama M (2006) Regulation of anthocyanin biosynthesis involved in the formation of marginalpicotee petals in Petunia. Plant Sci 170:828–834

Slimestad R, Aaberg A, Andersen ØM (1999) Acylated anthocyanins from petunia flowers. Phytochem 50:1081–1086

Tatsuzawa F, Toya Y, Watanabe H, Hirayama Y, Shinoda K, Hara R, Seki H, Ando T (2004) Acylated peonidin 3-rutinoside-5-glucosides from commercial petunia cultivars with pink flowers. Heterocycles 63:509–517

van Blokland R, Van der Geest N, Mol JNM, Kooter JM (1994) Transgene-mediated suppression of chalcone synthase expression in Petunia hybrida results from an increase in RNA turnover. Plant J 6:861–877

Veit M, Geiger H, Czygan FC, Markham KR (1990) Malonylated flavone 5-O-glucosides in the barren sprouts of Equisetum arvense. Phytochem 29:2555–2560
Acknowledgments
We thank Dr. Keiichi Tanaka (National Institute of Fruit Tree Science) for his kind assistance with NMR measurements. This work was supported by a Grant-in-Aid from the ministry of Agriculture, Forestry and Fisheries of Japan.
Electronic supplementary material
Below are the links to the electronic supplementary material.
About this article
Cite this article
Saito, R., Kuchitsu, K., Ozeki, Y. et al. Spatiotemporal metabolic regulation of anthocyanin and related compounds during the development of marginal picotee petals in Petunia hybrida (Solanaceae). J Plant Res 120, 563–568 (2007). https://doi.org/10.1007/s10265-007-0086-z
Received:

Accepted:

Published:

Issue Date:

DOI: https://doi.org/10.1007/s10265-007-0086-z
Keywords