Abstract
The daily variations in the in situ CO2 exchange of the reproductive organs of Durio zibethinus trees, growing in an experimental field at University Putra Malaysia (UPM), were examined at different growth stages. Reproductive organs emerged on the leafless portions of branches inside the crown. The photon flux densities (PFD) in the chambers used for the measurements were less than 100 μmol m−2  s−1 and were 40% of the PFD outside of the crown. The daytime net respiration rate and the nighttime dark respiration rate were higher at the time of flower initiation and during the mixed stages, when flower buds, flowers, and fruit coexist, than at the flower bud stage. The net respiration rate was lower than the daytime dark respiration rate at given temperatures, especially at the flower bud and fruit stages. Conversely, the net respiration rate was similar to the daytime dark respiration rate at the mixed stage. Photosynthetic CO2 refixation reduced the daily respiratory loss by 17, 5, 0.3, and 24% at the flower bud, flower initiation, mixed, and fruit stages, respectively.
Access options
Buy single article
Instant access to the full article PDF.
USD 39.95
Price includes VAT (USA)
Tax calculation will be finalised during checkout.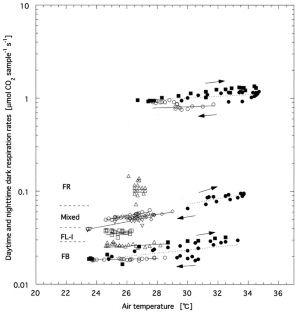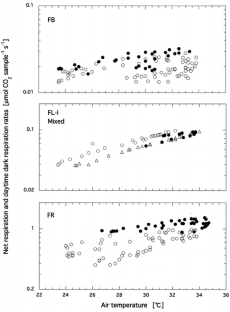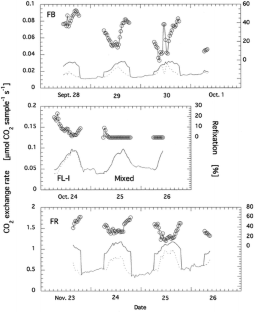 References
Adu-Bredu S, Yokota T, Hagihara A (1997) Temperature effect on maintenance and growth respiration coefficients of young, field-grown hinoki cypress (Chamaecyparis obtusa). Ecol Res 12:357–362

Amothor JS (1989) Respiration and crop productivity. Springer-Verlag, New York

Bazzaz FA, Carlson RW, Harper JL (1979) Contribution to reproductive effort by photosynthesis of flowers and fruits. Nature 279:554–555

Birkhold KT, Koch KE, Darnell RL (1992) Carbon and nitrogen economy of developing rabbiteye blueberry fruit. J Am Soc Hort Sci 117:139–145

Butler DR, Landsberg JJ (1981) Respiration rates of apple trees estimated by CO2-efflux measurements. Plant Cell Env 4:153–159

Dick JM, Smith R, Jarvis PG (1990) Respiration rate of male and female cones of Pinus contorta. Trees 4:142–149

Dickmann DI, Kozlowski TT (1968) Mobilization by Pinus resinosa cones and shoots of C14-photosynthate from needles of different ages. Am J Bot 55:900–906

Dickmann DI, Kozlowski TT (1970) Photosynthesis by rapidly expanding green strobili of Pinus resinosa. Life Sci 9:549–552

Eis S, Garman EH, Ebell LF (1965) Relation between cone production and diameter increment of Douglas fir (Pseudotsuga menziesii (Mirb.) Franco), grand fir (Abies grandis (Dougl.) Lindl.), and western white pine (Pinus monticola Dougl). Can J Bot 43:1553–1559

Hagihara A, Hozumi K (1991) Respiration. In: Raghavendra AS (ed) Physiology of trees. Wiley, New York, pp 87–110

Harper JL (1977) Population biology of plants. Academic Press, London

Huang T-B, Darnell RL, Koch KE (1992) Water and carbon budgets of developing citrus fruit. J Am Soc Hort Sci 117:287–293

Idris MZA (1990) Cultivation of tropical fruits. Hi-tech Enterprise, Kuala Lumpur

Jarvis PG, Leverenz JW (1983) Productivity of temperate, deciduous and evergreen forests. In: Lange OL, Nobel PS, Osmond CB, Ziegler H (eds) Physiological plant ecology IV. Springer-Verlag, New York, pp 232–280

Jones HG (1981) Carbon dioxide exchange of developing apple (Malus pumila Mill.) fruits. J Exp Bot 32:1203–1210

Koppel A, Troeng E, Linder S (1987) Respiration and photosynthesis in cones of Norway spruce (Picea abies L. Karst.). Trees 1:123–128

Linder S, Troeng E (1981) The seasonal course of respiration and photosynthesis in strobili of Scots pine. For Sci 27:267–276

McCree KJ (1974) Equations for the rate of dark respiration of white clover and grain sorghum, as functions of dry weight, photosynthetic rate, and temperature. Crop Sci 14:509–514

McCree KJ, Silsbury JH (1978) Growth and maintenance requirements of subterranean clover. Crop Sci 18:13–18

Ogawa K (2002) Quantitative analysis of carbon balance for reproduction in woody species. J Plant Res 115:449–453

Ogawa K, Takano Y (1997) Seasonal courses of CO2 exchange and carbon balance in fruits of Cinnamomum camphora. Tree Physiol 17:415–420

Ogawa K, Hagihara A, Hozumi K (1988) Photosynthesis and respiration in cones of hinoki (Chamaecyparis obtusa). J Jpn For Soc 70:220–226

Ogawa K, Furukawa A, Hagihara A, Abdullah AM, Awang M (1995) In situ CO2 gas-exchange in fruits of a tropical tree, Durio zibethinus Murray. Trees 9:241–246

Ogawa K, Furukawa A, Abdullah AM, Awang M (1996) Analysis of translocatory balance in durian (Durio zibethinus) fruit. Tree Physiol 16:315–318

Ogawa K, Furukawa A, Abdullah AM, Awang M (2003) Diurnal CO2 exchange variation in evergreen leaves of the tropical tree, durian (Durio zibethinus Murray). Tropics 13:17–24

Paembonan SA, Hagihara A, Hozumi K (1991) Long-term measurement of CO2 release from the aboveground parts of a hinoki forest tree in relation to air temperature. Tree Physiol 8:399–405

Rook DA, Sweet GB (1971) Photosynthesis and photosynthate distribution in Douglas-fir strobili grafted to young seedlings. Can J Bot 49:13–17

Smith NJH, Williams JT, Plucknett DL, Talbot JP (1992) Tropical forests and their crops. Cornell University Press, Ithaca

Sprugel DG, Ryan MG, Brooks JR, Vogt KA, Martin TA (1995) Respiration from the organ level to the stand. In: Smith WK, Hinckley TM (eds) Resource physiology of conifers. Academic Press, San Diego, pp 255–299

Subhandrabandhu S, Schneemann JMP, Verheij EWM (1991) Durio zibethinus Murray. In: Verheij EWM, Coronel RE (eds) Edible fruits and nuts. Plant resources of South-east Asia 2. Pudoc, Wageningen, pp 156–161

Tappeiner JC (1969) Effect of cone production on branch, needle, and xylem ring growth of Sierra Nevada Douglas-fir. For Sci 15:171–174

Teich AH (1975) Growth reduction due to cone crops on precocious white spruce provenances. Bi-monthly Res Notes Can For Serv 31:6

Whiley AW, Schaffer B, Lara SP (1992) Carbon dioxide exchange of developing avocado (Persea americana Mill.) fruit. Tree Physiol 11:85–94

Yaacob O, Subhadrabandhu S (1995) The production of economic fruits in South-east Asia. Oxford University Press, Oxford

Yokoi Y, Kimura M, Hogetsu K (1978) Quantitative relationships between growth and respiration. I. Components of respiratory loss and growth efficiencies of etiolated red bean seedlings. Bot Mag Tokyo 91:31–41
Acknowledgements
We wish to thank Professor A. Hagihara, University of the Ryukyus, for his helpful advice, Mr. J. Shamsuddin, Universiti Putra Malaysia (UPM), for generously supporting our research, and the staff of the experimental field station at UPM for access to their facilities. This work is a part of the Malaysia–Japan joint research project between Forest Research Institute of Malaysia (FRIM), UPM and National Institute for Environmental Studies (NIES), Japan. This work was supported by a Global Environmental Research Program Grant (No. E-4) from the Environmental Agency, Japan.
About this article
Cite this article
Ogawa, K., Abdullah, A.M., Awang, M. et al. Diel changes in the CO2 exchange rates of reproductive organs of the tropical tree Durio zibethinus. J Plant Res 118, 187–192 (2005). https://doi.org/10.1007/s10265-005-0207-5
Received:

Accepted:

Published:

Issue Date:
Keywords
Dark respiration

Flower

Flower bud

Fruit

Net respiration

Photosynthetic CO2 refixation