Abstract
Several empirical studies have analyzed which firm characteristics influence government evaluators in the decision to select specific firms to participate in Research and Development and Innovation subsidy programs. However, few authors have provided a precise analysis about the selection process of applications submitted for public support. The aim of the present article is to assess differences in investment project characteristics (expected impact) between firms with approved and non-approved applications and to understand which kinds of projects are selected for a subsidy. The analysis is focused on the case study of applications submitted to the Portuguese Innovation Incentive System (SI Innovation) between 2007 and 2013. The impact variables under study are those used in the selection procedure to grant the firm a subsidy, namely the expected impact on exports, value creation, productivity, patent application and qualified employment. Using a counterfactual analysis and Propensity Score Matching estimators, the results show that firms with approved applications are those that expect to invest more and forecast a higher increase in exports and productivity as the result of the investment project. However, these firms in comparison with the control group (those with non-approved applications) have investment projects with a lower contribution to growth and lower economic efficiency (return on investment in terms of productivity). The conclusions of this study could be useful for policy-makers since it provides evidence about firms' strategic choice concerning investment projects submitted for an Innovation subsidy.
Access options
Buy single article
Instant access to the full article PDF.
USD 39.95
Price excludes VAT (USA)
Tax calculation will be finalised during checkout.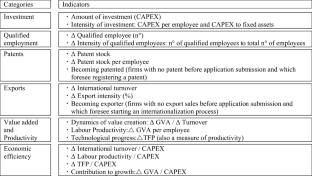 Notes
An ex-ante analysis refers to an evaluation done before investment project implementation in order to assess which applications will be granted.

Public support for RDI can be direct or indirect. Direct public support refers to direct public expenditure on RDI, such as subsidies, grants and R&D infrastructure, whereas indirect public support is linked to fiscal incentives, public procurement, technology transfer and legal framework (Conte et al. 2009:13).

Net Present Value (NPV) corresponds to the sum of the present value of the project's expected cash flows (positive and negative) occurring over the life of the project; Internal Rate of Return (IRR) is the rate of return earned by the project based on discounted cash flows; Pay Back Period is the required period of time for nominal cash flow from the project to cover the initial amount of investment (Damodaran 2006: 199–211).

"Total factor productivity (TFP) is the portion of output not explained by the amount of inputs used in production. As such, its level is determined by how efficiently and intensely the inputs are utilized in production" Comin (2008: 6685).

Credit rating refers to evaluation of the firm's ability to meet its financial obligations. The higher the score the lower the risk and the greater the firm's ability to attract debt capital.

The transversal characteristic of SI Innovation, SI IDT and SI Qualification was their integration in both the Thematic Operational Program, through the Operational Competitiveness Program (COMPETE), and the Regional Operational Program (excluding the Azores and Madeira).

For more details see Resolução de Conselho de Ministros n° 86/2007 of 3 July.

Portaria n° 353-C/2009 of 3 April and Portaria n° 1103/2010 of 25 October.

Funding of R&D activities, which comes before innovation, was provided by the SI IDT.

Also delimited by Decreto-Lei n° 287/2007 of 17 August (line l of article 3), where innovation corresponds to the "implementation of a new or significantly improved solution for the company, new product, process, organizational method or marketing, with the aim of strengthening its competitive position, increasing performance, or knowledge".

For more details see Appendix 2 of SI Innovation regulation (Portaria n° 1464/2007 of 15 November and its amendments).

Productivity was measured by: i) gross added value per employee; ii) gross operating surplus by assets ratio; iii) gross value of production by intermediate consumption ratio.

For more details see the following Portuguese legislation: Decreto-Lei n° 287/2007 of 17 August, Portaria n° 1464/2007 of 15 November, Portaria n° 353-C/2009 of 3 April, Portaria n° 1103/2010 of 25 October and Portaria n° 274/2012 of 6 September.

This distinction is only made in the call for applications from 2009.

For more details see for example calls for application n° 04/SI/2010, 05/SI/2011, 02/SI/2012 and 12/SI/2012.

For more details see article 5 of SI Innovation regulation (Portaria n° 1464/2007 of 15 November and its amendments).

For example: i) crowding out effect of private R&D expenditure – when all or part of public expenditure replaces the firm's own investment (see e.g. Busom 2000; Erden and Holcombe 2005; Aerts and Thorwarth 2008; Cavallo and Daude 2011); ii) deadweight effect - firms would have carried out their strategic investment project even in the absence of subsidies (see e.g. Bronzini and de Blasio 2006; Skuras et al. 2006; Tokila et al. 2008); iii) subsidized firms' inefficiency – in the post-intervention period, subsidized firms show a lower increase of economic performance than non-subsidized firms (see e.g. Bergström 2000; Bernini and Pelligrini 2011; Jorge and Suárez 2011); iv) ineffectiveness of public support in achieving targets, e.g. no effects on internationalization (Silva 2011), no effects on employment (Wallsten 2000; Sissoko 2011) or in alleviating financing constraints (Sissoko 2011; Silva and Carreira 2012).

With the Stata command "teffects psmatch".

With the Stata command "psmatch2".

In 2010 new conditions of access to SI Innovation were introduced (see e.g. call for application n° 04/SI/2010, 05/SI/2011, 02/SI/2012 and 12/SI/2012). Reporting intensity of investment above a threshold was a mandatory requirement for access to finance through SI Innovation.

Criterion C3 - Creation of highly-skilled jobs.

Dynamics of value creation index = ΔGAV / ΔTurnover, where GAV is the gross added value.

Labour productivity corresponds to gross added value per employee.

Crépon et al. (1998) used in their study patent per employee as a measure of innovation output.

The original sample has 5880 observations, but for some applications relevant information is missing. We also excluded all multi-region projects (destined to be implemented in more than one region at NUTS 2 level), due to their small representativeness (34 applications) and the difficulty of matching these observations.

Probit regression model was also performed (results available on request), but compared to the Logit regression model it shows weaker results in terms of Log likelihood and Pseudo R2.

We consider that a firm is financially constrained if it has difficulty in accessing external finance (e.g. due to high cost or collateral requirement) or because external financing is not available (e.g. due to high risk or a lack of collateral), and for one of these reasons firms will not be able to make the investment or part of it.
References
Abadie A, Imbens GW (2016) Matching on the estimated propensity score. Econometrica 84(2):781–807. https://doi.org/10.3982/ECTA11293

Aerts K, Thorwarth S. (2008) Additionality effects of public R&D funding: "R" versus "D". FBE Research Report MSI_0811, K. U. Leuven - Faculty of Business and Economics, pp. 1–19

Aitken B, Hanson G, Harrison A (1997) Spillovers, Foreign Investment, and Export Behavior. J Int Econ 43(1–2):103–132

Aghion P, Bloom N, Blundell R, Griffith R, Howitt P (2005) Competition and Innovation: An inverted-U relationship. Q J Econ 120(2):701–728

Almus M, Czarnitzki D (2003) The effects of Public R&D Subsidies on Firms' Innovation Activities: The Case of Eastern Germany. J Bus Econ Stat 21(2):226–236. https://doi.org/10.1198/073500103288618918

Alvarez R, López RA (2005) Exporting and Performance: Evidence from Chilean Plants. Can J Econ 38(4):1384–1400

Arrow K (1962) Economic Welfare and the Allocation of Resources for Invention. In: Universities-National Bureau Committee for Economic Research, Committee on Economic Growth of the Social Science Research Council (ed) The Rate and Direction of Inventive Activity: Economic and Social Factors. Princeton University Press, pp 609–626

Aschhoff B (2009). Who Gets the Money? The Dynamics of R&D Project Subsidies in Germany. ZEW Discussion Papers, No. 08–018 [rev.], p. 37

Autoridade de Gestão do COMPETE (2012) Programa Operacional Temático Fatores de Competitividade 2007–2013, Portugal. Available at: http://pofc.qren.pt/ResourcesUser/2012/POFC/20121219_PO_Factores_Competitividade.pdf (accessed on 12 April 2018)

Bannò M, Morandi V, Varum CA (2013) Public policy for innovation and internationalization: are they worth it? Appl Econ Lett 20(10):927–930. https://doi.org/10.1080/13504851.2013.765535

Basile R (2001) Export behaviour of Italian manufacturing firms over the nineties: the role of innovation. Res Policy 30:1185–1201

Becker Sand Ichino A (2002) Estimation of average treatment effects based on propensity scores. Stata J 2:358–377

Bergström F (2000) Capital Subsidies and the Performance of Firms. Small Bus Econ 14(3):183–193. https://doi.org/10.1023/A:1008133217594

Bernard AB, Jensen JB (2004) Why Some Firms Export? Rev Econ Stat 86(2):561–569

Bernini C, Pellegrini G (2011) How are growth and productivity in private firms affected by public subsidy? Evidence from a regional policy. Reg Sci Urban Econ 41(3):253–265. https://doi.org/10.1016/j.regsciurbeco.2011.01.005

Blanes JV, Busom I (2004) Who participates in R&D subsidy programs?: The case of Spanish manufacturing firms. Res Policy 33(10):1459–1476. https://doi.org/10.1016/j.respol.2004.07.006

Boermans MA, Roelfsema H (2016) Small firm internationalization, innovation, and growth. IEEP 13:283–296. https://doi.org/10.1007/s10368-014-0310-y

Braunerhjelm P (1996) The relation between firm-specific intangibles and exports. Econ Lett 53:213–219

Bronzini R, de Blasio G (2006) Evaluating the impact of investment incentives: The case of Italy's Law 488/1992. J Urban Econ 60(20):327–349. https://doi.org/10.1016/j.jue.2006.03.005

Busom I (2000) An Empirical Evaluation of the Effects of R&D Subsidies. Econ Innov New Technol 9:111–148. https://doi.org/10.1080/10438590000000006

Caliendo M, Kopeining S (2008) Some practical guidance for the implementation of propensity score matching. J Econ Surv 22(1):31–72. https://doi.org/10.1111/j.1467-6419.2007.00527.x

Canepa A, Stoneman P (2008) Financial Constraints to Innovation in the UK: Evidence from CIS2 and CIS3. Oxford Economic Papers New Series 60(4):711–730. https://doi.org/10.1093/oep/gpm044

Cavallo E, Daude C (2011) Public Investment in Developing Countries: A Blessing or a Curse? J Comp Econ 39(1):65–81. https://doi.org/10.1016/j.jce.2010.10.001

Crépon B, Duguet E, Mairesse J (1998) Research, Innovation And Productivity: An Econometric Analysis At The Firm Level. Econ Innov New Technol 7(2):115–158. https://doi.org/10.1080/10438599800000031

Cerulli G (2015) Econometric Evaluation of Socio-Economic Programs – Theory and Applications. Springer-Verlag, Berlin Heidelberg. https://doi.org/10.1007/978-3-662-46405-2

Cincera M (2003) Financing constraints, fixed capital and R&D investment decisions of Belgian firms. In Butzen and Fuss (ed) Firms' Investment and Finance Decisions: Theory and Empirical Methodology. Edwar Elgar, Cheltenham, pp.129–147

Cobb C W, Douglas P H (1928) A Theory of Production. The American Economic Review 18(1) (Supplement):139–165

Comin D (2008) Total Factor Productivity. In: Blume D (ed) The New Palgrave Dictionary of Economics. Palgrave Macmillan, London, pp 6685–6687. https://doi.org/10.1007/978-1-349-58802-2_1715

Commissão de Acompanhamento do POFC (2015). Relatório de Execução 2014 do COMPETE, POFC - Programa Operacional Fatores de Competitividade, 304 p. Available at: http://www.pofc.qren.pt/compete/monitorizacao-e-avaliacao/relatorios-de-execucao/compete/entity/relatorio-de-execucao-compete%2D%2D2014?fromlist=1(accessed 24 November 2015)

Comission (2007). EU Consumer Policy strategy 2007–2013 – Empowering consumers, enhancing their welfare, effectively protecting them. COM(2007) 99 final

Conte A, Schweizer P, Dierx A, Ilzkovitz F (2009) An analysis of the efficiency of public spending and national policies in the area of R&D. Occasional Papers 54, European Economy, European Commission, Directorate-General for Economic and Financial Affairs Publications, Brussels, p. 61

Czarnitzki D, Lopes-Bento C (2014) Innovation Subsidies: Does the Funding Source Matter for Innovation Intensity and Performance? Empirical Evidence from Germany. Ind Innov 21(5):380–409. https://doi.org/10.1080/13662716.2014.973246

Czarnitzki D, Fier A (2002) Do Innovation Subsidies Crowd Out Private Investment? Evidence from the German Service Sector. Appl Econ Q 48(1):1–25

Damodaran A (2006) Applied Corporate Finance – A User's Manual, 2nd edn. John Wiley & Sons, Inc, Hoboken

Duguet E (2004) Are R&D subsidies a substitute or a complement to privately funded R&D? An Econometric analysis at the firm level. Revue d' Économie Politique 114(2):245–274. https://doi.org/10.3917/redp.142.0245

EC (2014). State of the Innovation Union, Taking stock 2010–2014, Directorate-General for Research and Innovation, European Commission, Brussels, 101 p

Erden L, Holcombe RG (2005) The effects of public investment on private investment in developing economies. Public Finance Review 33(5):575–602. https://doi.org/10.1177/1091142105277627

Fakih A, Ghazalian PL (2013) Why Some Firms Export? An Empirical Analysis for Manufacturing Firms in the MENA Region. IZA Discussion Paper 7172:1–31

Filippetti A, Frenz M, Ietto-Gillies G (2011) Are Innovation and Internationalization Related? An Analysis of European Countries. Ind Innov 18(5):437–459. https://doi.org/10.1080/13662716.2011.583461

González X, Pazó C (2008) Do public subsidies stimulate private R&D spending? Res Policy 37:371–389. dx. https://doi.org/10.1016/j.respol.2007.10.009

Greenaway D, Guariglia A, Kneller R (2007) Financial Factors and Exporting Decisions. J Int Econ 73(2):377–395

Hud M, Hussinger K (2015) The impact of R&D subsidies during the crisis. Res Policy 44(10):1844–1855. https://doi.org/10.1016/j.respol.2015.06.003

Iammarino S, Sanna-Randaccio F, Savona M (2009) The perception of obstacles to innovation. Foreign multinationals and domestic firms in Italy. Revue d' Économie Industrielle 125:75–104. https://doi.org/10.4000/rei.3953

Jorge J, Suárez C (2011) Influence of R&D subsidies on efficiency: the case of Spanish manufacturing firms. Cuadernos de Economía y Dirección de la Empresa 14:185–193. https://doi.org/10.1016/j.cede.2010.11.001

Karhunen H, Huovari J (2015) R&D Subsidies and productivity in SMEs. Small Bus Econ 45(4):805–823. https://doi.org/10.1007/s11187-015-9658-9

Katz ML, Shapiro C (1985) Network Externalities, Competition, and Compatibility. Am Econ Rev 75(3):424–440

Khandker SR, Koolwal GB, Samad HA (2010) Handbook on Impact Evaluation - Quantitative Methods and Practices. World Bank, Washington. https://doi.org/10.1596/978-0-8213-8028-4

Lee N, Sameen H, Cowling M (2015) Access to finance for innovative SMEs since the financial crisis. Res Policy 44(2):370–380. https://doi.org/10.1016/j.respol.2014.09.008

Leuven E, Sianesi B (2003) PSMATCH2: Stata module to perform full Mahalanobis and propensity score matching, common support graphing, and covariate imbalance testing. Statistical Software Components S432001, Boston College Department of Economics, revised 12 Feb 2014

Meliá MR, Pérez AB, Dobón SR (2010) The influence of innovation orientation on the internationalisation of SMEs in the service sector. Serv Ind J 30(5):777–791. https://doi.org/10.1080/02642060802342679

Observatório do QCA III (2007). Quadro de Referência Estratégica Nacional – Portugal 2007–2013, Ministério do Ambiente, do Ordenamento do Território e do Desenvolvimento Regional, Lisboa, Portugal, 145 p. Available at: http://www.qren.pt/np4/file/663/1_QREN_Quadro_de_Refer_ncia_Estrat_gico_.pdf (accessed in 23th November 2015)

Oxford (2010) Oxford Dictionary of English, 3rd Edition. Angus Stevenson (ed), Oxford University Press, New York

Pamukçu T, Cincera M (2001) Analyse des déterminants de l'innovation technologique dans un Nouveau Pays industrialisé : une étude économétrique sur données d'entreprises dans le secteur manufacturier turc. Economie & Prévision 2001(4):139–158

Paunov C (2012) The global crisis and firm' investments in innovation. Res Policy 41(1):24–35

Rodil Ó, Vence X, Sánchez MC (2016) The relationship between innovation and export behavior: The case of Galician firms. Technological Forecasting & Social Change 113:248–265. https://doi.org/10.1016/j.techfore.2015.09.002

Rosenbaum P, Rubin D (1983) The central role of the propensity score in observational studies for causal effects. Biometrika 70:41–55

Santos A, Cincera M (2017) Access to finance as a pressing problem: Evidence from innovative European firms. iCite Working Paper 2017–022, p. 32

Santos A, Cincera M, Neto P, Serrano M M (2016a) The Selection Process of Applications to the Portuguese Innovation Incentive System: Who Gets Financial Support? In Proceedings of 24th Workshop APDR – Entrepreneurship and Performance in Regional Context. Lisboa, Universidade Lusófona, 17 March, pp. 212–225. http://www.apdr.pt/publicacoes/atas-proceedings/

Santos A, Cincera M, NetoP, SerranoM M (2016b) Who Gets Public Support to Innovation? Evidence from the Portuguese Alentejo Region. In Dotti N F (ed.) Learning from implementation and evaluation of the EU Cohesion Policy: Lessons from a research-policy dialogue, pp. 60–76. RSA Research Network on Cohesion Policy, Brussels. www.regionalstudies.org

Santos A, Cincera M, Neto P, Serrano MM (2016c) Productivity and employment in firms' access to public funding to support innovation. Public Policy Portuguese Journal, Special Issue: Public Policies 20201(1):6–27. Available at: http://www.umpp.uevora.pt/publicacoes/Public-Policy-Portuguese-Journal. Accessed on 20 September 2017

Santos A, Serrano MM, Neto P (2015) A long-term mortality analysis of subsidized firms in rural areas: an empirical study in the Portuguese Alentejo region. Eur Econ Rev 6(1):125–151. https://doi.org/10.1007/s40822-015-0035-4

Schumpeter J A (1934) The theory of economic development - an inquiry into profits, capital, credit, interest, and the business cycle. Harvard Economic Studies 46, Translated by Redvers Opie, p. 255

Siedschlag I, Zhang X (2015) Internationalisation of firms and their innovation and productivity. Econ Innov New Technol 24(3):183–203. https://doi.org/10.1080/10438599.2014.918439

Silva A (2011) The role of subsidies for exports: Evidence from Portuguese manufacturing firms. GEE Papers 35, Gabinete de Estratégia e Estudos, Ministério da Economia e da Inovação, p. 19

Silva F, Carreira C (2012) Do financial constraints threaten the innovation process? Evidence from Portuguese firms. Econ Innov New Technol 21(8):701–736. https://doi.org/10.1080/10438599.2011.639979

Sissoko A (2011) R&D subsidies and firm-level productivity: Evidence from France. Discussion Paper 2011–2, Institut de Recherches Économiques et Sociale de l'Université Catholique de Louvain (IRES). Available at: http://sites.uclouvain.be/econ/DP/IRES/2011002.pdf. Accessed 20 July 2016

Skuras D, Tsekouras K, Dimara E, Tzelepis D (2006) The effects of regional capital subsidies on productivity growth: A case study of the Greek food and beverage manufacturing industry. J Reg Sci 46(2):355–381. https://doi.org/10.1111/j.0022-4146.2006.00445.x

Tokila A, Haapanen M, Ritsilä J (2008) Evaluation of investment subsidies: when is deadweight zero? Int Rev Appl Econ 22(5):585–600. https://doi.org/10.1080/02692170802287631

Wallsten SJ (2000) The Effects of Government-Industry R&D Programs on Private R&D: The Case of the Small Business Innovation Research Program. RAND J Econ 31(1):82–100 http://www.jstor.org/stable/2601030
Acknowledgements
The authors are grateful to the Comissão de Coordenação e Desenvolvimento Regional do Alentejo (CCDRA) for the information provided in the framework of the activities developed by UMPP – Unidade de Monitorização de Políticas Públicas/Public Policy Monitoring Unit at the University of Évora (Portugal). Special thanks go to Peter Berkowitz (DG-Regio), Wolfgang Petzold (Committee of the Regions), Nicola Francesco Dotti (Vrije Universiteit Brussel), Frank Crowley (University College Cork), Oto Potluka (University of Basel), Prof. Maria Luisa Mancusi (Università Cattolica del Sacro Cuore- Milan), Prof. Pierre Mohnen (Maastricht University), Prof. Julien Ravet (Université libre de Bruxelles), Prof. Bruno van Pottelsberghe (Université libre de Bruxelles) and the two anonymous referees for valuable comments and suggestions on the earlier version of the article.
Additional information
Publisher's note
Springer Nature remains neutral with regard to jurisdictional claims in published maps and institutional affiliations.
Appendices
Appendix 1: Benchmark review of literature
Appendix 2: Descriptive statistics
Appendix 3: Collinearity Diagnostics
Appendix 4: Assessing balancing quality
Appendix 5: Differences between approved and non-approved applications by region
About this article
Cite this article
Santos, A., Cincera, M., Neto, P. et al. Which projects are selected for an innovation subsidy? The Portuguese case. Port Econ J 18, 165–202 (2019). https://doi.org/10.1007/s10258-019-00159-y
Received:

Accepted:

Published:

Issue Date:

DOI: https://doi.org/10.1007/s10258-019-00159-y
Keywords
Subsidy

Innovation

Selection procedure

Propensity score matching
JEL classification