Abstract
The economic literature considers voters quasi-rational agents that care about maximizing their individual welfare when deciding on who to vote for. Voters believe that, once a politician is elected, his or her characteristics will affect policy outcomes and consequently their private welfare. To assess whether mayors' characteristics influence municipalities' financial performance, I use a dataset composed of 278 Portuguese mainland municipalities from 2003 to 2016. I find that mayors' age, education, occupation, and tenure influence the level of public investment, tax revenues, debt, and budget balances. Although most of the Portuguese voters only consider candidates' political affiliation when deciding on who to vote for, my estimates do not show any significant impact of this characteristic on the financial indicators analyzed. Therefore, these results question the way Portuguese vote by arguing that, when voting for local government representatives, they should care about other characteristics among candidates besides their political affiliation.
Access options
Buy single article
Instant access to the full article PDF.
USD 39.95
Price excludes VAT (USA)
Tax calculation will be finalised during checkout.
Notes
Admittedly, this is a strong but needed assumption. Mainly in metropolitan areas, individuals vote where they live but also benefit from the municipality's investment where they work for example. It is not easy to incorporate such characteristic in an empirical economic model without access to more detailed data on the households so, this will be one of the caveats of the paper.

This is of crucial importance for this paper because the dataset covers both of these elections and uses only Portuguese data.

The archipelagos of Madeira and Azores were established as administrative regions and their 30 municipalities are subject to an extra layer of intervention by their regional governments.

Laws 159/99 and 75/2013 define the areas of intervention of the Portuguese local governments.

Freguesias are the lowest administrative units in Portugal. They are assigned to municipalities and have very limited functions and resources.

Law 169/99 defines the responsibilities of each of the municipalities' branches.

Portugal has a multiparty system. Moreover, elections dates are defined exogenously from the perspective of the local authorities, and all municipalities have elections on the same day, every four years. This paper covers the elections that took place on December 2001, October 2005, October 2009, and September 2013.

A master thesis was presented on a similar topic at Nova School of Business and Economics by Bernardo Gonçalves. Veiga and Veiga (2019) provide a small discussion on this as well.

This belief is supported by the Hausman test (Prob > χ2 = 0.9627). I do not reject the null hypothesis of the absence of correlation between the non-observable individual effects and the explanatory variables.

Data for the remaining 30 municipalities of Madeira and Azores is used for robustness checks.

I am grateful to Alexandra Carapeto from DGAL for assisting me throughout the data gathering process.

For a more detailed description of the variables used, please refer to Table 6, which presents their main descriptive statistics.

I am grateful to Maria Rodrigues from DGAI for assisting me throughout the data gathering process.

See an example at Appendix C.

Using Portuguese data on local governments, Aidt et al. (2011) shows that higher investment levels in the election year increase the vote share differences between the incumbent and his main opponent.

In Appendix B, one can see more detailed results for every dependent variable.

In order to obtain the exact computation of the percentage change I have to perform the following operation to the coefficient of interest: PercentageChange = exp(β) − 1

I consider all the stated effects economically significant and reasonable as further discussion suggests. These significant results also hold when I used the dependent variables in euros per capita in a previous version of this paper.

The appendix for this section is available as an Online Appendix and can be requested to the author.

This belief is supported by the Pesaran CD test (Prob = 0.0000). One can reject the null hypothesis of this test, therefore residuals are correlated across entities.

More on this kind of positive spillover effects and the effect on underinvestment can be found in Dur and Staal (2008). Foucault et al. (2008) present empirical evidence for public spending interactions in French municipalities. Lopes and Peralta (2016) show empirical evidence for tax competition in Portuguese municipal corporate income tax.

I pinpoint an outlier every time the dependent variable level increased by more than 200%.

These quadratic relations are not a surprise as the inherent ability of each individual throughout his or her life is not linear. In fact, Denney and Palmer (1981) find that there is a quadratic relationship between age and "ability to solve practical problems".

The European integration had a significative impact on local governments power in the context of their financial independence from the national government. It allowed for an increase in the public investments undertaken and consequently, gave more political power to Town Councils and their mayors. See Bouvet and Dall'Erba (2010) for an in-depth approach.
References
Aidt TS, Veiga FJ, Veiga LG (2011) Election results and opportunistic policies: a new test of the rational political business cycle model. Public Choice 148 (1):21–44

Alesina AF, Troiano U, Cassidy T (2015) Old and young politicians. Tech. rep., National Bureau of Economic Research

Almeida MAP (2013) O Poder Local do Estado Novo à Democracia: Presidentes de câmara e governadores civis, 1936–2012. Leya

Aragón FM, Pique R (2015) Does politician's experience matter? Evidence from peruvian local governments. Working Paper

Baleiras RN, Santos V (2000) Behavioral and institutional determinants of political business cycles. Public Choice 104(1):121–147

Besley T, Reynal-Querol M (2011) Do democracies select more educated leaders? Am Polit Sci Rev 105(03):552–566

Besley T, Montalvo JG, Reynal-Querol M (2011) Do educated leaders matter? Econ J 121(554):205–227

Bourdain JAM (2008) Voto Estratégico em portugal: nas eleições legislativas de 2005. PhD thesis, Universidade de Lisboa

Bouvet F, Dall'Erba S (2010) European regional structural funds: how large is the influence of politics on the allocation process? JCMS: J Common Mark Stud 48 (3):501–528

Cameron AC, Gelbach JB, Miller DL (2011) Robust inference with multiway clustering. J Bus Econ Stat 29(2):238–249

Casaburi L, Troiano U (2015) Ghost-house busters: the electoral response to a large anti–tax evasion program. Q J Econ 131(1):273–314

Chattopadhyay R, Duflo E (2004) Women as policy makers: evidence from a randomized policy experiment in India. Econometrica 72(5):1409–1443

Congleton RD, Zhang Y (2013) Is it all about competence? The human capital of us presidents and economic performance. Constit Polit Econ 24(2):108–124

De Hoyos RE, Sarafidis V (2006) Testing for cross-sectional dependence in panel-data models. Stata J 6(4):482

Denney NW, Palmer AM (1981) Adult age differences on traditional and practical problem-solving measures. J Gerontol 36(3):323–328

Driscoll JC, Kraay AC (1998) Consistent covariance matrix estimation with spatially dependent panel data. Rev Econ Stat 80(4):549–560

Dur R, Staal K (2008) Local public good provision, municipal consolidation, and national transfers. Reg Sci Urban Econ 38(2):160–173

Ferreira F, Gyourko J (2009) Do political parties matter? evidence from us cities. Q J Econ 124(1):399–422

Ferreira F, Gyourko J (2014) Does gender matter for political leadership? The case of us mayors. J Public Econ 112:24–39

Fiva JH, Folke O, Sørensen RJ (2016) The power of parties: evidence from close municipal elections in norway. Scand J Econ

Foucault M, Madies T, Paty S (2008) Public spending interactions and local politics. empirical evidence from french municipalities. Public Choice 137(1-2):57

Freier R, Thomasius S (2016) Voters prefer more qualified mayors, but does it matter for public finances? Evidence for germany. Int Tax Public Financ 23(5):875–910

Gagliarducci S, Paserman MD (2011) Gender interactions within hierarchies: evidence from the political arena. Rev Econ Stud p rdr046

Glass DP (1985) Evaluating presidential candidates: who focuses on their personal attributes? Public Opin Q 49(4):517–534

Hoechle D (2007) Robust standard errors for panel regressions with cross-sectional dependence. Stata J 7(3):281

Jones BF, Olken BA (2005) Do leaders matter? National leadership and growth since world war ii. Q J Econ 120(3):835–864

Lodge M, Steenbergen MR, Brau S (1995) The responsive voter: campaign information and the dynamics of candidate evaluation. Am Polit Sci Rev 89(02):309–326

Lopes MC, Peralta S (2016) I like the way you move: tax competition in portuguese municipal corporate income tax. Working Paper

Martins P, Correia L (2015) Determinantes dos desvios orçamentais nos municípios portugueses. Revista Portuguesa de Estudos Regionais (39)

McDermott ML (2005) Candidate occupations and voter information shortcuts. J Polit 67(1):201–219

Migueis M (2012) Local government fiscal policies: left-wing vs. Right-wing portuguese municipalities. Working Paper

Monacelli D, Pazienza MG, Rapallini C (2016) Municipality budget rules and debt: is the italian regulation effective? Public Budg Financ 36(3):114–140

Müller A, Storesletten K, Zilibotti F (2016) The political color of fiscal responsibility. J Eur Econ Assoc 14(1):252–302

OECD (2018) Subnational governments in oecd countries: key data. OECD report

Petersen MA (2009) Estimating standard errors in finance panel data sets: comparing approaches. Rev Financ Stud 22(1):435–480

Pettersson-Lidbom P (2008) Do parties matter for economic outcomes? A regression-discontinuity approach. J Eur Econ Assoc 6(5):1037–1056

Popkin SL (1994) The reasoning voter: communication and persuasion in presidential campaigns. University of Chicago Press, Chicago

Porto A, Porto N (2000) Fiscal decentralization and voters'choices as control. J Appl Econ 3(1)

Ribeiro NA, Jorge S (2015) Political-ideological circumstances and local authorities' debt: evidence from portuguese municipalities. Contrib Econ 9(02):155–170

Rogers T, Fox CR, Gerber A, Shafir E (2013) Rethinking why people vote. The Behavioral Foundations of Public Policy 91

Samuelson PA (1954) The pure theory of public expenditure. Rev Econ Stat: 387–389

Schuknecht L (2000) Fiscal policy cycles and public expenditure in developing countries. Public Choice 102(1):113–128

Shafir E (2013) The behavioral foundations of public policy. Princeton University Press, Princeton

Thompson SB (2011) Simple formulas for standard errors that cluster by both firm and time. J Financ Econ 99(1):1–10

Tiebout CM (1956) A pure theory of local expenditures. J Polit Econ 64(5):416–424

Veiga LG, Pinho MM (2007) O poder local e a europa. Portugal: 20 Anos de Integração Europeia

Veiga LG, Veiga FJ (2005) Eleitoralismo nos municípios portugueses. Análise Social 40(177):865–889

Veiga LG, Veiga FJ (2007) Political business cycles at the municipal level. Public Choice 131(1):45–64

Veiga LG, Veiga FJ (2014) Determinants of portuguese local governments' indebtedness. NIPE Working Papers Series (16):1–32

Veiga LG, Veiga FJ (2019) The effects of electoral incentives on fiscal policy: evidence from a legislative change at the local government level. J Law Econ Org 35
Acknowledgments
I would like to acknowledge my supervisor at Tilburg University, Louis Raes, as I am gratefully indebted for his valuable guidance. The article also benefited from insightful comments from Ana Sofia Pessoa, Filipe Correia, Francisco Veiga, Linda Veiga, Raffaella Santolini, Vasco Santos, two anonymous referees, the editor Paulo Guimarães, and participants of the 12th Annual Meeting of the Portuguese Economic Journal. Any remaining errors are mine.
Additional information
Publisher's note
Springer Nature remains neutral with regard to jurisdictional claims in published maps and institutional affiliations.
Electronic supplementary material
Below is the link to the electronic supplementary material.
Appendix A: Descriptive statistics
Appendix A: Descriptive statistics
1.1

Appendix B: Estimates
1.2

Appendix C: Information bulletin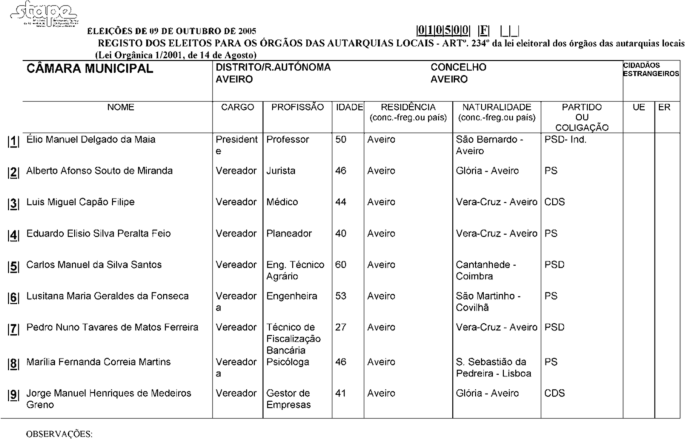 About this article
Cite this article
Gabriel, R.D. Who should you vote for? Empirical evidence from Portuguese local governments. Port Econ J 19, 5–31 (2020). https://doi.org/10.1007/s10258-019-00158-z
Received:

Accepted:

Published:

Issue Date:

DOI: https://doi.org/10.1007/s10258-019-00158-z
Keywords
Elections

Local governments

Mayors

Portugal

Public finance

Voting