Abstract
Online review forums provide customers with powerful platforms to express opinions and influence business trends, while allowing firms to collaborate and co-create value with customers. However, information overload due to the huge amount of reviews posted daily complicates the efforts of consumers to locate reliable information when making a purchase decision. Therefore, this study develops a trustworthy co-created recommendation model. The proposed model mines unboxing reviews, calculates the trust scores of the reviewers, and then generates the recommended products by combing this information with customer preferences using a multi-criteria decision-making method. An illustrative example of mobile phones demonstrates the recommendation procedure of the proposed model. The proposed model is evaluated via an empirical experiment to examine the satisfaction of study participants by using a seven-point Likert scale. An analysis of the structural equation modelling results indicates that three factors (i.e. confidence in decision quality, enhanced problem-solving ability, and satisfaction with resource expenditure) significantly and positively affect the purchase decision-making process. Moreover, the proposed model outperforms a baseline model in all four factors, ultimately increasing user satisfaction. In addition to its theoretical framework for co-creating value with customers to develop a trustworthy co-created recommendation model, as supported by various theories of trust, the proposed model provides further insights into the role of customer reviews in designing recommendation models, as well as the extent to which such models impact user decisions.
Access options
Buy single article
Instant access to the full article PDF.
US$ 39.95
Tax calculation will be finalised during checkout.
Subscribe to journal
Immediate online access to all issues from 2019. Subscription will auto renew annually.
US$ 79
Tax calculation will be finalised during checkout.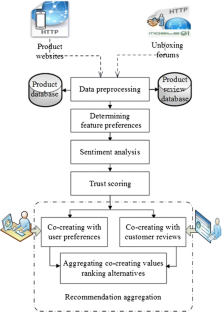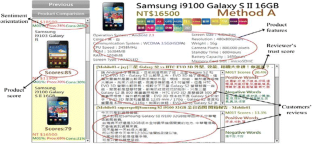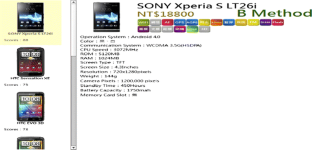 References
Aldag RJ, Power DJ (1986) An empirical assessment of computer assisted decision analysis. Decis Sci 17(4):572–588

Anderson M (2012) Local consumer review survey. http://searchengineland.com/study-72-of-consumers-trust-online-reviews-as-much-as-personal-recommendations-114152

Annett M, Kondrak GA (2008) Comparison of sentiment analysis techniques: polarizing movie blogs. In: 21st Conference on advances in artificial intelligence, Canada. Springer, pp 25–35

Baron J (1992) The effect of normative beliefs on anticipated emotions. J Pers Soc Psychol 63:320–330

Barron FH, Barret BE (1996) Decision quality using ranked attribute weights, and therefore, it can successfully reflect the user's intention. Manage Sci 42:1515–1523

Baumgarther H, Homburg C (1996) Application of structural equation modeling in marketing and consumer research. A review. Int J Res Mark 13:139–161

Beg I, Rashid T (2013) TOPSIS for hesitant fuzzy linguistic term sets. Int J Intell Syst 28(12):1162–1171

Bo W, Xiaojun G (2012) Online recruitment information as an indicator to appraise enterprise performance. Online Inf Rev 6:903–918

Bodine K, Sizemore A (2013) Executive Q&A: customer experience co-creation, for customer experience professionals. Forrester Research Inc, Cambridge

Burke R (2002) Hybrid recommender systems: survey and experiments. User Model User-Adap Inter 12(4):331–370

Cao Q, Duan WJ, Gan QW (2011) Exploring determinants of voting for the "helpfulness" of online user reviews: a text mining approach. Decis Support Syst 50(2):511–521. doi:10.1016/j.dss.2010.11.009

Chen SC (2011) Understanding the effects of technology readiness, satisfaction and electronic word-of-mouth on loyalty in 3C products. Aust J Bus Manag Res 1(3):1–9

Chen YJ, Chen YM (2012) Knowledge evolution course discovery in a professional virtual community. Knowl-Based Syst 33:1–28

Cheng HY, Lin SJ (2012) Web crawling and filtering for on-line auctions from a social network perspective. IseB 10(2):201–218

Chevalier JA, Mayzlin D (2006) The effect of word of mouth on sales: online book reviews. J Mark Res 43:345–354

Choi SH, Ahn BS (2011) Rank order-based recommendation approach for multiple featured products. Expert Syst Appl 38(6):7081–7087. doi:10.1016/j.eswa.2010.12.062

Choi SH, Cho YH (2004) A utility range-based similar product recommendation algorithm for collaborative companies. Expert Syst Appl 27:549–557

Creswick N, Westbrook JI (2010) Social network analysis of medication advice–seeking interactions among staff in an Australian hospital. Int J Med Informatics 79(6):116–125

Deng Y, Chan FTS (2011) A new fuzzy dempster MCDM method and its application in supplier selection. Expert Syst Appl 38:9854–9861

Dey L, Haque SM (2009) Opinion mining from noisy text data. Int J Doc Anal Recogn 12(3):205–226. doi:10.1007/s10032-009-0090-z

Dong ZD, Dong Q (2003) HowNet. http://www.keenage.com/html/e_index.html. Accessed 5 March 2011

Ewing MT, Napoli J (2005) Developing and validating a multidimensional nonprofit brand orientation scale. J Bus Res 58(6):841–853

Fassnacht M, Koese I (2006) Quality of the electronic services: conceptualizing and testing a hierarchical model. J Serv Res 19:20–37

Fogg BJ, Tseng H (1999) The elements of computer credibility. In: Proceedings of the SIGCHI conference on human factors in computing systems: the CHI is the limit, pp 80–87

Gangi PM, Wasko M (2009) The co-creation of value: exploring users' engagement in user-generated content websites. In: Proceedings of JAIS theory development workshop. sprouts: working papers on information systems 9(50). http://sprouts.aisnet.org/9-50

Gao H, Chen X, Fu Y (2009) Identifying WEB public sentiment of opinions. In: International symposium on web information systems and applications, China, Nan Chang, pp 270–272

Godes D, Mayzlin D (2004) Using online conversation to study word of mouth communications. Mark Sci 23(4):545–560

Hu Y, Lu R, Li X, Duan J, Chen Y (2007) Research on language modeling based on sentiment classification of text. Comput Res Develop 1469–1475

Hu WM, Xie NH, Li L, Zeng XL, Maybank S (2011) A survey on visual content-based video indexing and retrieval. IEEE Trans Syst Man Cybern Part C Appl Rev 41(6):797–819. doi:10.1109/Tsmcc.2011.2109710

Huang ZX, Lu XD, Duan HL, Zhao CH (2011) Collaboration-based medical knowledge recommendation. Artif Intell Med 55(1):13–24

Hwang CL, Yoon K (1981) Multiple attributes decision making methods and applications. Springer, Berlin

Hwang SY, Wei CP, Liao YF (2010) Coauthorship networks and academic literature recommendation. Electron Commer Res Appl 9(4):323–334. doi:10.1016/j.elerap.01.001

Jahanshahloo G, Lotfi FH, Izadikhah M (2006) An algorithmic method to extend TOPSIS for decision-making problems with interval data. Appl Math Comput 175(2):1375–1384

Jiang Y, Shang J, Liu Y (2010) Maximizing customer satisfaction through an online recommendation system: a novel associative classification model. Decis Support Syst 48(3):470–479

Jöreskog KG, Sorbom D (1993) Structural equation modeling with the simplis command language. Scientific Software International Inc, Chicago

Jose JCS, Juan LC, José MZ (2004) Fuzzy repertory table: a method for acquiring knowledge about input variables to machine learning algorithm. IEEE Trans Fuzzy Syst 12(1)

Kelton K, Fleischmann K, Wallace W (2008) Trust in digital information. Am Soc Inf Sci Technol 59:363–374

Kim HL, Breslin JG, Decker S, Kim HG (2011) Mining and representing user interests: the case of tagging practices. IEEE Trans Syst Man Cybern Part A Syst Hum 41(4):683–692. doi:10.1109/Tsmca.2011.2132709

Ku LW, Liang YT, Chen HH (2006) Opinion extraction, summarization and tracking in news and blog corpora. In: American Association for Artificial Intelligence, Palo Alto, California, pp 100–107

Ku YC, Wei CP, Hsiao HW (2012) To whom should I listen? Finding reputable reviewers in opinion-sharing communities. Decis Support Syst 53:534–542

Lee KC, Kwon S (2008) A cognitive map-driven avatar design recommendation DSS and its empirical validity. Decis Support Syst 45(3):461–472. doi:10.1016/j.dss.2007.06.008

Lee KC, Kwon S (2010) A cognitive map-driven avatar design recommendation DSS and its empirical validity. Decis Support Syst 45:461–472

Lee D, Jeong OR, Lee S (2008) Opinion mining of customer feedback data on the web. In: the 2nd international conference on Ubiquitous information management and communication, Suwon, Korea, ACM, pp 230–235

Li ST, Chang WC (2009) Exploiting and transferring presentational knowledge assets in R&D organizations. Expert Syst Appl 36:766–777

Li ST, Chou WC (2014) Power planning in ICT infrastructure: a multi-criteria operational performance evaluation approach. Omega 49:134–148

Li F, Du TC (2011) Who is talking? An ontology-based opinion leader identification framework for word-of-mouth marketing in online social blogs. Decis Support Syst 51(1):190–197

Li G, Liu F (2012) Application of a clustering method on sentiment analysis. Inf Sci 38:127–139

Li YM, Lin CH, Lai CY (2010) Identifying influential reviewers for word-of-mouth marketing. Electron Commer Res Appl 9(4):294–304. doi:10.1016/j.elerap.2010.02.004

Lin WH, Wilson T, Wiebe J, Hauptmann A (2006) Which side are you on? Identifying perspectives at the document and sentence levels. In: Proceedings of the tenth conference on natural language learning, New York, pp 109–116

Lucassen T, Schraagen JM (2012a) Propensity to trust and the influence of source and medium cues in credibility evaluation. J Inf Sci 38:566–577

Lucassen T, Schraagen JM (2012b) Propensity to trust and the influence of source and medium cues in credibility evaluation. J Inf Sci 38(6):566–577

Maklan S, Knox S, Ryals L (2008) New trends in innovation and customer relationship management. Int J Mark Res 50:221–240

Mandl M, Felfernig A, Teppan E, Schubert M (2011) Consumer decision making in knowledge-based recommendation. J Intell Inf Syst 37(1):1–22. doi:10.1007/s10844-010-0134-3

Markus Rh, Stefan S (2012) Integrating management of customer value and risk in e-commerce. IseB 10(1):101–116

Mayer RC, Davis JH, Schoorman FD (1995) An integrative model of organizational trust. Acad Manag Rev 20(3):709–734

Metzger MJ (2007) Making sense of credibility on the Web: models for evaluating online information and recommendations for future research. J Am Soc Inf Sci 58:2078–2091. doi:10.1002/asi.20672

Mudambi SM, Schuff D (2010) What makes a helpful online review? A study of customer reviews on Amazon.com. MIS Q 34:185–200

Ngai EWT, Wat FKT (2005) Fuzzy decision support system for risk analysis in e-commerce development. Decis Support Syst 40:235–255

O'Donvan J, Smyth B (2005) Trust no one: evaluating trust-based filtering for recommenders. In: Proceedings of the 19th international joint conference on artificial intelligence (IJCAI), pp 1663–1665

Pang B, Lee L (2008) Opinion mining and sentiment analysis. Found Trends Inf Retr 2(1–2):1–35

Prahalad C, Ramaswamy V (2000) Co-opting customer competence. Harvard Bus Rev 78(1):79–87

Prahalad CK, Ramaswamy V (2004a) The future of competition: co-creating unique value with customers. Harvard Business School Press, Cambridge

Prahalad CK, Ramaswamy V (2004b) Co-creation experiences: the next practice in value creation. J Interact Mark 18:5–14

Roser T, Samson A, Humphreys P, Cruz-Valdivieso E (2009) Co-creation: new pathways to value. Promise Corporation. LSE Enterprise http://www.promisecorpcom/newpathways/

Somprasertri G, Lalitrojwong P (2010) Mining feature-opinion in online customer reviews for opinion summarization. J Univers Comput Sci 16:938–955

Subramanian N, Gunasekaran A, Yu J, Cheng J, Ning K (2014) Customer satisfaction and competitiveness in the Chinese E-retailing: structural equation modeling (SEM) approach to identify the role of quality factors. Expert Syst Appl 41:69–80

Sun J, Long C, Zhu X, Huang MP (2009) Mining reviews for product comparison and recommendation. Comput Sci Comput Eng Appl 39:33–40

Tang C (2012) Co-creation theory: brainstorm, innovate and create the ultimate customer experience. Insight Mag http://www.icpasorg/hc-insightaspx?id=6456

Tang H, Tan S, Cheng X (2009) A survey on sentiment detection of reviews. Expert Syst Appl 36(7):10760–10773

Tao F, Gao J, Wang T, Zhou K (2010) Topic oriented sentimental feature selection method for news comments. Chin Inform Process 24:37–43

Tsang SS, Chen HW (2009) Transforming experience good into search good: how virtual experience may change the internet advertising market. In: Proceedings of the ninth international conference on electronic business, Wynn Hotel, Macau, pp 437–445

Turney PD (2002) Thumbs up or thumbs down? Semantic orientation applied to unsupervised classification of reviews. In: Paper presented at the proceedings of the 40th annual meeting on association for computational linguistics, Philadelphia, Pennsylvania

Vargo SL (2009) Customer integration and value creation. Serv Res 11:211–215

Vargo SL, Maglio PP, Akaka MA (2008) On value and value co-creation: a service systems and service logic perspective. Eur Manag J 26:145–152

Wang J, Yin J, Liu Y, Huang C (2011) Trust-based collaborative filtering. In: Paper presented at the fuzzy systems and knowledge discovery (FSKD), eighth international conference on 4:2650–2654

Xu L, Lin H, Yang Z (2007) Text orientation identification based on semantic comprehension. Chin Inform Process 21:96–100

Xu K, Liao SS, Li J, Song Y (2011) Mining comparative opinions from customer reviews for competitive intelligence. Decis Support Syst 50:743–754

Yager RR (1994) Interpreting linguistically quantified propositions. Int J Intell Syst 9(6):541–569

Yurdakul M, Tansel IY (2009) Analysis of the benefit generated by using fuzzy numbers in a TOPSIS model developed for machine tool selection problems. J Mater Process Technol 209(1):310–317

Zhang Y, Chen H, Jiang XH, Sheng H, Zhou L, Tong Y (2008) Content-based trust mechanism for e-commerce systems. In: Paper presented at the IEEE Asia Pacific services computing conference

Zhang F, Bai L, Gao F (2009) A user trust-based collaborative filtering recommendation algorithm. Inf Commun Secur 5927:411–424

Zopounidis C (1999) Multi criteria decision aid in financial management. Eur J Oper Res 119:404–415
Acknowledgments
This study was supported in part by the National Science Council, Taiwan, under Contracts NSC101-2410-H-006-012 and NSC102-2410-H-006-054.
About this article
Cite this article
Li, S.T., Pham, T.T., Chuang, H.C. et al. Does reliable information matter? Towards a trustworthy co-created recommendation model by mining unboxing reviews. Inf Syst E-Bus Manage 14, 71–99 (2016). https://doi.org/10.1007/s10257-015-0275-6
Received:

Revised:

Accepted:

Published:

Issue Date:
Keywords
Co-creating value

Unboxing reviews

Recommendation system

Sentiment analysis

Fuzzy TOPSIS