Abstract
In a hospital, ward rounds are crucial for task coordination and decision-making. In the course of knowledge-intensive patient treatment processes, it should be possible to quickly define tasks and to assign them to clinicians in a flexible manner. In current practice, however, task management is not properly supported. During a ward round, emerging tasks are jotted down using pen and paper and their processing is prone to errors. In particular, staff members must manually keep track of the status of their tasks. To relieve them from such a manual task management, we introduce the MedicalDo (MEDo) approach. It transforms the pen and paper worksheet to a digital user interface on a mobile device. Thereby, MEDo integrates process support, task management, and access to the patient record. Interviews of medical staff members have revealed that they crave for a mobile process and task support. This has been further confirmed in a case study we conducted in four different wards. Finally, in user experiments, we have demonstrated that MEDo puts task acquisition on a level comparable to that of pen and paper. Overall, MEDo enables users to create, monitor and share medical tasks based on a mobile and user-friendly platform.
Access options
Buy single article
Instant access to the full article PDF.
USD 39.95
Price excludes VAT (USA)
Tax calculation will be finalised during checkout.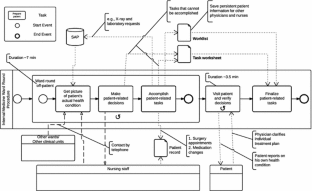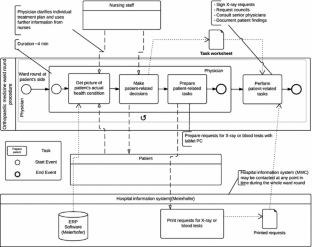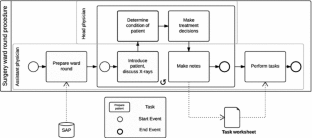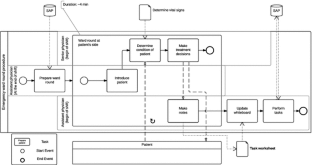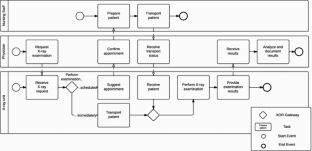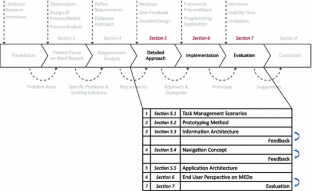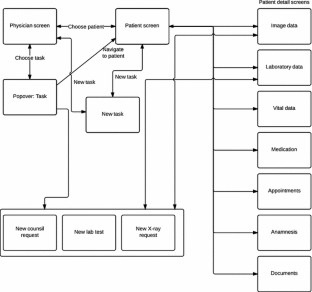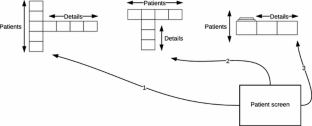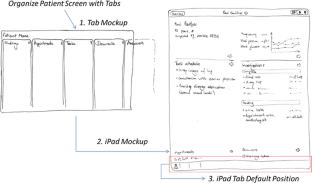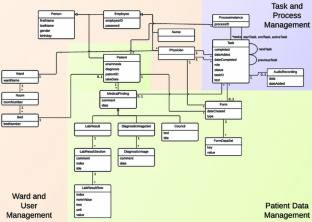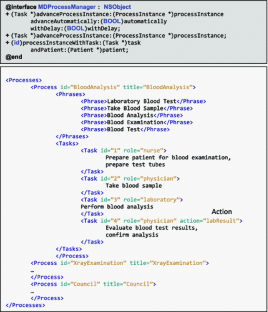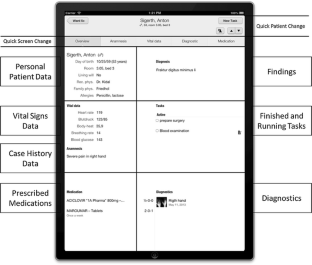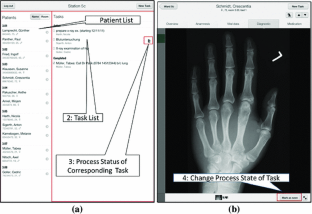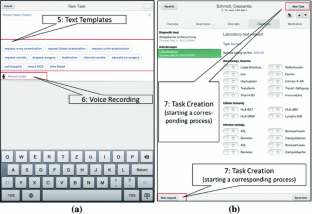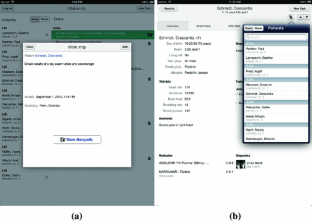 References
Ali Fareedi A, Tarasov V (2011) Modelling of the ward round process in a healthcare unit, vol 92 of Lecture notes in business information processing. Springer, Berlin, pp 223–237

Alsos OA, Dabelow B, Faxvaag A (2011) Doctors' concerns of PDAs in the ward round situation. Lessons from a formative simulation study. Methods Inf Med 50:190–200

Alvarez G, Coiera EW (2005) Interruptive communication patterns in the intensive care unit ward round. Int J Med Inform 74:791–796

Ammenwerth E, Buchauer A, Bludau B, Haux R (2000) Mobile information and communication tools in the hospital. Med Inform 57:21–40

Bardram JE, Bossen C (2005) A web of coordinative artifacts: collaborative work at a hospital ward. In: Proceedings of GROUP'05. ACM, pp 168–176

Camacho J, Favela J, Gonzalez V (2006) Supporting the management of multiple activities in mobile collaborative working environments. In: Groupware: design, implementation, and use, vol 4154 of Lecture notes in computer science. Springer, Berlin

Carlsson V, Klug T, Ziegert T, Zinnen A (2006) Wearable computers in clinical ward rounds. In: IFAWC 2006. Proceedings of the 3rd international forum on applied wearable computing (IFAWC), pp 45–53

Chiao CM, Künzle V, Reichert M (2013) Object-aware process support in healthcare information systems: requirements, conceptual framework and examples. Int J Adv Life Sci 5(1 & 2):11–26

Costain G (2008) Cognitive support during object-oriented software development: the case of UML diagrams. PhD thesis, ResearchSpace, Auckland

Dadam P, Reichert M, Kuhn K (2000) Clinical workflows—the killer application for process-oriented information systems? In: Proceedings of 4th international conference on business information systems (BIS'00). Springer, pp 36–59

Davenport TH, Prusak L (2000) Working knowledge: how organizations manage what they know. Harvard Business Press, p 199

Davenport TH (2005) Thinking for a living: how to get better performance and results from knowledge workers. Harvard Business School Press, Boston, MA

Dawson L, Fisher J, Heslop L (2005) Investigating the potential improvement of patient management systems in hospital ward settings using mobile, wireless technologies. In: Kushhu I, Kuscu M (eds) Proceedings of the first european conference on mobile government, Brighton, England, UK, pp 122–132

Eichwald A (2012) Einsatz von prozess-management-technologie in der klinischen visite mithilfe der aristaflow bpm suite, Bachelor thesis, University of Ulm

Fitterer R, de Witte B (2009) Enabling pervasive healthcare by means of event-driven service-oriented architectures. The case of bed management in mid-sized to large-sized hospitals. In: 3rd international conference on pervasive computing technologies for healthcare, PervasiveHealth 2009, pp 1–4

Fitzpatrick G (2000) Understanding the paper health record in practice: implications for EHRs. In: Pradhan M, Warren J, Chu S, Coiera E, Zelmer ACL (eds) HIC 2000: Proceedings. Vic, Health Informatics Society of Australia, pp 323–331

Haynes AB, Weiser TG, Berry WR, Lipsitz SR, Breizat AHS, Dellinger EP, Herbosa T, Joseph S, Kibatala PL, Lapitan MCM, Merry AF, Moorthy K, Reznick RK, Taylor B, Gawande AA (2009) A surgical safety checklist to reduce morbidity and mortality in a global population. N Engl J Med 360:491–499

Heslop L, Raikundalia GK (2011) Enhancing clinical nurse workflow through redesign of networked wireless laptop computers. Electron Health Inform 6:e25

Ho D, Xiao Y, Vaidya V, Hu P (2007) Communication and sense-making in intensive care: an observation study of multi-disciplinary rounds to design computerized supporting tools. In: Proceedings of AMIA annual symposium, vol 2007. American Medical Informatics Association

Karbe B, Ramsperger N, Weiss P (1990) Support of cooperative work by electronic circulation folders. SIGOIS Bull 11:109–117

Kennedy MM, Baker DJ, Gurses AP, Pronovost PJ (2010) Creating the ideal ward round. Organisation and management of intensive care. Medizinisch Wissenschaftliche Verlagsgesellschaft, Berlin

Knaur P, Pilz J, Thalheimerc M (2006) Can temporary paper-based patient records sensibly complete an electronic patient record? In: Ubiquity: technologies for better health in aging societies, Proceedings of MIE 2006, vol 124. IOS Press, p 207

Kofod-Petersen A (2006) Challenges in case-based reasoning for context awareness in ambient intelligent systems. In: 8th European conference on case based reasoning, ldeniz

Lamber P, Ludwig B, Ricci F, Zini F, Mitterer M (2011) Message-based patient guidance in day-hospital. In: Proceedings of IEEE 12th international conference on MDM'11. IEEE Computer Society, pp 162–167

Lenz R, Reichert M (2007) IT support for healthcare processes—premises, challenges, perspectives. Data Knowl Eng 61:39–58

McCarthy DR, Sarin SK (1993) Workflow and transactions in InConcert. IEEE Data Eng Bull 16:53–56

Moran EB, Tentori M, Gonzalez VM, Favela J (2007) Mobility in hospital work: towards a pervasive computing hospital environment. Int J Electron Healthc 3:72–89

Mundbrod N, Kolb J, Reichert M (2012) Towards a system support of collaborative knowledge work. In: 1st international workshop on adaptive case management (ACM'12), Proceedings of BPM'12 workshops, vol 132 in LNBIP. Springer, pp 31–42

Nielsen J (1994) Usability engineering. Access online via Elsevier

Pryss R, Langer D, Reichert M, Hallerbach A (2012) Mobile task management for medical ward rounds—the MEDo approach. In: 1st international workshop on adaptive case management (ACM'12), Proceedings of BPM'12 workshops, vol 132 in LNBIP. Springer, pp 43–54

Reichert M (2011) What BPM technology can do for healthcare process support. In: Proceeding of AIME'11, vol 6747 in LNAI, Springer, pp 2–13

Reichert M, Weber B (2012) Enabling flexibility in process-aware information systems: challenges, methods, technologies. Springer, Berlin

SAP (2013) Give caregivers secure mobile access to their patient data—with our mobile patient record apps. http://www54.sap.com/pc/tech/mobile/software/industry-apps/patient-record-app/index.html. Accessed 06 May 2013

Sawa T, Okahara M, Santo M, Schmidt U, Nakata Y, Morita S, Ohno-Machado L (2003) Preoperative information management system using wireless PDAs. In: Proceedings of AMIA annual symposium

Schobel J, Schickler M, Pryss R, Nienhaus H, Reichert M (2013) Using vital sensors in mobile healthcare business applications: challenges, examples, lessons learned. In: 9th international conference on web information systems and technologies—WEBIST 2013, pp 509–518

Schonenberg H, Weber B, Dongen B, Aalst W (2008) Supporting flexible processes through recommendations based on history. In: Dumas M, Reichert M, Shan MC (eds) Business process management. Lecture notes in computer science, vol 5240. Springer, Berlin, pp 51–66

Swenson KD (ed) (2010) Mastering the unpredictable. Meghan-Kiffer-Press, Tampa

Wang L (2009) An agent-based simulation for workflow in emergency department. In: Proceedings of 2009 IEEE systems and information. IEEE, pp 19–23

Weber H, Stckli M, Nbling M, Langewitz WA (2007) Communication during ward rounds in internal medicine. An analysis of patient–nurse–physician interactions using RIAS. J Patient Educ Couns 67:343–348

Weiser TG, Haynes AB, Dziekan G, Berry WR, Lipsitz SR, Gawande AA (2010) Effect of a 19-item surgical safety checklist during urgent operations in a global patient population. J Ann Surg 251:976–980
About this article
Cite this article
Pryss, R., Mundbrod, N., Langer, D. et al. Supporting medical ward rounds through mobile task and process management. Inf Syst E-Bus Manage 13, 107–146 (2015). https://doi.org/10.1007/s10257-014-0244-5
Received:

Revised:

Accepted:

Published:

Issue Date:

DOI: https://doi.org/10.1007/s10257-014-0244-5
Keywords
Knowledge-intensive process

Healthcare process

Mobile task management