Abstract
Alopecia areata (AA) is a type of non-scarring, recurrent patchy loss of hair in hair-bearing areas and is mostly of autoimmune origin. Previous studies have suggested that some autoimmune diseases were found to be associated with vitamin D deficiency. The current study was designed to assess the levels of serum 25-hydroxy vitamin D and C-reactive protein in AA, as compared with controls and to further identify the association between vitamin D levels and disease severity in patients with AA. This cross-sectional study included 45 patients with AA and 45 healthy volunteers. Clinical and anthropometric parameters were recorded, according to a pre-designed proforma. Serum 25-hydroxy vitamin D and high-sensitivity C-reactive protein were estimated using ELISA kits. The severity of AA was determined using Severity of Alopecia Tool (SALT) score. We observed a significant rise in systemic inflammation as seen by elevated high-sensitive C-reactive protein levels and lowered 25-hydroxy vitamin D levels in patients with alopecia areata, compared to controls (p = 0.001). The levels of 25-hydroxy vitamin D showed a significant negative correlation with disease severity, while hs-CRP levels showed a significant positive correlation with disease severity (ρ = − 0.714, p = 0.001 and ρ = 0.818, p = 0.001). Our results suggest significant systemic inflammation and vitamin D deficiency in alopecia areata, more so with increasing disease severity. This gains particular importance in the treatment of alopecia areata in future, as supplementing vitamin D to AA patients would result in reducing the disease severity and inducing remission.
Access options
Buy single article
Instant access to the full article PDF.
USD 39.95
Price excludes VAT (USA)
Tax calculation will be finalised during checkout.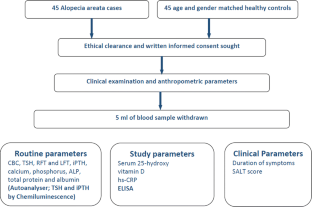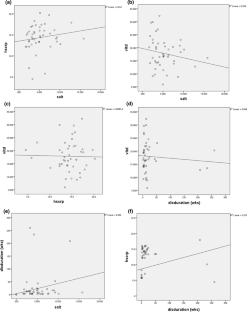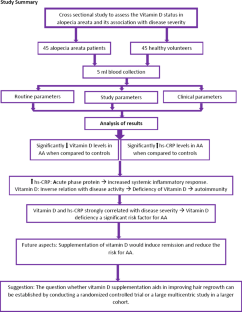 References
McElwee KJ, Tobin DJ, Bystryn JC, et al. Alopecia areata: an autoimmune disease? Exp Dermatol. 1999;8:371–9.

Wang E, McElwee K. Etiopathogenesis of alopecia areata: Why do our patients get it? Dermatol Ther. 2011;24:337–47.

Gilhar A, Kalish RS. Alopecia areata: a tissue specific autoimmune disease of the hair follicle. Autoimmun Rev. 2006;5:64–9.

McElwee KJ, Gilhar A, Tobin DJ, et al. What causes alopecia areata? Exp Dermatol. 2013;22:609–26.

Alkhalifah A, Alsantali A, Wang E, et al. Alopecia areata update: part I. Clinical picture, histopathology, and pathogenesis. J Am Acad Dermatol. 2010;62:177–88.

Ross AC, Manson JE, Abrams SA, Aloia JF, Brannon PM, Clinton SK, et al. The 2011 report on dietary reference intakes for calcium and vitamin D from the Institute of Medicine: what clinicians need to know. J Clin Endocrinol Metab. 2011;96:53–8.

Saleh HM, Abdel Fattah NS, Hamza HT. Evaluation of serum 25-hydroxyvitamin D in vitiligo patients with and without autoimmune diseases. Photodermatol Photoimmunol Photomed. 2013;29:34–40.

Holick MF. Sunlight and vitamin D for bone health and prevention of autoimmune diseases, cancers, and cardiovascular disease. Am J Clin Nutr. 2004;80:1678–88.

Boucher BJ. Curcumin and diabetes: a role for the vitamin D receptor? Br J Nutr. 2012;108:2104.

Bikle DD. Vitamin D metabolism and function in the skin. Mol Cell Endocrinol. 2011;347:80–9.

Mulloy PJ, Feldman D. The role of vitamin D receptor mutations in the development of alopecia. Mol Cell Endocrinol. 2011;347:90–6.

Thompson D, Pepys MB, Wood SP. The physiological structure of the human C-reactive protein and its complex with phosphocholine. Structure. 1999;7:169–77.

Clyne B, Olshaker JS. The C-reactive protein. J Emerg Med. 1999;17:1019–25.

Hewison M. An update on vitamin D and human immunity. Clin Endocrinol. 2012;76:315–25.

Ersoy-Evans S. Commentary: vitamin D and autoimmunity: Is there an association? J Am Acad Dermatol. 2010;62:942–4.

Arnson Y, Amital H, Shoenfeld Y. Vitamin D and autoimmunity: new aetiological and therapeutic considerations. Ann Rheum Dis. 2007;66:1137–42.

Olsen EA. Investigative guidelines for alopecia areata. Dermatol Ther. 2011;24:311–9.

Aksu Cerman A, Sarikaya Solak S, Kivanc Altunay I. Vitamin D deficiency in alopecia areata. Br J Dermatol. 2014;170:1299–304.

McDonagh AJ, Tazi-Ahnini R. Epidemiology and genetics of alopecia areata. Clin Exp Dermatol. 2002;27:405–9.

Singh K, Sharma S, Singh UR, Bhattacharya SN. A comparison of vertical and transverse sections in the histological diagnosis of alopecia areata scalp biopsy specimens. Int J Trichology. 2016;8(3):111–5.

Pedullà M, Fierro V, Marzuillo P, Capuano F, Miraglia del Giudice E, Ruocco E. Skin disease and thyroid autoimmunity in atopic South Italian children. World J Clin Pediatr. 2016;5(3):288–92.

Chaitra V, Rajalakshmi T, Kavdia R. Histopathologic profile of alopecia areata in Indian patients. Int J Trichology. 2010;2:14–7.

Whiting DA. Histopathologic features of alopecia areata: a new look. Arch Dermatol. 2003;139:1555–9.

Shetty S, Rao R, Kudva RR, Subramanian K. Linear alopecia areata. Int J Trichology. 2016;8(3):144–5.

Yoon TY, Lee DY, Kim YJ, Lee JY, Kim MK. Diagnostic usefulness of a peribulbar eosinophilic infiltrate in alopecia areata. JAMA Dermatol. 2014;150:952–6.

Karagün E, Ergin C, Baysak S, Erden G, Aktaş H, Ekiz Ö. The role of serum vitamin D levels in vitiligo. Adv Dermatol Allergol Postȩpy Dermatol Alergol. 2016;33(4):300–2.

AlGhamdi K, Kumar A, Moussa N. The role of vitamin D in melanogenesis with an emphasis on vitiligo. Indian J Dermatol Venereol Leprol. 2013;79:750–8.

Adorini L, Penna G. Control of autoimmune diseases by the vitamin D endocrine system. Nat Clin Pract Rheumatol. 2008;4:404–12.

Birlea SA, Costin GE, Norri DA. New insights on therapy with vitamin D analogs targeting the intracellular pathways that control repigmentation in human vitiligo. Med Res Rev. 2009;29:514–46.

Parsad D, Saini R, Verma N. Combination of PUVAsol and topical calcipotriol in vitiligo. Dermatology. 1998;197:167–70.

Oh SH, Kim T, Jee H, et al. Combination treatment of non-segmental vitiligo with a 308-nm xenon chloride excimer laser and topical high-concentration tacalcitol: a prospective, single-blinded, paired, comparative study. J Am Acad Dermatol. 2011;65:428–30.

Koizumi H, Kaplan A, Shimizu T, Ohkawara A. 1,25-dihydroxyvitamin D3 and a new analogue, 22-oxacalcitriol, modulate proliferation and interleukin-8 secretion of normal human keratinocytes. J Dermatol Sci. 1997;15:207–13.

Aksu Cerman A, Sarikaya Solak S, Kivanc Altunay I. Vitamin D deficiency in alopecia areata. Br J Dermatol. 2014;170(6):1299–304.

Lee S, Kim BJ, Lee CH, Lee WS. Increased prevalence of vitamin D deficiency in patients with alopecia areata: a systematic review and meta-analysis. J Eur Acad Dermatol Venereol. 2018. https://doi.org/10.1111/jdv.14987.

Daroach M, Narang T, Saikia UN, Sachdeva N, Sendhil Kumaran M. Correlation of vitamin D and vitamin D receptor expression in patients with alopecia areata: a clinical paradigm. Int J Dermatol. 2018;57:217–22.

Bhat YJ, Latif I, Malik R, Hassan I, Sheikh G, Lone KS, Majeed S, Sajad P. Vitamin D level in alopecia areata. Indian J Dermatol. 2017;62:407–10.

Ghafoor R, Anwar MI. Vitamin D deficiency in alopecia areata. J Coll Physicians Surg Pak. 2017;27:200–2.

Erpolat S, Sarifakioglu E, Ayyildiz A. 25-hydroxyvitamin D status in patients with alopecia areata. Postepy Dermatol Alergol. 2017;34:248–52.
Acknowledgements
We thank the Indian Council of Medical Research (ICMR), New Delhi, for approving this project as a Short term studentship (STS) [STS ID: 2016-03495] project to the first author. We also thank Dr Revathy G., Senior Resident, Department of Biochemistry, in our Institute for help rendered during the revision of this manuscript.
Ethics declarations
Conflicts of interest
The authors report no conflict of interest.
Research involving human participants
This research involved human participants and was approved by the Institute Ethics Committee (Human Studies), JIPMER as Project no. JIP/IEC/SC/2016/28/882.
Informed consent
The study protocol complied with the ethical guidelines of the Declaration of Helsinki and the Indian Council of Medical Research Ethical Guidelines for Biomedical Research on Human Participants. Informed consent was obtained from all the subjects, prior to their enrolment in the study.
About this article
Cite this article
Gade, V.K.V., Mony, A., Munisamy, M. et al. An investigation of vitamin D status in alopecia areata. Clin Exp Med 18, 577–584 (2018). https://doi.org/10.1007/s10238-018-0511-8
Received:

Accepted:

Published:

Issue Date:

DOI: https://doi.org/10.1007/s10238-018-0511-8
Keywords
SALT score

Alopecia areata

25-hydroxy vitamin D

High-sensitivity C-reactive protein