Abstract
Non-melanoma skin cancers, including basal and squamous cell carcinomas (BCC and SCC), are the most common malignancies worldwide. BCC/SCC cancers are generally highly localized and can be surgically excised; however, invasive tumors may be fatal. Current diagnosis of skin cancer and prognosis of potential invasiveness are based mainly on clinical-pathological factors of the biopsied lesions. SCC invasiveness is also predicted by histomorphological factors, such as the degree of differentiation or the mitotic index, while BCCs are typically considered non-invasive. The above subjective measures do not provide direct, objective prognosis of cellular invasiveness in each specific sample. Hence, we have developed a mechanobiology-based approach to rapidly determine sample invasiveness. Here, cells from 15 fresh tissue samples of suspected non-melanoma skin cancer were seeded on physiological-stiffness (2.4 kPa) synthetic gels, and within 1-h invasive cell subsets were observed to push/indent the gel surface; clinicopathological results were separately obtained using standard protocols. The percentage of indenting cells from invasive (26.2 ± 2.4%) and non-invasive (4.8 ± 0.5%) SCC samples differed significantly (p < 0.0001), with well-separated invasiveness cutoffs of, respectively, > 12% and < 5%. The mechanical invasiveness directly agrees with the SCC cell-differentiation state, where over 3.3-fold more (p < 0.0001) cells from moderately differentiated samples indent the gels as compared to well-differentiated cell samples. In BCCs, < 20% of cells typically indented, and a highly migratory, desmoplastic sample was identified with 46%. By providing rapid, quantitative, early prognosis of invasiveness and potential metastatic risk, our rapid technology may facilitate informed (bed-side) decision making and choice of disease-management protocols on the time-scale of the initial diagnosis and surgical excision.
Access options
Buy single article
Instant access to the full article PDF.
US$ 39.95
Tax calculation will be finalised during checkout.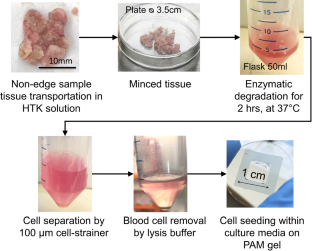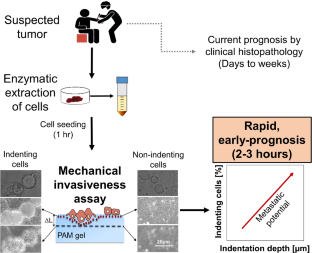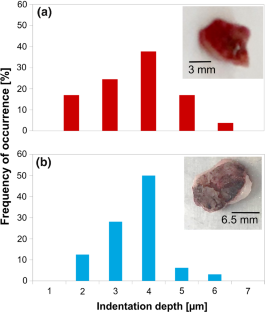 References
Abidine Y, Laurent V, Michel R et al (2015) Physical properties of polyacrylamide gels probed by AFM and rheology. EPL 109:38003. https://doi.org/10.1209/0295-5075/109/38003%3e

Alvarez-Elizondo MB, Weihs D (2017) Cell-gel mechanical interactions as an approach to rapidly and quantitatively reveal invasive subpopulations of metastatic cancer cells. Tissue Eng Part C Methods 23:180–187. https://doi.org/10.1089/ten.TEC.2016.0424

Apalla Z, Nashan D, Weller RB, Castellsagué X (2017) Skin Cancer: Epidemiology, disease burden, pathophysiology, diagnosis, and therapeutic approaches. Dermatol Ther (heidelb) 7:5–19

Barton V, Armeson K, Hampras S et al (2017) Nonmelanoma skin cancer and risk of all-cause and cancer-related mortality: a systematic review. Arch Dermatol Res 309:243–251. https://doi.org/10.1007/s00403-017-1724-5

Boudou T, Ohayon J, Picart C et al (2009) Nonlinear elastic properties of polyacrylamide gels: Implications for quantification of cellular forces. Biorheology 46:191–205. https://doi.org/10.3233/Bir-2009-0540

Byun S, Son S, Amodei D et al (2013) Characterizing deformability and surface friction of cancer cells. Proc Natl Acad Sci U S A 110:7580–7585. https://doi.org/10.1073/pnas.1218806110

Cross SE, Jin YS, Rao J, Gimzewski JK (2007) Nanomechanical analysis of cells from cancer patients. Nat Nanotechnol 2:780–783. https://doi.org/10.1038/nnano.2007.388

Denisin AK, Pruitt BL (2016) Tuning the range of polyacrylamide gel stiffness for mechanobiology applications. ACS Appl Mater Interfaces 8:21893–21902. https://doi.org/10.1021/acsami.5b09344

Dvir L, Nissim R, Alvarez-Elizondo MB, Weihs D (2015) Quantitative measures to reveal coordinated cytoskeleton-nucleus reorganization during in vitro invasion of cancer cells. New J Phys 17:043010. https://doi.org/10.1088/1367-2630/17/4/043010

Fahradyan A, Howell A, Wolfswinkel E et al (2017) Updates on the Management of Non-Melanoma Skin Cancer (NMSC). Healthcare 5:82. https://doi.org/10.3390/healthcare5040082

Ferri F (2016) Ferri's Clinical Advisor 2017–1st Edition. Elsevier

Fitzmaurice C, Abate D, Abbasi N et al (2019) Global, regional, and national cancer incidence, mortality, years of life lost, years lived with disability, and disability-Adjusted life-years for 29 cancer groups, 1990 to 2017: A systematic analysis for the global burden of disease study. JAMA Oncol 5:1749–1768. https://doi.org/10.1001/jamaoncol.2019.2996

Gal N, Lechtman-Goldstein D, Weihs D (2013) Particle tracking in living cells: a review of the mean square displacement method and beyond. Rheol Acta 52:425–443. https://doi.org/10.1007/s00397-013-0694-6

Gal N, Weihs D (2012) Intracellular mechanics and activity of breast cancer cells correlate with metastatic potential. Cell Biochem Biophys 63:199–209

Guck J, Schinkinger S, Lincoln B et al (2005) Optical deformability as an inherent cell marker for testing malignant transformation and metastatic competence. Biophys J 88:3689–3698. https://doi.org/10.1529/biophysj.104.045476

Justus CR, Leffler N, Ruiz-Echevarria M, Yang LV (2014) In vitro cell migration and invasion assays. J vis Exp. https://doi.org/10.3791/51046

Koch TM, Munster S, Bonakdar N et al (2012) 3D Traction forces in cancer cell invasion. PLoS ONE 7:e33476. https://doi.org/10.1371/journal.pone.0033476

Kraning-Rush CM, Califano JP, Reinhart-King CA (2012) Cellular traction stresses increase with increasing metastatic potential. PLoS ONE 7:e32572. https://doi.org/10.1371/journal.pone.0032572

Kristal-Muscal R, Dvir L, Weihs D (2013) Metastatic cancer cells tenaciously indent impenetrable, soft substrates. New J Phys 15:035022. https://doi.org/10.1088/1367-2630/15/3/035022

Lange JR, Steinwachs J, Kolb T et al (2015) Microconstriction arrays for high-throughput quantitative measurements of cell mechanical properties. Biophys J 109:26–34. https://doi.org/10.1016/j.bpj.2015.05.029

Levental I, Georges PC, Janmey PA (2007) Soft biological materials and their impact on cell function. Soft Matter 3:299–306. https://doi.org/10.1039/B610522j

Lv R, Sun Q (2017) A network meta-analysis of Non-Melanoma Skin Cancer (NMSC) treatments: Efficacy and safety assessment. J Cell Biochem 118:3686–3695. https://doi.org/10.1002/jcb.26015

Madan V, Lear JT, Szeimies RM (2010) Non-melanoma skin cancer. Lancet 375:673–685

Malvehy J, Pellacani G (2017) Dermoscopy, confocal microscopy and other non-invasive tools for the diagnosis of non-melanoma skin cancers and other skin conditions. Acta Derm Venereol 97:22–30. https://doi.org/10.2340/00015555-2720

Massalha S, Weihs D (2017) Metastatic breast cancer cells adhere strongly on varying stiffness substrates, initially without adjusting their morphology. Biomech Model Mechanobiol 16:961–970. https://doi.org/10.1007/s10237-016-0864-4

Merkher Y, Alvarez-Elizondo MB, Weihs D (2017) Taxol reduces synergistic, mechanobiological invasiveness of metastatic cells. Converg Sci Phys Oncol 3:044002. https://doi.org/10.1088/2057-1739/aa8c0b

Merkher Y, Horesh Y, Abramov Z et al (2020) Rapid cancer diagnosis and early prognosis of metastatic risk based on mechanical invasiveness of sampled cells. Ann Biomed Eng 48:2846–2858. https://doi.org/10.1007/s10439-020-02547-4

Merkher Y, Weihs D (2017) Proximity of metastatic cells enhances their mechanobiological invasiveness. Ann Biomed Eng 45:1399–1406. https://doi.org/10.1007/s10439-017-1814-8

Mierke CT, Rosel D, Fabry B, Brabek J (2008) Contractile forces in tumor cell migration. Eur J Cell Biol 87:669–676. https://doi.org/10.1016/j.ejcb.2008.01.002

Nyberg KD, Hu KH, Kleinman SH et al (2017) Quantitative deformability cytometry: Rapid, calibrated measurements of cell mechanical properties. Biophys J 113:1574–1584. https://doi.org/10.1016/j.bpj.2017.06.073

Oyen ML (2014) Mechanical characterisation of hydrogel materials. Int Mater Rev 59:44–59. https://doi.org/10.1179/1743280413Y.0000000022

Rogers HW, Weinstock MA, Harris AR et al (2010) Incidence estimate of nonmelanoma skin cancer in the United States, 2006. Arch Dermatol 146:283–287. https://doi.org/10.1001/archdermatol.2010.19

Schnebelen AM, Gardner JM, Shalin SC (2016) Margin status in shave biopsies of nonmelanoma skin cancers is it worth reporting? Arch Pathol Lab Med 140:678–681. https://doi.org/10.5858/arpa.2015-0313-OA

Stewart BW, Wild C, International Agency for Research on Cancer WHO (2015) World cancer report 2014

Swaminathan V, Mythreye K, O'Brien ET et al (2011) Mechanical stiffness grades metastatic potential in patient tumor cells and in cancer cell lines. Cancer Res 71:5075–5080. https://doi.org/10.1158/0008-5472.CAN-11-0247

Toll A, Margalef P, Masferrer E et al (2015) Active nuclear IKK correlates with metastatic risk in cutaneous squamous cell carcinoma. Arch Dermatol Res 307:721–729. https://doi.org/10.1007/s00403-015-1579-6

Weihs D, Merkher Y (2019) A device and method for determining cell indentation activity, WO/2019/207587 Patent Pending

Yoshie H, Koushki N, Molter C et al (2019) High throughput traction force microscopy using PDMS reveals dose-dependent effects of transforming growth factor-β on the epithelial-to-mesenchymal transition. J vis Exp. https://doi.org/10.3791/59364
Acknowledgements
This work was partially funded by the Polak Fund for Applied Research and the Samuel H. Born Fund for Biomedical Research.
Ethics declarations
Conflict of interest
None of the authors have a conflict of interest to declare.
Additional information
Publisher's Note
Springer Nature remains neutral with regard to jurisdictional claims in published maps and institutional affiliations.
About this article
Cite this article
Kortam, S., Merkher, Y., Kramer, A. et al. Rapid, quantitative prediction of tumor invasiveness in non-melanoma skin cancers using mechanobiology-based assay. Biomech Model Mechanobiol 20, 1767–1774 (2021). https://doi.org/10.1007/s10237-021-01475-z
Received:

Accepted:

Published:

Issue Date:
Keywords
Mechanobiology

Early prognosis

Metastatic potential

Non-melanoma skin cancer

Cancer invasion