Abstract
Retinal hemorrhages (RH) are among injuries sustained by a large number of shaken baby syndrome victims, but also by a small proportion of road accident victims. In order to have a better understanding of the underlying of RH mechanisms, we aimed to develop a complete human eye and orbit finite element model. Five occipital head impacts, at different heights and on different surfaces, and three shaking experiments were conducted with a 6-week-old dummy (Q0 dummy). This allowed obtaining a precise description of the motion in those two specific situations, which was then used as input for the eye model simulation. Results showed that four parameters (pressure, Von Mises stress and strain, 1st principal stress) are relevant for shaking–fall comparison. Indeed, in the retina, the softest shaking leads to pressure that is 4 times higher than the most severe impact (1.43 vs. 0.34 kPa). For the Von Mises stress, strain and 1st principal stress, this ratio rises to 4.27, 6.53 and 14.74, respectively. Moreover, regions of high stress and strain in the retina and the choroid were identified and compared to what is seen on fundoscopy. The comparison between linear and rotational acceleration in fall and shaking events demonstrated the important role of the rotational acceleration in inducing such injuries. Even though the eye model was not validated, the conclusion of this study is that compared to falls, shaking an infant leads to extreme eye loading as demonstrated by the values taken by the four mentioned mechanical parameters in the retina and the choroid.
This is a preview of subscription content, log in to check access.
Access options
Buy single article
Instant access to the full article PDF.
US$ 39.95
Price includes VAT for USA
Subscribe to journal
Immediate online access to all issues from 2019. Subscription will auto renew annually.
US$ 99
This is the net price. Taxes to be calculated in checkout.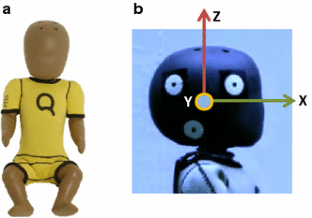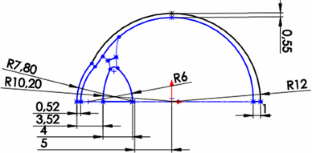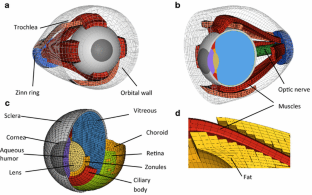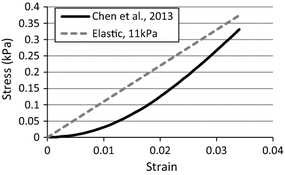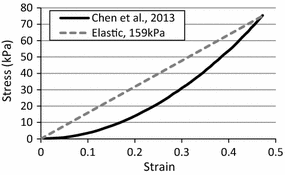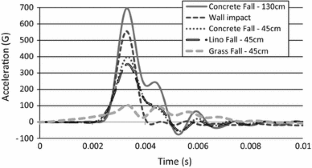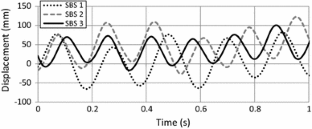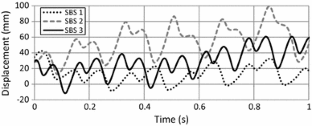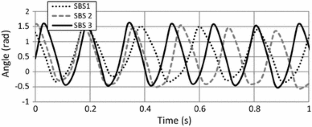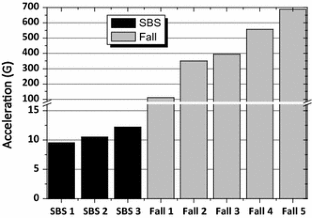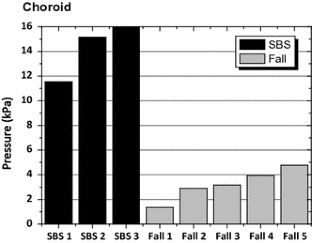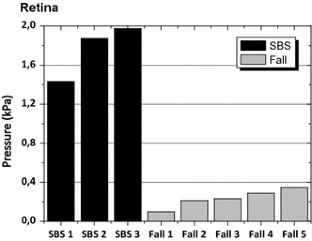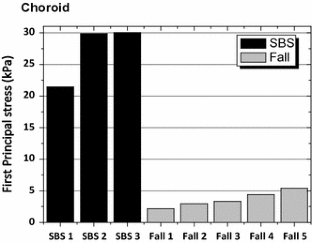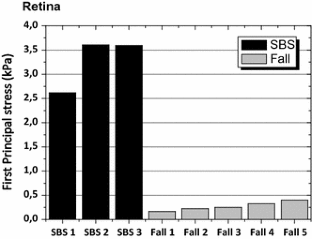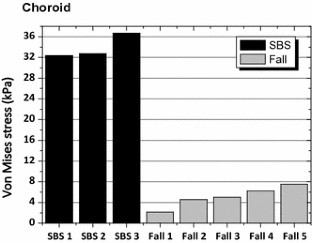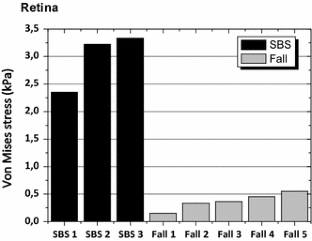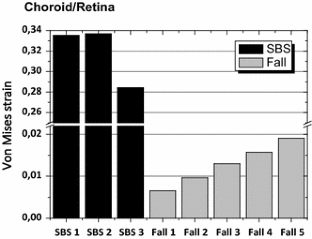 References
Al-Sukhun J, Lindqvist C, Kontio R (2006) Modelling of orbital deformation using finite-element analysis. J R Soc Interface 3:255–262. https://doi.org/10.1098/rsif.2005.0084

Bhardwaj R, Ziegler K, Seo JH et al (2014) A computational model of blast loading on the human eye. Biomech Model Mechanobiol 13:123–140. https://doi.org/10.1007/s10237-013-0490-3

Bisplinghoff JA, McNally C, Manoogian SJ, Duma SM (2009) Dynamic material properties of the human sclera. J Biomech 42:1493–1497. https://doi.org/10.1016/j.jbiomech.2009.03.043

Bocskai Z, Bojtár I (2013) Biomechanical modelling of the accommodation problem of human eye. Period Polytech Civ Eng 57:3. https://doi.org/10.3311/PPci.2136

Caffey J (1946) Multiple fractures in the long bones of infants suffering from chronic subdural hematoma. Am J Roentgenol Radium Ther 56:163

Caffey J (1974) The whiplash shaken infant syndrome: manual shaking by the extremities with whiplash-induced intracranial and intraocular bleedings, linked with residual permanent brain damage and mental retardation. Pediatrics 54:396

Chen K, Weiland JD (2011) Mechanical properties of orbital fat and its encapsulating connective tissue. J Biomech Eng 133:064505

Chen K, Rowley AP, Weiland JD, Humayun MS (2013) Elastic properties of human posterior eye. J Biomed Mater Res A 102:2001–2007. https://doi.org/10.1002/jbm.a.34858

Cirovic S (2006) Computer modelling study of the mechanism of optic nerve injury in blunt trauma. Br J Ophthalmol 90:778–783. https://doi.org/10.1136/bjo.2005.086538

Clarke MP (2009) Vitreoretinal traction is a major factor in causing the haemorrhagic retinopathy of abusive head injury—no. Eye 23:1761–1763. https://doi.org/10.1038/eye.2009.200

Esposito L, Clemente C, Bonora N, Rossi T (2015) Modelling human eye under blast loading. Comput Methods Biomech Biomed Eng 18:107–115. https://doi.org/10.1080/10255842.2013.779684

Forbes BJ (2008) Clues as to the pathophysiology of retinal hemorrhages in shaken baby syndrome determined with optical coherence tomography. Am J Ophthalmol 146:344–345

Gilkes MT, Mann T (1967) Fundi of battered babies. The Lancet 290:468–469

Gray W, Sponsel WE, Scribbick FW et al (2011) Numerical modeling of paintball impact ocular trauma: identification of progressive injury mechanisms. Invest Ophthalmol Vis Sci 52:7506–7513

Greenwald MJ, Weiss A, Oesterle CS et al (1986) Traumatic retinoschisis in battered babies. Ophthalmology 93:618–625

Guthkelch AN (1971) Infantile subdural haematoma and its relationship to whiplash injuries. Br Med J 2:430–431

Hans SA, Bawab SY, Woodhouse ML (2009) A finite element infant eye model to investigate retinal forces in shaken baby syndrome. Graefes Arch Clin Exp Ophthalmol 247:561–571. https://doi.org/10.1007/s00417-008-0994-1

Kim H, Yoo L, Shin A, Demer JL (2013) Determination of Poisson ratio of bovine extraocular muscle by computed X-ray tomography. BioMed Res Int 2013:1–5. https://doi.org/10.1155/2013/197479

Kita M, Marmor MF (1992) Retinal adhesive force in living rabbit, cat, and monkey eyes. Normative data and enhancement by mannitol and acetazolamide. Invest Ophthalmol Vis Sci 33:1879–1882

Laurent-Vannier A, Nathanson M, Quiriau F et al (2011) A public hearing Shaken baby syndrome: guidelines on establishing a robust diagnosis and the procedures to be adopted by healthcare and social services staff. Guidelines issued by the Hearing Commission. Ann Phys Rehabil Med 54:600–625

Levin AV (2009) Vitreoretinal traction is a major factor in causing the hemorrhagic retinopathy of abusive head injury—yes. Eye 23:1758–1760. https://doi.org/10.1038/eye.2009.199

Levin AV (2010) Retinal hemorrhage in abusive head trauma. Pediatrics 126:961–970. https://doi.org/10.1542/peds.2010-1220

Lichtwark GA (2005) In vivo mechanical properties of the human Achilles tendon during one-legged hopping. J Exp Biol 208:4715–4725. https://doi.org/10.1242/jeb.01950

Liu X, Wang L, Wang C et al (2013) Mechanism of traumatic retinal detachment in blunt impact: a finite element study. J Biomech 46:1321–1327. https://doi.org/10.1016/j.jbiomech.2013.02.006

Michael R, Mikielewicz M, Gordillo C et al (2012) Elastic properties of human lens zonules as a function of age in presbyopes. Invest Ophthalmol Vis Sci 53:6109–6114. https://doi.org/10.1167/iovs.11-8702

Ng EYK, Ooi EH (2006) FEM simulation of the eye structure with bioheat analysis. Comput Methods Progr Biomed 82:268–276. https://doi.org/10.1016/j.cmpb.2006.04.001

Power ED (2001) A nonlinear finite element model of the human eye to investigate ocular injuries from night vision goggles. Dissertation, Virginia Polytechnic Institute and State University

Rangarajan N, Kamalakkannan SB, Hasija V et al (2009) Finite element model of ocular injury in abusive head trauma. J Am Assoc Pediatr Ophthalmol Strabismus 13:364–369. https://doi.org/10.1016/j.jaapos.2008.11.006

Robbins DH, Wood JL (1969) Determination of mechanical properties of the bones of the skull. Exp Mech 9:236–240

Rossi T, Boccassini B, Esposito L et al (2012) Primary blast injury to the eye and orbit: finite element modeling. Invest Ophthalmol Vis Sci 53:8057–8066. https://doi.org/10.1167/iovs.12-10591

Schutte S, van den Bedem SPW, van Keulen F et al (2006) A finite-element analysis model of orbital biomechanics. Vis Res 46:1724–1731. https://doi.org/10.1016/j.visres.2005.11.022

Sigal IA, Flanagan JG, Tertinegg I, Ethier CR (2004) Finite element modeling of optic nerve head biomechanics. Invest Ophthalmol Vis Sci 45:4378–4387

Stitzel JD, Duma SM, Cormier JM, Herring IP (2002) A nonlinear finite element model of the eye with experimental validation for the prediction of globe rupture. Stapp Car Crash J 46:81–102

Uchio E, Ohno S, Kudoh J, Aoki K, Kisielewicz LT (1999) Simulation model of an eyeball based on finite element analysis on a supercomputer. Br J Ophthalmol 83:1106–1111

Villarreal-Silva EE, Amaya JM, Cruz JJ, Fernandez DM et al (2013) A morphometric study of the extraocular muscles. Int J Morphol 31(1):312–320

Wygnanski-Jaffe T, Levin AV, Shafiq A et al (2006) Postmortem Orbital Findings in Shaken Baby Syndrome. Am J Ophthalmol 142:233–240
Ethics declarations
Conflict of interest
The authors declare that they have no conflict of interest.
About this article
Cite this article
Nadarasa, J., Deck, C., Meyer, F. et al. Development of a finite-element eye model to investigate retinal hemorrhages in shaken baby syndrome. Biomech Model Mechanobiol 17, 517–530 (2018). https://doi.org/10.1007/s10237-017-0975-6
Received:

Accepted:

Published:

Issue Date:
Keywords
Eye FE model

Retinal hemorrhages

Shaken baby syndrome

Impact biomechanics