Abstract
We present a binned annual product (BINS) of sea surface temperature (SST), sea surface salinity (SSS), and sea surface density (SSD) observations for 1896–2015 of the subpolar North Atlantic between 40° N and 70° N, mostly excluding the shelf areas. The product of bin averages over spatial scales on the order of 200 to 500 km, reproducing most of the interannual variability in different time series covering at least the last three decades or of the along-track ship monitoring. Comparisons with other SSS and SST gridded products available since 1950 suggest that BINS captures the large decadal to multidecadal variability. Comparison with the HadSST3 SST product since 1896 also indicates that the decadal and multidecadal variability is usually well-reproduced, with small differences in long-term trends or in areas with marginal data coverage in either of the two products. Outside of the Labrador Sea and Greenland margins, interannual variability is rather similar in different seasons. Variability at periods longer than 15 years is a large part of the total interannual variability, both for SST and SSS, except possibly in the south-western part of the domain. Variability in SST and SSS increases towards the west, with the contribution of salinity variability to density dominating that of temperature in the western Atlantic, except close to the Gulf Stream and North Atlantic Current in the southwest area. Weaker variability and larger relative temperature contributions to density changes are found in the eastern part of the gyre and south of Iceland.
Access options
Buy single article
Instant access to the full article PDF.
US$ 39.95
Tax calculation will be finalised during checkout.
Subscribe to journal
Immediate online access to all issues from 2019. Subscription will auto renew annually.
US$ 79
Tax calculation will be finalised during checkout.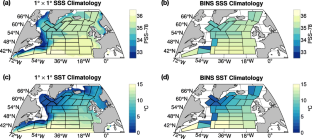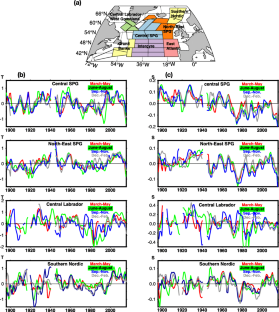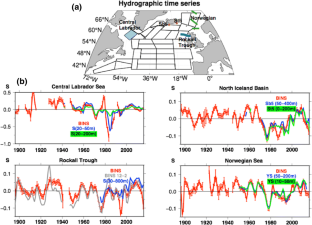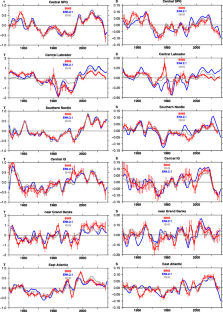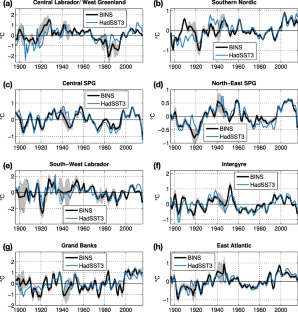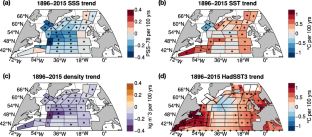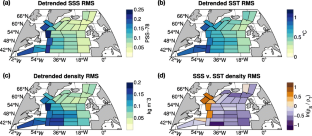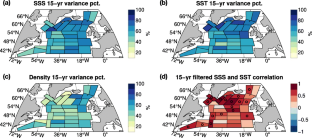 References
Alory G, Delcroix T, Téchiné P, Diverrès D, Varillon D, Cravatte S, Gouriou Y, Grelet J, Jacquin S, Kestenare E, Maes C, Morrow R, Perrier J, Reverdin G, Roubaud F (2015) The French contribution to the voluntary observing ships network of sea surface salinity. Deep Sea Res I 105:1–18. https://doi.org/10.1016/j.dsr.2015.08.005

Argo (2000) Argo float data and metadata from Global Data Assembly Centre (Argo GDAC). SEANOE. https://doi.org/10.17882/42182

Belkin IM, Levitus S, Antonov J, Malmberg S-A (1998) "Great Salinity Anomalies" in the North Atlantic. Prog Oceanogr 41(1):1–68. https://doi.org/10.1016/S0079-6611(98)00015-9

Böning CW, Behrens E, Biastoch A, Getzlaff K, Bamber JL (2016) Emerging impact of Greenland meltwater on deepwater formation in the North Atlantic Ocean. Nat Geosci 9:523–527. https://doi.org/10.1038/ngeo2740

Boutin J, Chao T, Asher W, Delcroix T, Drucker R, Drushka K, Kolodziejczyk N, Lee T, Reul N, Reverdin G, Schanze J, Soloviev A, Yu L, Anderson J, Brucker L, Dinnat E, Santos-Garcia A, Jones W, Maes C, Meissner T, Tang W, Vinogradova N, Ward B (2016) Satellite and in situ salinity : understanding near-surface stratification and sub-footprint variability. Bull Am Meteorol Soc 97:1391–1407. https://doi.org/10.1175/BAMS-D-15-00032.1

Buckley MW, Marshall J (2016) Observations, inferences, and mechanisms of the Atlantic meridional overturning circulation: a review. Rev Geophys 54(1):2015RG000493. https://doi.org/10.1002/2015RG000493

Cabanes C, Grouazel A, von Schuckmann K, Hamon M, Turpin V, Coatanoan C, Paris F, Guinehut S, Boone C, Ferry N, de Boyer Montégut C, Carval T, Reverdin G, Pouliquen S, le Traon PY (2013) The CORA dataset: validation and diagnostics of in-situ ocean temperature and salinity measurements. Ocean Sci 9(1):1–18. https://doi.org/10.5194/os-9-1-2013

Davis RE, Sherman JT, Dufour J (2001) Profiling ALACEs and other advances in autonomous subsurface floats. J Atmos Ocean Technol 18:982–993

Dickson RR, Meincke J, Malmberg MS-A, Lee AJ (1988) The "great salinity anomaly" in the northern North Atlantic 1968–1982. Prog Oceanogr 20:103–151

Drijfhout S, van Oldenborgh GJ, Cimatoribus A (2012) Is a decline of AMOC causing the warming hole above the North Atlantic in observed and modeled warming patterns? J Clim 25:8373–8379. https://doi.org/10.1175/JCLI-D-12-00490.1

Ebisuzaki W (1997) A method to estimate the statistical significance of a correlation when the data are serially correlated. J Clim 10(9):2147–2153

Fofonoff NP (1985) Physical properties of seawater: a new salinity scale and equation of state for seawater. J Geophys Res 90(C2):3332–3342. https://doi.org/10.1029/JC090iC02p03332

Frankignoul C, Deshayes J, Curry R (2009) The role of salinity in the decadal variability of the North Atlantic meridional overturning circulation. Clim Dyn 33(6):777–793. https://doi.org/10.1007/s00382-008-0523-2

Friedman AR, Reverdin G, Khodri M, Gastineau G (2017) A new record of Atlantic sea surface salinity from 1896 to 2013 reveals the signatures of climate variability and long-term trends. Geophys Res Lett 44:1866–1876. https://doi.org/10.1002/2017GL072582

Good S-A, Martin MJ, Rayner NA (2013) EN4: quality controlled ocean temperature and salinity profiles and monthly objective analyses with uncertainty estimates. J Geophys Res 118(12):6704–6716. https://doi.org/10.1002/2013JC009067

Hall I R, Boessenkool K P, Barker S, McCave I N, Elderfield H (2010) Surface and deep ocean coupling in the subpolar North Atlantic during the last 230 years. Paleoceanogr 25. https://doi.org/10.1029/2009PA001886

Holliday NP, Cunningham SA, Johnson C, Gary SF, Griffiths C, Read JF, Sherwin T (2015) Multidecadal variability of potential temperature, salinity, and transport in the eastern subpolar North Atlantic. J Geophys Res 120:5945–5967. https://doi.org/10.1002/2015JC010762

Hughes SL, Holliday NP, Gaillard F, and the ICES Working Group on Oceanic Hydrography (2012) Variability in the ICES/NAFO region between 1950 and 2009: observations from the ICES Report on Ocean Climate. ICES J Marine Sci. https://doi.org/10.1093/icesjms/fss044 Icelandic hydrographic surveys

Ishii M, Kimoto M, Sakamoto K, Iwasaki SI (2006) Steric sea level changes estimated from historical ocean subsurface temperature and salinity analyses. J Oceanography 62(2):155–170

Kennedy JJ, Rayner NA, Smith RO, Parker DE, Saunby M (2011a) Reassessing biases and other uncertainties in sea surface temperature observations measured in situ since 1850: 1. Measurement and sampling uncertainties. J Geophys Res 116. https://doi.org/10.1029/2010JD015218

Kennedy JJ, Rayner NA, Smith RO, Saunby M, Parker DE (2011b) Reassessing biases and other uncertainties in sea-surface temperature observations since 1850: 2. Biases and homogenisation. J Geophys Res 116:D14104. https://doi.org/10.1029/2010JD015220

Lavender KL, Davis RE, Owens WB (2000) Mid-depth recirculation observed on the interior Labrador and Irminger seas by direct velocity measurements. Nature 607:66–69

Lozier MS (2012) Overturning in the North Atlantic. Ann Rev of Marine Sci 4(1):291–315. https://doi.org/10.1146/annurev-marine-120710-100740

Moffa-Sanchez P, Hall IR (2017) North Atlantic variability and its links to European climate over the last 3000 years. Nature Comm 8:1726, 555. https://doi.org/10.1038/s41467-017-01884-8

Piron A, Thierry V, Mercier H, Caniaux G (2017) Gyre-scale deep convection in the subpolar North Atlantic Ocean during winter 2014–2015. Geophys Res Lett 44:1439–1447. https://doi.org/10.1002/2016GL071895

Polyakov IV, Bhatt US, Simmons HL, Walsh D, Walsh JE, Zhang X (2005) Multidecadal variability of North Atlantic temperature and salinity during the twentieth century. J Clim 18(21):4562–4581. https://doi.org/10.1175/JCLI3548.1

Rahmstorf S, Box JE, Feulner G, Mann ME, Robinson A, Rutherford S, Schaffernicht EJ (2015) Exceptional twentieth-century slowdown in Atlantic Ocean overturning circulation. Nat Clim Chang 5(5):475–480. https://doi.org/10.1038/nclimate2554

Reverdin G (2010) North Atlantic subpolar gyre surface variability (1895–2009). J Clim 23(17):4571–4584. https://doi.org/10.1175/2010JCLI3493.1

Reverdin G, Cayan D, Dooley H, Ellett D, Levitus S, du Penhoat Y, Dessier A (1994) Surface salinity of the North-Atlantic—can we reconstruct its fluctuations over the last 100 years. Prog Oceanogr 33(4):303–346. https://doi.org/10.1016/0079-6611(94)90021-3

Reverdin G, Cayan D, Kushnir Y (1997) Decadal variability of hydrography in the upper northern North Atlantic 1948–1990. J Geophys Res 102:8505–8531

Reverdin G, Alory G, Diverres D, Bringas F, Goni G, Heilmann L, Chafik L, Szekely T, Friedman AR (2018) North Atlantic subpolar gyre along predetermined ship tracks since 1993: a monthly data set of surface temperature, salinity, and density. Earth Syst Sci Data 10:1403–1415. https://doi.org/10.5194/essd-10-1403-2018

Rhein M, Kieke D, Hüttl-Kabus S, Roessler A, Mertens C, Meissner R, Klein B, Böning CW, Yashayaev I (2011) Deep water formation, the subpolar gyre, and the meridional overturning circulation in the subpolar North Atlantic. Deep Sea Res II 58:1819–1832. https://doi.org/10.1016/j.dsr2.2010.10.061

Richter TO, Peeters FJC, Weering TCE (2009) Late Holocene (0–2.4 ka BP) surface water temperature and salinity variability, Feni Drift, NE Atlantic Ocean. Quat Sci Rev 28:1941–1955

Riser SC, Freeland HJ, Roemmich D, Wijffels S, Troisi A, Belbéoch M, Gilbert D, Xu J, Pouliquen S, Thresher A, le Traon PY, Maze G, Klein B, Ravichandran M, Grant F, Poulain PM, Suga T, Lim B, Sterl A, Sutton P, Mork KA, Vélez-Belchí PJ, Ansorge I, King B, Turton J, Baringer M, Jayne SR (2016) Fifteen years of ocean observations with the Global Argo Array. Nat Clim Chang 6(2):145–153. https://doi.org/10.1038/nclimate2872

Roemmich D, Johnson GC, Riser S, Davis RE, Gilson J, Owens WB, Garzoli SL, Schmid C, Ignaszewski M (2009) The Argo Program: observing the global ocean with profiling floats. Oceanography 22:34–43. https://doi.org/10.5670/oceanog.2009.36

Skliris N, Marsh R, Josey SA, Good SA, Liu C, Allan RP (2014) Salinity changes in the World Ocean since 1950 in relation to changing surface freshwater fluxes. Clim Dyn 43(3–4):709–736. https://doi.org/10.1007/s00382-014-2131-7

Tesdal J, Abernathey RP, Goes JI, Gordon AL, Haine TW (2018) Salinity trends within the upper layers of the subpolar North Atlantic. J Clim 31:2675–2698. https://doi.org/10.1175/JCLI-D-17-0532.1

Thornhalley DJR, Oppo DW, Ortega P, Robson JI, Brierley CM, Davis R, Hall IR, Moffa-Sanchez P, Rose NL, Spooner PT, Yashayaev I, Keigwin LD (2018) Anomalously weak Labrador Sea convection and Atlantic overturning during the past 150 years. Nature 556:227–230. https://doi.org/10.1038/s41586-018-0007-4

UNESCO (1981) The practical salinity scale 1978 and the international equation of state of seawater 1980. UNESCO Tech Pap Mar Sci 36:25

Williams RG, Roussenov V, Lozier MS, Smith D (2015) Mechanisms of heat content and thermocline change in the subtropical and subpolar North Atlantic. J Clim 28:9803–9813. https://doi.org/10.1175/JCLI-D-15-0097.1

Yashayaev I (2007) Hydrographic changes in the Labrador Sea, 1960–2005. Prog Oceanogr 73:242–276. https://doi.org/10.1016/j.pocean.2007.04.015

Yashayaev I, Loder JW (2009) Enhanced production of Labrador Sea Water in 2008. Geophys Res Lett 36:L01606. https://doi.org/10.1029/2008GL036162

Yashayaev I, Loder JW (2016) Recurrent replenishment of Labrador Sea water and associated decadal-scale variability. J Geophys Res 121:8095–8114. https://doi.org/10.1002/2016JC012046

Yashayaev I, Loder JW (2017) Further intensification of deep convection in the Labrador Sea in 2016. Geophys Res Lett 44:1429–1438. https://doi.org/10.1002/2016GL071668

Yashayaev I, Seidov D (2015) The role of the Atlantic water in multidecadal ocean variability in the Nordic and Barents Seas. Prog Oceanogr 132:68–127

Yu L, Jin X, Liu H (2017) Poleward shift in ventilation of the North Atlantic subtropical underwater. Geophys Res Lett 44:258–266. https://doi.org/10.1002/2017GL075772
Funding
This is a contribution to the French SSS observation service, which is supported by French agencies INSU/CNRS, IRD, CNES, and IPEV, as well as from SOERE CTDO2. The Rockall Trough time series were provided with support from the UK Natural Environment Research Council (Extended Ellett Line Program, National Capability). The station time series south of Iceland were provided with Icelandic support. The annual oceanographic monitoring of the Labrador Sea was initiated as a Canadian contribution to the World Ocean Circulation Experiment in 1990 and is presently conducted as a core component of the Atlantic Zone Off-Shelf Monitoring Program (AZOMP) run by the Bedford Institute of Oceanography of Fisheries and Oceans Canada. The International Argo Program is part of the Global Ocean Observing System (Argo 2000). Argo data are available from the Coriolis Global Data Center, Institut français de recherche pour l'exploitation de la mer (Ifremer). The HadSST3 and EN4 data were provided by the Met Office Hadley Center, and the ISHII data were provided by the NCAR Research Data Archive. A.R.F. was supported by SOERE CTDO2 and the ERC funded project TITAN (EC-320691). L.C. acknowledges support from the Swedish National Space Board (SNSB; Dnr 133/17).
Additional information
This article is part of the Topical Collection on the 50th International Liège Colloquium on Ocean Dynamics, Liège, Belgium, 28 May to 1 June 2018
Responsible Editor: Michael J. McPhaden
Appendices
Appendix 1. Comparison with Friedman et al. (2017)
The BINS boxes mainly use the same underlying SSS data as the large boxes north of 40° N in Friedman et al. (2017). The datasets cover a similar area (Fig. 10a); though as mentioned previously, the BINS boxes more carefully avoid shelf regions (except for southwest Greenland and the southern part of the Grand Banks). Most of the source data used in the two analyses are the same. Additionally, BINS also incorporates two small datasets from the 1900s and 1910s, plus a few recent transects (and 2014–2015). There are more gaps in the 34 BINS time series than in Friedman et al. (2017): in particular in 1918–1921 and during and just after WWII; these gaps are linearly interpolated in the smaller boxes. Also, when sampling is poor, but varying geographically within the larger boxes, it is possible that some spatial variability is aliased in the temporal variability in the larger boxes.
Figure 10b compares the NATL index from Friedman et al. (2017), area-averaged SSS from 45° to 62° N, with SSS averaged over a similar area in BINS. (NATL from Friedman et al. (2017) is only plotted through 2012, as 2013 was subject to endpoint smoothing). The two products are very highly correlated (r = 0.94, 1896–2012) and compatible considering the differences in area and error estimates. Greater differences are found for smaller regions in the first half of the record, particularly during the gap years mentioned above (not shown).
Appendix 2. Comparison with Reverdin et al. (2018)
As a check on the BINS time series, we compare the boxes with time series constructed with mostly similar data, monthly binned along two ship routes since mid-1993, intersecting near 59.5° N/32° W: AX02 between Iceland and southern Newfoundland and AX01 between the North Sea and southern Greenland, mostly along 59.5° N (Reverdin et al. 2018), shown in Fig. 11a. Time series along AX02 start in July 1993 with few gaps, whereas for AX01 some large data gaps were filled until late 1997. These time series, referred to as B-AX01 and B-AX02, provide increased spatial resolution at seasonal timescales and portray very coherent variability where they intersect.
We illustrate the comparison of interannual variability of T and S between B-AX01 and BINS for overlapping boxes in the common period 1993–2015 (Fig. 11b). For S, the corresponding filtered RMS variability is larger in B-AX01 than in BINS by up to 20%, but with very high correlation coefficients (all larger than 0.95). The smaller RMS amplitudes of salinity in BINS probably result from the larger box sizes and the resulting spatial averaging. RMS variability is more similar for T, but with a slightly smaller correlation in the Iceland Basin (0.80), where gaps in 1993–1997 were the most common in B-AX01. Altogether, the comparisons for the two ship tracks suggest that the method used for BINS in the box averaging to produce interannual variability yields correct results when data coverage is sufficient.
Appendix 3. Locations of BINS and HadSST3 grid boxes
About this article
Cite this article
Reverdin, G., Friedman, A.R., Chafik, L. et al. North Atlantic extratropical and subpolar gyre variability during the last 120 years: a gridded dataset of surface temperature, salinity, and density. Part 1: dataset validation and RMS variability. Ocean Dynamics 69, 385–403 (2019). https://doi.org/10.1007/s10236-018-1240-y
Received:

Accepted:

Published:

Issue Date:
Keywords
Sea surface temperature

Sea surface salinity

Surface density

North Atlantic

Decadal variability