Abstract
This paper addresses an extraordinary storm surge in the Northern Adriatic that was more pronounced on the eastern than on the western shore. On 1 December 2008, Adriatic monitoring stations detected exceptionally high sea levels; the oldest Croatian tide gauge station recorded the highest water level in its operating history at the time. Apart from the Northern Adriatic, large portion of the Dalmatian Coast was also exposed to high water levels, while Venice experienced a less-dramatic event. This marine storm was different from the capital storm of 4 November 1966 during which the surge had the highest impact ahead of Venice and along the north-western coastline. The 2008 event is studied here in detail, and the mechanisms that resulted in the different flooding of the two shores are identified. The study is based on hourly sea level, air pressure and wind data measured along both basin sides together with ECMWF reanalysis fields. Four components of sea-level evolution are identified: the storm surge, tide, Adriatic seiche and, low-frequency variability. The 2008 event was the outcome of a fine interplay between the first three components, which were all superimposed on the raised sea level due to low-frequency variability. The marine storm differed from the 1966 storm in the atmospheric forcing and relative timing of all contributing processes. The 2008 flooding of the eastern coast was mainly due to the Sirocco-wind shear, whereas the 1966 flooding of the western coast was due to the combined effect of almost uniform Sirocco and bottom slope.
Access options
Buy single article
Instant access to the full article PDF.
USD 39.95
Price excludes VAT (USA)
Tax calculation will be finalised during checkout.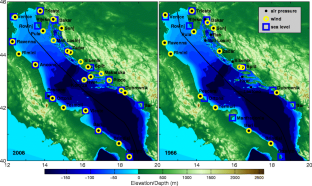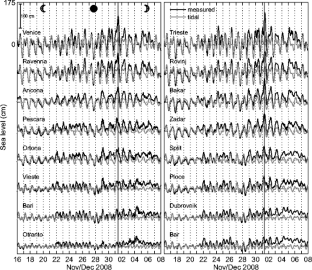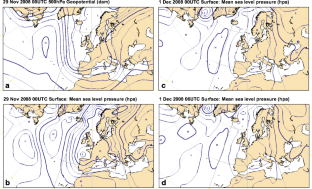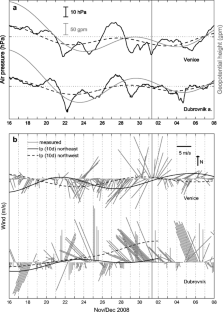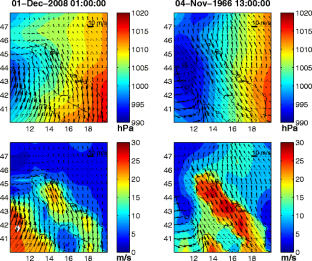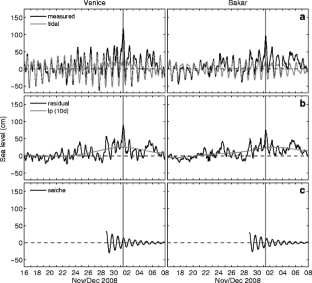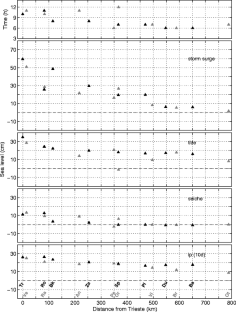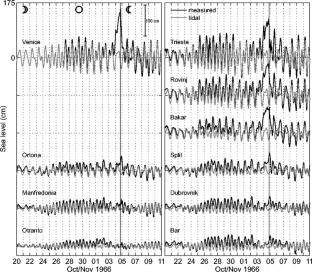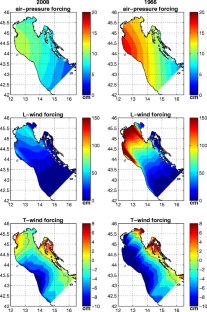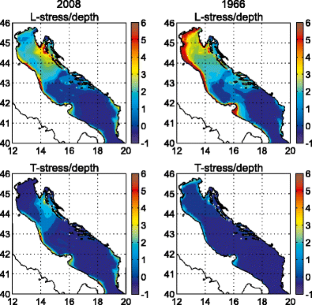 Notes
All sea-level values reported in this paper are relative to the average values of the studied periods (see Section 2)

It should be mentioned that on 1 November 2012 sea level at Bakar surpassed the extreme on 1 December 2008 by 8 cm
References
Accerboni E, Manca B (1973) Storm surge forecasting in the Adriatic Sea by means of a 2d hydrodynamical numerical model. Boll Geofis Teor Appl 15(57):3–22

Bertotti L, Bidlot JR, Buizza R, Cavaleri L, Janousek M (2011) Deterministic and ensemble-based prediction of Adriatic Sea sirocco storms leading to 'acqua alta' in Venice. Q J Roy Meteor Soc 137(659):1446–1466. doi:10.1002/qj.861

Bonato N, Egiatti G, Ferla M, Filippi M (2001) Tidal observations in the Venetian Lagoon. Update on sea level change from 1872 to 200. Book of Abstracts, Final Workshop of COST Action 40. Hydrographic Institute of the Republic of Croatia, Split, 97–105

Bowen AJ, Inman DL, Simmons VP (1968) Wave set‐down and set‐up. J Geophys Res 73(8):2569–2577

Cavaleri L, Bertotti L (1997) In search of the correct wind and wave fields in a minor basin. Mon Weather Rev 125:1964–1975. doi:10.1175/1520-0493(1997)125<1964:ISOTCW>2.0.CO;2

Cavaleri L, Bertotti L (2006) The improvement of modelled wind and wave fields with increasing resolution. Ocean Eng 33:553–565. doi:10.1016/j.oceaneng.2005.07.004

Cavaleri L, Bertotti L, Buizza R, Buzzi A, Masato V, Umgiesser G, Zampieri M (2010) Predictability of extreme meteo-oceanographic events in the Adriatic Sea. Q J Roy Meteor Soc 136:400–413. doi:10.1002/qj.567

Cerovečki I, Orlić M, Hendershott MC (1997) Adriatic seiche decay and energy loss to the Mediterranean. Deep-Sea Res I 44(12):2007–2029. doi:10.1016/S0967-0637(97)00056-3

De Zolt S, Lionello P, Malguzzi P, Nuhu A, Tomasin A (2006) The disastrous storm of 4 November 1966 on Italy. Nat Hazard Earth Sys 6:861–879

Dee DP, Uppala SM, Simmons AJ et al (2011) The ERA-Interim reanalysis: Configuration and performance of the data assimilation system. Q J Roy Meteor Soc 137:553–597. doi:10.1002/qj.828

Finizio C, Palmieri S, Riccucci A (1972) Numerical model of Adriatic for prediction of high tides at Venice. Q J Roy Meteor Soc 98(415):86–104. doi:10.1002/qj.49709841508

Godin G, Trotti L (1975) Trieste-water levels 1952–1971: a study of the tide, mean level, and seiche activity. Miscellaneous special publication 28. Department of the Environment, Fisheries and Marine Service, Ottawa

Hendershot MC, Speranza A (1971) Co-oscillating tides in long, narrow bays: the Taylor problem revisited. Deep-Sea Res 18:959–980. doi:10.1016/0011-7471(71)90002-7

Karabeg M, Orlić M (1982) The influence of air pressure on sea level in the North Adriatic—a frequency-domain approach. Acta Adriat 23(1/2):21–27

Kasumović M (1959) Dynamical effect of the atmosphere on sea-level oscillations in the Adriatic (in Croatian). Rasprave odjela za matematičke, fizičke i tehničke nauke JAZU 2(1):1–48

Lamb H (1932) Hydrodynamics. Cambridge University, Cambridge

Lionello P, Mufato R, Tomasin A (2005) Sensitivity of free and forced oscillations of the Adriatic Sea to sea level rise. Clim Res 29:23–39

Lionello P, Sanna A, Elvini E, Mufato R (2006) A data assimilation procedure for operational prediction of storm surge in the Northern Adriatic Sea. Cont Shelf Res 26:539–553. doi:10.1016/j.csr.2006.01.003

Lionello P, Cavaleri L, Nissen KM, Pino C, Raicich F, Ulbrich U (2012) Severe marine storms in the Northern Adriatic: characteristics and trends. Phys Chem Earth 40–41:93–105. doi:10.1016/j.pce.2010.10.002

Malačič V, Viezzoli D, Cushman-Roisin B (2000) Tidal dynamics in the northern Adriatic Sea. J Geophys Res 105:26.265–26.280

Malguzzi P, Grossi G, Buzzi A, Ranzi R, Buizza R (2006) The 1966 'century' flood in Italy: a meteorological and hydrological revisitation. J Geophys Res-Atmos 111:D24106. doi:10.1029/2006JD007111

Masina M, Lamberti A (2013) A nonstationary analysis for the Northern Adriatic extreme sea levels. J Geophys Res Oceans 118:3999–4016. doi:10.1002/jgrc.20313

Mosetti F (1985) Problems on storm surges forecasting in the Northern Adriatic Sea. Boll Oceanol Teor Appl 3(4):263–297

Mosetti F (1987) Distribuzione delle maree nei mari italiani. Boll Oceanol Teor Appl 5(1):65–72

Murty TS (1984) Storm surges: Meteorological ocean tides. Department of Fisheries and Oceans, Ottawa

Orlić M, Kuzmić M, Pasarić Z (1994) Response of the Adriatic Sea to the bora and sirocco forcing. Cont Shelf Res 14(1):91–116

Otnes RK, Enochson L (1978) Applied time series analysis, vol 1, 2nd edn. Wiley, New York

Pasarić M, Orlić M (1992) Response of the Adriatic Sea level to the planetary-scale atmospheric forcing. Geogr Monog Series 69:29–39

Pasarić M, Orlić M (2001) Long-term meteorological preconditioning of the North Adriatic coastal floods. Cont Shelf Res 21:263–278. doi:10.1016/S0278-4343(00)00078-9

Pasarić M, Pasarić Z, Orlić M (2000) Response of the Adriatic sea level to the air pressure and wind forcing at low frequencies (0.01–0.1 cpd). J Geophys Res 105:11423–11439. doi:10.1029/2000JC900023

Pawlowicz R, Beardsley B, Lentz S (2002) Classical tidal harmonic analysis including error estimates in MATLAB using T_TIDE. Comput Geosci 28:929–937. doi:10.1016/S0098-3004(02)00013-4

Raicich F (2003) Recent evolution of sea-level extremes at Trieste (Northern Adriatic). Cont Shelf Res 23(3–4):225–235. doi:10.1016/S0278-4343(02)00224-8

Raicich F, Orlić M, Vilibić I, Malačič V (1999) A case study of the Adriatic seiches (December 1997). Nuovo Cimento C 22:715–726

Robinson AR, Tomasin A, Artegiani A (1973) Flooding of Venice, phenomenology and prediction of the Adriatic storm surge. Q J Roy Meteor Soc 99(422):688–692. doi:10.1002/qj.49709942210

State Hydrographic Institute (1991) Tide tables: Adriatic Sea - east coast, Split

State Hydrographic Institute (2012) Tide tables: Adriatic Sea - east coast, Split

Stravisi F, Marussi SA (1973) Analysis of a storm surge in Adriatic Sea by means of a 2-dimensional linear-model. Atti Accad Naz Lincei Cl Sci Fis Mat Nat 54(2):243–260

Tomasin A, Frassetto R (1979) Cyclogenesis and forecast of dramatic water elevations in Venice. In: Nihoul J (ed) Marine forecasting. Elsevier, Amsterdam, pp 427–437

Trigo IF, Davies TD (2002) Meteorological conditions associated with sea surges in Venice: a 40 year climatology. Int J Climatol 22:787–803. doi:10.1002/joc.719

Uppala SM, Kållberg PW, Simmons AJ et al (2005) The ERA-40 re-analysis. Q J Roy Meteor Soc 131:2961–3012. doi:10.1256/qj.04.176

Venice Municipality – Tide Monitoring and Forecast Center (http://www.comune.venezia.it/flex/cm/pages/ServeBLOB.php/L/IT/IDPagina/25419, reached on 23 March 2014)
Acknowledgments
We would like to thank the following colleagues and institutions for providing data: Prof. Alberto Tomasin, Centro Nazionale di Meteorologia Climatologia Aeronautica, Consiglio Nazionale Delle Ricerche, Croatia Control Ltd., Hydrographic Institute of the Republic of Croatia, Hydrological and Meteorological Service of Montenegro, Istituzione Centro Previsioni e Segnalazioni Maree, Italian Agency for Environmental Protection and Technical Services, Meteorological and Hydrological Service of the Republic of Croatia and Regione Abruzzo. Many thanks to Prof. Zoran Pasarić for assistance with data processing and to Zlatko Matica for his help with data digitisation. This work has been fully supported by Croatian Science Foundation under the project 2831 (CARE).
Additional information
Responsible Editor: Emil Vassilev Stanev
About this article
Cite this article
Međugorac, I., Pasarić, M. & Orlić, M. Severe flooding along the eastern Adriatic coast: the case of 1 December 2008. Ocean Dynamics 65, 817–830 (2015). https://doi.org/10.1007/s10236-015-0835-9
Received:

Accepted:

Published:

Issue Date:

DOI: https://doi.org/10.1007/s10236-015-0835-9
Keywords
Northern Adriatic

Exceptional sea level

Acqua alta

Storm surge