Abstract
A fine-resolution (1/10°) ocean/sea ice model configured in the Community Earth System Model framework is compared with observations and studied to determine the basin-scale and local balances controlling the variability of sea ice anomalies from the mean seasonal cycle in the Bering Sea for the time period 1980–1989. The model produces variations in total Bering Sea ice area anomalies that are highly correlated with observations. Surface air temperature, which is specified from reanalysis atmospheric forcing, strongly controls the ice volume variability in this simulation. The thermodynamic ice volume change is dominated by surface energy flux via atmosphere-ice sensible heat flux, except near the southern ice edge where it is largely controlled by ocean-ice heat flux. While thermodynamic processes dominate the variations in ice volume in the Bering Sea on the large scale, dynamic processes are important on the local scale near ice margins (both oceanic and land), where dynamic and thermodynamic ice volume changes have opposite signs and nearly cancel each other. Ice motion is generally consistent with winds driving the flow, except near certain straits in the north where ice motion largely follows ocean currents. Two key climate events, strong ice growth with cold air temperature and northerly wind anomalies in February 1984 and weak ice growth with warm air temperature and southerly wind anomalies in February 1989, are studied here in detail. While the processes controlling the ice changes are generally similar to those in other years, these large events help reveal the characteristic spatial patterns of ice growth/melt and transport anomalies.
Access options
Buy single article
Instant access to the full article PDF.
USD 39.95
Price excludes VAT (USA)
Tax calculation will be finalised during checkout.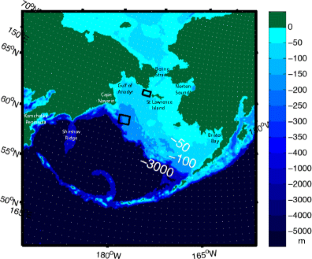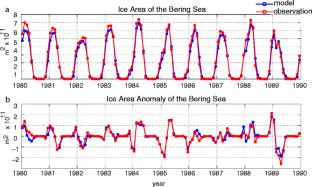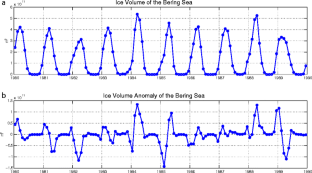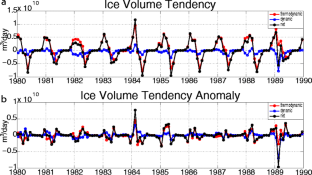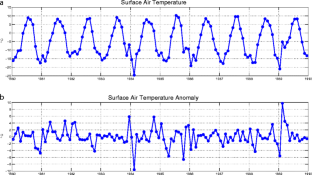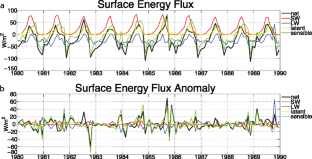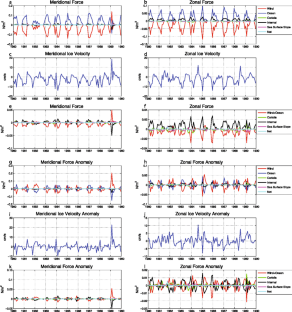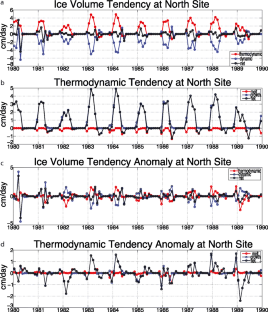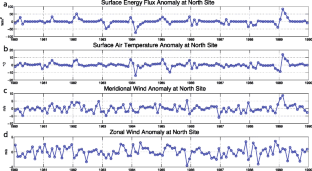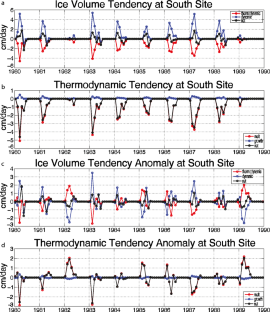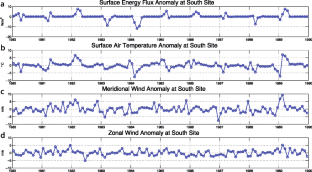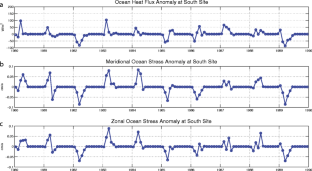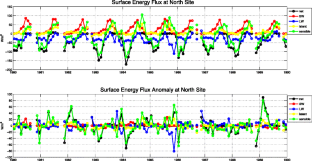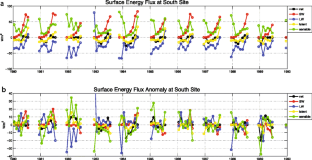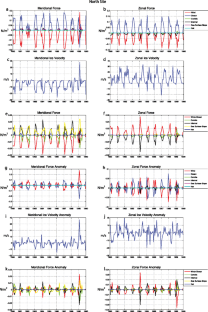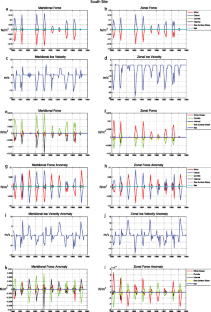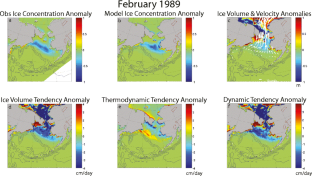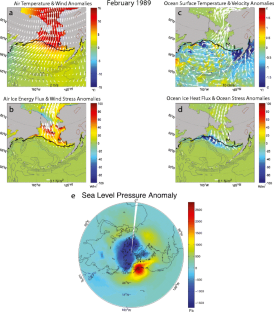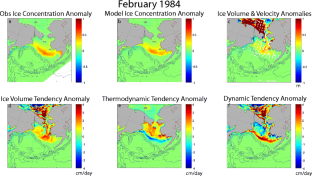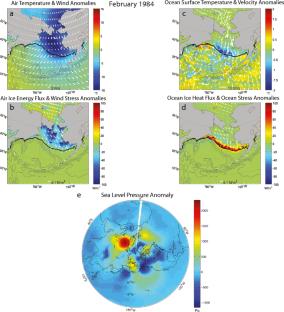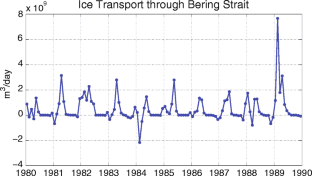 References
Auad G, Miller AJ (2008) The role of tidal forcing in the Gulf of Alaska's circulation. Geophys Res Lett 35:L04603

Bitz CM, Lipscomb WH (1999) An energy-conserving thermodynamic model of sea ice. J Geophys Res 104(C7):15669–15677

Bitz CM, Holland MM, Hunke EC, Moritz RE (2005) Maintenance of the sea-ice edge. J Clim 18(15):2903–2921

Cavalieri DJ, Parkinson CL (1987) On the relationship between atmospheric circulation and the fluctuations in the sea ice extents of the Bering and Okhotsk seas. J Geophys Res 92(C7):7141–7162

Cheng W, Curchitser E, Ladd C, Stabeno P, Wang M (2014) Influences of sea ice on the Eastern Bering Sea: NCAR CESM simulations and comparison with observations. Deep-Sea Res. Part II Top. Stud. Oceanogr. doi:10.1016/j.dsr2.2014.03.002

Comiso JC (2000) Bootstrap sea ice concentrations from Nimbus-7SMMR and DMSP SSM/I-SSMIS. Version 2. Boulder, Colorado USA: NASA DAAC at the National Snow and Ice Data Center

Connolley WM, Gregory JM, Hunke E, McLaren AJ (2004) On the consistent scaling of terms in the sea-ice dynamics equation. J Phys Oceanogr 34(7):1776–1780

Craig AP, Vertenstein M, Jacob R (2012) A new flexible coupler for earth system modeling developed for CCSM4 and CESM1. Int J High Perform C 26:31–42

Danielson S, Curchitser E, Hedstrom K, Weingartner T, Stabeno P (2011) On ocean and sea ice modes of variability in the Bering Sea. J Geophys Res 116:C12034

Deser C, Walsh JE, Timlin MS (2000) Arctic sea ice variability in the context of recent atmospheric circulation trends. J Clim 13(3):617–633

Dukowicz JK, Smith RD (1994) Implicit free-surface method for the Bryan-Cox-Semtner ocean model. J Geophys Res 99:7991–8014

Fang Z, Wallace JM (1994) Arctic sea ice variability on a timescale of weeks and its relation to atmospheric forcing. J Clim 7(12):1897–1914

Fetterer F, Knowles K, Meier W, Savoie M (2002, updated daily). Sea Ice Index. Boulder, Colorado USA: National Snow and Ice Data Center. Digital media

Griffies SM, Biastoch A, Boning C, Bryan F, Danabasoglu G, Chassignet EP, England MH, Gerdes R, Haak H, Hallberg RW, Hazeleger W, Jungclaus J, Large WG, Madec G, Pirani A, Samuels BL, Scheinert M, Gupta AS, Severijns CA, Simmons HL, Treguier AM, Winton M, Yeager S, Yin J (2009) Coordinated Ocean-ice Reference Experiments (COREs). Ocean Model 26:1–46

Griffies SM, Winton M, Samuels B, Danabasoglu G, Yeager S, Marsland S, Drange H, Bentsen M (2012) Datasets and protocol for the CLIVAR WGOMD Coordinated Ocean sea-ice Reference Experiments (COREs). WCRP, Report No. 21/2012

Haidvogel DB, Arango H, Budgell WP, Cornuelle BD, Curchitser E, Di Lorenzo E, Fennel K, Geyer WR, Hermann AJ, Lanerolle L et al (2008) Ocean forecasting in terrain-following coordinates: formulation and skill assessment of the regional ocean modeling system. J Comput Phys 227(7):3595–3624

Hermann AJ, Stabeno PJ, Haidvogel DB, Musgrave DL (2002) A regional tidal/subtidal circulation model of the southeastern Bering Sea: development, sensitivity analyses and hindcasting. Deep-Sea Res Part II Top Stud Oceanogr 49:5495–5967

Holland MM, Serreze MC, Stroeve J (2010) The sea ice mass budget of the arctic and its future change as simulated by coupled climate models. Clim Dynam 34(23):185–200

Hunke EC, Dukowicz JK (1997) An elastic-viscous-plastic model for sea ice dynamics. J Phys Oceanogr 27(9):1849–1867

Kimura N, Wakatsuchi M (2000) Relationship between sea-ice motion and geostrophic wind in the northern hemisphere. Geophys Res Lett 27(22):3735–3738

Kimura N, Wakatsuchi M (2001) Mechanisms for the variation of sea ice extent in the northern hemisphere. J Geophys Res 106(C12):31319–31331

Large WG, Yeager SG (2004) Diurnal to decadal global forcing for ocean and sea-ice models: the data sets and flux climatologies. National Center for Atmospheric Research

Large WG, Yeager SG (2009) The global climatology of an interannually varying air–sea flux data set. Clim Dynam 33(2-3):341–364

Li L, McClean JL, Miller AJ, Eisenman I, Hendershott MC, Papadopoulis CA (2014) Processes driving sea ice variability in the Bering Sea in an eddying ocean/sea ice model: mean seasonal cycle. Ocean Model., in press

Linkin ME, Nigam S (2008) The north pacific oscillation-west pacific teleconnection pattern: mature-phase structure and winter impacts. J Clim 21(9):1979–1997

Lipscomb WH, Hunke EC (2004) Modeling sea ice transport using incremental remapping. Mon Weather Rev 132:1341–1354

Liu Z, Liu Y, Wu L, Jacob R (2007) Seasonal and long-term atmospheric responses to reemerging North Pacific Ocean variability: a combined dynamical and statistical assessment. J Clim 20(6):955–980

Matthewman NJ, Magnusdottir G (2011) Observed interaction between pacific sea ice and the western pacific pattern on intraseasonal time scales. J Clim 24(19):5031–5042

McClean JL, Bader DC, Bryan FO, Maltrud ME, Dennis JM, Mirin AA, Jones PW, Kim YY, Ivanova DP, Vertenstein M, Boyle JS, Jacob RL, Norton N, Craig A, Worley PH (2011) A prototype two-decade fully-coupled fine-resolution CCSM simulation. Ocean Model 39:10–30

McClean JL, Hunke EC, Bailey D, Papadopoulos C, Yulaeva E (2014) Multi-decadal CORE-forced global 0.1-deg coupled ocean/sea-ice simulations using the Community Earth System Model, in preparation

Muench RD, Ahlnas K (1976) Ice movement and distribution in the Bering Sea from March to June 1974. J Geophys Res 81(24):4467–4476

Niebauer HJ (1980) Sea ice and temperature variability in the eastern Bering Sea and the relation to atmospheric fluctuations. J Geophys Res 85(C12):7507–7515

Niebauer HJ (1983) Multiyear sea ice variability in the eastern Bering Sea: an update. J Geophys Res 88(C5):2733–2742

Niebauer HJ (1988) Effects of el nino-southern oscillation and north pacific weather patterns on interannual variability in the subarctic Bering Sea. J Geophys Res 93(C5):5051–5068

Niebauer HJ (1998) Variability in Bering Sea ice cover as affected by a regime shift in the north pacific in the period 1947–1996. J Geophys Res 103(C12):27717–27737

Niebauer HJ, Day RH (1989) Causes of interannual variability in the sea ice cover of the eastern Bering Sea. GeoJournal 18(1):45–59

Overland JE, Pease CH (1982) Cyclone climatology of the Bering Sea and its relation to sea ice extent. Mon Weather Rev 110(1):5–13

Overland JE, Adams JM, Bond NA (1999) Decadal variability of the Aleutian Low and its relation to high-latitude circulation. J Clim 12(5):1542–1548

Pease CH (1980) Eastern Bering Sea ice processes. Mon Weather Rev 108(12):2015–2023

Pease CH, Overland JE (1984) An atmospherically driven sea-ice drift model for the Bering Sea. Ann Glaciol 5:111–114

Reynolds M, Pease CH, Overland JE (1985) Ice drift and regional meteorology in the southern Bering Sea: results from MIZEX West. J Geophys Res 90(C6):11967–11981

Rigor I, Colony R, Martin S (2000) Variations in surface air temperature observations in the Arctic, 1979–1997. J Clim 13:896–914

Rodionov SN, Overland JE, Bond NA (2005) The Aleutian Low and winter climatic conditions in the Bering Sea. Part I: classification. J Climate 18(1):160–177

Rodionov SN, Bond NA, Overland JE (2007) The Aleutian Low, storm tracks, and winter climate variability in the Bering Sea. Deep-Sea Res Part II Top Stud Oceanogr 54(23):2560–2577

Rogers JC (1981) The North Pacific oscillation. J Climatol 1(1):39–57

Sasaki YN, Minobe S (2005) Seasonally dependent interannual variability of sea ice in the Bering Sea and its relation to atmospheric fluctuations. J Geophys Res 110(C5):C05011

Stabeno PJ, Schumacher JD, Davis RF, Napp JM (1998)Under-ice observations of water column temperature, salinity and spring phytoplankton dynamics: eastern Bering Sea shelf. J Mar Res 56(1):239–255

Stabeno PJ, Bond NA, Kachel NB, Salo SA, Schumacher JD (2001) On the temporal variability of the physical environment over the south-eastern Bering Sea. Fish Oceanogr 10(1):81–98

Steele M, Zhang J, Rothrock D, Stern H (1997) The force balance of sea ice in a numerical model of the Arctic Ocean. J Geophys Res 102(C9):21061–21079

Thorndike AS, Colony R (1982) Sea ice motion in response to geostrophic winds. J Geophys Res 87(C8):5845–5852

Walsh JE, Johnson CM (1979) An analysis of arctic sea ice fluctuations, 1953–77. J Phys Oceanogr 9(3):580–591

Walsh JE, Sater JE (1981) Monthly and seasonal variability in the ocean-ice-atmosphere systems of the North Pacific and the North Atlantic. J Geophys Res 86(C8):7425–7445

Walsh JE, Hibler WD, Ross B (1985) Numerical simulation of northern hemisphere sea ice variability, 1951–1980. J Geophys Res 90(C3):4847–4865

Zhang J, Rothrock D, Steele M (2000) Recent changes in arctic sea ice: the interplay between ice dynamics and thermodynamics. J Clim 13(17):3099–3114

Zhang J, Woodgate R, Moritz R (2010) Sea ice response to atmospheric and oceanic forcing in the Bering Sea. J Phys Oceanogr 40(8):1729–1747

Zhang Y, Rossow W, Lacis A, Oinas V, Mishchenko M (2004) Calculation of radiative flux profiles from the surface to top-of-atmosphere based on ISCCP and other global data sets: refinements of the radiative transfer model and the input data. J Geophys Res 109:D19

Zhao P, Zhang X, Zhou X, Ikeda M, Yin Y (2004) The sea ice extent anomaly in the north pacific and its impact on the East Asian summer monsoon rainfall. J Clim 17(17):3434–3447
Acknowledgments
This study formed a portion of the Ph.D. dissertation of LL at Scripps Institution of Oceanography. Funding was provided by National Science Foundation grants OCE-0960770, OCE-1419306, and ARC-1107795. JLM was supported by the US Department of Energy's Office of Biological and Environmental Research in the Office of Science as part of a project named "Ultra High Resolution Global Climate Simulation to Explore and Quantify Predictive Skill for Climate Means, Variability and Extremes" and DOE DE-FG0205ER64119. The SIO Department generously provided salary support for LL during her final year at Scripps. The ocean/sea-ice simulation was conducted using computer resources (Yellowstone; ark:/85065/d7wd3xhc) provided by the Climate Simulation Laboratory at NCAR's Computational and Information Systems Laboratory, sponsored by the National Science Foundation and other agencies. Computer resources were also provided by the National Energy Research Scientific Computing Center, which is supported by the Office of Science of the US Department of Energy. Caroline Papadopoulos (SIO) carried out the ocean sea ice simulation. Elena Yulaeva (SIO) is thanked for extracting the Bering Sea ocean and sea-ice model fields and transferring them from the NSF computing facility at Yellowstone to SIO.
Additional information
Responsible Editor: Pierre Lermusiaux
About this article
Cite this article
Li, L., Miller, A.J., McClean, J.L. et al. Processes driving sea ice variability in the Bering Sea in an eddying ocean/sea ice model: anomalies from the mean seasonal cycle. Ocean Dynamics 64, 1693–1717 (2014). https://doi.org/10.1007/s10236-014-0769-7
Received:

Accepted:

Published:

Issue Date:

DOI: https://doi.org/10.1007/s10236-014-0769-7
Keywords