Abstract
The Dee Estuary, at the NW English–Welsh border, is a major asset, supporting: one of the largest wildlife habitats in Europe, industrial importance along the Welsh coastline and residential and recreational usage along the English coast. Understanding of the residual elevation is important to determine the total water levels that inundate intertidal banks, especially during storms. Whereas, improved knowledge of the 3D residual circulation is important in determining particle transport pathways to manage water quality and morphological change. Using mooring data obtained in February–March 2008, a 3D modelling system has been previously validated against in situ salinity, velocity, elevation and wave observations, to investigate the barotropic–baroclinic wave interaction within this estuary under full realistic forcing. The system consists of a coupled circulation-wave-turbulence model (POLCOMS-WAM-GOTM). Using this modelling system the contribution of different processes and their interactions to the monthly residuals in both elevation and circulation is now assessed. By studying a tidally dominated estuary under wave influence, it is found that baroclinicity induced by a weak river flow has greater importance in generating a residual circulation than the waves, even at the estuary mouth. Although the monthly residual circulation is dominated by tidal and baroclinic processes, the residual estuarine surface elevation is primarily influenced by the seasonal external forcing to the region, with secondary influence from the local wind conditions. During storm conditions, 3D radiation stress becomes important for both elevation and circulation at the event scale but is found here to have little impact over monthly time scales.
Access options
Buy single article
Instant access to the full article PDF.
USD 39.95
Price includes VAT (USA)
Tax calculation will be finalised during checkout.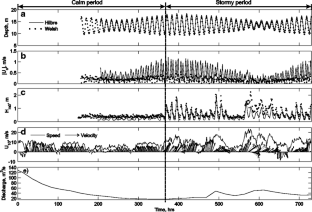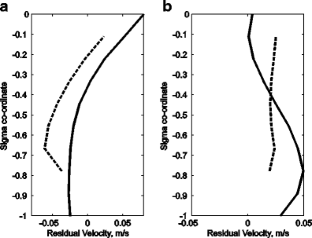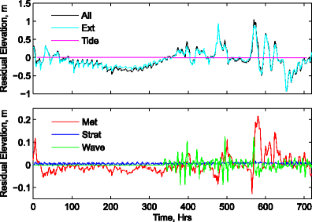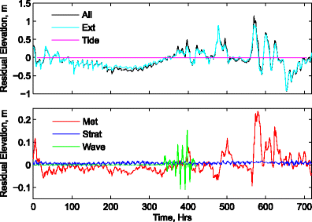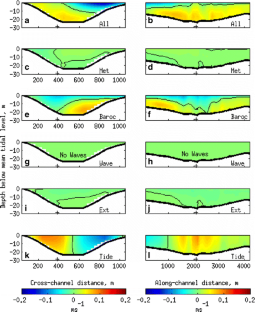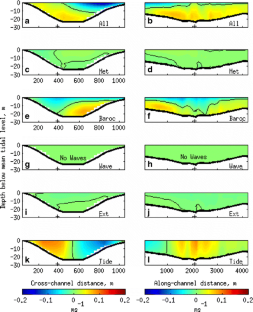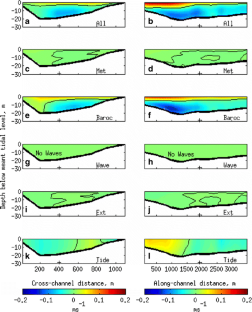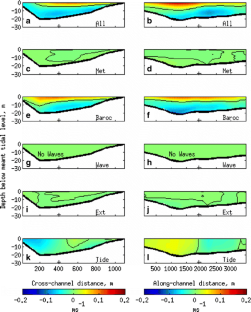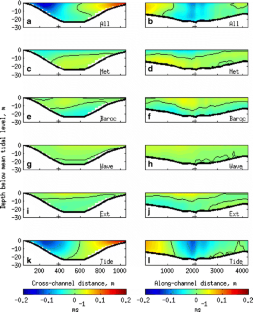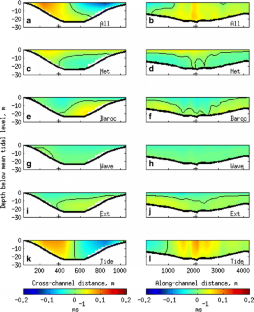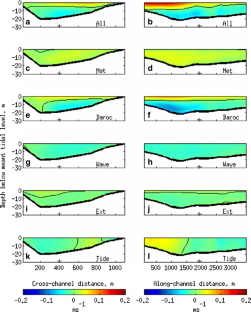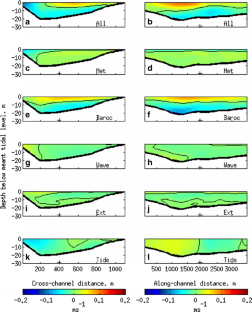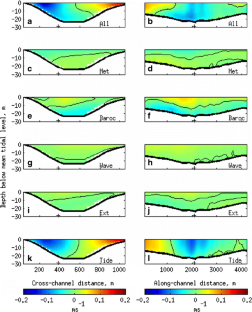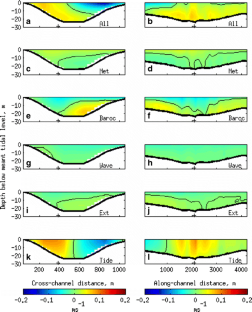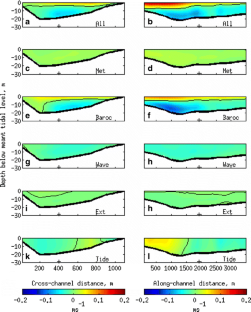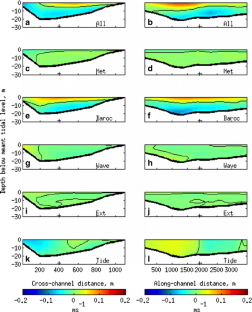 References
Amoudry LO, Souza AJ, Brown, JM, Ramirez-Mendoza R (2014) Modelling-based assessment of suspended sediment dynamics in a hypertidal estuary. Ocean Dynamics, PECS special issue: Physics of Estuaries and Coastal Seas, New York, USA, 12-16th August 2012 (this issue). doi:10.1007/s10236-014-0695-8

Bolaños R, Souza AJ (2010) Measuring hydrodynamics and sediment transport processes in the Dee Estuary. Earth Syst Sci Data 2:157–165

Bolaños R, Brown JM, Souza A (2011) Three dimensional circulation modeling in the Dee Estuary. J Coast Res SI 64:1457–1461

Bolaños R, Brown JM, Amoudry LO, Souza A (2013) Tidal, riverine and wind influences on the circulation of a macrotidal estuary. J Phys Oceanogr 41(1):29–50

Brown JM, Bolaños R, Souza A (2014) Process contribution to the time-varying residual circulation in tidally dominated estuarine environments. Coasts and Estuaries (in press). doi:10.1007/s12237-013-9745-6

Brown JM, Souza AJ, Wolf J (2010) An investigation of recent decadal-scale storm events in the eastern Irish Sea. J Geophys Res (Oceans) 115(C05018):12pp

Brown JM, Bolaños R, Howarth MJ, Souza A (2012a) Extracting sea level residual in tidally dominated estuarine environments. Ocean Dyn 62(7):969–982

Brown JM, Wolf J, Souza AJ (2012b) Future extreme events in Liverpool Bay: model projections from 1960–2100. Clim Chang 11(2):365–391

Cáceres M, Valle-Levinson A, Atkinson L (2003) Observations of cross-channel structure of flow in an energetic tidal channel. Journal of Geophysical Research, 108(C4), 3114, 10 pp

Chen S-N, Stanford LP, Ralston DK (2009) Lateral circulation and sediment transport driven by axial winds in an idealized, partially mixed estuary. J Geophys Res 114(C12006):18pp

Cheng P, de Swart HE, Arnoldo V-L (2013) Role of asymmetric tidal mixing in the subtidal dynamics of narrow estuaries. J Geophys Res – Oceans 118(5):2623–2639

Deleersnijder E, Beckers J-M (1992) On the use of the σ-coordinate system in regions of large bathymetric variations. J Mar Syst 3:381–390

Giddings SN, Monismith SG, Fong DA, Stacey MT (2013) Using depth-normalized coordinates to examine mass transport residual circulation in estuaries with large tidal amplitude relative to mean depth. Journal of Physical Oceanography. doi:10.1175/JPO-D-12-0201.1 (in press)

Holt JT, James ID (2001) An s coordinate density evolving model of the northwest European continental shelf: 1, model description and density structure. J Geophys Res 106(C7):14,015–14,034

Holt J, Proctor R (2008) The seasonal circulation and volume transport on the northwest European continental shelf: A fine-resolution model study, Journal of Geophysical Research, 113, C06021, 20pp

Horsburgh KJ, Wilson C (2007) Tide-surge interaction and its role in the distribution of surge residuals in the North Sea. Journal of Geophysical Research 112(C08003). doi:10.1029/2006JC004033

Jones JE, Davies AM (1998) Storm surge computations for the Irish Sea using a three-dimensional numerical model including wave-current interaction. Cont Shelf Res 18(2):201–251

Kasai A, Hill E, Fujiwara T, Simpson JH (2000) Effect of the Earth's rotation on the circulation in regions of freshwater influence. J Geophys Res 105(C7):16,961–16,969

Komen GJ, Cavaleri L, Donelan M, Hasselmann K, Hasselmann S, Janssen PAEM (1994) Dynamics and modelling of ocean waves. Cambridge University Press, Cambridge, 532 pp

Li C, O'Donnell J (2005) The effect of channel length on the residual circulation in tidally dominated channels. J Phys Oceanogr 35(10):1826–1840

Li C, Weeks E, Rego JL (2009) In situ measurements of saltwater flux through tidal passes of Lake Pontchartrain estuary by Hurricanes Gustav and Ike in September 2008. Geophys Res Lett 36(L19609):5pp. doi:10.1029/2009GL039802

Li C, Weeks E, Blanchard BW (2010) Storm surge induced flux through multiple tidal passes of Lake Pontchartrain estuary during Hurricanes Gustav and Ike. Estuar, Coast Shelf Sci 87(4):517–525

Mellor G (2005) Some consequences of the three-dimensional current and surface wave equations. J Phys Oceanogr 35(11):2291–2298

Monbaliu J, Padilla-Hernández R, Hargreaves JC, Carretero-Albiach JC, Luo W, Sclavo M, Günther H (2000) The spectral wave model WAM adapted for applications with high spatial resolution. Coast Eng 41(1–3):41–62

Polton JT, Palmer MR, Howarth MJ (2011) Physical and dynamical oceanography of Liverpool Bay. Ocean Dyn 61(9):1421–1439

Proudman J (1957) Oscillations of tide and surge in an estuary of finite length. J Fluid Mech 2:371–382

Ramirez-Mendoza R., Souza AJ, Amoudry LO (2014) Modelling flocculation in a hypertidal estuary. Ocean Dynamics, PECS special issue: Physics of Estuaries and Coastal Seas, New York, USA, 12–16th August 2012, 64:301–313

Rossiter JR (1961) Interactions between tide and surge in the Themes. Geophys J R Astron Soc 6(1):29–53

Scully ME, Friedrichs C, Brubaker J (2005) Control of estuarine stratification and mixing by wind-induced straining of the estuarine density field. Estuar Coasts 28(3):321–326

Simpson JH, Brown J, Matthews J, Allen G (1990) Tidal straining, density currents, and stirring in the control of estuarine stratification. Estuaries 13(2):125–132

Souza AJ (2013) On the use of the Stokes number to explain frictional tidal dynamics and water column structure in shelf seas. Ocean Sci 9(2):391–398

Umlauf L, Burchard H (2005) Second-order turbulence closure models for geophysical boundary layers. A review of recent work. Cont Shelf Res 25(7–8):795–827

Valle-Levinson A, Reyes C, Sanay R (2003) Effects of bathymetry, friction and rotation on estuary-ocean exchange. J Phys Oceanogr 33(11):2375–2393

Verspecht F, Rippeth TP, Howarth MJ, Souza AJ, Simpson JH, Burchard H (2009) Processes impacting on stratification in a region of freshwater influence: application to Liverpool Bay. Journal of Geophysical Research (Oceans), 114 (C11022). 12 pp

Willmott CJ, Ackleson SG, Davis RE, Feddema JJ, Klink KM, Legates DR, O'Donnell J, Rowe CM (1985) Statistics for the evaluation and comparison of models. J Geophys Res 90(C5):8995–9005

Winant CD (2008) Three-dimensional residual tidal circulation in an elongated, rotating basin. J Phys Oceanogr 38(6):1278–1295
Acknowledgements
The authors would like to thank the reviewers of this manuscript for their help in improving the content of this manuscript. This research has been funded by NERC through National Capability funding to NOC and the projects FORMOST (NERC grant NE/E015026/1), FIELD_AC (EU FP7 programme grant 242284) and iCOASST (NERC grant NE/J005444/1). Partial support was also provided by the MERMAID EU (FP7-OCEAN.2011-1) project. Jane Williams (NOC) is thanked for providing the operational surge model output and meteorological (wind and pressure) data, and Clare O'Neill (NOC, COBS) is thanked for providing the offshore temperature and salinity fields to the Irish Sea and supplementing the meteorological forcing with air temperature, humidity and cloud cover to enable full atmospheric forcing.
Additional information
This article is part of the Topical Collection on Physics of Estuaries and Coastal Seas 2012
Responsible Editor: Rockwell Geyer
About this article
Cite this article
Brown, J.M., Bolaños, R. & Souza, A.J. Controls on monthly estuarine residuals: Eulerian circulation and elevation. Ocean Dynamics 64, 587–609 (2014). https://doi.org/10.1007/s10236-014-0698-5
Received:

Accepted:

Published:

Issue Date:
Keywords
POLCOMS-WAM-GOTM model

Dee Estuary

Hypertidal

Baroclinicity

Residual circulation

Residual elevation

Estuarine circulation

Storm surge