Abstract
The North Pacific Subtropical Counter Current (STCC) is a weak zonal current comprising of a weak eastward flow near the surface (with speeds of less than 0.1 m/s and a thickness of approximately 50–100 m) and westward flow (the North Equatorial Current) beneath. Previous studies (e.g., Qiu J Phys Oceanogr 29: 2471–2486, 1999) have shown that the STCC is baroclinically unstable. Therefore, despite its weak mean speeds, nonlinear STCC eddies with diameters ~300 km or larger and rotational speeds exceeding the eddy propagation speeds develop (Samelson J Phys Oceanogr 27: 2645–2662, 1997; Chelton et al. Prog Oceanogr 91: 167–216, 2011). In this study, the authors present numerical experiments to describe and explain the instability and eddy-generation processes of the STCC and the seasonal variation. Emphasis is on finite-amplitude eddies which are analyzed based on the parameter of Okubo (Deep-Sea Res 17: 445–454, 1970) and Weiss (Physica D 48: 273–294, 1991). The temperature and salinity distribution in March and April offer the favorable condition for eddies to grow, while September and October are unfavorable seasons for the generation of eddies. STCC is maintained not only by subsurface front but also by the sea surface temperature (SST) front. The seasonal variation of the vertical shear is dominated by the seasonal surface STCC velocity. The SST front enhances the instability and lead to the faster growth of STCC eddies in winter and spring. The near-surface processes are therefore crucial for the STCC system.
This is a preview of subscription content, log in to check access.
Access options
Buy single article
Instant access to the full article PDF.
US$ 39.95
Price includes VAT for USA
Subscribe to journal
Immediate online access to all issues from 2019. Subscription will auto renew annually.
US$ 99
This is the net price. Taxes to be calculated in checkout.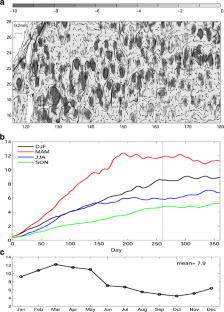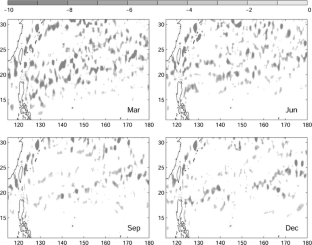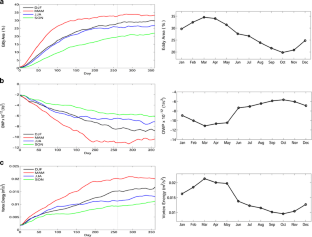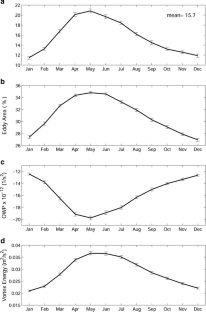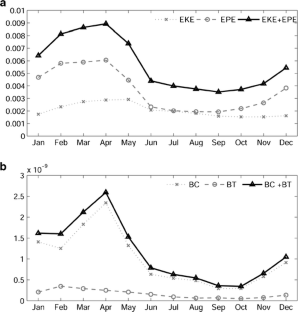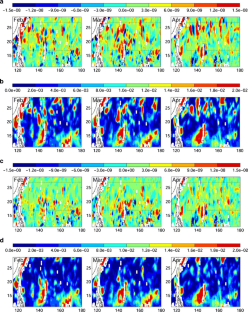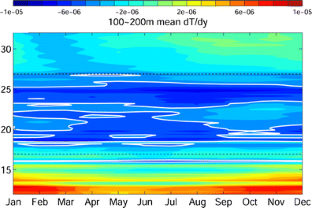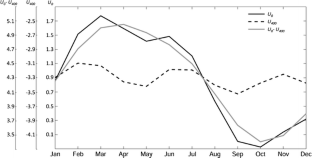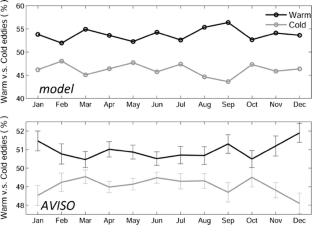 References
Aoki Y, Suga T, Hanawa K (2002) Subsurface subtropical fronts of the North Pacific as inherent boundaries in the ventilated thermocline. J Phys Oceanogr 32:2299–2311

Blumberg AF, Mellor GL (1987) A description of a three-dimensional coastal ocean circulation model. In: Heaps NS (ed) Three-dimensional coastal ocean models. American Geophysical Union, Washington, DC, pp 1–16

Chang Y-L, Oey L-Y (2011) Interannual and seasonal variations of Kuroshio transport east of Taiwan inferred from 29 years of tide-gauge data. Geophys Res Lett. doi:10.1029/2011GL047062

Chang Y-L, Oey L-Y (2012) The Philippines–Taiwan Oscillation: monsoon-like interannual oscillation of the Subtropical–Tropical Western North Pacific Wind System and its impact on the ocean. J Clim 25:1597–1618

Chang Y-L, Oey L-Y (2013) Instability of the North Pacific Subtropical Countercurrent. J Phys Oceanogr (http://journals.ametsoc.org/doi/abs/10.1175/JPO-D-13-0162.1)

Chelton DB, Schlax MG, Samelson RM (2011) Global observations of nonlinear mesoscale eddies. Prog Oceanogr 91:167–216

Hwang C, Wu C-R, Kao R (2004) TOPEX/Poseidon observations of mesoscale eddies over the STCC. J Geophys Res 109, C08013. doi:10.1029/2003JC002026

Isern-Fontanet J, García-Ladona E, Font J (2006) Vortices of the Mediterranean Sea: an altimetric perspective. J Phys Oceanogr 36:87–103

Jordi A, Wang D-P (2012) sbPOM: a parallel implementation of Princeton Ocean Model. Environ Model Softw 39:58–61

Kobashi F, Kawamura H (2002) Seasonal variation and instability nature of the North Pacific Subtropical Countercurrent and the Hawaiian Lee Countercurrent. J Geophys Res 107(C11):3185. doi:10.1029/2001JC001225

Kobashi F, Xie S-P (2012) Interannual variability of the North Pacific subtropical countercurrent: role of local ocean–atmosphere interaction. J Oceanogr 68:113–126

Lin I-I, Wu C-C, Emanuel K, Lee I-H, Wu C-R, Pun I-F (2005) The interaction of Supertyphoon Maemi (2003) with a warm ocean eddy. Mon Weather Rev. doi:10.1175/MWR3005.1

Mannina M, Le Que're' C, Watson AJ, Buitenhuis ET (2005) Bio-optical feedbacks among phytoplankton, upper ocean physics and sea-ice in a global model. Geophys Res Lett 32, L05603. doi:10.1029/2004GL020778

Miyazawa Y, Guo X, Yamagata T (2004) Roles of mesoscale eddies in the Kuroshio paths. J Phys Oceanogr 34:2203–2222

Miyazawa Y, Kagimoto T, Guo X, Sakuma H (2008) The Kuroshio large meander formation in 2004 analyzed by an eddy-resolving ocean forecast system. J Geophys Res 113, C10015. doi:10.1029/2007JC004226

Noh Y, Yim BY, You SH, Yoon JH, Qiu B (2007) Seasonal variation of eddy kinetic energy of the North Pacific Subtropical Countercurrent simulated by an eddy-resolving OGCM. Geophys Res Lett 34, L07601. doi:10.1029/2006GL029130

Oey L-Y, Ezer T, Wang D-P, Fan S-J, Yin Z-Q (2006) Loop Current warming by Hurricane Wilma. Geophys Res Lett 33, L08613. doi:10.1029/2006GL025873

Oey (2008) Loop Current and deep eddies. J Phys Oceanogr 38:1426–1449

Oey L-YM, Inoue R, Lai X-H, Lin SW, Rouse L Jr (2008) Stalling of near-inertial waves in a cyclone. Geophys Res Lett 35, L12604. doi:10.1029/2008GL034273

Oey L-Y, Chang Y-L, Lin Y-C, Chang M-C, Xu F-H, Lu H-F (2013) ATOP—the Advanced Taiwan Ocean Prediction System based on the mpiPOM part 1: model descriptions, analyses and results. TAO 24:137–158

Okubo A (1970) Horizontal dispersion of floatable particles in the vicinity of velocity singularities such as convergences. Deep-Sea Res 17:445–454

Qiu B (1999) Seasonal eddy field modulation of the north Pacific subtropical countercurrent: TOPEX/Poseidon observations and theory. J Phys Oceanogr 29:2471–2486

Samelson RM (1997) Coastal boundary conditions and the baroclinic structure of wind-driven continental shelf currents. J Phys Oceanogr 27:2645–2662

Sheu W-J, Wu C-R, Oey L-Y (2010) Blocking & westward eddies in the Luzon Strait. Deep-Sea Res II. doi:10.1016/j.dsr2.2010.04.004

Smagorinsky J (1963) General circulation experiments with the primitive equations, part I. The basic experiment. Mon Weather Rev 91:99–164

Uda M, Hasunuma K (1969) The eastward subtropical countercurrent in the western North Pacific Ocean. J Oceanogr Soc Jpn 25:201–210

Weiss J (1991) The dynamics of enstrophy transfer in two-dimensional hydrodynamics. Phys D 48:273–294

White WB, Hasunuma K, Solomon H (1978) Large-scale seasonal and secular variability of the subtropical front in the western North Pacific from 1954 to 1974. J Geophys Res 83:4531–4544

Yang G, Wang F, Li Y, Lin P (2013) Mesoscale eddies in the northwestern subtropical Pacific Ocean: statistical characteristics and three-dimensional structures. J Geophys Res Oceans 118:1906–1925. doi:10.1002/jgrc.20164

Yoshida K, Kidokoro T (1967) A subtropical countercurrent in the North Pacific—an eastward flow near the Subtropical Convergence. J Oceanogr Soc Jpn 23:88–91

Zhang D, Johns WE, Lee TN, Liu C‐T, Zantopp R (2001) The Kuroshio east of Taiwan: modes of variability and relationship to interior mesoscale eddies. J Phys Oceanogr 31:1054–1074
Acknowledgments
YLC is supported by the National Science Council under fund NSC 102-2611-M-003-003-MY3. National Taiwan Normal University's startup fund is acknowledged. Supports from Taiwan's Foundation for the Advancement of Outstanding Scholarship, the National Science Council under fund NSC 100-2119-M-008-036-MY3, and the National Central University for LYO are gratefully acknowledged.
Additional information
This article is part of the Topical Collection on the 5th International Workshop on Modelling the Ocean (IWMO) in Bergen, Norway 17-20 June 2013
Responsible Editor: Richard John Greatbatch
About this article
Cite this article
Chang, Y., Oey, L. Analysis of STCC eddies using the Okubo–Weiss parameter on model and satellite data. Ocean Dynamics 64, 259–271 (2014). https://doi.org/10.1007/s10236-013-0680-7
Received:

Accepted:

Published:

Issue Date:
Keywords
STCC

Eddy

Okubo–Weiss method