Abstract
To examine the properties of winter mixed layer (ML) variability in the shelf-slope waters facing the Kuroshio, we analyzed historical temperature records and the simulated results of a triply nested high-resolution numerical model. As a candidate of the shelf-slope waters, we focused on Tosa Bay, off the southern Japan. A time series of observed monthly mean ML temperatures and depths in the bay exhibits a remarkable seasonal variation. The period when the ML develops can be divided into two regimes: from September to November, when the sea surface cooling is gradually enhanced, the ML temperature and depth decreases and increases, respectively; from January to March, the ML temperature and depth are kept nearly constant, while the sea surface cooling in January reaches its annual maximum. In the latter regime, variance for the monthly mean ML depth is the largest of the year. To further study the ML properties in the latter regime corresponding to winter, we examined simulated results. It was found that the largest variance for ML depth is attributed to a dominant intramonthly variation. This is related to a submesoscale variation with typical spatial scales of 10–20 km, induced by the Kuroshio and its frontal disturbances. Simulated monthly mean heat balance within the ML showed that heat advection balances with heat flux at the sea surface and entrainment through the ML bottom. Moreover, the monthly mean heat advection is determined mainly by the intramonthly eddy heat advection, suggesting that the high-frequency intramonthly variation related to submesoscale variations contributes significantly to the low-frequency monthly variations of the ML in winter.
Access options
Buy single article
Instant access to the full article PDF.
US$ 39.95
Tax calculation will be finalised during checkout.
Subscribe to journal
Immediate online access to all issues from 2019. Subscription will auto renew annually.
US$ 79
Tax calculation will be finalised during checkout.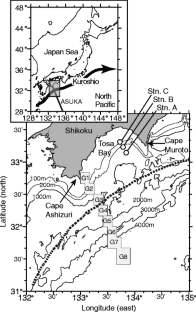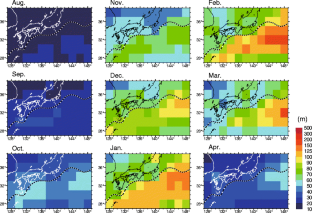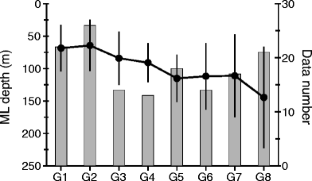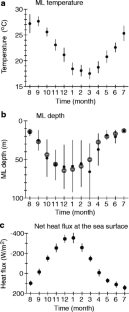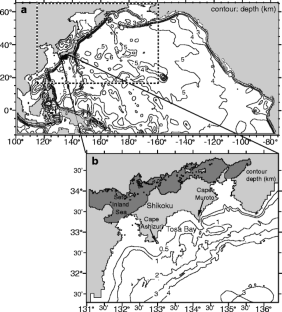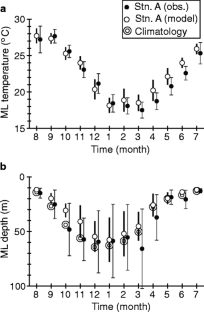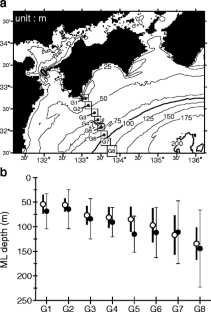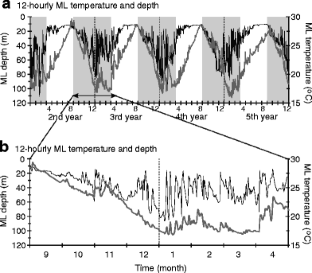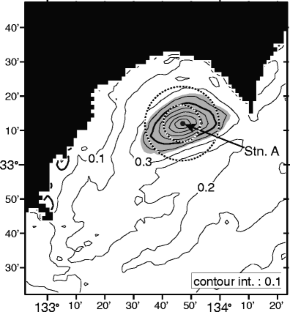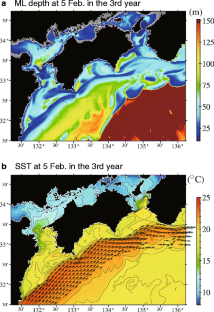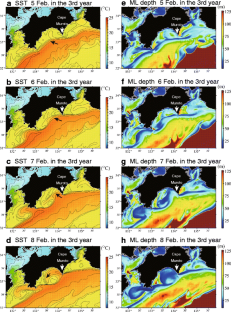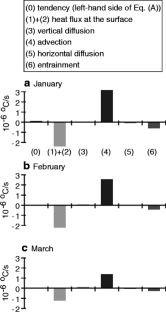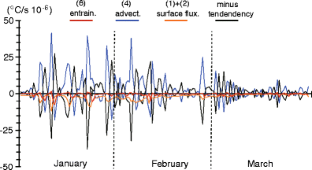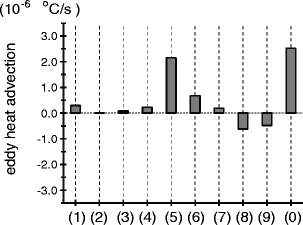 References
Alexander MA, Scott JD, Deser C (2000) Processes that influence sea surface temperature and ocean mixed layer depth variability in a coupled model. J Geophys Res 105:16823–16842

Awaji T, Akitomo K, Imasato N (1991) Numerical study of shelf water motion driven by the Kuroshio: barotropic model. J Phys Oceanogr 21:11–27

Bingham FM, Suga T (2006) Distributions of mixed layer properties in North Pacific water mass formation areas: comparison of Argo floats and World Ocean Atlas 2001. Ocean Sci 2:61–70

Capet X, McWilliams JC, Molemaker MJ, Shchepetkin AF (2008) Mesoscale to submesoscale transition in the California Current system. Part I: flow structure, eddy flux, and observational tests. J Phys Oceanogr 38:29–43

de Boyer Montégut C, Madec G, Fischer AS, Lazar A, Iudicone D (2004) Mixed layer depth over the global ocean: an examination of profile data and a profile-based climatology. J Geophys Res 109, C12003. doi:10.1029/2004JC002378

Fairall CW, Bradley EF, Hare JE, Grachev AA, Edson JB (2003) Bulk parameterization of air–sea fluxes: updates and verification for the COARE algorithm. J Climate 16:571–591

Fasham MJR, Ducklow HW, McKelvie SM (1990) A nitrogen-based model of plankton dynamics in the oceanic mixed layer. J Mar Res 48:591–639

Hanawa K, Toba T (1987) Critical examination of estimation methods of long-term mean air–sea heat and momentum transfers. Ocean Air Interact 1:79–93

Horii T, Masumoto Y, Ueki I, Hase H, Mizuno K (2009) Mixed layer temperature balance in the eastern Indian Ocean during the 2006 Indian Ocean dipole. J Geophys Res 114:C7. doi:10.1029/2008JC005180

Hosoda S, Ohira T, Sato K, Suga T (2010) Improved description of global mixed-layer depth using Argo profiling floats. J Oceanogr 66:773–787

Imawaki S, Uchida H, Ichikawa H, Fukasawa M, Umatani S, ASUKA Group (2001) Satellite altimeter monitoring the Kuroshio transport south of Japan. Geophys Res Lett 28:17–20

Isobe A, Guo X, Takeoka H (2010) Hindcast and predictability of sporadic Kuroshio-water intrusion (kyucho in the Bungo Channel) into the shelf and coastal waters. J Geophys Res Ocean 115, C04023. doi:10.1029/2009JC005818

Isobe A, Kako S, Guo X, Takeoka H (2012) Ensemble numerical forecasts of the sporadic Kuroshio-water intrusion (kyucho) into shelf and coastal waters. Ocean Dyn 62:633–644

Ito S, Megrey BA, Kishi MJ, Mukai D, Kurita Y, Ueno Y, Yamanaka Y (2007) On the interannual variability of the growth of Pacific saury (Cololabis saira): a simple 3-box model using NEMURO.FISH. Ecol Model 202:174–183

Iwamaru H, Kobashi F, Iwasaka N (2010) Temporal variations of the winter mixed layer south of the Kuroshio Extension. J Oceanogr 66:147–153

Kaneda A, Takeoka H, Nagura E, Koizumi Y (2002) Periodic intrusion of cold water from the Pacific Ocean into the bottom layer of the Bungo Channel in Japan. J Oceanogr 58:547–556

Kim S-B, Fukumori I, Lee T (2006) The closure of the ocean mixed layer temperature budget using level-coordinate model fields. J Atmos Ocean Technol 23:840–853

Kim S-B, Lee T, Fukumori I (2007) Mechanisms controlling the interannual variation of mixed layer temperature averaged over the Niño-3 Region. J Clim 20:3822–3843

Kishi MJ, Motono H, Kashiwai M, Tsuda A (2001) An ecological-physicalcoupled model with ontogenetic vertical migration of zooplankton in theNorthwestern Pacific. J Oceanogr 57:499–507

Kuroda H, Shimizu M, Hirota H, Akiyama H (2007) Intraannual variability of sea level around Tosa Bay. J Oceanogr 63:849–862

Kuroda H, Shimizu M, Hirota Y, Ambe D, Akiyama H (2008) Surface current and vertical thermal structure on the continental slope in Tosa Bay. J Oceanogr 64:81–91

Kuroda H, Shimizu M, Setou T (2010) Interannual variability of subsurface temperature in summer induced by the Kuroshio over Bungo Channel, Tosa Bay, and Kii Channel, south of Japan. Cont Shelf Res 30:152–162

Kuroda H, Setou T, Aoki K, Takahashi D, Shimizu M, Watanabe T (2013) A numerical study of the Kuroshio-induced circulation in Tosa Bay, off the southern coast of Japan. Continent Shelf Res 53:50–62

Lukas R, Lindstorm E (1991) The mixed layer of the western equatorial Pacific Ocean. J Geophys Res 96:3343–3357

Matsumoto K, Takanezawa T, Ooe M (2000) Ocean tide models developed byassimilating TOPEX/POSEIDON altimeter data into hydrodynamical model: a globalmodel and a regional model around Japan. J Oceanogr 56:567–581

Nishikawa H, Yasuda I (2008) Japanese Sardine (Sardinops melanostictus) mortality in relation to the winter mixed layer depth in the Kuroshio Extension region. Fish Oceanogr 17:411–420. doi:10.1111/j.1365-2419.2008.00487.x

Nishikawa H, Yasuda I, Itoh S (2011) Impact of winter-to-spring environmental variability along the Kuroshio jet on the recruitment of Japanese sardine (Sardinops melanostictus). Fish Oceanogr 20:570–582

Ohno Y, Iwasaka N, Kobashi F, Sato Y (2009) Mixed layer depth climatology of the North Pacific from Argo observations. J Oceanogr 65:1–16

Oka E, Talley LD, Suga T (2007) Temporal variability of winter mixed layer in the mid- to high-latitude North Pacific. J Oceanogr 63:293–307

Onogi K, Tsutsui J, Koide H, Sakamoto M, Kobayashi S, Hatsushika H, Matsumoto T, Yamazaki N, Kamahori H, Takahashi K, Kadokura S, Wada K, Kato K, Oyama R, Ose T, Mannoji N, Taira R (2007) The JRA-25 Reanalysis. J Meteorol Soc Jpn 85:369–432

Parsons TR, Takahashi M, Hargrave B (1984) Photosynthesis and growth of phytoplankton in the sea. In: Parsons TR, Takahashi M, Hargrave B (eds) Biological oceanographic processes, 3rd edn. Wheaton, Oxford, pp 87–99

Qiu B (2002) The Kuroshio Extension system: its large-scale variability and role in the midlatitude ocean–atmosphere interaction. J Oceanogr 58:57–75

Qu T (2003) Mixed layer heat balance in the Western North Pacific. J Geophys Res 108:3242. doi:10.1029/2002JC001536

Saito H, Tsuda A, Kasai H (2002) Nutrient and plankton dynamics in the Oyashio region of the western subarctic Pacific Ocean. Deep Sea Res II 49:5463–5486

Saito K, Fujita T, Yamada Y, Ishida J, Kumagai Y, Aranami K, Ohmori S, Nagasawa R, Kumagai S, Muroi C, Kato T, Eito H, Yamazaki T (2006) The operational JMA nonhydrostatic mesoscale model. Mon Weather Rev 134:1266–1298

Suga T, Hanawa K (1990) The mixed layer climatology in the northwestern part of the North Pacific subtropical gyre and the formation area of Subtropical Model Water. J Mar Syst 48:543–566

Suga T, Motoki K, Aoki Y, Macdonald AM (2004) The North Pacific climatology of winter mixed layer and mode waters. J Phys Oceanogr 34:3–22

Sugimatsu K, Isobe A (2010) Intrusion of Kuroshio-derived bottom cold water into Osaka Bay and its possible cause. J Oceanogr 66:191–200

Swenson MS, Hansen DV (1999) Tropical Pacific ocean mixed layer heat budget: the Pacific cold tongue. J Phys Oceanogr 29:69–82

Takashi T, Fujiwata T, Sugimoto T, Sakamoto W (2006) Prediction of slope water intrusion into the Kii Channel in summer. J Oceanogr 62:105–113

Takeoka H, Akiyama H, Kikuchi T (1993) The Kyucho in the Bungo Channel, Japan—periodic intrusion of oceanic warm water. J Oceanogr 49:369–382

Toda T (1993) Movement of the surface front induced by Kuroshio frontal eddy. J Geophys Res 98:16331–16340

Yoshie N, Yamanaka Y, Kishi MJ, Saito H (2003) One dimensional ecosystem model simulation of the effects of vertical dilution by the winter mixing on the spring diatom bloom. J Oceanogr 59:563–571
Acknowledgments
We are deeply indebted to Mr. Kazuhisa Tamai, Mr. Hisao Sakamoto, and successive captains, officers and crew of the R/V Kotaka-maru. We would like to thank to ASUKA project and JODC database for temperature data analyzed. Special thanks are extended to the editor and two anonymous reviewers for helpful and constructive comments. Numerical simulation was performed using a cluster and vector (SX-9) supercomputing system at the Agriculture, Forest and Fisheries Research Information Technology Center. This study was supported by JSPS KAKENHI grant number 23740365, a Kofu-kin research project by the Fisheries Research Agency, and "The Study of Kuroshio Ecosystem Dynamics for Sustainable Fisheries (SKED)" project by the Ministry of Education, Culture, Sports, Science, and Technology.
Additional information
Responsible Editor: Tal Ezer
Appendix
Appendix
In this section, heat balance within the ML is briefly described in terms of spatial mean. Figure 18 shows the 12-hourly mean of major four terms in Eq. (1), which is averaged over Tosa Bay (133°30′–134° E, 32°50′–33°30′ N). The tendency and advection terms seem to mainly balance with each other as well as Fig. 14, whereas magnitudes of the two terms are smaller than over the bay (Fig. 18) than at station A (Fig. 14). The smaller magnitude signifies that effects of submesoscale variations on the heat balance are reduced or compensated by the spatial-mean procedure, implying the importance of submesoscale ML variability at a local position in Tosa Bay. Moreover, it was confirmed (not shown) that the monthly mean of heat balance averaged over Tosa Bay is almost the same as that at station A (Fig. 13), indicating that the monthly mean heat balance at station A, from which effects of submesoscale variations are excluded, can be representative of that over the bay.
About this article
Cite this article
Kuroda, H., Hirota, Y., Setou, T. et al. Properties of winter mixed layer variability on the shelf-slope region facing the Kuroshio—study of Tosa Bay, southern Japan. Ocean Dynamics 64, 47–60 (2014). https://doi.org/10.1007/s10236-013-0670-9
Received:

Accepted:

Published:

Issue Date:
Keywords
Regional Ocean Modeling System

Tosa Bay

Kuroshio

Winter mixed layer

Monthly and intramonthly variation

Eddy heat advection