Abstract
Sea surface temperature (SST) variability over the Bay of Bengal (BoB) has the potential to trigger deep moist convection thereby affecting the active-break cycle of the monsoons. Normally, during the summer monsoon season, SST over the BoB is observed to be greater than 28°C which is a pre-requisite for convection. During June 2009, satellite observations revealed an anomalous basin-wide cooling and the month is noted for reduced rainfall over the Indian subcontinent. In this study, we analyze the likely mechanisms of this cooling event using both satellite and moored buoy observations. Observations showed deepened mixed layer, stronger surface currents, and enhanced heat loss at the surface in the BoB. Mixed layer heat balance analysis is carried out to resolve the relative importance of various processes involved. We show that the cooling event is primarily induced by the heat losses at the surface resulting from the strong wind anomalies, and advection and vertical entrainment playing secondary roles.
Access options
Buy single article
Instant access to the full article PDF.
US$ 39.95
Tax calculation will be finalised during checkout.
Subscribe to journal
Immediate online access to all issues from 2019. Subscription will auto renew annually.
US$ 79
Tax calculation will be finalised during checkout.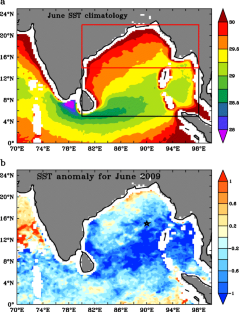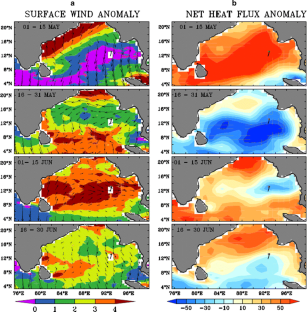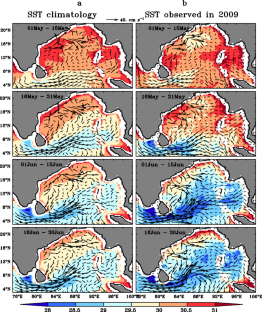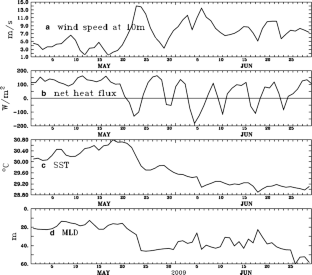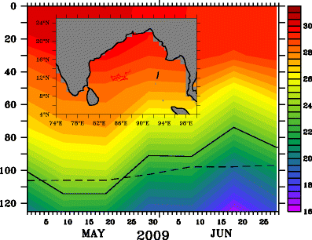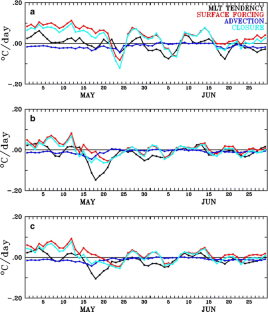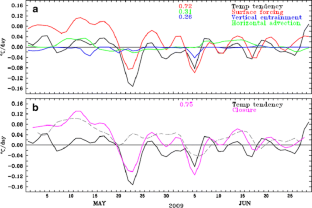 References
Bonjean F, Lagerloef GSE (2002) Diagnostic model and analysis of the surface currents in the tropical Pacific Ocean. J Phys Oceanogr 32:2938–2954

Du Y, Qu T, Meyers G, Masumoto Y, Sasaki H (2005) Seasonal heat budget in the mixed layer of the southeastern tropical Indian Ocean in a high-resolution ocean general circulation model. J Geophys Res 110:C04012. doi:10.1029/2004JC002845

Fairall CW, Bradley EF, Hare JE, Grachev A, Edson JB (2003) Bulk parameterization of air–sea fluxes: updates and verification for the COARE algorithm. J Climate 16:571–591

Francis PA, Gadgil S (2009) The aberrant behavior of the Indian monsoon in June 2009. Curr Sci 97:1291–1295

Girishkumar MS et al (2011) Intraseasonal variability in barrier layer thickness in the south central Bay of Bengal. J Geophys Res 116:C03009. doi:10.1029/2010JC006657

Kara AB, Rochford PA, Hurlburt HE (2000) An optimal definition for ocean mixed layer depth. J Geophys Res 105(16):803–821

McPhaden MJ et al (2009) RAMA: the research moored array for African–Asian–Australian monsoon analysis and prediction. Bull Am Meteor Soc 90:459–480

Mignot J, de Boyer Montégut C, Lazar A, Cravatte S (2007) Control of salinity on the mixed layer depth in the world ocean: 2. Tropical areas. J Geophys Res 112:C10010. doi:10.1029/2006JC003954

Morel A, Prieur L (1977) Analysis of variations in ocean color. Limnol Oceanogr 22(4):709–722

Parampil SR, Gera A, Ravichandran M, Sengupta D (2010) Intraseasonal response of mixed layer temperature and salinity in the BoB to heat and freshwater flux. J Geophys Res 115:C05002

Paulson CA, Simpson JJ (1977) Irradiance measurements in the upper ocean. J Phys Oceanogr 7:952–956

Praveen Kumar B, Vialard J, Lengaigne M, Murty VSN, McPhaden MJ (2011) TropFlux: air–sea fluxes for the global tropical oceans—description and evaluation against observations. Clim Dyn. doi:10.1007/s00382-011-1115-0

Premkumar K et al (2000) First results from a new observational system over the Indian seas. Curr Sci 78:323–330

Rao RR, Sivakumar R (2000) Seasonal variability of near surface thermal structure and heat budget of the mixed layer of the tropical Indian Ocean from a new global ocean temperature climatology. J Geophys Res 105:995–1015

Rao RR, Girish Kumar MS, Ravichandran M, Samala BK, Sreedevi N (2006) Observed mini-cold pool off the southern tip of India and its intrusion into the south central Bay of Bengal during summer monsoon season. Geophys Res Lett., 33, L06607. doi:10.1029/2005GL025382

Ravichandran M, Behringer D, Reddy SS, Girishkumar MS, Chacko N, Harikumar R (2011) INCOIS-GODAS-MOM: Ocean analysis for the Indian Ocean: configuration, validation and product dissemination, Technical report, No. INCOIS-MOG-TR-2011-06, INCOIS, India, available online from www.incois.gov.in

Schiller A, Godfrey JS (2003) Indian Ocean intraseasonal variability in an Ocean General Circulation Model. J Clim 10:465–472

Sengupta D, Ravichandran M (2001) Oscillations of Bay sea surface temperature during the 1998 summer monsoon. Geophys Res Lett 28:2033–2036

Sengupta D, Goswami BN, Senan R (2001) Coherent intraseasonal oscillations of ocean and atmosphere during the Asian summer monsoon. Geophys Res Lett 28:4127–4130

Shankar D, Vinayachandran PN, Unnikrishnan AS, Shetye SR (2002) The monsoon currents in the north Indian Ocean. Prog Oceanogr 52(1):63–120

Shankar D, Shetye SR, Joseph PV (2007) Link between convection and meridional gradient of sea surface temperature in the Bay. J Earth Syst Sci 116(5):385–406

Shenoi SSC, Shankar D, Shetye SR (2002) Differences in heat budgets of the near-surface Arabian Sea and Bay of Bengal: implications for the summer monsoon. J Geophys Res 107:1–14

Sprintall J, Tomczak M (1992) Evidence of the barrier layer in the surface layer of the tropics. J Geophys Res 97:7305–7316

Somayajulu YK, Murty VSN, Sarma YVB (2002) Seasonal and inter-annual variability of surface circulation in the Bay from TOPEX/Poseidon altimetry. Deep-Sea Res II 50(2003):867–880

Vecchi GA, Harrison DE (2002) Monsoon breaks and subseasonal sea surface temperature variability in the Bay. J Clim 15:1485–1493

Vinayachandran PN, Masumoto Y, Mikawa T, Yamagata T (1999) Intrusion of the southwest monsoon current into the Bay. J Geophys Res Lett 104(11):77–85

Wentz F, Gentlemann J, Smith C, Chelton D (2001) Satellite measurements of sea surface temperature through clouds. Science 288:847–850

Yang J, Yu L, Koblinsky C, Adamec D (1998) Dynamics of the seasonal variations in the Indian Ocean fromTOPEX/POSEIDON sea surface height and an ocean model. Geophys Res Lett 22:1915–1918

Yu L, McPhaden MJ (2011) Ocean preconditioning of cyclone Nargis in the Bay of Bengal: interaction between Rossby waves, surface fresh waters, and sea surface temperatures. J Phys Oceanogr 41:1741–1755. doi:10.1175/2011JPO4437.1
Acknowledgment
Authors thank S. Siva Reddy and M. S. Girishkumar of INCOIS for useful discussions and valuable suggestions. The QuikSCAT winds and TMI SST are downloaded from http://apdrc.soest.hawaii.edu. The RAMA data is obtained from http://www.pmel.noaa.gov/tao/data_deliv/deliv.html. GODAS products are used from INCOIS LAS (http://las.incois.gov.in). Argo is a pilot program of the Global Ocean Observing System. Argo floats data were collected and made freely available by the International Argo Project and the national programs that contribute to it (http://www.argo.ucsd.edu, http://argo.jcommops.org). The altimeter products are produced by SSALTO/DUACS and distributed by AVISO. The comments and suggestions of two anonymous reviewers greatly improved the manuscript. Graphics are generated using Ferret. This is INCOIS contribution no. 90.
Additional information
Responsible Editor: Birgit Andrea Klein
About this article
Cite this article
Chacko, N., Ravichandran, M., Rao, R.R. et al. An anomalous cooling event observed in the Bay of Bengal during June 2009. Ocean Dynamics 62, 671–681 (2012). https://doi.org/10.1007/s10236-012-0525-9
Received:

Accepted:

Published:

Issue Date:
Keywords
Bay of Bengal

Sea surface temperature

Mixed layer heat budget

Ocean–atmosphere interaction