Abstract
This paper deals with the performances of non-permanent environmental monitoring stations when recording at high-sampling interval (hour) over a long term (months, years) within estuarine waters. Information about data quality and system maintenance requirements are provided based on the experience gained with an autonomous station deployed during 2 years at the Guadiana Estuary (southern Portugal–Spain border). The station includes (1) a multi-parameter probe for water quality (temperature, conductivity, dissolved oxygen, turbidity, chlorophyll and pH) inserted in a tube through a surface-floating buoy; and, (2) a bottom-mounted current meter. The main issues for the continuous acquisition of valid data were biofouling on the optical (chlorophyll, turbidity, dissolved oxygen), conductivity sensors of the probe and high sediment dynamics at the bed. The definition of a detailed maintenance programme is required for the lengthening of (valid) data time series. The typical variability of the parameters is described at seasonal and tidal time scales and episodic events are identified (coastal upwelling and high freshwater inputs). These examples illustrate how integrated data analysis is fundamental to define and understand the changes induced by specific events on several interrelated parameters, and, more generally, how these systems can contribute to a better understanding of the hydro-ecological processes operating in estuaries.
Access options
Buy single article
Instant access to the full article PDF.
USD 39.95
Price includes VAT (USA)
Tax calculation will be finalised during checkout.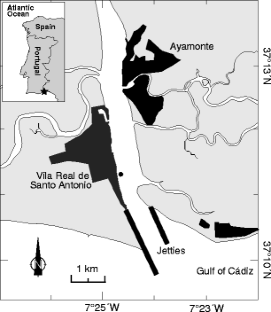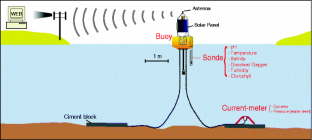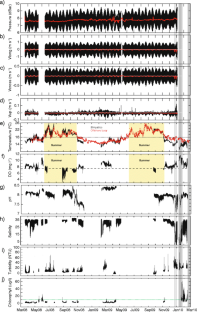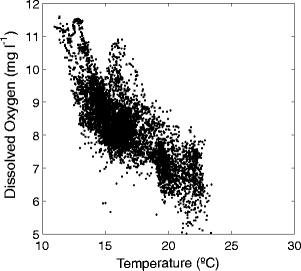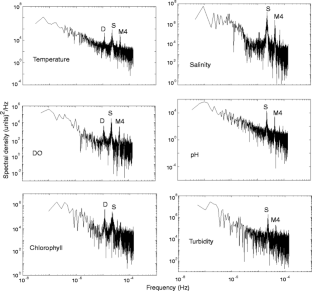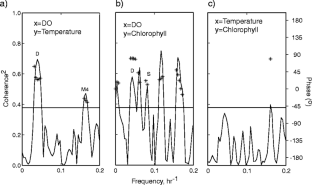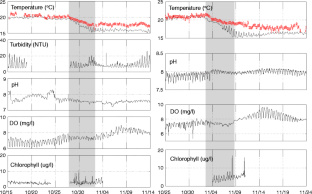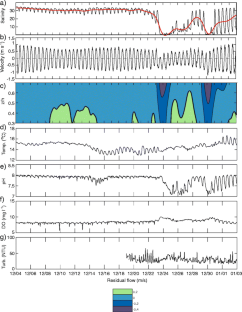 References
Bakun A (1973) Coastal upwelling indices, west coast of North America, 1946–71. NOAA Technical Report. US Dept of Commerce, Seattle

Bergquist D, Heuberger D, Sturmer L, Baker S (2009) Continuous water quality monitoring for the hard clam industry in Florida, USA. Environ Monit Assess 148(1):409–419

Chapin T, Caffrey J, Jannasch H, Coletti L, Haskins J, Johnson K (2004) Nitrate sources and sinks in Elkhorn Slough, California: results from long-term continuous in situ nitrate analyzers. Estuaries 27(5):882–894

Chícharo L, Chícharo MA, Ben-Hamadou R (2006) Use of a hydrotechnical infrastructure (Alqueva Dam) to regulate planktonic assemblages in the Guadiana estuary: basis for sustainable water and ecosystem services management. Estuar Coast Shelf Sci 70(1–2):3–18

Colbert D, McManus J (2003) Nutrient biogeochemistry in an upwelling-influenced estuary of the Pacific northwest (Tillamook Bay, Oregon, USA). Estuaries Coasts 26(5):1205–1219. doi:10.1007/bf02803625

Devlin M, Best M, Haynes D (2007) Implementation of the water framework directive in European marine waters. Mar Pollut Bull 55:1–29

Dias JMA, Gonzalez R, Ferreira O (2004) Natural versus anthropic causes in variations of sand export from river basins: an example from the Guadiana river mouth (southwestern Iberia). In: Nawrocki J (ed) Rapid transgression into semi-enclosed basins, Gdansk, 8–10 May 2003. Polish Geological Institute Special Papers, pp 95–102

Dronkers J (1986) Tidal asymmetry and estuarine morphology. Neth J Sea Res 20(2–3):117–131

Dworak T, Gonzalez C, Laaser C, Interwies E (2005) The need for new monitoring tools to implement the WFD. Environ Sci Policy 8(3):301–306

Garel E, Pinto L, Santos A, Ferreira Ó (2009a) Tidal and river discharge forcing upon water and sediment circulation at a rock-bound estuary (Guadiana estuary, Portugal). Estuar Coast Shelf Sci 84(2):269–281

Garel E, Nunes S, Neto JM, Fernandes R, Neves R, Marques JC, Ferreira Ó (2009b) The autonomous Simpatico system for real-time continuous water-quality and current velocity monitoring: examples of application in three Portuguese estuaries. Geo Mar Lett 29:331–341. doi:10.1007/s00367-009-0147-5

Glasgow HB, Burkholder JM, Reed RE, Lewitus AJ, Kleinman JE (2004) Real-time remote monitoring of water quality: a review of current applications, and advancements in sensor, telemetry, and computer technologies. J Exp Mar Biol Ecol 300:409–448

Hattermann F, Wattenbach M, Krysanova V, Wechsung F (2005) Runoff simulations on the macroscale with the ecohydrological model SWIM in the Elbe catchment—validation and uncertainty analysis. Hydrol Process 19:693–714

Hosegood P, van Haren H (2003) Ekman-induced turbulence over the continental slope in the Faeroe-Shetland Channel as inferred from spikes in current meter observations. Deep Sea Research I 50:657–680

Huang W (2010) Hydrodynamic modeling and ecohydrological analysis of river inflow effects on Apalachicola Bay, Florida, USA. Estuar Coast Shelf Sci 86(3):526–534. doi:10.1016/j.ecss.2009.07.032

Instituto Hidrografico (1990) Roteiro da Costa de Portugal, 2nd edn. Instituto Hidrografico, Lisboa

Lobo J, Plaza F, Gonzáles R, Dias J, Kapsimalis V, Mendes I, Rio VDd (2004) Estimations of bedload sediment transport in the Guadiana Estuary (SW Iberian Peninsula) during low river discharge periods. J Coast Res 41:12–26, Special Issue

Loureiro S, Newton A, Icely JD (2005) Microplankton composition, production and upwelling dynamics in Sagres (SW Portugal) during the summer of 2001. Sci Mar 69(3):323–341

Morales JA, Delgado I, Gutierrez-Mas JM (2006) Sedimentary characterization of bed types along the Guadiana estuary (SW Europe) before the construction of the Alqueva dam. Estuar Coast Shelf Sci 70(1–2):117–131

Onishi H, Otobe H (2006) Comparison of the currents measured by electromagnetic current meter and bottom mounted ADCP in Otsuchi bay. Coast Mar Sci 30(2):436–459

Pawlowicz R, Beardsley B, Lentz S (2002) Classical tidal harmonic analysis including error estimates in MATLAB using T_TIDE. Comput Geosci 28(8):929–937. doi:10.1016/s0098-3004(02)00013-4

Relvas P, Barton E, Dubert J (2007) Physical oceanography of the western Iberia ecosystem: latest views and challenges. Prog Oceanogr 74(2–3):149–173

Reuter R, Badewien TH, Bartholomä A, Braun A, Lübben A, Rullkötter J (2009) A hydrographic time series station in the Wadden Sea (southern North Sea). Ocean Dyn 59(2):195–211

Rosón G, Pérez FF, Alvarez-Salgado XA, Figueiras FG (1995) Variation of both thermohaline and chemical properties in an estuarine upwelling ecosystem: Ria de Arousa; I. Time evolution. Estuar Coast Shelf Sci 41(2):195–213. doi:10.1006/ecss.1995.0061

Silva AJd, Lino S, Santos AI, Oliveira (2003) A near bottom sediment dynamics in the Guadiana Estuary. In: Thalassas (ed) 4th Symposium on the Iberian Atlantic Margin. pp 180–182

Torres R, Allen JI, Figueiras FG (2006) Sequential data assimilation in an upwelling influenced estuary. J Mar Syst 60(3–4):317–329. doi:10.1016/j.jmarsys.2006.02.001

Trigo RM, Pozo-Vásquez D, Osborn TJ, Castro-Díez Y, Gámiz-Fortis S, Esteban-Parra MJ (2004) North Atlantic oscillation influence on precipitation, river flow and water ressources in the Iberian Peninsula. Int J Climatol 24:925–944

Varney M (2000) Chemical sensors in oceanography, vol 1. Ocean science and technology. S. Gordon and Breach Science Publishers, Amsterdam

Warner RM (1998) Spectral analysis of time-series data. Guilford Press, New York, p 225

Wong K-C, Dzwonkowski B, Ullman WJ (2009) Temporal and spatial variability of sea level and volume flux in the Murderkill Estuary. Estuar Coast Shelf Sci 84(4):440–446

Yamamoto T, Hatta G (2004) Pulsed nutrient supply as a factor inducing phytoplankton diversity. Ecol Modell 171:247–270
Acknowledgements
The authors are grateful to the Portuguese Hydrographic Institute for providing the offshore buoy data, to Instituto da Água for the freshwater discharge data and to Faro Airport Meteorological Station for the wind data. The SIMPATICO system was acquired through an FCT grant for the re-equipment of scientific institutions (Reeq/484/MAR/2005).
Additional information
This article is part of the Topical Collection on Multiparametric observation and analysis of the Sea
Responsible Editor: Pierre-Marie Poulain
About this article
Cite this article
Garel, E., Ferreira, Ó. Monitoring estuaries using non-permanent stations: practical aspects and data examples. Ocean Dynamics 61, 891–902 (2011). https://doi.org/10.1007/s10236-011-0417-4
Received:

Accepted:

Published:

Issue Date:
Keywords
Biofouling

Environmental module

Multi-parametric probe

Coastal upwelling

Freshwater discharge